Halloween activities for schools – Fun and easy ideas for kids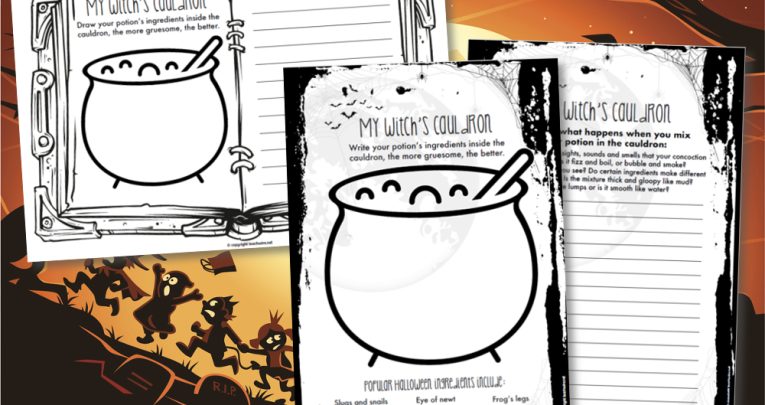 Trick or treat! Give your little terrors a feast of fun this 31st October with some great classroom ideas…

by Teachwire
It's heading towards that time of year when you might be starting to think about Halloween activities for schools. The nights are getting darker and things are taking a turn to the eerie and mischievous side…
It's a time for skeletons and ghosts and all things chilling and frightening – like this spelling error: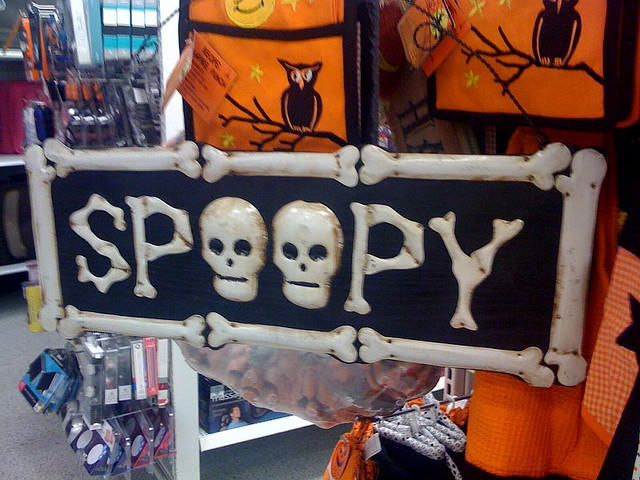 But it also means there are all kinds of ghoulish activities to be had in your classroom.
So we've created a wide range of downloadable resources for Early Years and primary and thrown in a selection of the most fiendishly fun activities, resources and decorating ideas to get your class in the Halloween mood…
Easy activity ideas
Witch's cauldron writing worksheet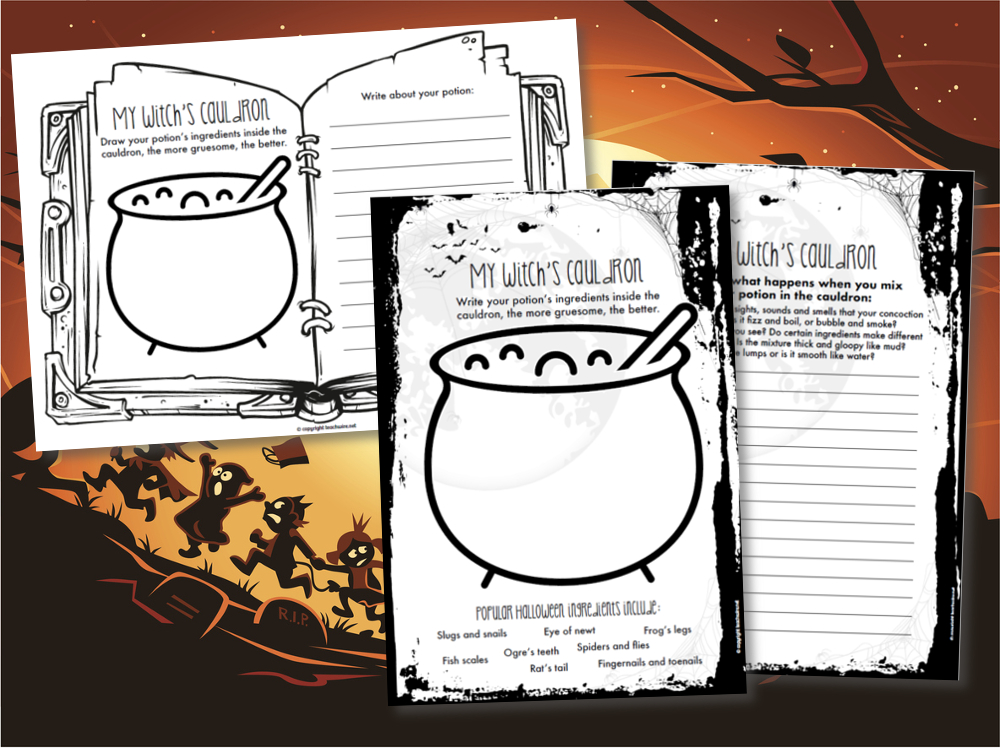 This free writing worksheet allows children to stir up their own magical potion in their witch's cauldron. They can write or draw what ingredients go in to make their unique potion then write all about what sinister effects it has.
We've included two versions – a basic one for younger children and a more advanced one with various descriptive and creative writing tasks.
---
My Halloween monster writing worksheet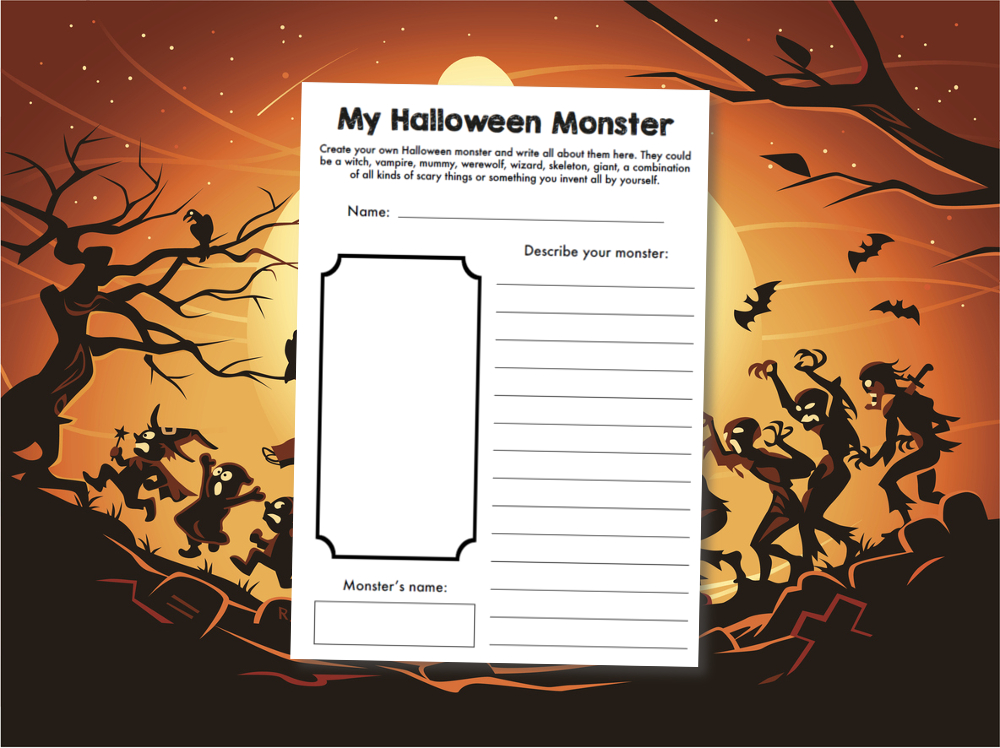 Let children's imaginations soar this Halloween by having them create their own monster. There's space for them to draw and name their spooky creation then write a descriptive passage to explain all of its ghastly features.
---
Halloween adjectives worksheet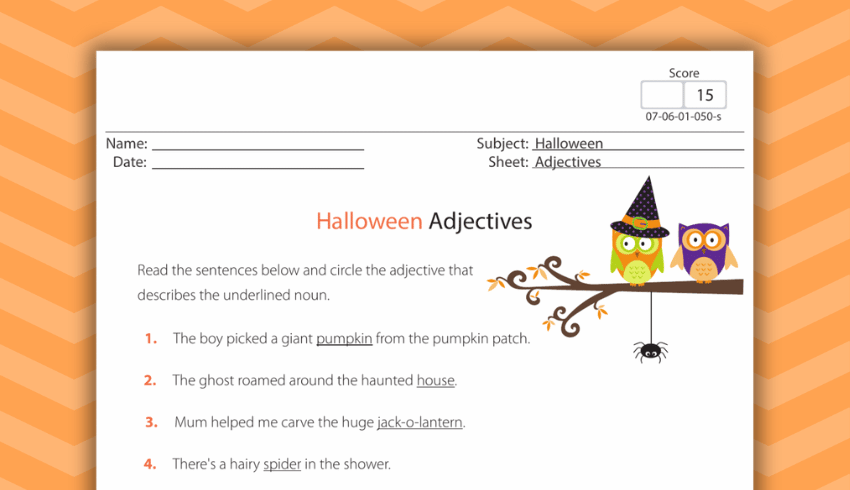 This Halloween-themed grammar worksheet for KS1 and 2 tasks pupils with circling adjectives that describes the underlined noun.
---
Spooky bunting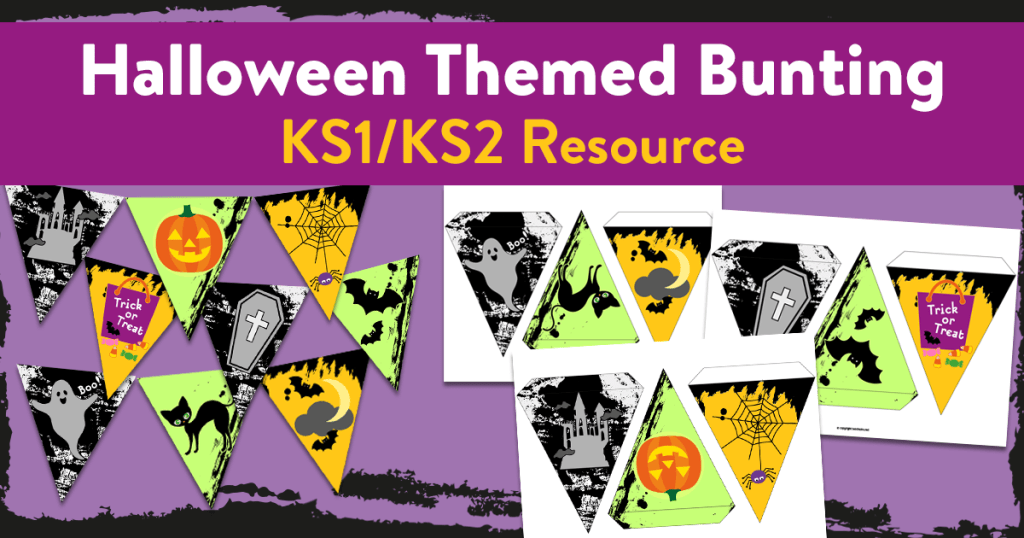 This free printable Halloween bunting features nine fun, spooky and colourful designs for you to decorate your classroom or setting with for 31st October.
---
Winnie and Wilbur resources
Oxford Owl's collection of resources for this series of books about a witch and her black cat includes drawing and colouring activities, a word search and a 'Write your own Winnie story' worksheet.
---
KS1 Halloween activities for schools
Word mats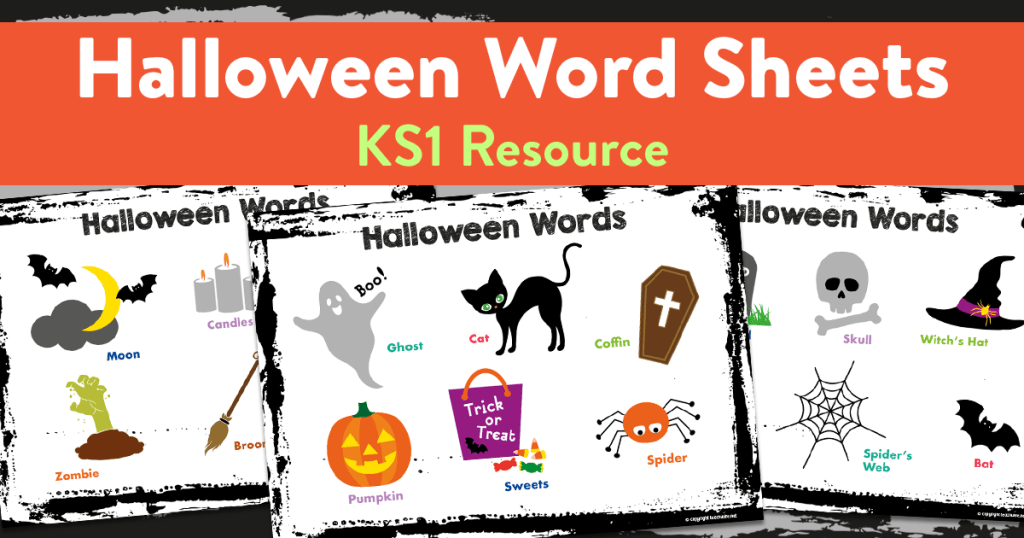 These free printable Halloween word mats feature six words/images on each, and are great for use in Reception or KS1.
---
Halloween characters resource pack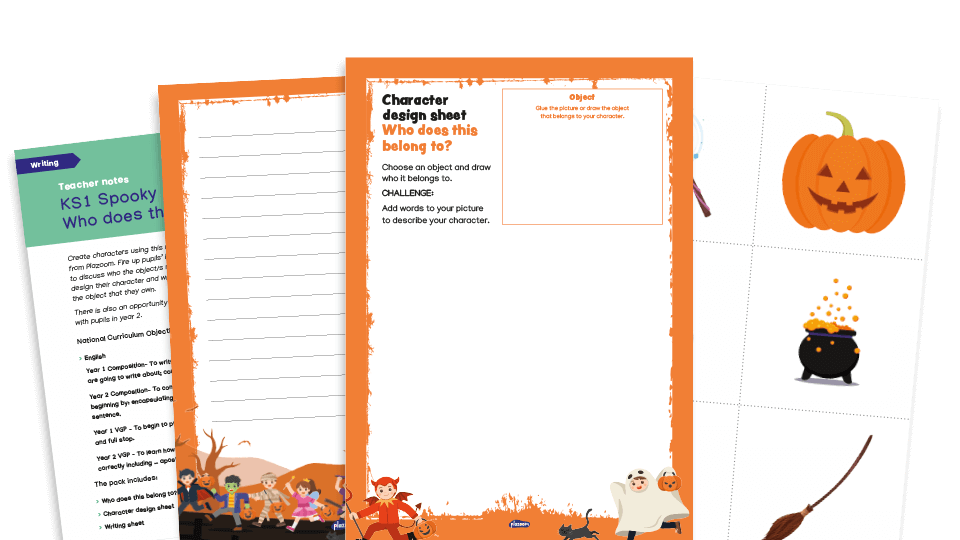 Explore creating characters this Halloween with this resource from Plazoom. Use the image cards to chat about who the object/s might belong to. Pupils can then design their own character and write sentences to describe them and the object that they own. There's also an opportunity to teach possessive apostrophes with Y2 pupils.
---
CVC and CVCC words phonics flashcards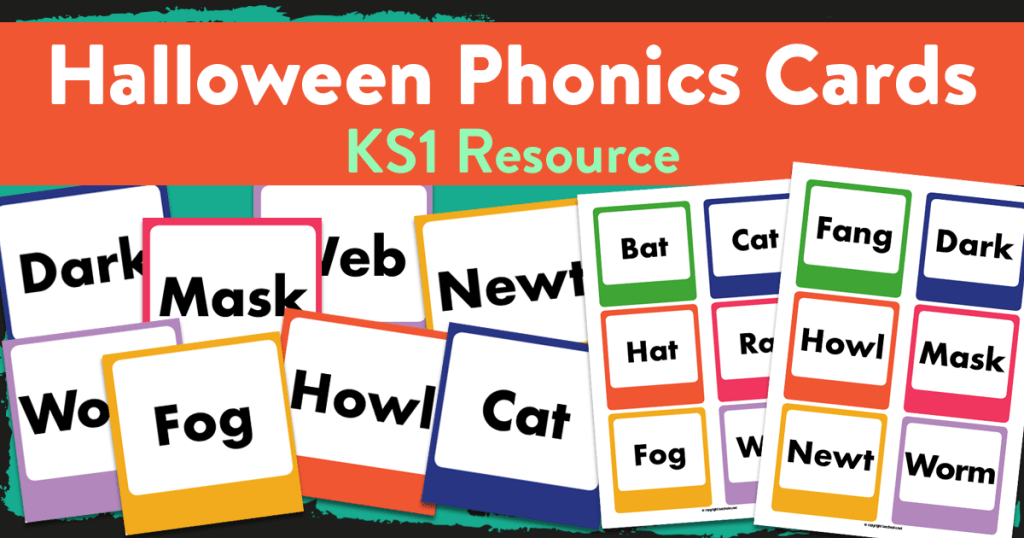 These printable Halloween phonics flashcards feature CVC (bat, cat, hat, rat, fog, web) and CVCC words (fang, dark, howl, mask, newt, worm).
---
Flashcards with words and images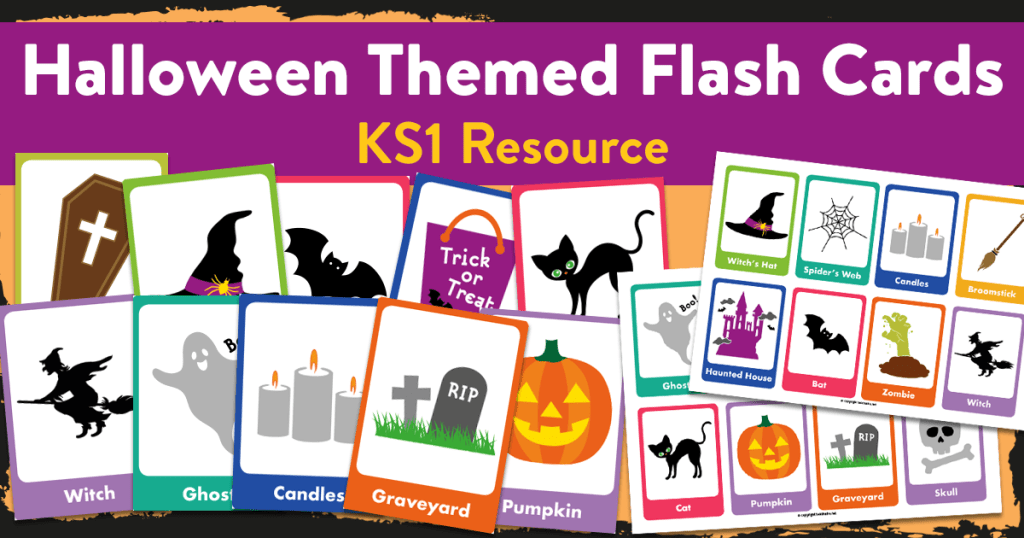 This set of 16 free printable Halloween flashcards are perfect for use in Reception and KS1.
---
Halloween page borders for writing activities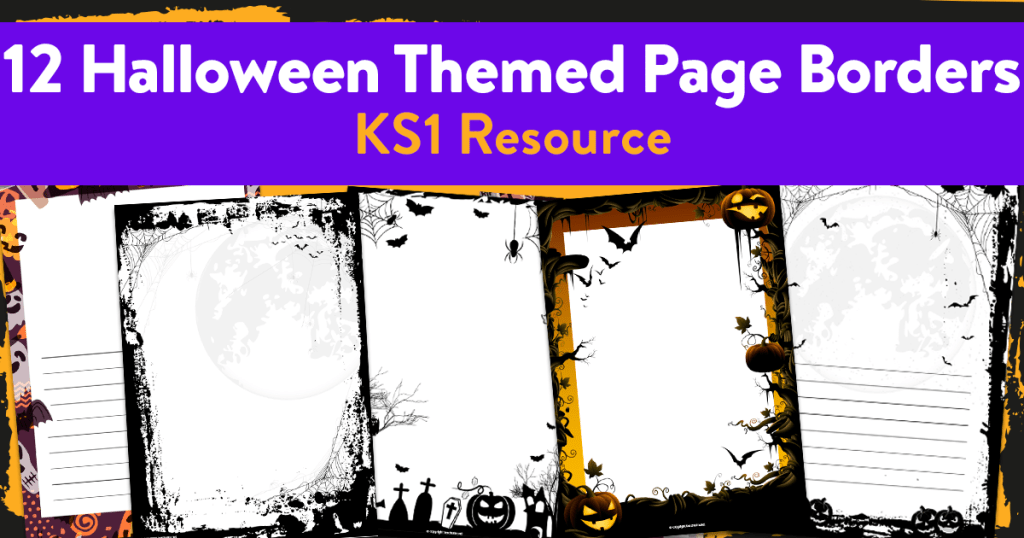 These printable Halloween page borders are great for writing and drawing activities. There are five designs, each of which one comes as a blank page and as a half-lined page. Some are colour designs and others are black and white to save on coloured ink.
---
KS2 Halloween activities for schools
Write a menu for a monster restaurant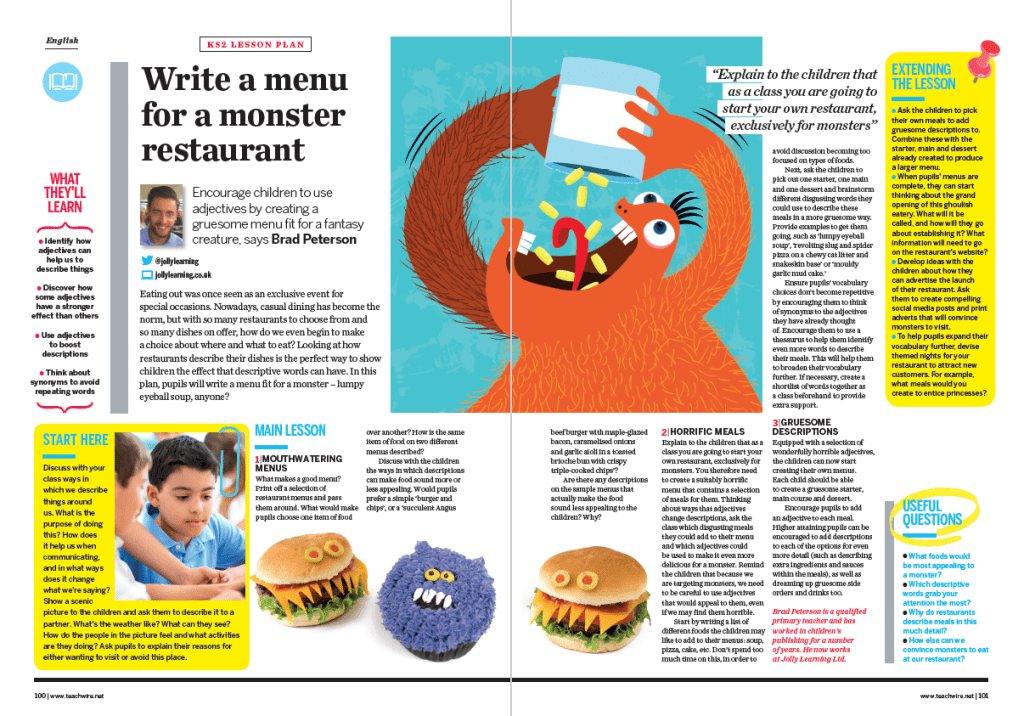 Looking at how restaurants describe their dishes is the perfect way to show children the effect that descriptive words can have. But in this KS2 lesson plan, pupils will write a menu fit for a monster – lumpy eyeball soup, anyone?
They'll learn to identify how adjectives can help us to describe things, discover how some adjectives have a stronger effect than others, use adjectives to boost descriptions and think about synonyms to avoid repeating words.
---
Halloween settings description resource pack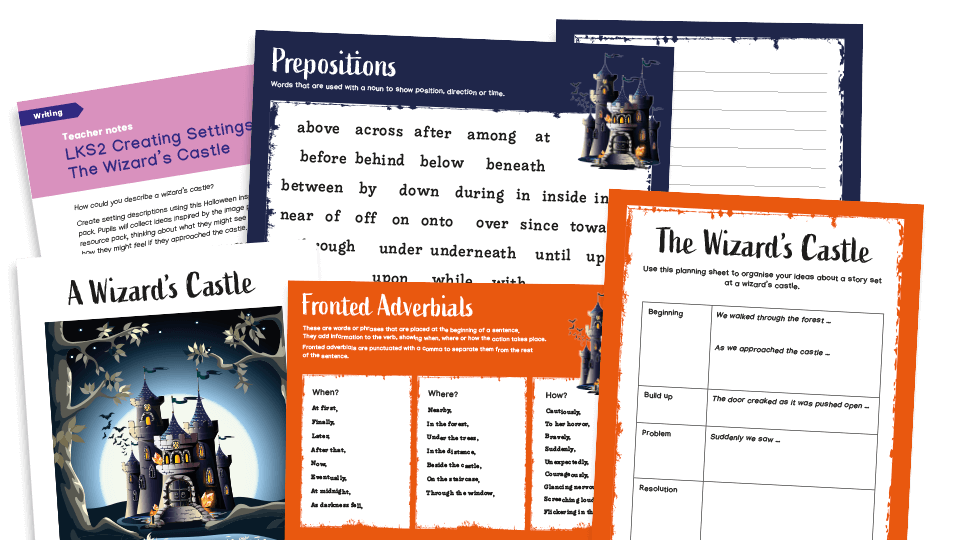 Create setting descriptions with Y3-4 pupils using this Halloween writing pack with worksheets from Plazoom. Collect ideas inspired by the images in the pack, thinking about what you might see or hear, and how you might feel as you approach a spooky castle. There are also activities to help you teach the use of prepositions and fronted adverbials.
---
Halloween instructions writing resource pack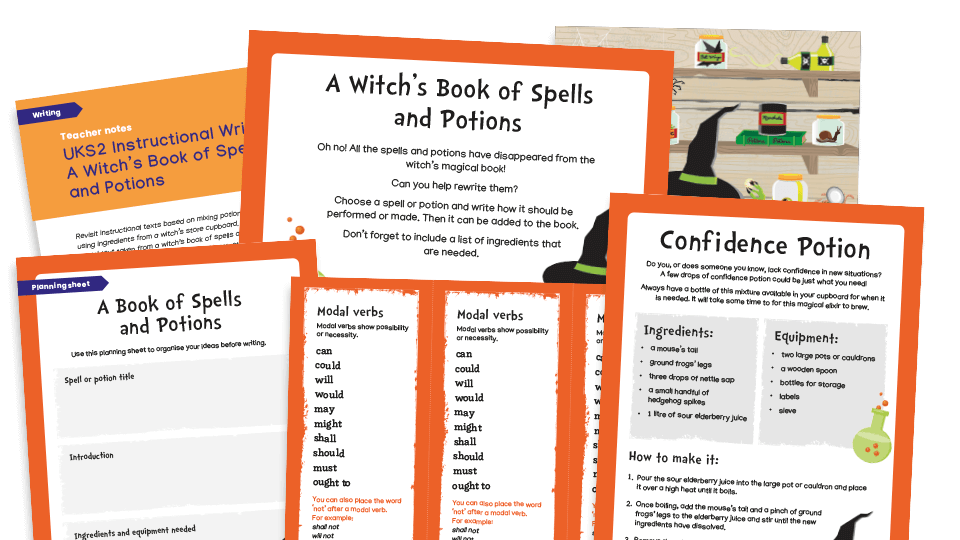 Revisit instructional writing in Y5-6 using this Halloween activities for schools resource pack from Plazoom based on mixing potions and spells.
Pupils will read a model text which you can use to identify the features of instructional writing. They will then create their own instructional writing to add to a book of spells and potions. There are also activities to teach the use of modal verbs and layout devices.
---
Write spooky short stories with Pie Corbett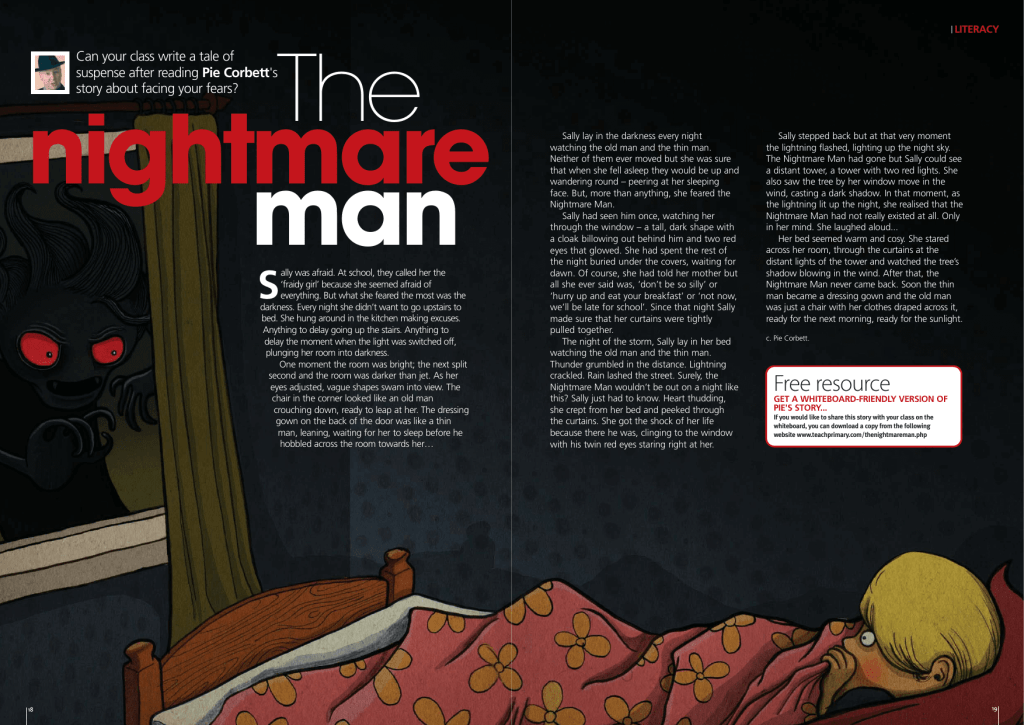 This free resource includes an original short story from Pie Corbett called 'The Nightmare Man', as well as his accompanying activities. Children can read Pie's tale of suspense and facing your fears, then create their own nightmarish short story.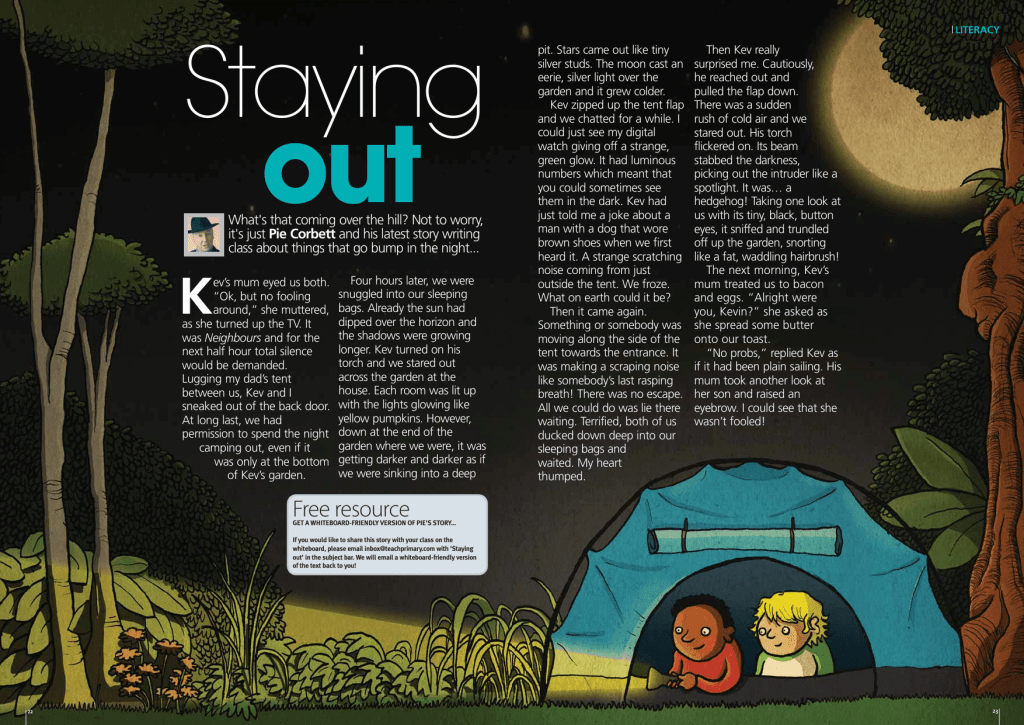 Staying with Pie Corbett, here's another of his original short stories with accompanying resources. This one is called 'Staying Out'. It will help students write their own spooky story with an atmospheric setting and eerie sound effects.
---
Use coordinates and angles on this Halloween treasure hunt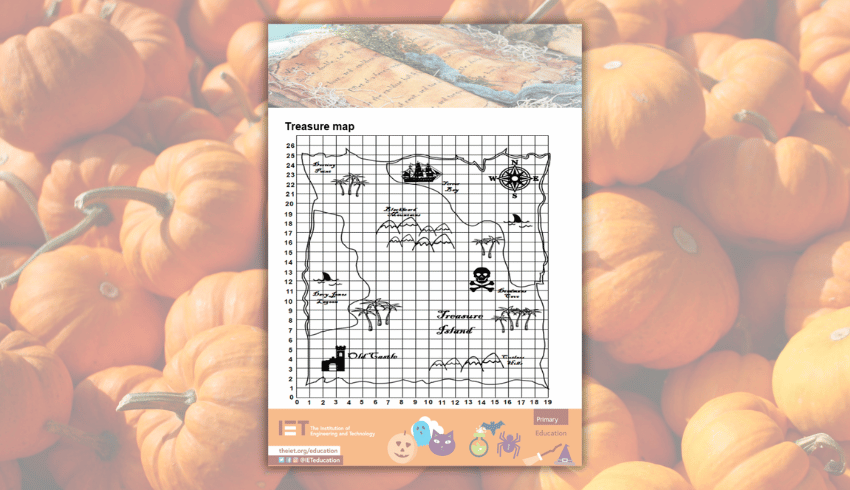 Locate buried treasure on a pirate map and develop maths knowledge in this fun Halloween activity from IET.
Students will look at different methods to find position and direction on a map and will learn how to use coordinates and bearings using angle and distance.
---
Early Years Halloween resources
Creepy colouring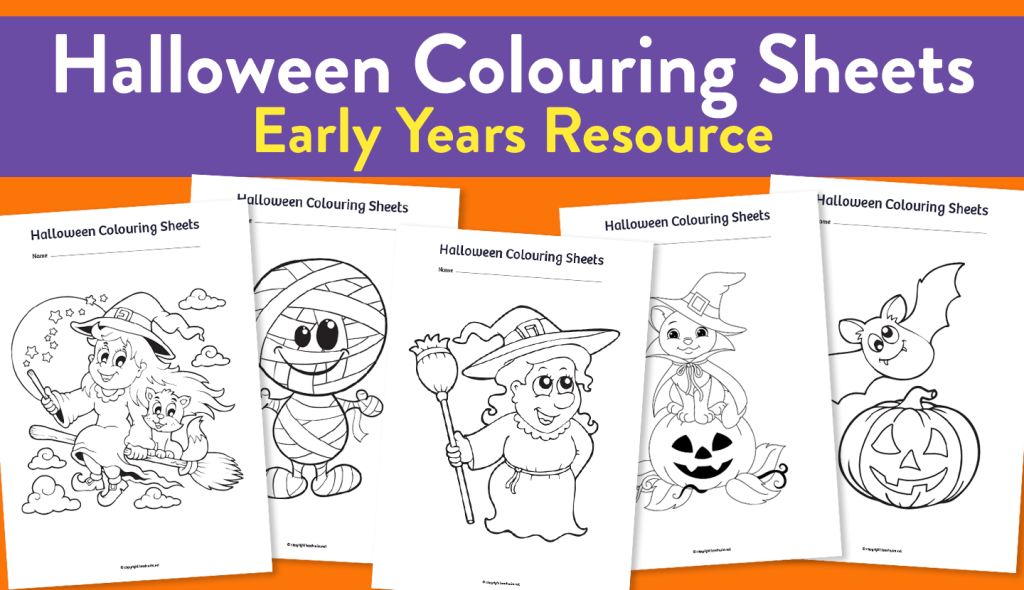 Download and print these free Halloween colouring sheets that feature witches, pumpkins, bats, cats and mummies.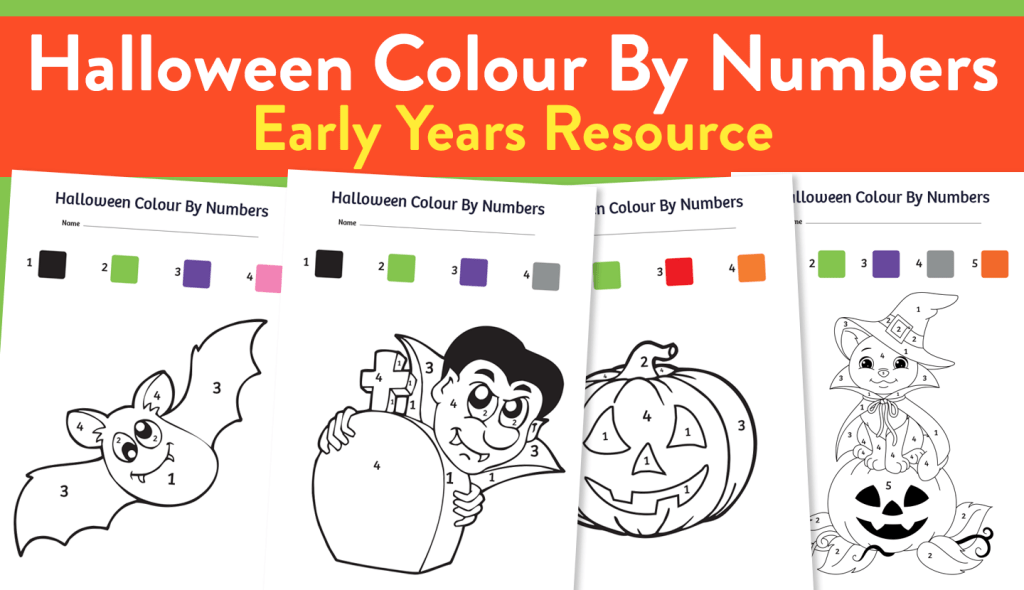 You can also try these Halloween-themed colour by numbers sheets, which are free to download.
---
Halloween Hotel role-play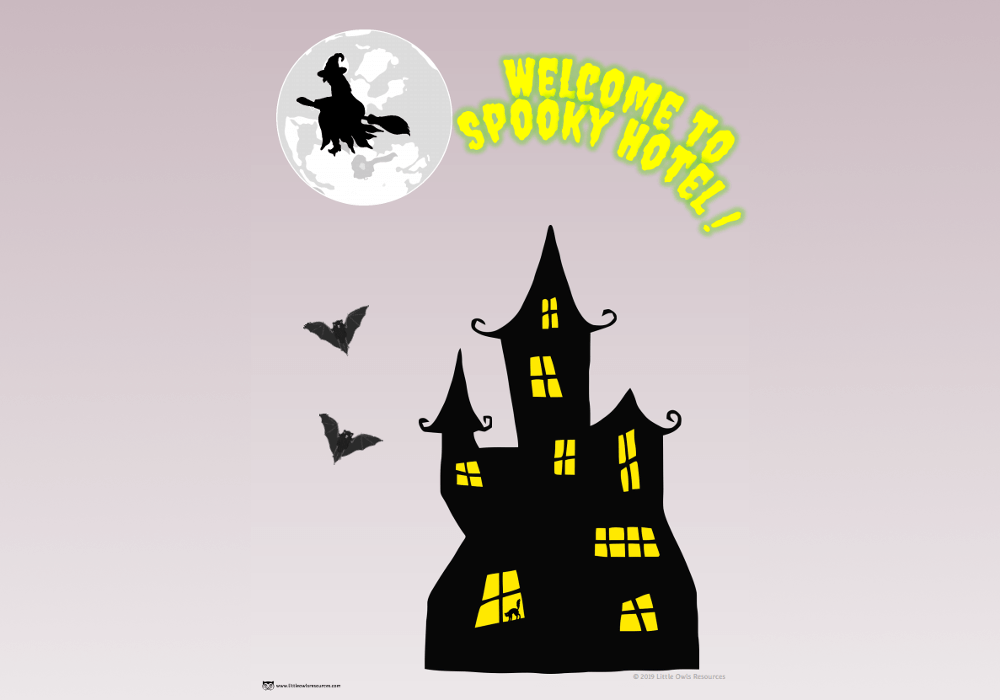 Transform your role-play area into a Spooky Hotel with this free role-play pack from Little Owls Resources. It contains all you need to inspire role-play while also developing key skills.
---
Make paper plate pumpkins
Avoid lugging giant pumpkins into pre-school by making your own pumpkin faces on paper plates instead.
---
Brilliant Halloween books for Early Years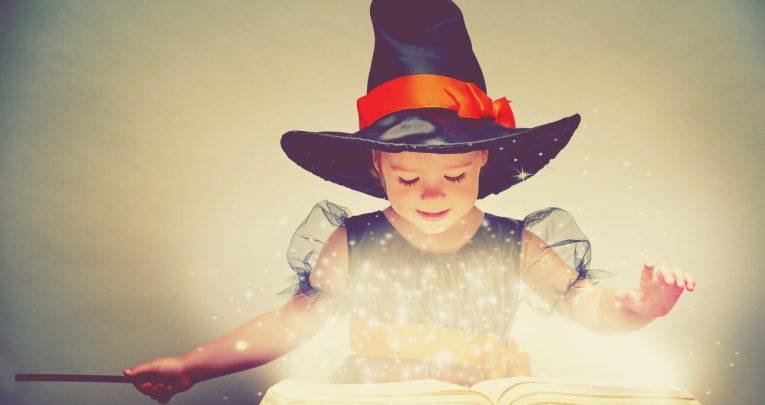 Let little ones face fears safely with this collection of tales featuring all things scary and spooky this October…
Monster in the Hood by Steve Antony
Everyone knows about the Monster In The Hood. But despite the gossip and rumours, Sammy Squirrel, Henri Hedgehog and Marvin Mouse aren't daunted by its fearsome reputation.
They want to see the creature's large, orange eye, huge shaggy hands and big, scary mouth for themselves. So they organise an expedition through the streets where it's said to lurk.
As the three small chums stride bravely onwards, they are passed by a pack of rats, a cloud of bats and a clutter of cats. They're all fleeing in terror from the notorious monster and warning our heroes to do the same.
Yet when Sammy, Henri and Marvin are finally faced with the beast itself, they realise that there's no need to be afraid. That's because all the Monster in the Hood really wants is someone to play with.
It's beautifully told, with illustrations that build the suspense brilliantly. It's a story about friendship, courage and most of all, the importance of using your own judgement, rather than listening uncritically to what everyone else is saying. This is especially true when it comes to people who may be a little different from those you are used to meeting.
Leo: A Ghost Story by Mac Barnett
Most people cannot see ghosts. That's why, when lonely Leo produces a tray of delicious snacks to welcome the family that's just moved into the house he's been peacefully haunting for years, the response he gets is not the one for which he is hoping.
It looks as though Leo will be on his own forever, invisible to everyone he passes. That's until he happens to meet a little girl with an imagination that's both powerful and big-hearted enough to include him in her world.
This tender, wistful tale of friendship, innocence and belief is an absolute joy – simply and movingly told, with quirky illustrations that tug at the heartstrings even as they raise a smile.
The Deep Dark Wood by Algy Craig Hall
Everyone knows that the deep, dark wood is no place for the faint-hearted. There are plenty of scary, half-familiar creatures lurking in the shadows, including witches, trolls and giants.
In this clever and funny, jumbled fairy-tale, a sweet little girl skips her way safely along the path that leads to her best friend's house, despite having attracted the attention and appetite of the most cunning and fearsome beast of all – the infamous big, bad wolf himself – right at the start of her journey.
How? By outsmarting him of course!
Algy Craig Hall's understated but evocative prose is a pleasure to read aloud. Ali Pye's illustrations are the perfect blend of eerie and adorable. This is especially true when it comes to the final, fabulous twist that leaves our heroine's would-be predator hungry. Your audience will be giggling with delight.
Ready, Steady, Ghost! by Elizabeth Baguley
The world is often a scary place when you're small. And many children might be relieved to discover that this is even true if you happen to be a ghost.
Little Bertie wants to be good at haunting, but finds dark forests and tall castles just too overwhelmingly large and full of Frightening Things for a ghoul of his limited dimensions and nervous disposition.
It's a question of perspective, of course. So when Bertie is invited by the resident royals to haunt a toy castle, everyone is satisfied.
Elizabeth Baguley's bouncy prose and Marion Linsday's just-spooky-enough illustrations combine to make this a thoroughly enjoyable story to share time and time again.
A Monster's Moved In! by Timothy Knapman
Sometimes, there's just nothing a grown up can suggest that sounds like it might actually be a fun thing to do – especially when unseasonable weather is preventing expected outside play in the summer.
Luckily, as all wise parents (and practitioners) know, small people have practically limitless resources of their own given the right encouragement to make use of them.
And that's exactly what's demonstrated in this funny story about a boy, a den he creates from cushions and bits of sofa, and a friendly monster who pops in for a visit just when things are starting to get a bit boring.
Loretta Schauer's illustrations are bright, dynamic and full of details to discuss. Meanwhile, Timothy Knapman peppers the narrative with plenty of noisy and exciting exclamations that invite enthusiastic audience participation.
Spider Sandwiches by Claire Freedman
Claire Freedman has already proved several times over that she knows exactly what kids want from an early reading title, given that she is the sharp wit behind the massively popular Aliens Love Underpants series.
In this similarly gleeful tale of Max the monster and his hearty but utterly disgusting appetite she has almost certainly hit the mark again, with page after page of increasingly horrid menu suggestions that are bound to appeal to young readers with a penchant for all things loathsome – from beetle biscuits and lice rice to pickled worms and snail trail sauce.
Sue Hendra's vivid illustrations celebrate every ghastly dish on the list with relish (as it were), and the pay-off line is genuinely laugh-out-loud funny.
Your little ones will need little encouragement to start coming up with gruesome ideas of their own – although you may wish to save such an activity until after lunch.
The Great Aaa-Ooo! by Jonny Lambert
Ah, story time; an idyllic interval of peace and stillness amidst the daily hubbub and high-octane activity that very much comes as standard with the EYFS territory… unless, that is, you deliberately choose a book that is as joyfully noisy as the children with whom you are sharing it!
Whilst quiet listening can be lovely, a chance for the audience to yell and shout as the plot unfolds is sometimes exactly what's needed.
Jonny Lambert's fun tale of a mysterious, scary sound that leads to all kinds of confusion amongst the creatures who live in the 'dark, rackety wood' certainly fits the bill.
Lambert's choice of language is as deliciously rich and textured as his vibrant illustrations, and there's an opportunity to play with a whole orchestra of animal noises, including the spooky 'aaa-ooo', as every page is turned, getting louder and louder until the action climaxes with a fabulous cacophony of cracking tree branches and tumbling beasts.