Year 5 and 6 spelling list words – 16 of the best worksheets and resources for KS2 SPaG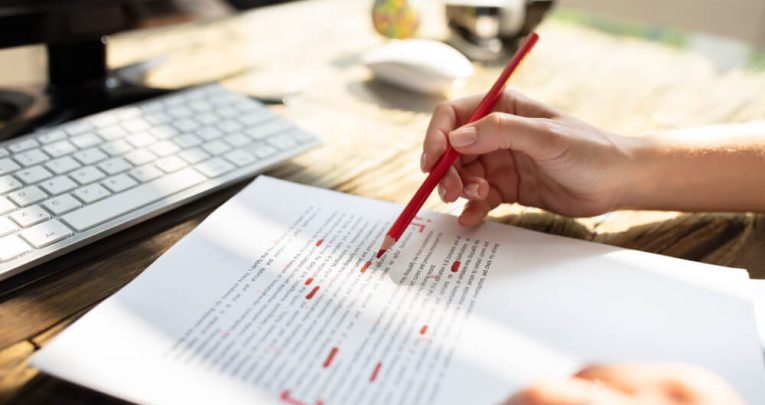 Make sure your upper KS2 students have a firm grip on spelling with these excellent ideas, activities, lessons games and more…

by Teachwire
1 | Year 5 and 6 statutory spelling word list
Nowhere better to start than the actual list of 100 common exception words that are statutory for year 5 and 6 students to know how to spell, right?
Presuming you haven't got them committed to memory from 'accommodate' to 'yacht' this PDF on the Oxford Owl website has them clearly listed all on one page, it can be downloaded freely without signup and there's no coloured background that will waste school ink if you want to print it out.
---
2 | Year 5/6 Statutory Spelling Words (SSW) practise packs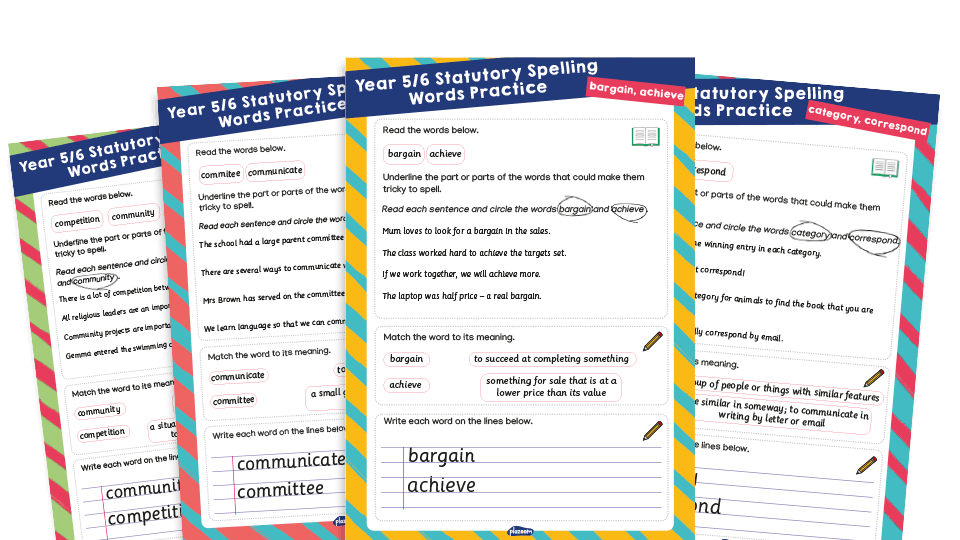 These Y5/6 statutory spelling word (SSW) packs allow pupils to practise reading and spelling a selection of the statutory spellings for Y5 and 6.
Each worksheet includes two words for pupils to read, spell and understand, with an opportunity to practise handwriting, making them perfect for independent practice during spelling lessons, for use as revision activities and for home learning.
There are 12 packs available, one for each half term throughout Years 5 and 6, together covering all of the statutory words in the spelling curriculum.
You can find all 12 packs here.
---
3 | Year 5 spellings word mats and cards
This pack has been put together to support teachers in ensuring that children are familiar with the Years 5 and 6 statutory spelling words.
The words are presented on cards for display; and as mats that can be used for table work, plus assessment sheets are also included, so teachers can tick off words as they are learnt.
---
4 | Year 5 and 6 spelling revision worksheets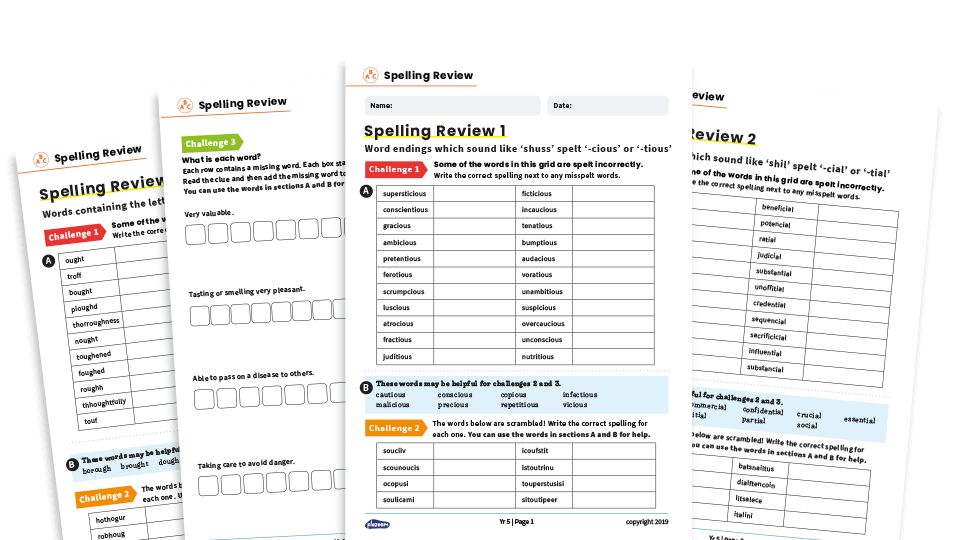 These spelling word worksheets provide a great way to practise and review the Year 5 and 6 words from the National Curriculum Spelling List.
There are a selection on 'Spelling Review' worksheets (alongside an accompanying answers document and teacher notes) that cover various spelling patterns.
Each worksheet sets students the following tasks:
Identify misspelt words within a grid and write the words spelt correctly beside them
Identify eight scrambled words within a grid and write the correct word beside each – the words in question can all be found in unscrambled form in an adjacent panel containing a total of 12 words
Complete four empty text fields with the letters of missing word, hinted at by an accompanying clue. The words in question can also be found in the panel used in the previous task
Click here for the Year 5 packand here for the Year 6 one.
---
5 | Year 5/6 spelling review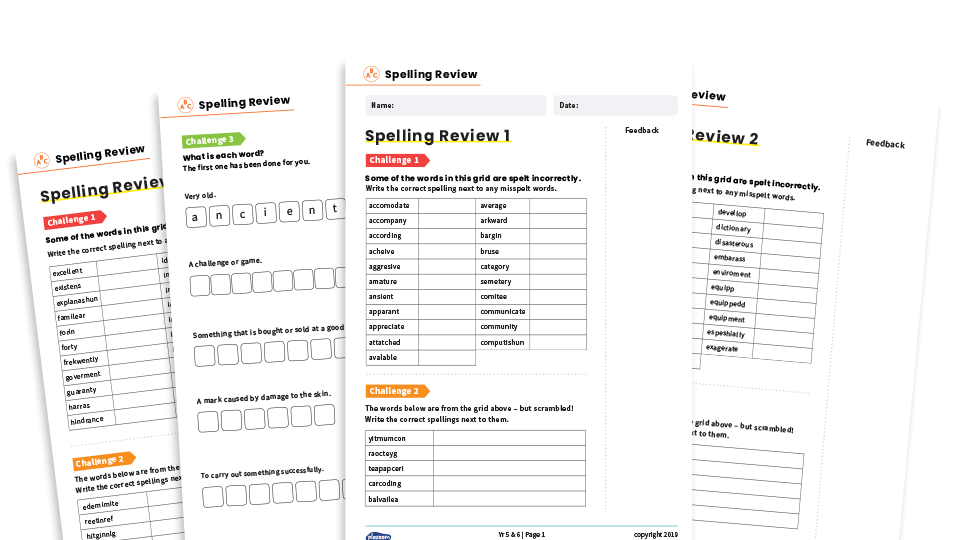 On a similar note, these worksheets cover all of the Y5/6 statutory spelling words across five challenging worksheets, each containing three different types of spelling check challenges, including anagrams and cryptic clues.
6 | Year 5 spellings SATs practice papers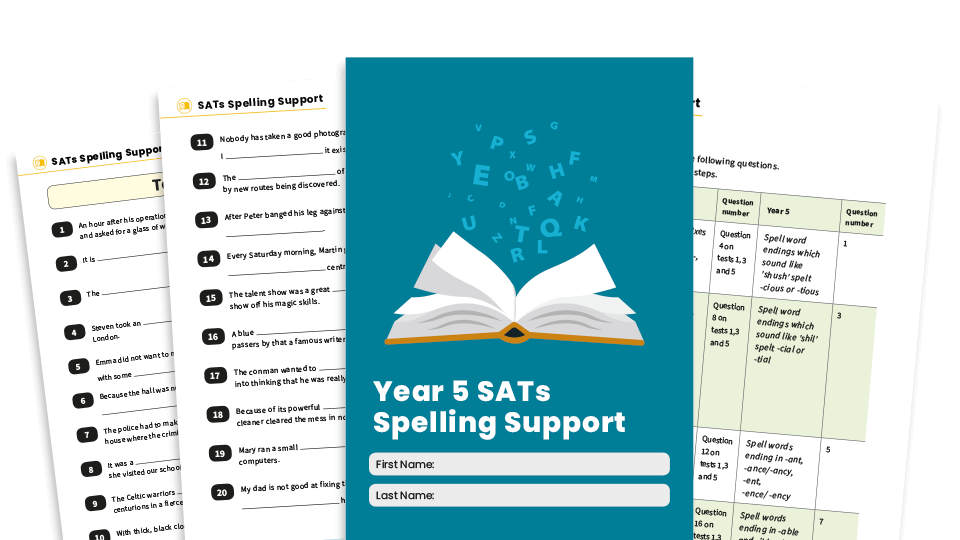 This pack contains six practice SATs papers for KS2. These SATs spelling tests are perfect for assessment at the end of each half term of Year 5.
Each Year 5 spelling test worksheet contains 20 questions and an answer sheet, and a question overview list indicates which spelling patterns are covered by each question, so that you can easily see which spelling patterns need further support.
---
7 | Custom word lists
At SpellingFrame you pick a year group, then a spelling rule, then get a word list to either view, print or test yourself with online.
So, for example, you can choose from adding suffixes beginning with vowel letters to words of more than one syllable, words with the /s/ sound spelt sc, homophones and near-homophones, and more.
IN the interactive tests, children can opt to have the entire sentence read out, or just the word they need to spell.
Head to spellingframe.co.uk to check out all the options.
---
8 | Year 5/6 spelling bingo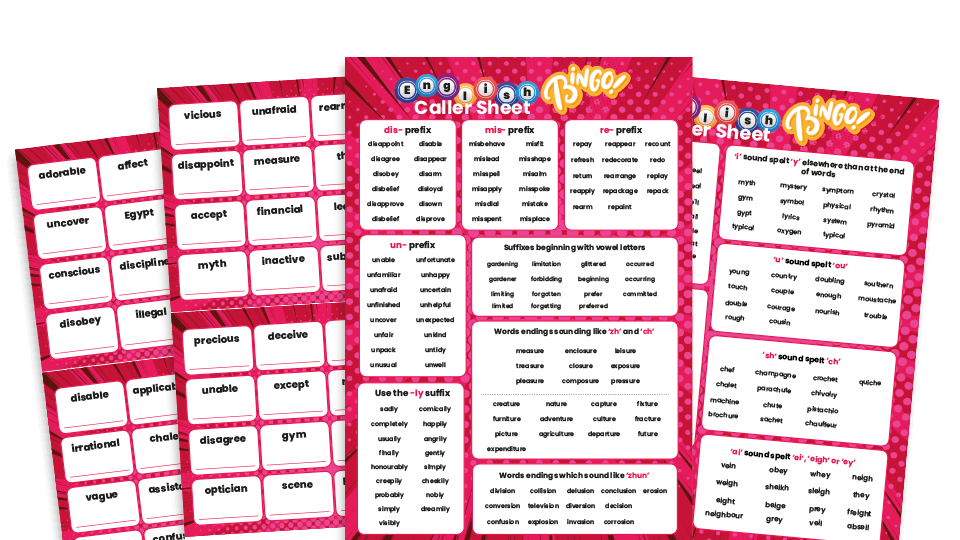 These spelling Bingo resource packs are a fun way to support children in UKS2 and above in practising key spelling patterns. It revisits spelling patterns from Lower Key Stage 2 as well as Year 5 and 6 spelling patterns, and can be played as a class or in small groups.
Included in this pack are 30 bingo cards each containing 16 words containing spelling patterns from Key Stage 2, and a tick list to mark off the spelling patterns called out.
Find the Year 5 pack here and the Year 6 pack here.
---
9 | UKS2 spelling anagram game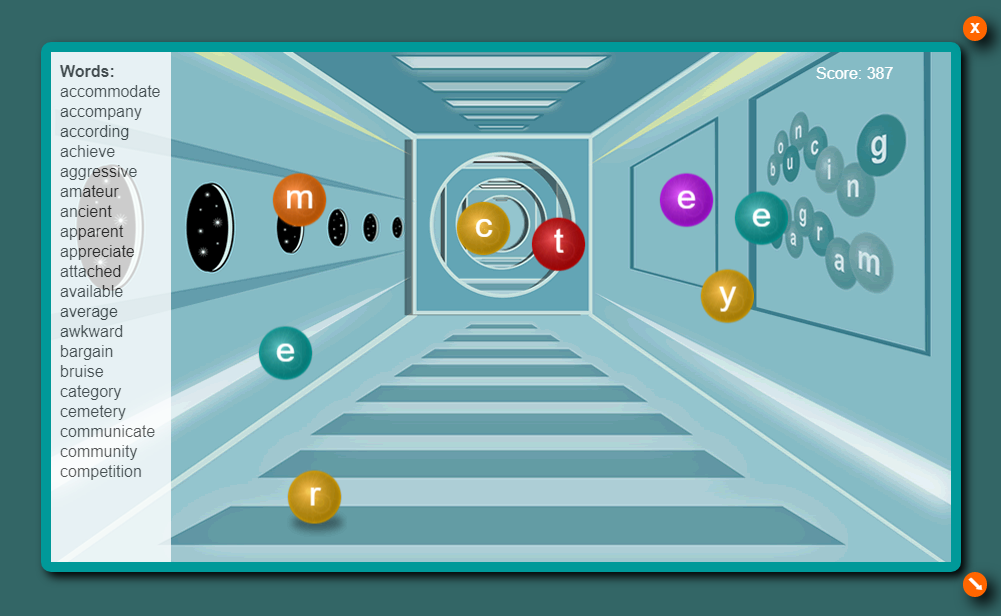 This fun little interactive game lets students work out the anagrams from a list of words all taken from the Year 5/6 spelling list.
Just click the letters on the bouncing balls in the right order to spell the words out and cross them off list.
---
10 | Years 5 and 6 spelling word search revision pack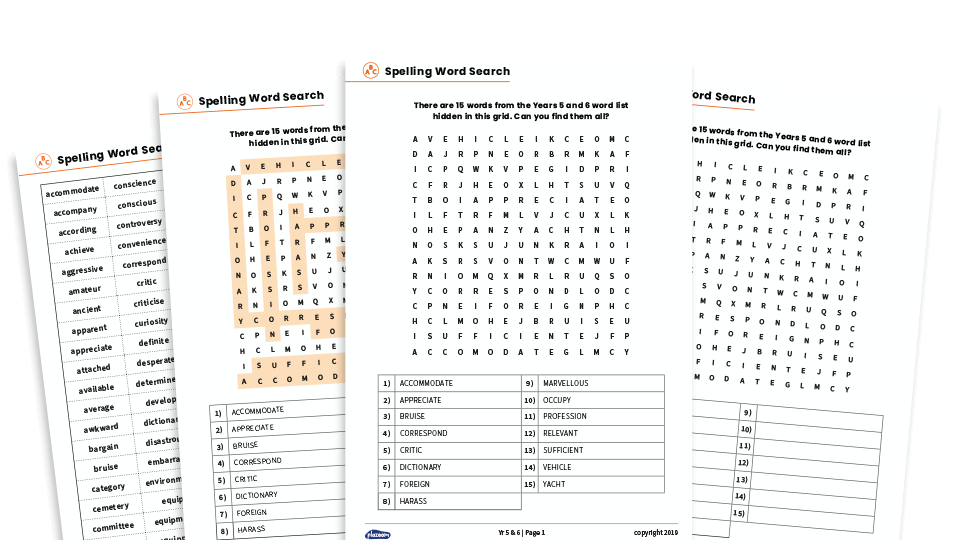 Help children to master all of the words from the Year 5 and 6 spelling lists with these word search activities.
There are seven different word searches in this pack which together cover all of the Year 5 and Year 6 spellings on the English curriculum.
One version provides a list of the words pupils are looking for, while in a more challenging version children have to find the words without guidance.
Answer sheets for all the word searches are included.
---
11 | Year 5 and 6 spelling pattern resources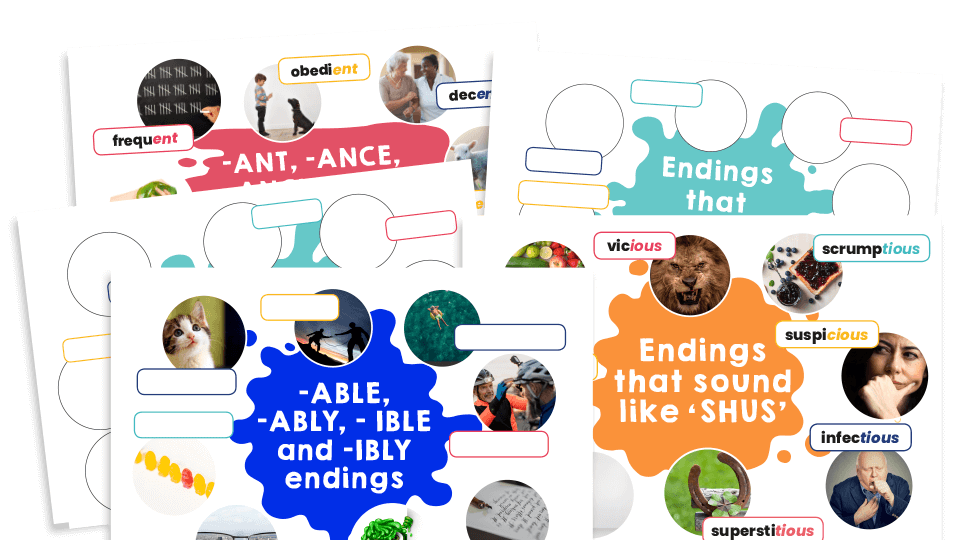 These spelling pattern resources come in three styles, there are posters, a word-sorting grammar game, crosswords and a wordsearch revision pack.
The spelling pattern display poster pack (Year 5 and Year 6) contains a number of interactive posters illustrating Year 5/6 spelling concepts, and there are also graphics for you to make your own posters.
The Word sorting grammar game pack (Year 5 and Year 6) contains a variety of Key Stage 2 spellings split into different spelling patterns. Children can be given sets of word cards and asked to discuss the common spelling patterns, before sorting the cards into groups.
This crossword pack contains six crosswords, with answer sheets included. Not only are they a fun way to test and improve children's spelling skills, the clues help to clarify word meanings, developing vocabulary and enabling children to use these words more confidently in their writing.
Finally, the wordsearch revision packs (Year 5 and Year 6) contain 10 different wordsearches. One version provides a list of the words pupils are looking for, while in a more challenging version children have to find the words without guidance. They are also asked to identify the spelling patterns, and explore the spelling patterns and vocabulary further.
Click the links above to check them out.
---
12 | Year 5/6 spelling workout worksheets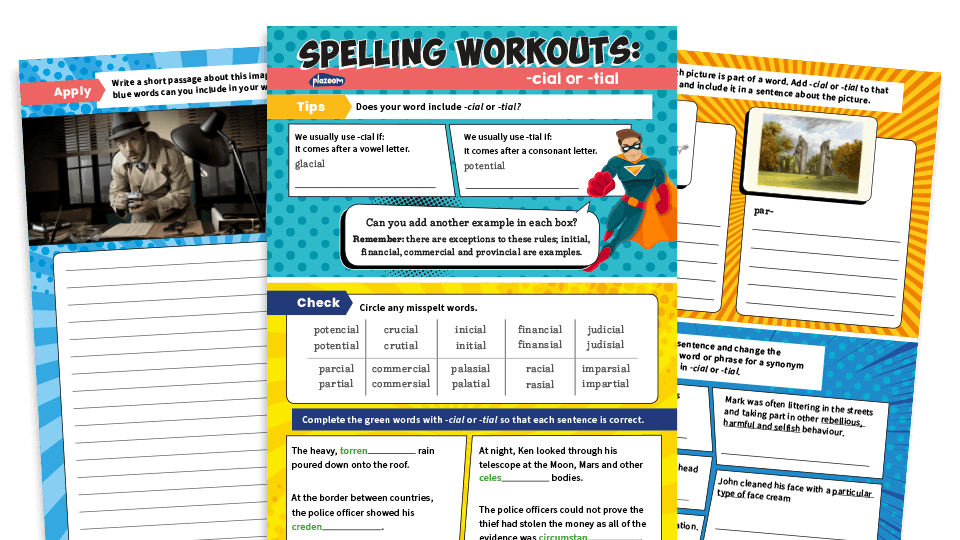 These spelling worksheet packs include five different activities in which children look at spelling patterns, identify misspelt words and apply their spellings in context.
There are seven packs in total, just click the links to check them out:
---
13 | Tips for remembering silent letters
This short BBC Teach video has some handy advice for remembering the silent 'n' in words like 'hymn' or 'autumn', and the silent 't' in 'hustle' and 'wrestle' among others. It's well worth a watch.
---
14 | Spelling Crime Scene Investigators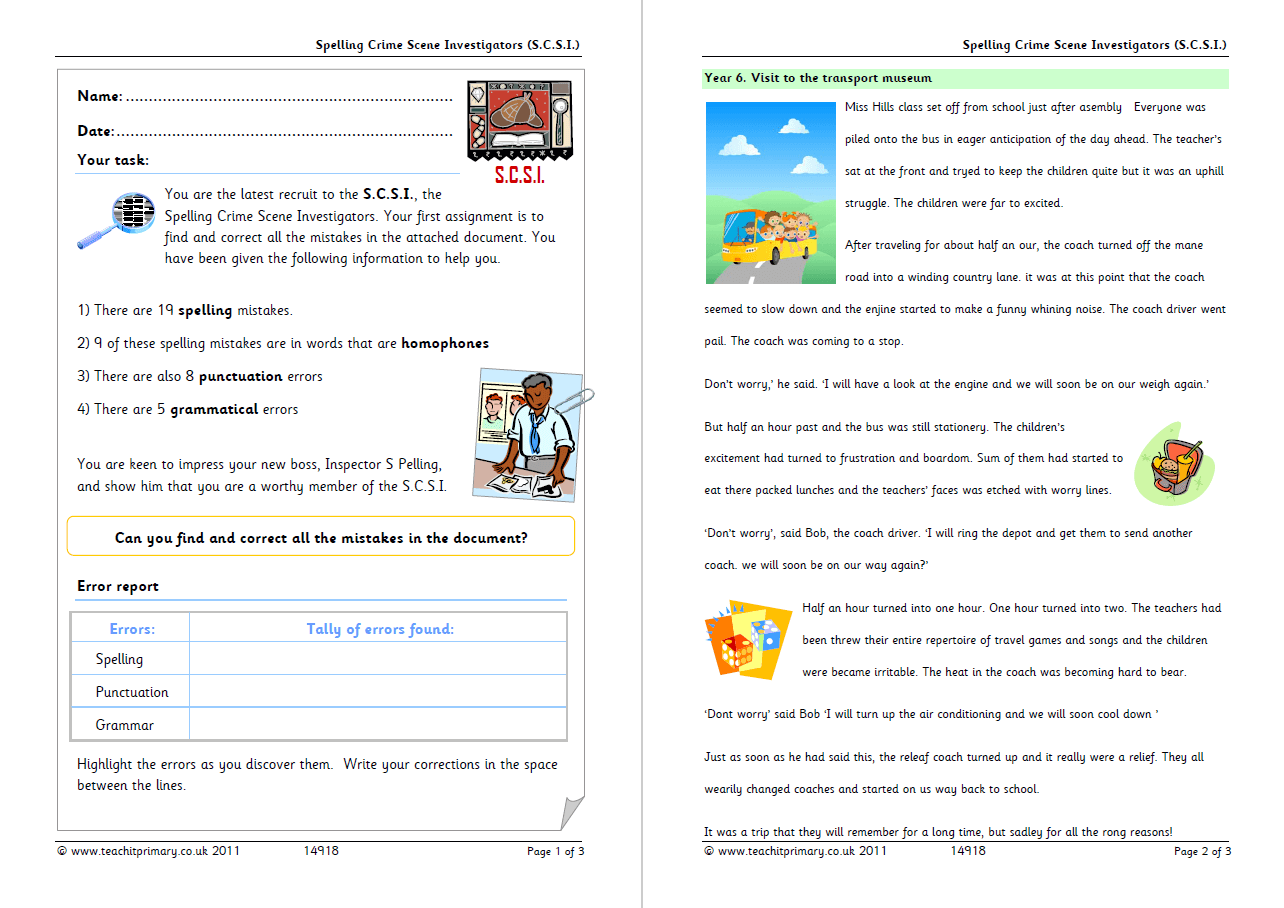 This is a proof-reading resource suitable for Y5/6 children, including grammatical, spelling and punctuation errors.
The PDF includes a report about a class trip to a museum, and children are told that there are 19 spelling mistakes, nine of which are homophones, as well as eight punctuation errors and five grammar slip-ups.
Their job is to spot and correct them.
15 | Multiple year 6 spelling word lists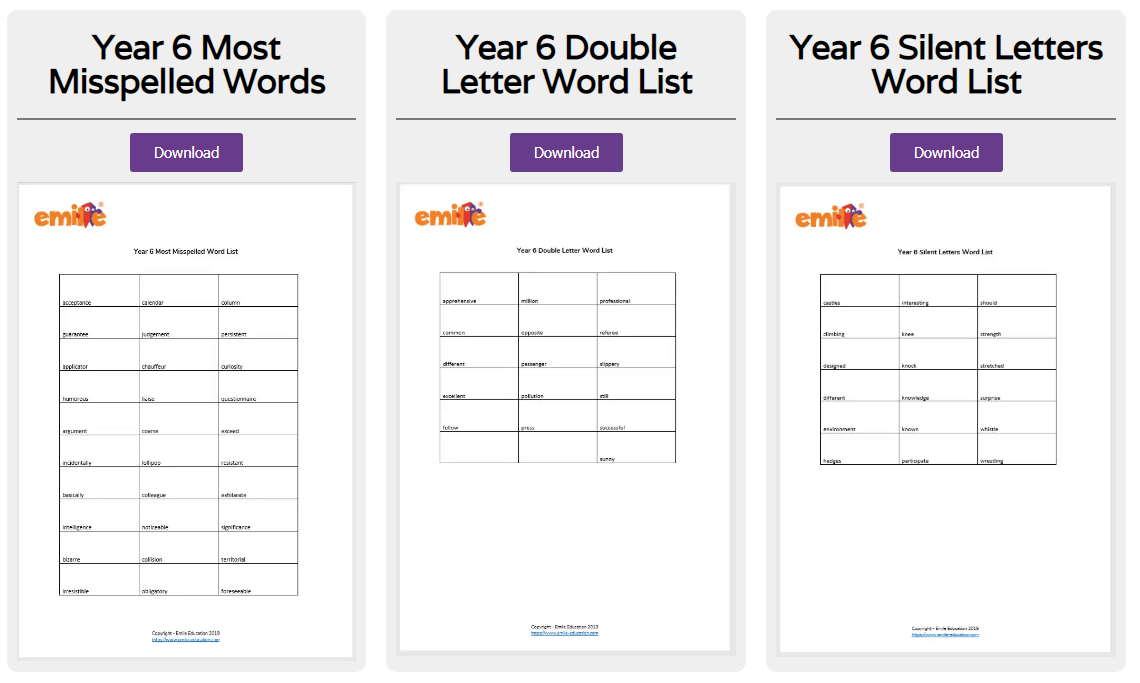 On the Emile Education site you'll find downloadable lists of the year 6 spelling words all sorted into various groups.
There's a high-frequency words list, one for words that are nouns and verbs, as well as most misspelled, silent letters, double letters and more.
---
---
16 | '-ent' and '-ence' endings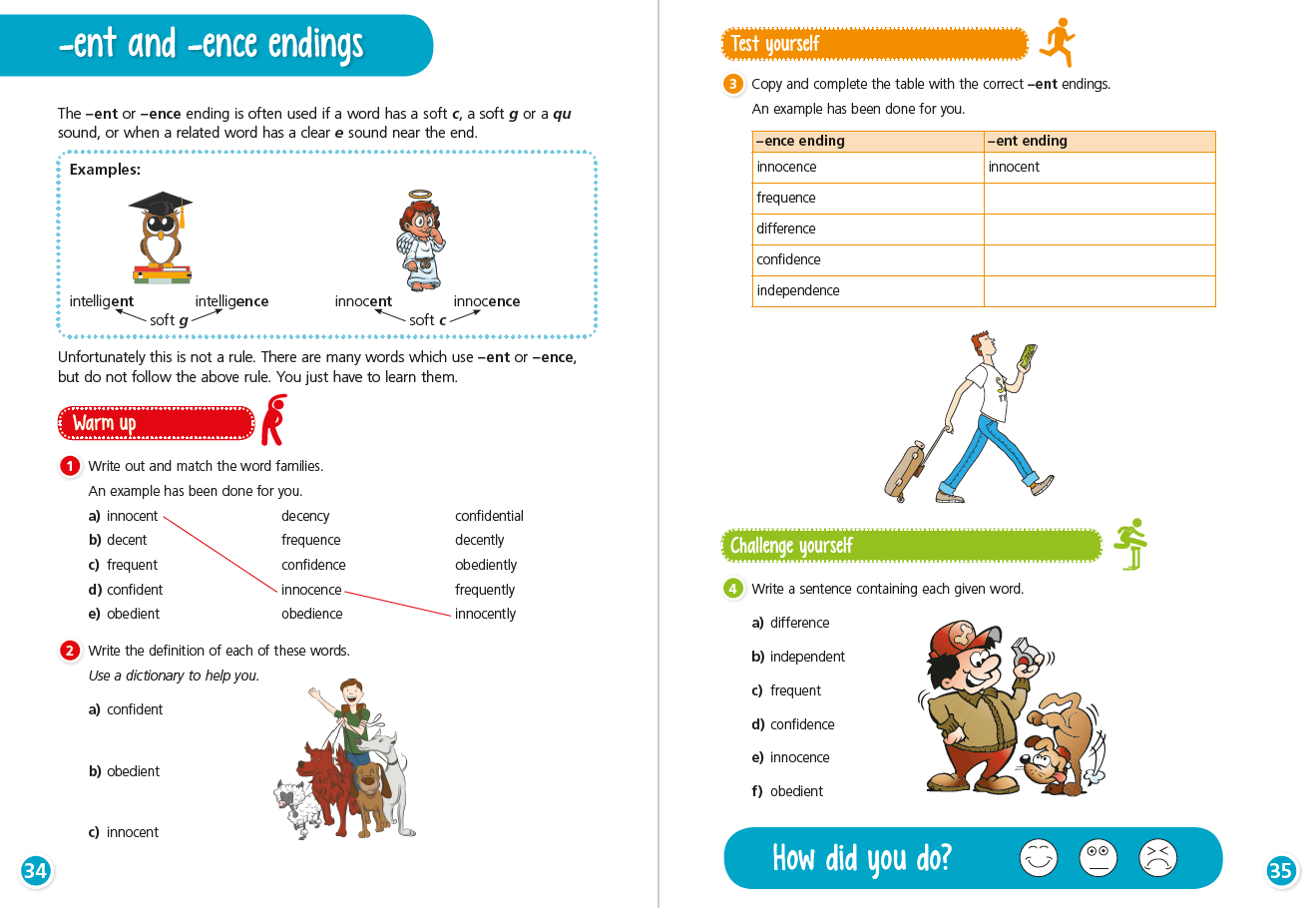 This resource is a 6-page sample of Keen Kite's Ready, Steady, Practise! – Year 6 Spelling series.
Pages 1 to 3 feature sample questions and answers taken from Ready, Steady, Practise! – Year 6 Spelling Pupil Book: English KS2, while Pages 4 to 6 feature guidance, questions and answers taken from Ready, Steady, Practise! – Year 6 Spelling Teacher Resources: English KS2.