PDF featuring activity ideas, plus Powerpoint version of story to show in class
Use Pie Corbett's spooky writing resource to help students write their own scary story with an atmospheric setting and eerie sound effects.
Pie has built his 'Staying Out' story around a simple idea. The main characters go to a setting that is slightly out of the ordinary. At first everything is OK but then they hear a noise. What could it be?
The characters react and are obviously afraid – especially as whatever is making the noise gets closer and closer. The story ends with the children discovering that they didn't really need to worry – it was something quite ordinary.
Loiter with the story for at least two or three days, if not longer. This will help the less confident internalise the patterns. Make sure children have heard you read the story and have read it themselves as often as possible.
Display it on the interactive whiteboard so that everyone can see it. Deepen understanding with the activities included in this download.
Spooky writing download contains:
PDF guide for teachers, containing the source story and activity ideas
PowerPoint file presenting the story as a series of illustrated slides, for use with interactive whiteboards
---
More resources
Read more about building suspense in writing in KS2 or download our Pie Corbett Ultimate KS2 Fiction Collection.
---
Pie Corbett is an English educational trainer, writer, author and poet who has written over 200 books. He is also known for promoting creative approaches in the classroom and has experience as a teacher, headteacher and Ofsted inspector. Follow him on Twitter at @PieCorbett. Browse more Halloween activities for schools.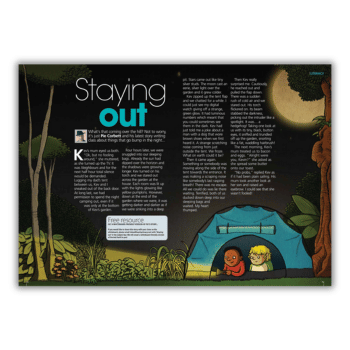 DOWNLOAD A FREE RESOURCE!
Spooky writing – 'Staying Out' by Pie Corbett