Year 5 reading comprehension – 19 of the best worksheets and resources for UKS2 literacy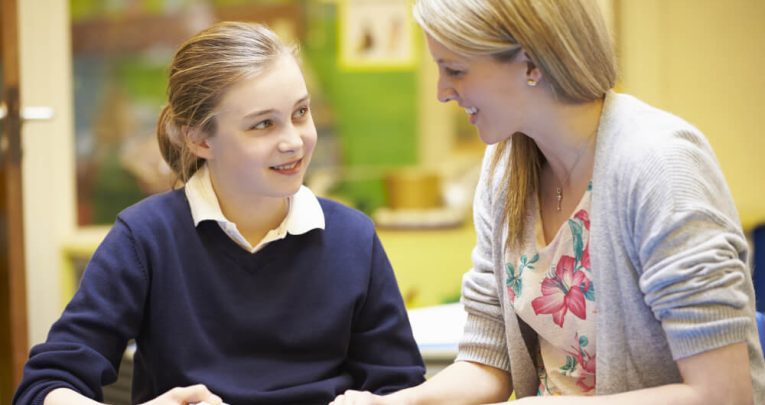 Give your Year 5 pupils a great grounding in reading comprehension before they head into Year 6 and SATs with these worksheets, lessons, activities and more…

by Teachwire
1 | Real Comprehension curriculum programme for Years 1-6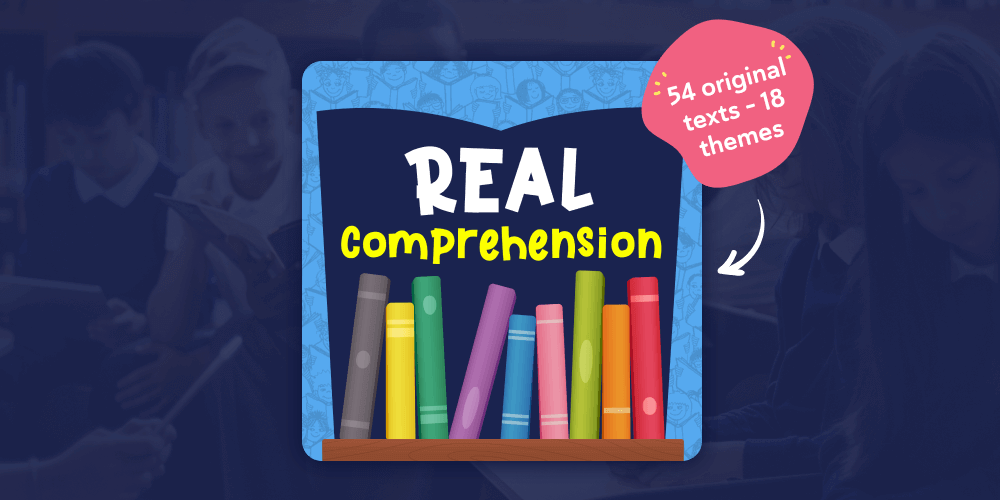 Real Comprehension is a unique, whole-school reading comprehension programme designed to develop sophisticated skills of inference and retrieval; build rich vocabularies; and encourage the identification of themes and comparison between texts from Years 1 to 6.
Access 54 original fiction, non-fiction and poetry texts by published children's authors – all age appropriate, thematically linked, and fully annotated for ease of teaching.
Build deeper understanding for children of all abilities through a variety of close-reading and guided reading techniques, plus fully resourced teaching sequences for every text.
Improve pupils' ability to make high-level inferences and links between texts, and extend their vocabulary with focused lessons.
Find out more about Real Comprehension here.
---
2 | Year 5 tier 2 words – reading comprehension worksheets and vocabulary cards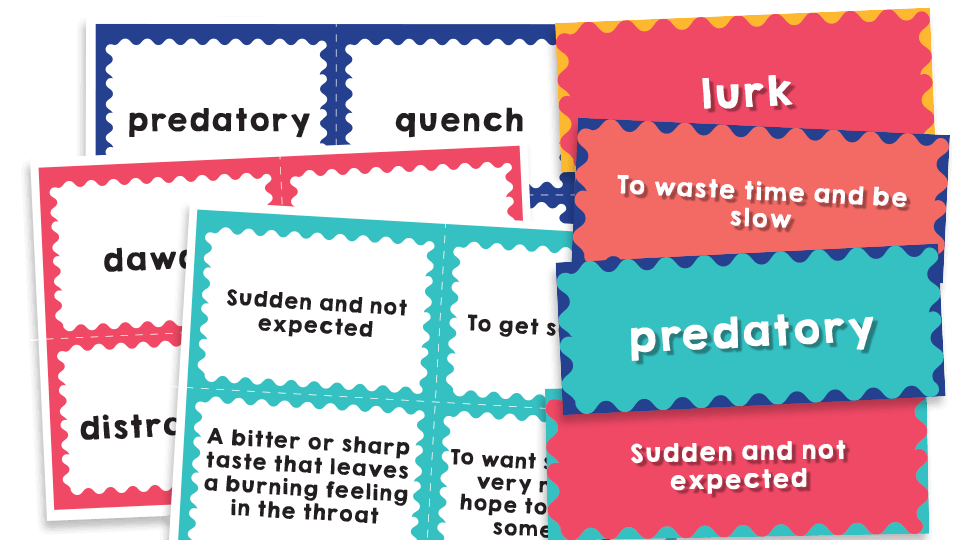 Tier 2 words are ones which children might encounter in text but are less likely to use in everyday conversation. As these words are often unfamiliar to children, they can sometimes act as a barrier to reading. We have chosen 48 Tier 2 words for this Year 5 pack.
The Tier 2 words in this pack can be used by children to add more-adventurous or formal vocabulary to their writing, and the worksheets can also be used as a reading comprehension activity.
---
3 | KS2 fiction and non-fiction question cards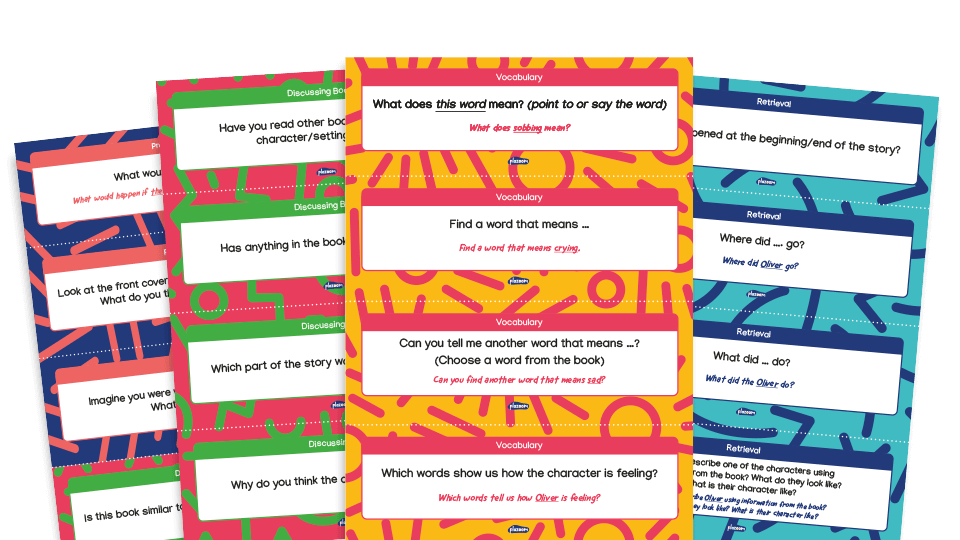 These comprehension cards give example questions to develop a range of comprehension skills when reading fiction and non-fiction texts including understanding vocabulary, retrieving information, sequencing events, making inferences based on what is said and done, predicting what might happen next and encouraging positive discussions about books that they have read.
The question cards can be used in one to one reading sessions, group guided or whole class reading sessions and the pack contains cards with vocabulary questions, retrieval questions, sequence questions, inference questions, prediction questions and discussing books questions.
Click here for the fiction cards and here for the non-fiction cards.
---
4 | UKS2 reading comprehension unlocking inference worksheets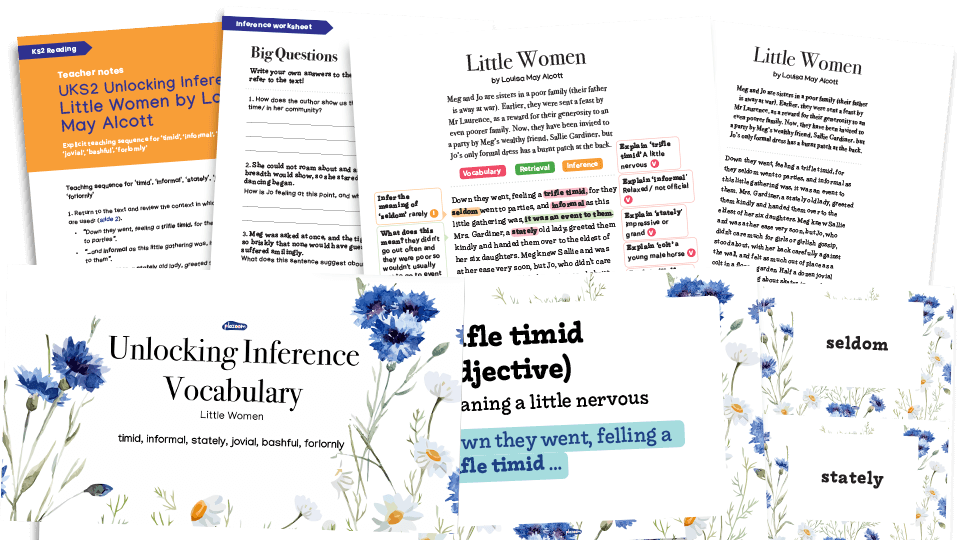 These units are designed to support you in your teaching of inference and vocabulary, and are based on a carefully scaffolded whole-class reading approach, including multiple iterations, enabling all pupils to access even relatively challenging texts.
Each one is based on an extract, which have been annotated with running questions to help you check that children are creating accurate images in their minds, and to clarify their literal understanding (including of key vocabulary).
Click the links to check out each one:
---
5 | Classic texts KS2 reading comprehension packs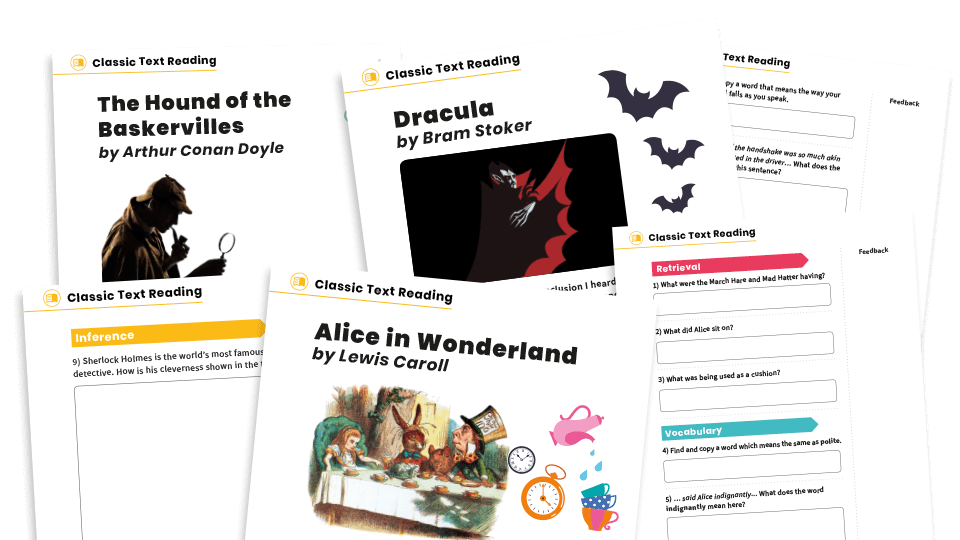 These reading challenge mats provide a quick burst of comprehension practice, ideal for morning work, a short reading session or even sparking an interest in a classic text.
Each mat contains a brief extract from a classic text with a range of reading challenge questions focusing on the key reading skills of inference, information retrieval and the use of language.
There are seven packs available, each of which use three classic texts. Click each link to find them:
Pack 1
The Invisible Man by HG Wells, A Christmas Carol by Charles Dickens and The Adventures of Tom Sawyer by Mark Twain
Pack 2
Kidnapped by Robert Louis Stevenson, Oliver Twist by Charles Dickens and The Time Machine by HG Wells
Pack 3
Alice's Adventures in Wonderland by Lewis Carroll, Dracula by Bram Stoker and The Hound of the Baskervilles by Arthur Conan Doyle
Pack 4
20,000 Leagues Under the Sea by Jules Verne, Gulliver's Travels by Jonathan Swift and Robinson Crusoe by Daniel Defoe
Pack 5
The Jungle Book by Rudyard Kipling, The Railway Children by E Nesbit and Doctor Doolittle by Hugh Lofting
Pack 6
The Wizard of Oz by L Frank Baum, Five Children and It by E Nesbit and The Wind in the Willows by Kenneth Graham
Pack 7
Treasure Island by Robert Louis Stevenson, Great Expectations by Charles Dickens and The War of the Worlds by HG Wells
---
6 | Robert Louis Stevenson poetry comprehension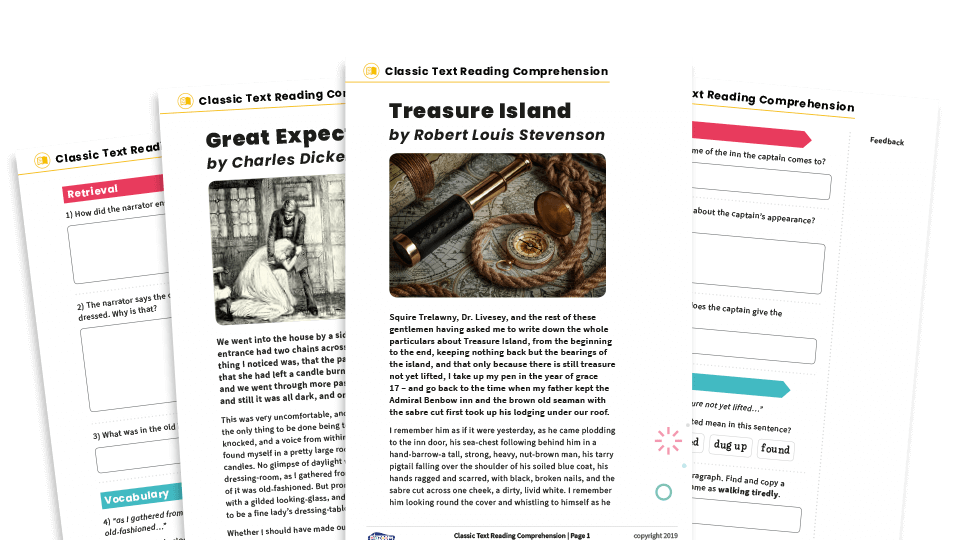 These reading challenges provide a quick burst of comprehension practice, ideal for morning work, a short reading session or even sparking an interest in a classic text.
Each section contains a classic poem by Robert Louis Stevenson – 'From a Railway Carriage', 'My Shadow', 'The Land of Story-Books' – with a range of reading challenge questions focusing on the key reading skills of inference, information retrieval and the use of language.
---
7 | Non-fiction reading comprehension worksheets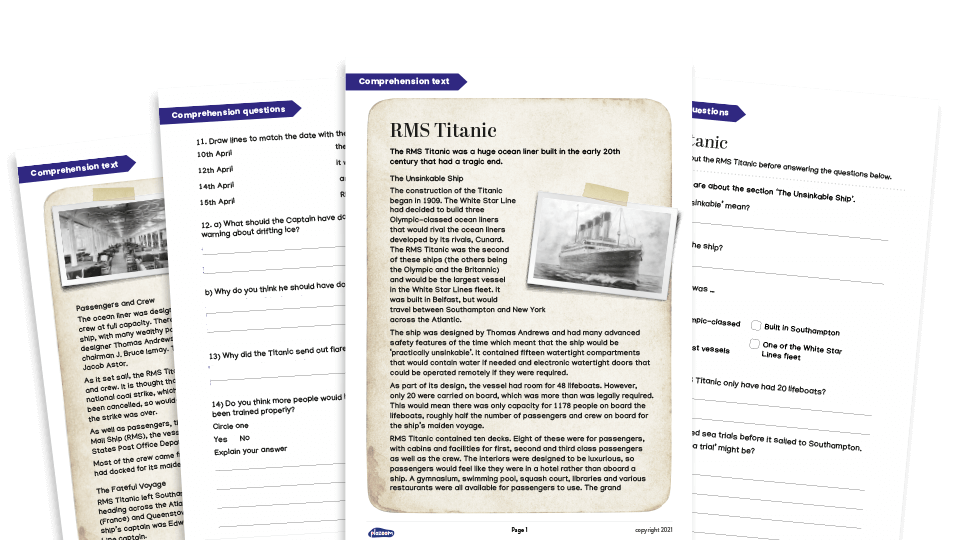 Each of these KS2 resource packs includes a non-fiction text and a range of comprehension questions covering the different reading skills of data retrieval, inference and the use of vocabulary to help boost students' literacy ability.
There are four space-themed topics to choose from, just click these links to check them out:
---
8 | Myths reading comprehension packs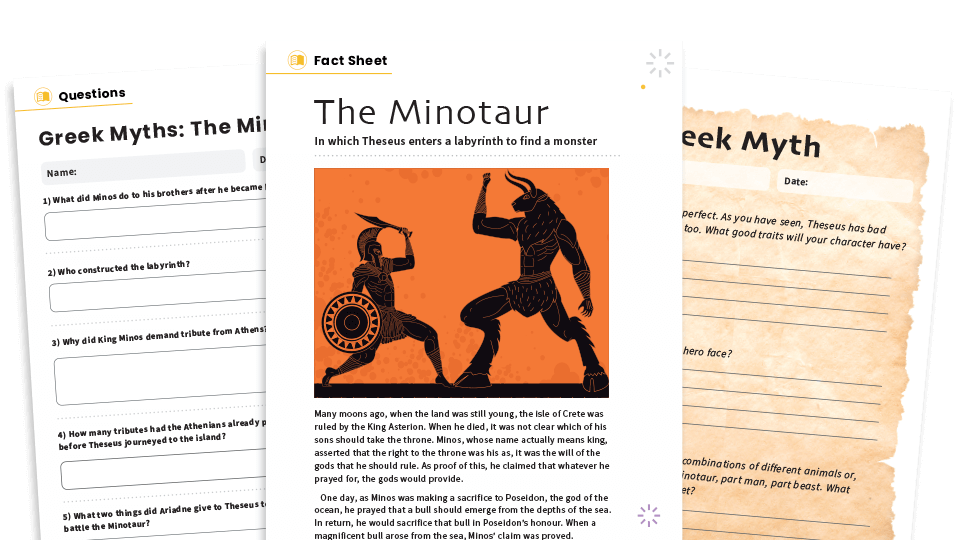 These packs retell a tale from Greek mythology, Native American myths or British and Irish folktales, and can be used to test comprehension skills, including inference, and as a model text for story planning and writing activities.
Each text is accompanied by 20 reading comprehension questions, which target key comprehension skills such as retrieving information, making inferences and understanding unfamiliar vocabulary, including Tier 2 words.
Plus, a planning sheet is included for children to plan out their own myth.
Find each one at these links:
Greek myths
Native American myths
British and Irish folktales
---
9 | How to explicitly teach reading strategies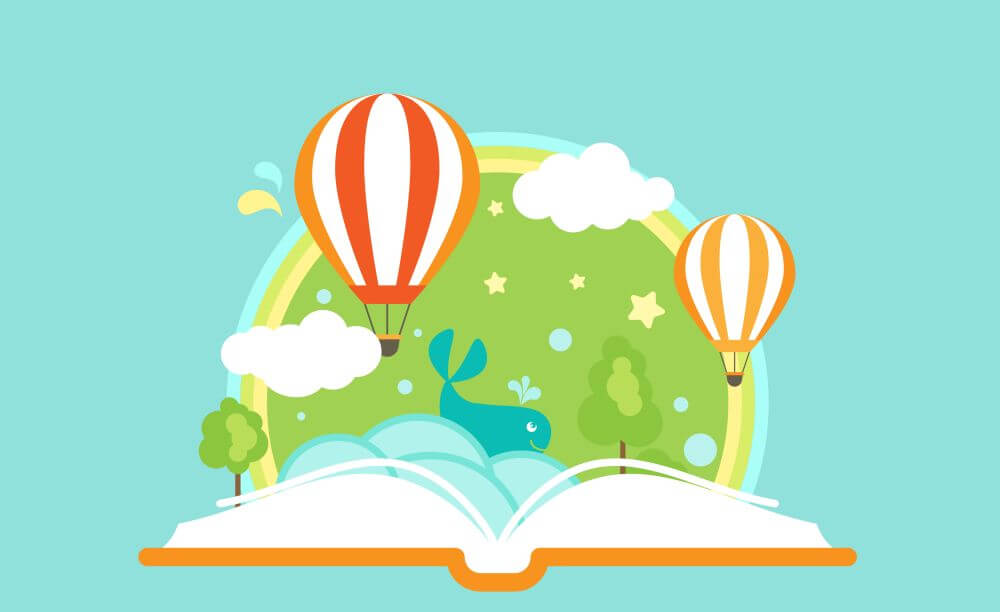 Boost pupils' post-pandemic skills by considering how you explicitly teach the strategies that children need to be successful, with this guidance from Jo Gray and Laura Lodge.
---
10 | Boost comprehension with song lyrics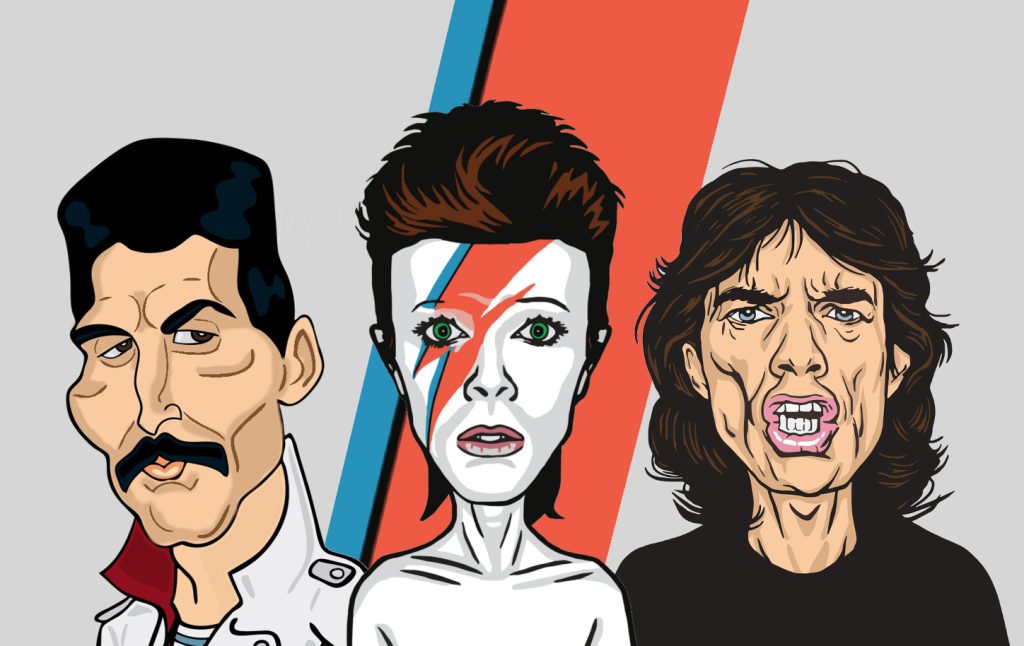 Sing your way through SATs with Matt Dix's guide to using popular music to increase children's literacy skills.
By carefully choosing 10 famous songs for his class, Matt broke each one into four separate reading comprehensions: retrieval and recording, context clues, inference and independent assessment.
First, they read the words and annotated them; then listened to the song, learned and sung a chorus or two; and then they cracked on with the comprehension.
Read how you can do the same here.
---
11 | Use Adele's 'Hello' for comprehension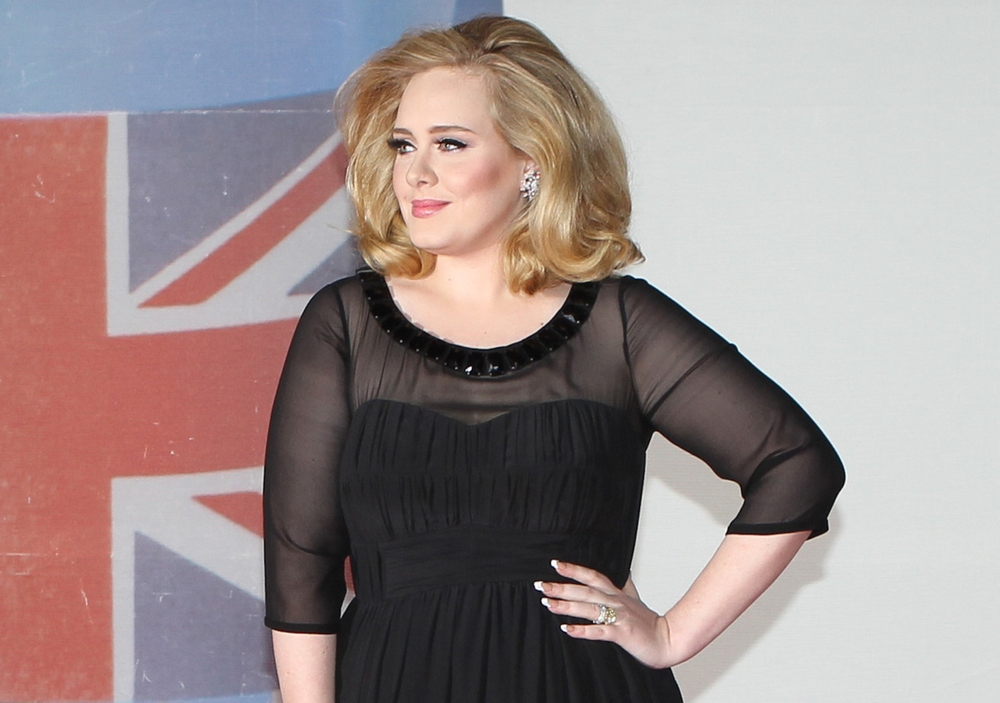 On a similar note, Shareen Mayers drafted in Adele as a TA for the day and shows you how to do the same, by looking at the lyrics to one of her big hits.
---
12 | Turn your students into comprehension ninjas
Use Vocabulary Ninja Andrew Jennings' ideas to help primary your pupils effectively skim, scan and retrieve information.
Check out his eight great tips here.
---
13 | Reading comprehension – What questions should I ask?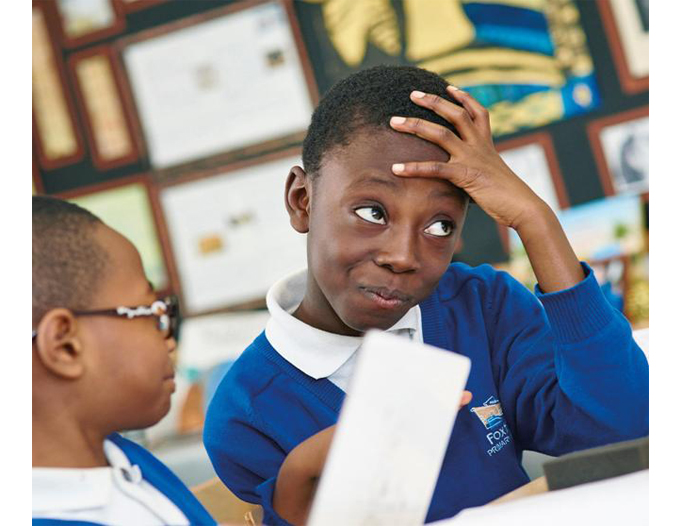 Ascertaining children's understanding of a text shouldn't feel like pulling teeth, nor should it require it. Just get creative with effective questioning, say Nikki Gamble and Camilla Garafolo, who wrote this piece.
---
14 | UKS2 'Jabberwocky' poetry resources pack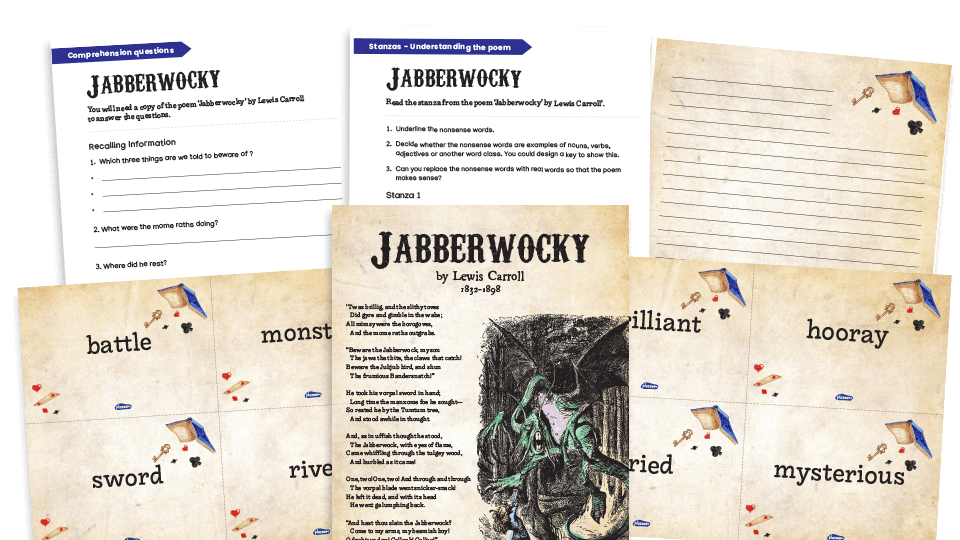 This poetry pack, based around the classic nonsense poem 'Jabberwocky' by Lewis Carol, contains lesson ideas that could be completed over a series of five sessions for Year 5 and year 6, covering comprehension, vocabulary and composition.
Pupils will explore the author's use of language, exploring what the nonsense words used could mean and also their word class, which will aid their understanding of the poem.
They will also have the opportunity to demonstrate their understanding of the poem by completing comprehension activities and, finally, create their own nonsense poems.
---
15 | Teaching pupils with poor comprehension skills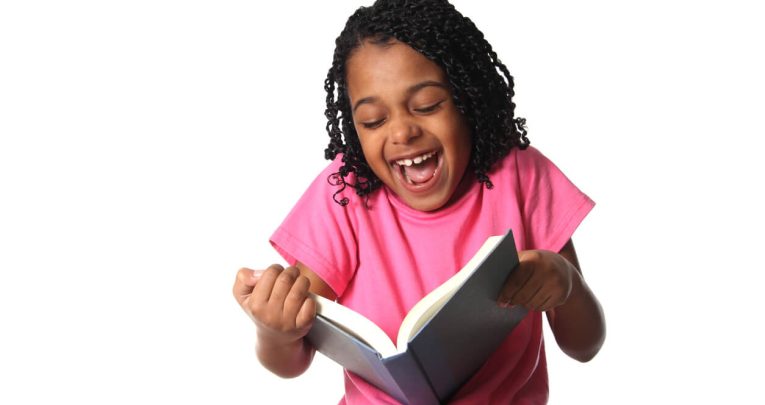 How do you teach children who have excellent decoding skills but weak reading comprehension?
In this article, Tony Whatmuff explains just that, saying that if weaker comprehenders neglect key strategies in the moment of reading, they won't build basic meaning.
---
16 | Use thinking maps to update comprehension lessons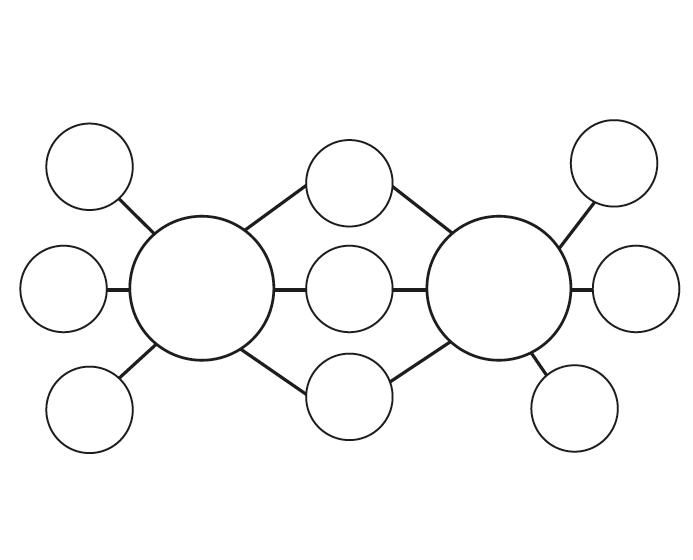 If you're still only using sheets of differentiated questions to develop reading comprehension, it's time to update your practice with thinking maps, says Nikki Gamble.
In this article, she shows you how.
---
17 | Free Beano comprehension worksheets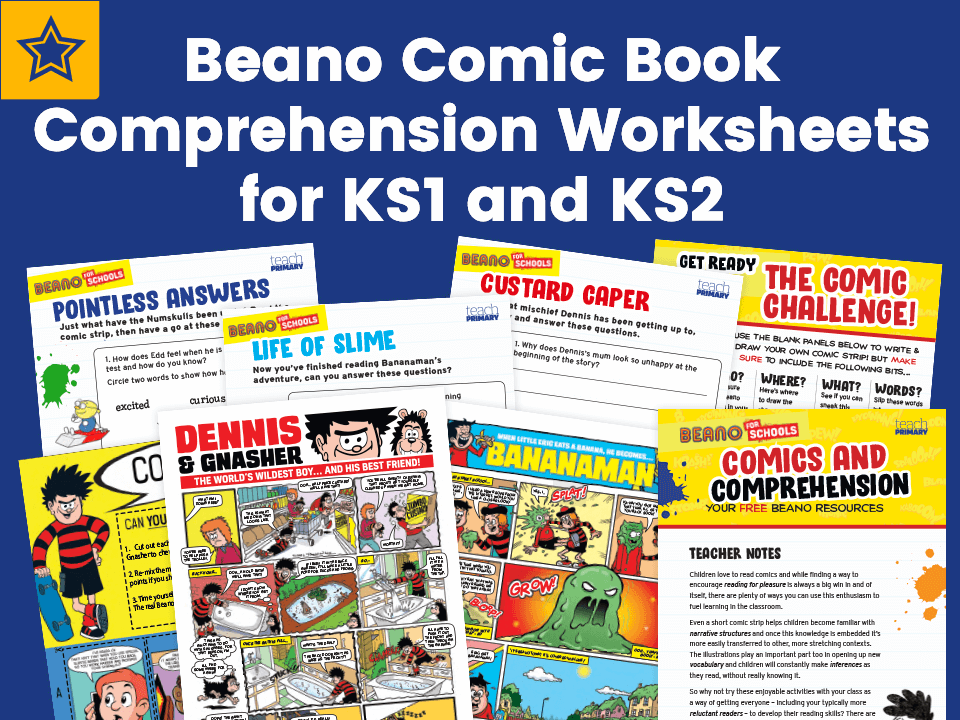 This comic book comprehension resource is great for reluctant readers and more fluent pupils alike, helping children become familiar with narrative structures and once this knowledge is embedded it can be transferred to more stretching contexts.
It includes three Beano comic strips, three reading comprehension question worksheets, comic puzzles for working on narrative sequence and a blank comic template.
---
18 | Great books for teaching reading comprehension
Looking for a book to read on teaching reading comprehension? There are a few to choose from. Thankfully, the National Literacy Trust has rounded up 10 recommendations for you and put them all in one place.
---
19 | Discussion exercises and questions for teaching reading comprehension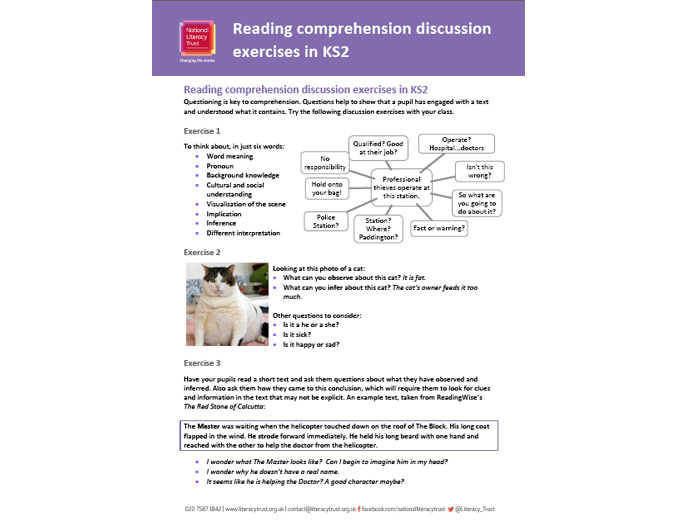 Also produced by the National Literacy Trust, try these discussion exercises with your classes and CPD.
They're designed to help to improve children's understanding and inference abilities, as well as your own questioning skills.