PDF medium term plan and accompanying Powerpoints and worksheets
Written by history expert Bev Forrest, this six-week Florence Nightingale KS1 series of lessons focuses on how to cover significant people. The medium-term plan is centred around this key question: who deserves to be remembered; Nellie Spindler or Florence Nightingale?
This unit will support pupils in making connections between different time periods. You could substitute Nellie with a nurse from your local area. The accompanying downloadable resources will help you deliver the lessons.
Florence Nightingale KS1 resources
Begin your first session by looking at resource 1 (included in the download). This shows a broad range of nurses. What do these people have in common? What are the clues that supported you in reaching your conclusion?
This activity supports pupils in recognising the diversity of people within the profession and also develops their abilities to utilise evidence from visual sources.
Next display the photographs of Nellie Spindler and Florence Nightingale (from resource 2). Explain to the children that they are going to travel back in time to find out more about them in the next few lessons.
Use your class timeline to locate key dates for Florence and Nellie. Children can place the illustrated information cards (resource 3) on the timeline.
Give a brief explanation of the Crimean war and the first world war and display an image for each (resource 4). Explain who was fighting and where the wars took place. Use a map to locate these areas.
Explain that both nurses are significant people but only one of them is famous nationally. Ask pupils for the names of famous people and share ideas about what makes someone famous. Will these people be remembered in 100 or 200 years from now? Why?
Show the pupils the criteria for significance (resource 5). What is the difference between being famous and being significant? Can someone be both?
Explain that pupils will need to decide if the two nurses are both significant or if one is more significant than the other at the end of the series of lessons.
Included in the download:
Medium term plan
PowerPoint showing a range of nurses
Photographs of Nellie Spindler and Florence Nightingale
Florence Nightingale and Nellie Spindler information cards
Crimean War and WW1 photographs
Reasons for a person being significant PowerPoint
Teacher script
Nellie Spindler PowerPoint
Home learning version of the plan
Bev Forrest is a primary teacher trainer, educational consultant, history quality mark assessor and chair of the Historical Association Primary Committee. She is also a member of the editorial board for Primary History and recently qualified as a Chartered Teacher of History.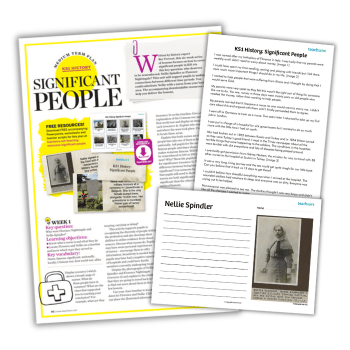 DOWNLOAD A FREE RESOURCE!
Florence Nightingale KS1 – Significant people history medium-term plan