PDF medium term plan and accompanying Powerpoints and worksheets
*Find a specially adapted home learning version of this plan here*
Written by history expert Bev Forrest, this six-week series of lessons focuses on how to cover significant people in KS1 via this key question: who deserves to be remembered; Nellie Spindler or Florence Nightingale?
This unit will support pupils in making connections between different time periods. You could substitute Nellie with a nurse from your local area. The accompanying downloadable resources will help you deliver the lessons.
---
Resources included in this download:
Powerpoints, worksheets and teacher scripts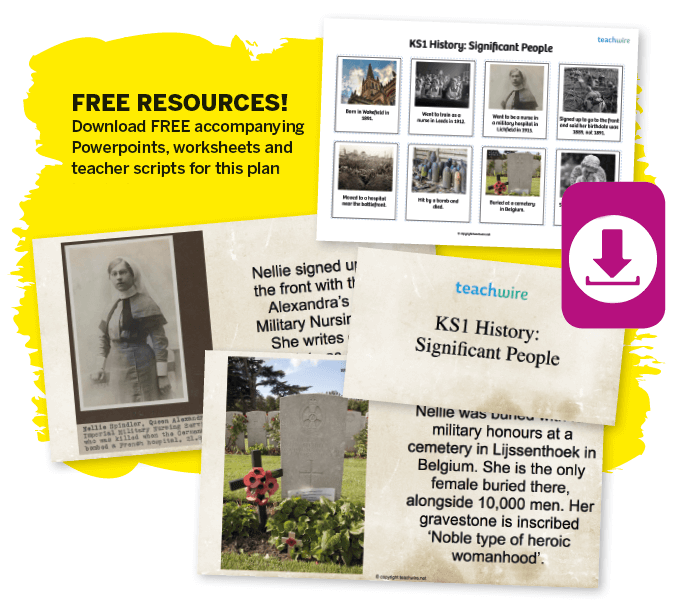 Download your free accompanying resources above
---
Week 1
Key question: Who were Florence Nightingale and Nellie Spindler?
Learning objectives:
Know what a nurse is and what they do
Locate Florence and Nellie on a timeline and know which wars they served in
Key vocabulary: Nurse, famous, significant, nationally, locally, Crimean war, first world war, allies
Display resource 1 which shows a broad range of nurses. What do these people have in common? What are the clues that supported you in reaching your conclusion? For example, what are they wearing, carrying or doing?
This activity supports pupils in recognising the diversity of people within the profession and also develops their abilities to utilise evidence from visual sources. Discuss what nurses do.
Pupils may have some personal experiences of nurses – encourage them to offer information. Sensitivity is needed here as pupils may have had a negative experience of hospitals and could have family members currently undergoing treatment.
Display the photographs of Nellie Spindler and Florence Nightingale (resource 2) and explain to the children that they are going to travel back in time to find out more about them in the next few lessons.
Use your class timeline to locate key dates for Florence and Nellie. Children can place the illustrated information cards (resource 3) on the timeline. Give a brief explanation of the Crimean war and the first world war and display an image for each (resource 4). Explain who was fighting and where the wars took place. Use a map to locate these areas.
Explain that both nurses are significant people but only one of them is famous nationally. Ask pupils for the names of famous people and share ideas about what makes someone famous. Will these people be remembered in 100 or 200 years from now? Why?
Show the pupils the criteria for significance (resource 5). What is the difference between being famous and significant? Can someone be both? Explain that pupils will need to decide if the two nurses are both significant or if one is more significant than the other at the end of the series of lessons.
Task Ask pupils to write a brief description of both Nellie and Florence underneath their images. They should include what they can see and also what they think the person is like from looking at the image. Alternatively, record the children's thoughts in audio format.
---
Week 2
Key question: What makes Florence Nightingale so special?
Learning objectives:
Describe what Florence Nightingale achieved and why it is so important
Select key information
Key vocabulary: Scutari, emotion, important, achievement
Act out the story of Florence Nightingale using props and our story sheet (resource 6) for support. While telling the story make reference to the timeline and display the images. Draw Florence's journey to Scutari on a map.
Discuss how Florence and the nurses would have felt on their journey. Add emojis to the map to demonstrate these feelings.
Sort pupils into pairs and give them images of the hospital in Scutari before and after Florence arrived.
Ask them to circle the differences in the second image. Discuss what Florence achieved in the hospital.
Working in groups, ask pupils to choose what they think is the most important event from Florence's story. Role play and freeze frame this section of the story then ask other groups to explain what is happening. Ask the children why they chose that episode from Florence's life.
Task Discuss the lesson's key question and compile a class list of answers.
---
Week 3
Key question: What makes Nellie Spindler so special?
Learning objectives:
Describe what Nellie Spindler achieved and why it is so important
Provide valid reasons for why Nellie Spindler did the things she did
Key vocabulary: Brave, sequence, battlefront
Use the PowerPoint (resource 7) to tell Nellie Spindler's story. Ask pupils why they think Nellie decide to go and help the soldiers so near the battlefield. Do you think Nellie was brave?
Pupils may need some support regarding the concept of bravery – they will need to make connections between their own perception of being brave, acts of bravery today and what Nellie did in the past. Should Nellie have gone to serve in the war?
Give pupils jumbled up cards featuring events from Nellie's life (resource 8). Ask them to sequence the events in chronological order. Which are the most important events in Nellie's life?
Ask the children to take away half of the cards, leaving only what they consider to be the most important ones. Pupils should now select the card that they consider to be the most important event in Nellie's life. Does it matter if we've all selected different cards? Why have we selected different ones?
Task Ask pupils to stick this card in their book and write why they think it is the most important.
---
Week 4
Key question: Did Florence and Nellie have anything in common?
Learning objectives:
Identify similarities and differences between Nellie Spindler and Florence Nightingale
Make links between nurses in the past and nurses today
Key vocabulary: Equality, change, impact
Display the images of Nellie and Florence (resource 2). Ask pupils for ideas of ways in which they were similar and different.
Think about when and where they lived, their background, what they did, the reasons for their actions and their personal qualities, including bravery, knowledge, kindness and willingness to take risks.
Ask pupils to work in groups to record their ideas then share and discuss as a class.
Support pupils to appreciate that although Florence's work can be considered to have a much bigger impact, Nellie had an immediate impact on those she helped.
It is important for pupils to appreciate women's contribution in wars and recognise that it would be hard for countries to fight and win without them.
The efforts of nurses like Nellie in the first world war helped to change people's perception of women and support the move to greater equality and gaining the vote.
Task Ask pupils to record the similarities and differences between Nellie and Florence.
---
Week 5
Key question: Should we still remember Nellie and Florence?
Learning objectives:
Understand the meaning of significance
Provide valid reasons why Florence and Nellie are both significant and should be remembered.
Key vocabulary: Memorial, significance, plaque, remembrance
Search online for images of memorials to Florence and explain what a memorial is. Ask pupils why they think people wanted memorials to Florence. Are these memorials still important today?
Explain that Nellie's hometown of Wakefield recently installed a memorial to her, including naming a road after her. There is also a memorial at the hospital in Leeds.
Ask pupils why they think the people of Wakefield chose to remember someone who died so long ago. Why does Nellie have fewer memorials than Florence?
Watch this film of the song Clean White Sheets. If time allows, learn the song in music and invite pupils to devise their own accompanying actions.
Look at the criteria for significance. Is Nellie or Florence the most significant?
Prompt pupils to remember that people can have national or local significance, or be significant to individuals. Hold a class vote on who is the most significant. Does that mean that one deserves to be remembered more than the other?
Support pupils in understanding that both should be remembered for what they achieved and that we can remember people in different ways.
Task Ask pupils to complete this sentence: 'I think that Florence/Nellie is the most significant because… But Florence/Nellie is also significant because…'. Encourage the children to offer a range of reasons.
---
Week 6
Key question: Does Nellie Spindler deserve a memorial?
Learning objectives:
Use your knowledge to produce a memorial
Understand that the past is represented in different ways
Key vocabulary: Symbol, inscription, commemorative, statue, plaque, frieze
Recap the conclusions from the previous lesson: Nellie can be considered significant, particularly for the local community, and is representative of a whole group of women that served in the war. Set the pupils the challenge of designing a memorial to Nellie.
Look again online at images of Florence's memorials, emphasising the range they take. Will pupils choose a statue, plaque, frieze, stained glass window or something different? They should think about where it will be located to support them in making choices. Introduce the idea of commemorative stamps, plates and coins too. Which information needs to appear on the memorial?
Show the image of Nellie's grave in Belgium (resource 3). An inscription can involve much more than factual information. Pupils could write a poem to put on the memorial, listening back to the song Clean White Sheets if necessary. Explain the importance of symbols and devise your own.
If desired, turn the memorial design exercise into a competition and create the winning design to display in school for fellow pupils and the wider community.
---
Assessment
This unit of work can be used to assess a number of strands from the national curriculum. Rather than trying to gather evidence for a number of strands, I suggest focusing on one area per unit in history and ensuring you have coverage over the Key Stage. The key question and sub-questions here focus on the concept of significance.
Y2 pupils working at expectation should be able to offer a range of evidence of something being significant, in this case the two nurses being studied. If they are working beyond expectations, they will be able to show some understanding of the complexity of significance and how something can be significant to different groups of people at different times.
An emerging understanding would show them offering one reason why something is significant.
The work completed throughout the unit will provide evidence towards your tracking of progress but the piece of writing in Week 5 could be a key piece for marking and target setting.
---
Bev Forrest is a primary teacher trainer, educational consultant, history quality mark assessor and chair of the Historical Association Primary Committee. She is also a member of the editorial board for Primary History and recently qualified as a Chartered Teacher of History.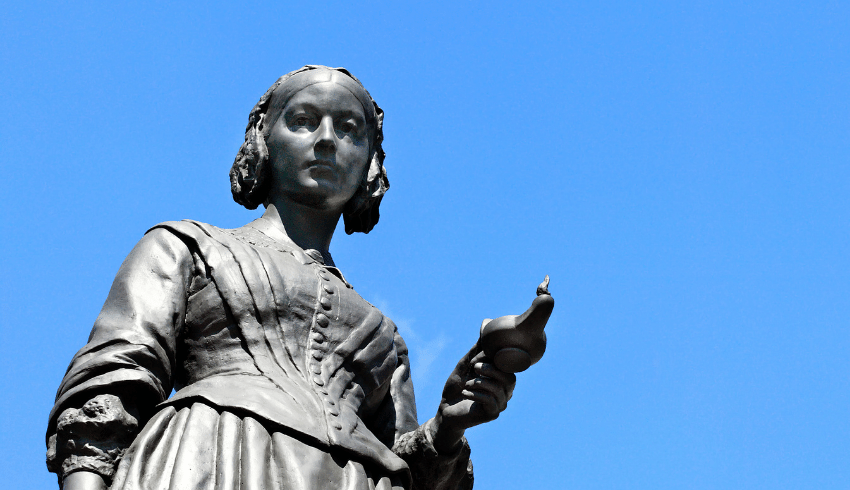 DOWNLOAD A FREE RESOURCE!
KS1 History Medium-Term Plan – Significant People