The Ancient Egypt Sleepover
Published by Caboodle Books Ltd, 2022. Written by Stephen Davies.
Books for topics
Whenever I do a talk or assembly about my new book, The Ancient Egypt Sleepover, I describe the real sleepovers organised for children in the British Museum, and then ask, "What could possibly go wrong?"
Ten hands shoot up.
"Yes, you," I point.
"THE MUMMIES COME ALIVE AND START ATTACKING CHILDREN IN THEIR SLEEPING BAGS!"
"Exciting!" I grin inanely. "Who else has an idea?"
Nine hands go down, because everyone else was thinking the same thing.
One hundred years of schlock horror and 50 years of Scooby Doo have convinced us all that Egyptian mummies love nothing more than to attack Egyptologists. You disturbed my rest and now you must pay!
For children's authors, too, the lure of the mummy is strong.
Our fingers itch to write about Egyptian mummies that sit bolt upright in their coffins, walk stiff-legged into the rain and order roast hippo and chips from the nearest kebab van.
But let's face it, that kind of book is not much help to the children in your classrooms trying to get their heads around their Ancient Egypt topic.
I wrote The Ancient Egypt Sleepover as a whole-class read for Key Stage 2.
I wanted to write something exciting and funny but entirely devoid of ancient curses or marauding mummies.
Instead, the book has a Charlie and the Chocolate Factory vibe, with a group of unsuspecting children (clutching golden tickets, no less) rocking up at the British Museum for a night of Ancient Egypt-themed activities.
Things go wrong, of course. There is a mystery to solve and a dastardly heist to foil.
The Ancient Egypt Sleepover consists of 21 short chapters intended for reading aloud over the course of one month.
I produced some teaching notes to accompany the book, including the ideas and suggestions outlined in this book topic.
Stephen Davies lives in London and enjoys visiting primary schools to conduct Ancient Egypt-themed writing workshops. See more of Stephen's work at authorsabroad.com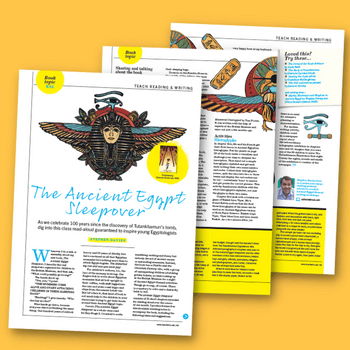 DOWNLOAD A FREE RESOURCE!
Ancient Egypt KS2 – Book topic