PDF worksheets and PowerPoint
This Year 8 English worksheets pack contains downloadable worksheets and resources that will expose pupils to 19th century writing.
Use these resources, themed around Great Expectations, to prompt students to use comprehension, prediction and inference skills. Students will also get practise in analysing writers' methods.
Great Expectations is a 19th century novel written by Charles Dickens. Use an extract from the novel to prompt pupils to do their own piece of recount writing, written from character Pip's point of view.
As well as exposing them to 19th century fiction, these Year 8 English worksheets and resources will also give pupils the opportunity to:
practise inference and prediction skills
practise reading and comprehension skills
analyse writers' methods such as title choice, characterisation, vocabulary choice and juxtaposition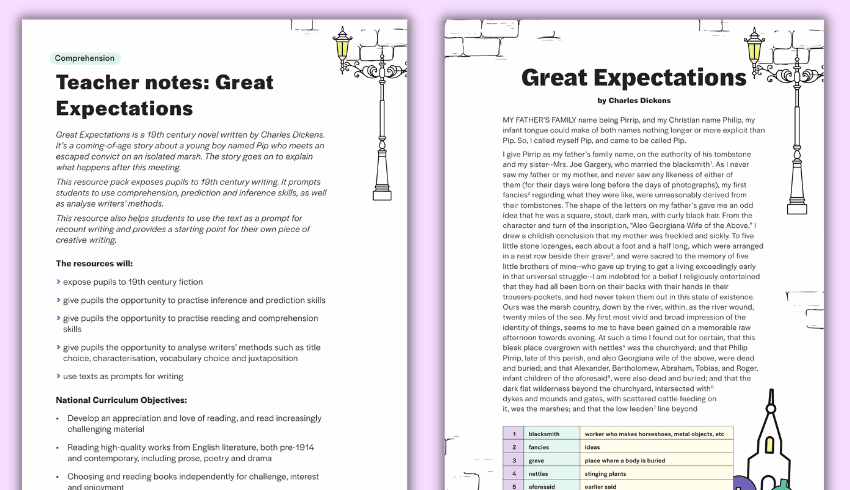 Year 8 English worksheets pack
The pack contains:
Great Expectations extract with vocabulary definitions
PowerPoint teaching slides
Comprehension worksheets with questions and answers
Planning sheet for writing task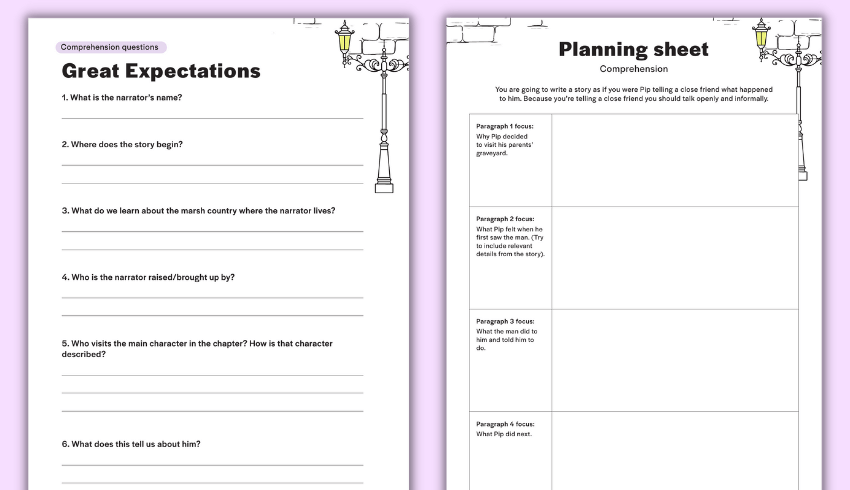 Session 1
Begin the first session by asking pupils to consider the story's title and genre. Next, read the first few paragraphs of the text before answering simple comprehension questions about what you've read.
This activity will encourage pupils to practise their comprehension skills. They'll need to use evidence from the text to justify their answers.
Students will then go on to think about how Dickens creates fear an sympathy in the opening of Great Expectations. They'll focus on the writer's use of characterisation, vocabulary choice and juxtaposition.
Next, they'll write a What How Why paragraph to answer the question, using appropriate quotes from the text.
Session 2
In the second session, pupils will undertake a retrieval practice task to recap the details of the story. They'll then move on to planning a piece of writing from Pip's point of view.
There's a planning sheet, examples and suggestions for success included in the download to scaffold learners, if necessary.
Bhamika Bhudia (@MissMika_Eng) is a head of English at a mixed comprehensive secondary school in London. She has also created Year 7 English worksheets.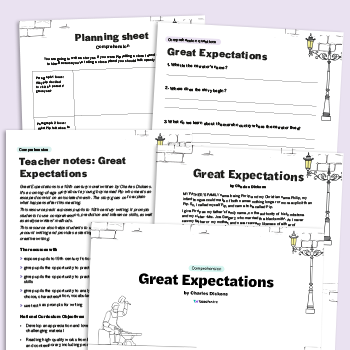 DOWNLOAD A FREE RESOURCE!
Year 8 English worksheets – Boost comprehension skills with Great Expectations