Children love to read comics and there are plenty of ways you can use this enthusiasm to fuel learning in the classroom.
By reading even a short comic strip KS2 children become familiar with narrative structures, and once this knowledge is embedded it's more easily transferred to other, more-stretching contexts.
The illustrations play an important part too in opening up new vocabulary and children will constantly make inferences as they read, without really knowing it.
So why not try these enjoyable activities with your class as a way of getting everyone – including your typically more reluctant readers – to develop their reading skills?
---
More Beano reading comprehension resources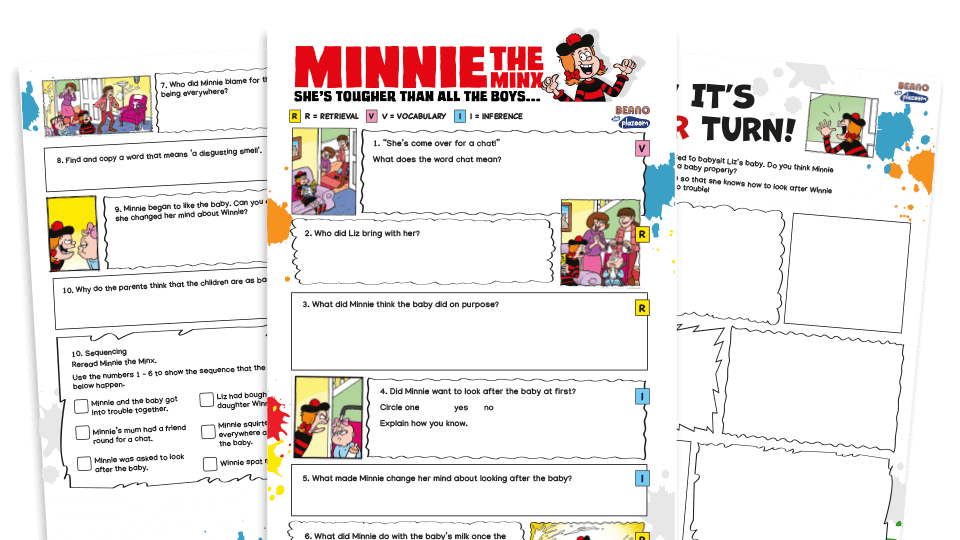 This Minnie and Winnie comprehension resource for Key Stage 2 will develop pupils' skills when answering questions involving retrieval, inference, vocabulary and sequencing. There's also a writing prompt included with each resource pack.
Your pupils need to read the comic strip example about Minnie and a baby before answering some questions about it and writing out some babysitting tips for her.
---
There are three full stories from Beano to share with the children and, having enjoyed these, they can tackle the comprehension / inference activity sheets, which have a few writing challenges included for good measure.
Pupils can practise composition too with a series of jumbled up comic strips that need reordering, and the chance to write their own story.
What's in the pack?
Numskulls comic strip and comprehension sheet
A testing situation for Edd causes the Numskulls to uncover Mr Throbb's marking secret!
Dennis and Gnasher comic strip and comprehension sheet
Dennis's dad brings back a giant box of half price custard from the supermarket. What could possibly go wrong?
Bananaman comic strip and comprehension sheet
Eric gets the call when the whole town is covered in ever-expanding slime.
Comic mix up
These comic strips have been muddled up. Can your pupils cut them out and put them back together in the right order?
Create a comic
Inspired by the stories from the Beano, can your class put their narrative skills to good use and create their own cartoon strip mini adventure?
---

If these Beano stories and resources have gone down well, why not consider a school subscription to Beano? Aimed at a core age of 7-12, weekly issues can be particularly effective for engaging your more-reluctant readers. Find out more at schools.beano.com/subscribe.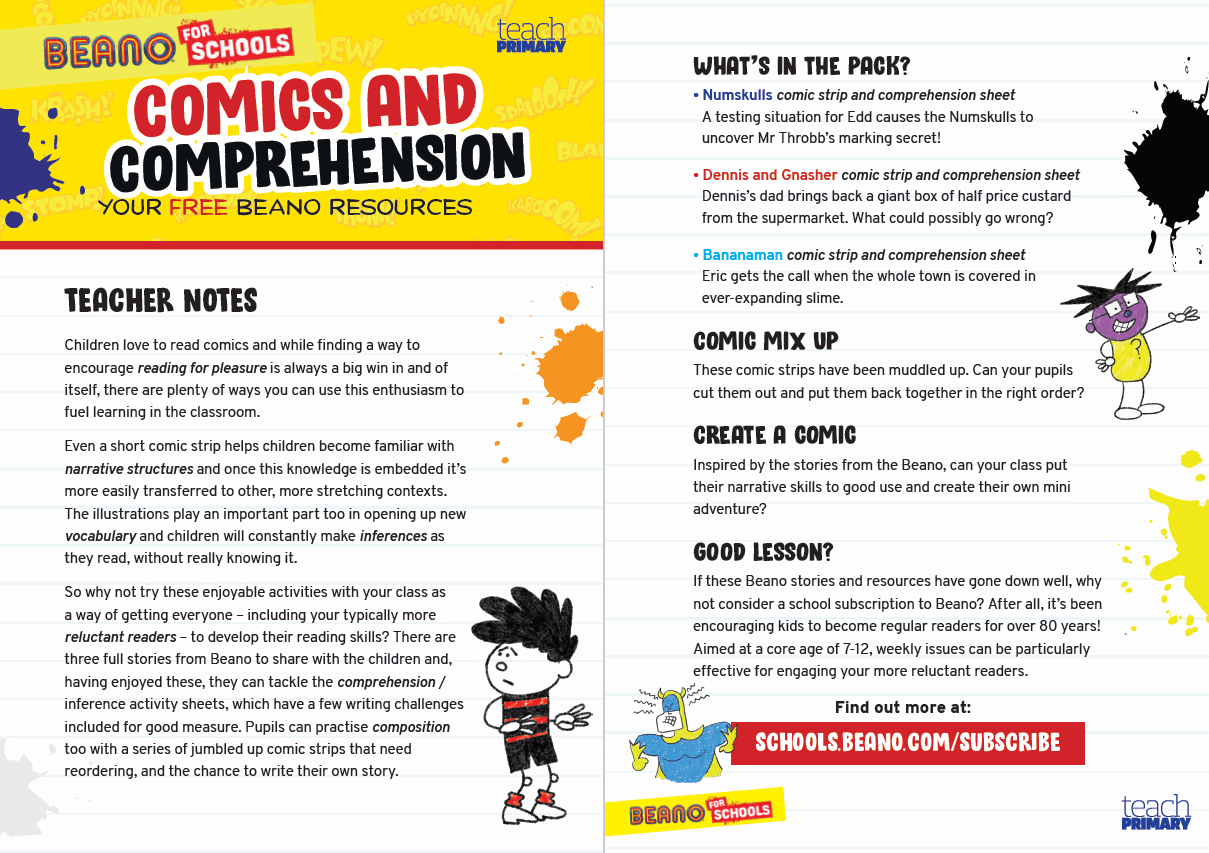 DOWNLOAD A FREE RESOURCE!
Beano Comic Book Reading Comprehension Activity Pack for KS1 & KS2 English