PDF worksheets and PowerPoint
Use these Year 7 English worksheets, teacher notes and PowerPoint to help pupils get to grips with descriptive writing.
Descriptive writing is an important and enjoyable aspect of English. These free downloadable worksheets are perfect for KS3 English lessons and cover two sessions of content.
Use the descriptive text, themed around the jungle, as a prompt for descriptive writing. The accompanying resources will help students develop their own creative writing and give them the opportunity to practise:
comprehension
prediction
analysing writers' methods
The resources will also expose pupils to a wide range of descriptive writing techniques. They'll learn how to use texts as prompts for writing.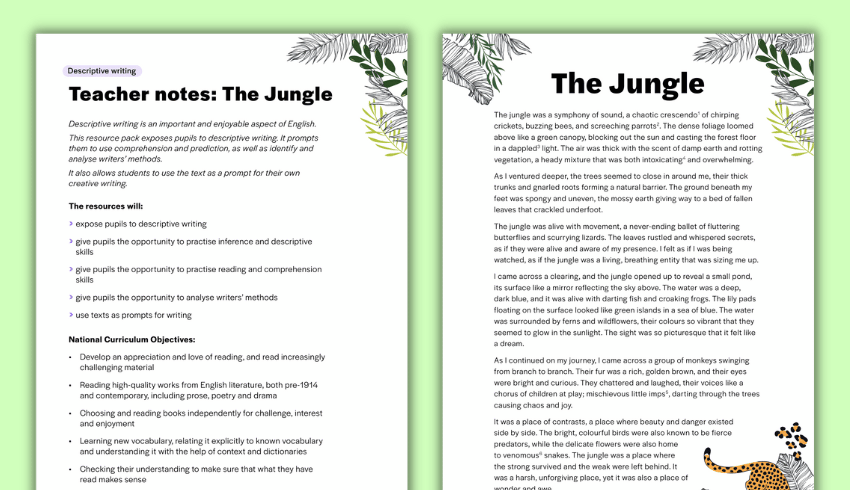 Contents of Year 7 English worksheets pack
'The Jungle' text with vocabulary definitions
PowerPoint teaching slides
Comprehension worksheets (questions and answers)
Descriptive writing match-up activity sheet
Planning sheet for writing task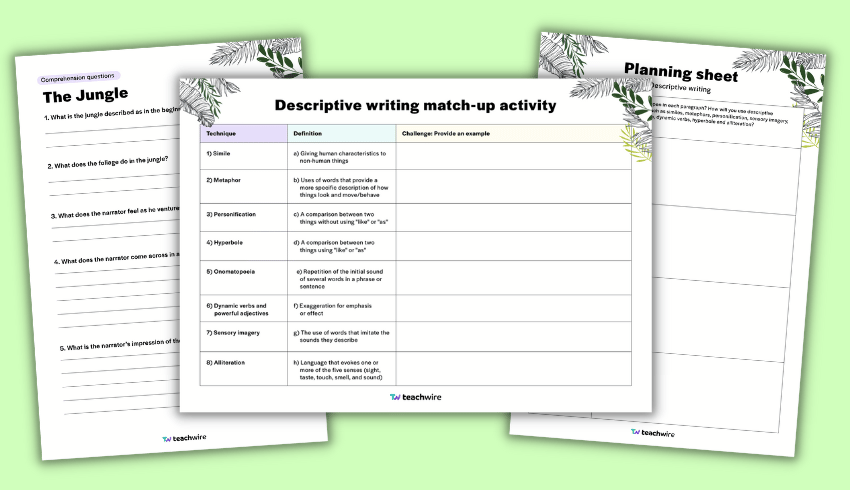 Session 1
In the first session pupils will read the jungle-themed descriptive writing text, before trying a descriptive writing match-up activity. This involves matching techniques and descriptions before finding examples from the text.
Next pupils can fill out the comprehension questions worksheet, using answers from the text to justify their answers.
Pupils will then annotate a section of the text, identifying writing techniques and the effects these create.
Now it's time to think about whether or not the writer has created a vivid and exciting description of the jungle, before writing their own What How Why paragraph about it. A model answer and scaffolding is provided in the download to help.
Session 2
In the final session students will recap the descriptive writing techniques you talked about last session before planning their own descriptive writing piece. They can use the included planning sheet to help them do this.
Bhamika Bhudia (@MissMika_Eng) is a head of English at a mixed comprehensive secondary school in London. You can also download Year 8 English worksheets from Bhamika.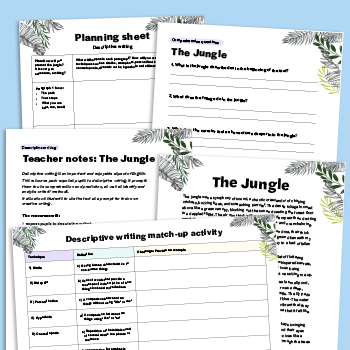 DOWNLOAD A FREE RESOURCE!
Year 7 English worksheets – Jungle descriptive writing lesson plan and resources