PDF reading practice pack & PDF and PowerPoint clauses revision resources
English reading assessment
If you're busy preparing Year 6 students for their KS2 SATs tests, you'll love this free Year 6 SATs practice papers download.
The included reading comprehension pack follows the same format as the SATs themselves to help children get used to the layout and boost their confidence.
The practice pack contains three texts:
Mapped questions
The questions are all mapped against the content domains so that you can identify question types and reading national curriculum areas that you may need to go over with pupils.
The comprehension pack includes:
Reading booklet
Reading answer booklet
Content domains checklist
Teachers' answers booklet
There are multiple ways you could use this practice pack download – including as a practice SATs paper under test conditions. You could also use it in group or whole-class reading lessons to cover different question types.
You can also treat the pack as three smaller comprehension activities, with pupils reading the texts and completing the accompanying questions.
If your primary school pupils loved these Year 6 SATs practice papers, check out the full Plan, assess, review collection from Plazoom.
---
Revision that appeals to children
We've also included a superb Year 6 SPaG Revision Blaster pack in this download. It's a great way to check pupils' understanding of the programme of study for KS2 English.
The SPaG revision blaster included here focuses on main, subordinate and relative clauses. It's based on the content domains of the Key Stage 2 grammar, punctuation and spelling test framework.
Use the recap section to revise clauses, then use the SATs style questions to practise.

Also included is a PowerPoint version of the pack that you can use on the board, as well as answer sheets.

If your pupils enjoy using this resource, check out the full KS2 SATs Support collection from Plazoom.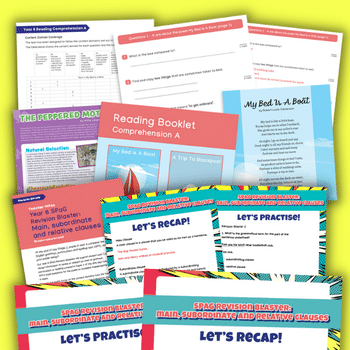 DOWNLOAD A FREE RESOURCE!
Year 6 SATs practice papers – Reading pack and SPaG revision