Dyslexia Awareness Week – Best 2023 teaching resources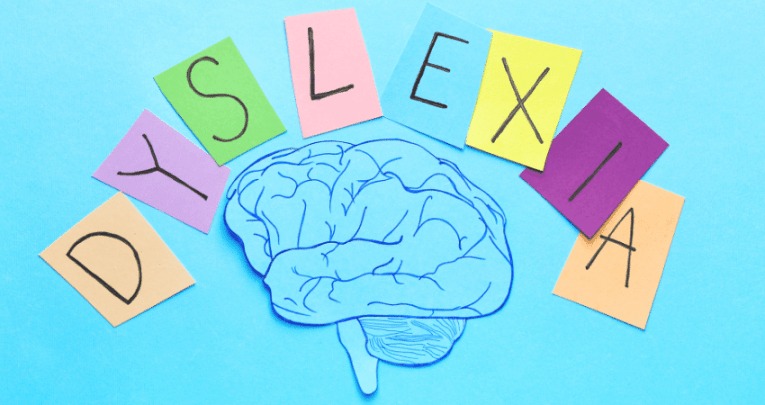 Raise awareness of dyslexia in schools, support students and learn how to spot signs early with these resources, activities and helpful advice articles…

by Teachwire
Use Dyslexia Awareness Week to celebrate and support dyslexic pupils in your school with these ideas and resources…
What is dyslexia?
Dyslexia is the most common learning difference, with up to 20% of the population affected by it.  It is genetic and runs in families, and has common characteristics that can be identified as early as pre-school.
Dyslexic brains are wired slightly differently, which means that dyslexic people have a unique way of processing information. As Kate Griggs, founder and CEO of charity Made By Dyslexia explains, dyslexic people are often naturally curious and highly creative, with an ability to unconventionally connect the dots and think laterally.
"Dyslexic people are often naturally curious and highly creative"
This difference results in a pattern of challenges but extraordinary strengths too in areas like creativity, problem solving, empathy and communication.
Children with dyslexia may struggle with other things such as concentration and following instructions, remembering facts and figures, and elements of literacy, such as reading, spelling, punctuation and grammar.
What is Dyslexia Awareness Week?
Dyslexia Awareness Week is an annual event run by the British Dyslexia Association. This year's theme is 'Uniquely You'. It's all about celebrating children's individuality, creativity, passion and uniqueness. Introduce this year's themes to pupils with this factsheet for teachers, activity sheets and more.
When is Dyslexia Awareness Week?
Dyslexia Awareness Week 2023 takes place between 2nd-8th October.
---
Dyslexia fact sheet
This free PDF download from The Week Junior explains dyslexia to children in a bite-size, age-appropriate way. It covers:
What dyslexia is
Dyslexia Awareness Week
First-hand accounts
Famous people with dyslexia
---
Classroom activities
The British Dyslexia Association has produced a range of resources that you can use as a starting point for gently introducing dyslexia to pupils. They'll learn about strengths and differences.
---
How to spot the signs of dyslexia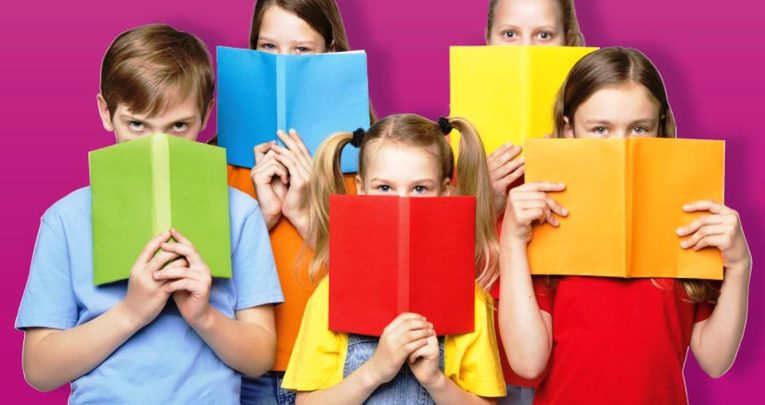 Author and dyslexia tutor Alais Winton highlights some of the dyslexia signs teachers should look out for…
Phonetic spellings
Spelling things as they sound tends to be a very common trait among children with dyslexia. Look also for inconsistent spelling and grammar – a child may potentially spell the same word in three different ways, one of which might be correct.
Unusual subject outcomes
Look for low reading and spelling results in relation to other subjects where they otherwise fare much better. Pupils with dyslexia will often possess a much higher verbal ability in comparison to their written work.
When talking to that pupil, they may come across as more articulate than their written work might suggest.
Literal thinking
Pupils with dyslexia can struggle to understand idioms and proverbs, and tend to have a very literal way of thinking. This makes it hard for them to understand expressions such as 'water off a duck's back.'
One of my past clients was once asked by his mum whether 'it was sinking in'. He immediately looked to see what was sinking – he didn't understand the analogy, mistaking it for something happening right now.
Early assessment scores
Early assessment is very important. Some schools will do this using online software solutions. Others will talk to their pupils and ask them to perform particular writing tasks or other activities.
Both processes should help you identify certain traits, tendencies or 'at risk' factors that can be reported back to parents. It's important to remember that only an educational psychologist will be able to provide an official diagnosis.
Performance at KS2
The earlier you can identify dyslexia, the better. However, dyslexia often doesn't get picked up before the age of seven.
In my own experience, signs of dyslexia more commonly start to emerge around the ages of nine and ten. But even then, there can be a degree of uncertainty as to what a child's particular traits and tendencies might indicate.
More signs to look out for
Kate Griggs, founder and CEO of Made By Dyslexia, sets out some more things to look out for. Dyslexic children may:
Struggle with manipulating and holding on to sounds and words, which can make learning to read and spell difficult
Have difficulty with verbal memory which makes following instructions with multiple steps difficult
Struggle with executive function skills such as organisation, concentration and sequential tasks
Find maths operations difficult and struggle with memorisation
Require more time to process their thoughts and complete tasks
Often in dyslexic children there is a mismatch in what a learner seems capable of and the written work they produce, and they may not have test scores and grades that reflect how much they have actually learned.
This is often misread in undiagnosed children as laziness or lack of concentration to the great detriment of the child and the ability of the teacher to assist them.
---
Online training
Free teacher webinar
Join a British Dyslexia Association webinar on Thursday 5th October 2023 at 7pm. You'll get guidance and support for teaching dyslexic pupils and will be provided with helpful tips on how to create resources and effective approaches to teaching and leading children with neurodiversity and dyslexia.
Free online training
Made by Dyslexia's 'Learn Dyslexia' campaign asks every teacher to 'take a day for dyslexia' and skill up using its free online training, in partnership with Microsoft.
---
Dyslexia picture book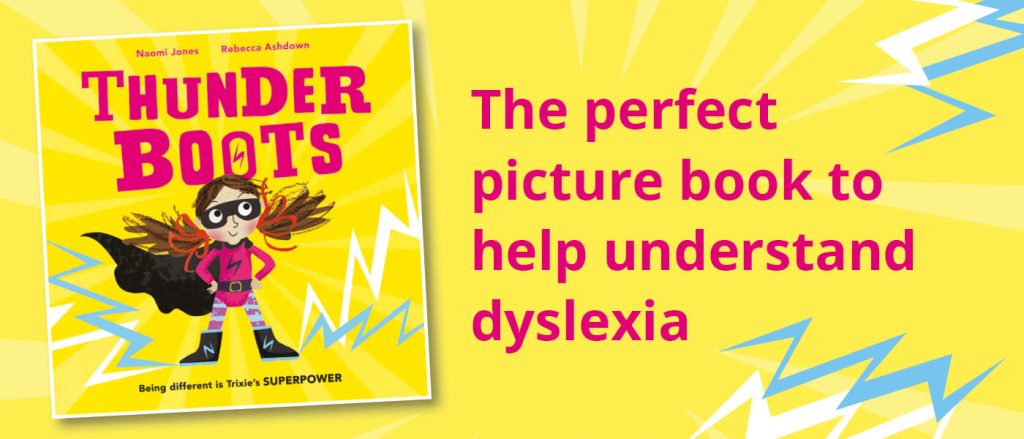 When it's time for Trixie to start school, she is very excited. Sometimes it's hard to concentrate in class, though. And it's really hard to read letters. Maybe what Trixie needs is a superpowered plan…
Thunderboots by Naomi Jones and Rebecca Ashdown is an empowering story about starting school with dyslexia that celebrates everyone's differences.
---
How to make your classroom dyslexic-friendly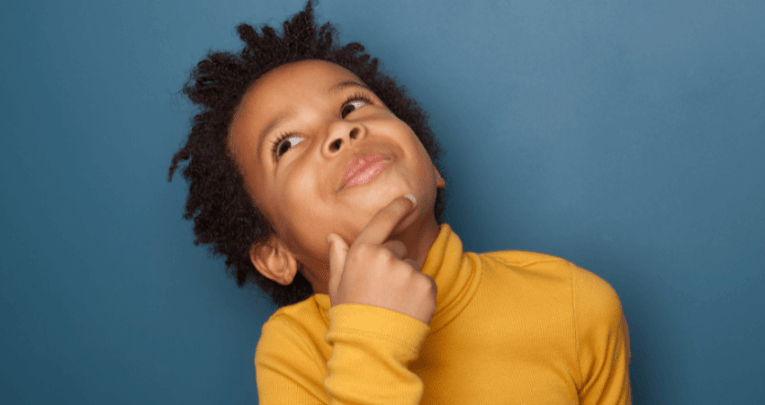 Vary your print materials
Where possible, print class handouts on yellow paper. This won't necessarily help all children with dyslexia, but can it can benefit a significant number. And doing so will ultimately make no difference for those who aren't dyslexic. Try to print text in large fonts so that the material is easier to read.
Use handouts
On a number of occasions I've had children tell me about homework tasks they've been set that were written on the board or explained via verbal instructions that they had to write down.
By the time they get home they've no idea what they've actually written, and therefore no clue as to what they're supposed to be doing.
Issue instructions and criteria on handouts whenever you can. This will not only save time, but help all children in the class, rather than just some.
Keep groups small
It can be useful in theory-heavy lessons, such as maths and English, to set group activities that present learning objectives in a more engaging way.
In my book Fun Games and Activities for Children with Dyslexia there's an 'English terms rap' activity, where pupils examine antonyms and verbs and explain them in the style of a rap form by working together in small groups. One could be beatboxing, while others perform the different verses.
Use the right tools
I've found the Texthelp Read&Write literacy tool to be very good. It adds a floating toolbar to your desktop that includes a phonetic spell checker, text-to-speech, picture dictionaries and other useful tools to help with reading and writing.
For books and other printed materials the C-Pen is amazing. Plug in a pair of headphones, hold it like a normal pen and the tiny camera in its 'nib' will read text aloud to you as you move it along lines of words.
It also has a built-in dictionary that lets users highlight specific words and have their meanings read out.
Exercise caution
One thing I'd advise against is asking dyslexic pupils to correct their own spelling mistakes. I've spoken to some clients who've been asked by their teacher to correct their own spelling mistakes at home, but they simply can't see them.
Praise the positive
If somebody's made lots of spelling and grammatical errors, it's easy to cover their sheet or workbook with corrections and forget to praise those things that are positive – areas where they've improved or aspects of their work that are particularly good.
That's not always easy when you've got a huge amount of marking to get through, but it's really important that the learner can come away from a task feeling there's something good about the work they've been doing.
If you're marking the work of a pupil whose spelling and grammar is clearly poor, you can comment on it. But if the same misspelt words keep coming up repeatedly, only comment on one instance and perhaps just underline the others so that they're aware.
Praise any especially creative ideas or noticeable improvements they might have made – particularly words they might have previously misspelt.
Help parents to help their children
I recommend encouraging parents to play language-related games with their child. A couple I'd recommend include the spelling, punctuation and grammar board game Breaking News, which is aimed at ages seven and up.
Crossbow Education also produces some good specialist grammar games. Take into account the severity of a child's dyslexia when you decide on whether a particular game is age appropriate.
---
More ideas to try
Katie Griggs puts forth more suggestions for supporting dyslexic pupils at school…
Incorporate their passions
Look for and pay close attention to the dyslexic children in your class, and find out from the parents what they love to do.
These usually point to their dyslexic thinking skills, and you can learn about how you can integrate them into the children's projects and goals.  
Identify strengths
Look out for easy-to-spot strengths including sport, art, music and dancing, as well as other common dyslexic skills such as empathy, kindness, imagining, listening and questioning.
Acknowledge their expertise
Encourage dyslexic children to do what they love and are passionate about at every opportunity. Skill + practice + passion = superpower. 
Acknowledge their expertise. Dyslexics often don't realise how good they are at these things, so may not recognise them as their superpowers. 
"Encourage dyslexic children to do what they love and are passionate about"
Positive praise
Build self-esteem with positive praise. Research suggests that we are most motivated to improve when we hear negative and positive comments in a ratio of 1:5. That's five pieces of praise for every one negative comment.
Positive praise is vital for dyslexic children. And even if certain things are challenging, or progress is slow, each small win should be celebrated.
Embrace technology
Make the most of assistive technologies, such as text-to-speech and speech-to-text, spelling and grammar checking, tablets and calculators, and provide supports such as guided notes and copies of presentations.
Dyslexic children struggle with spelling, punctuation and grammar so focus on what they're trying to say and their wonderful ideas first, rather than spelling – that can always be checked later.
Check your phonics approach
Use a multi-sensory, explicit phonics approach to better help pupils with dyslexia learn to read. Don't force children to read aloud. Instead ask them if they would like to in advance and make it optional in a group setting.
Dyslexic learners will take longer to read than others so give them the text ahead of time so they have time to prepare before the lesson.
Provide accommodations
Consider different options to complete tasks, both in your classroom and during tests. Dyslexics love to have the big picture, so giving them an overview of your lesson ahead of time will help to them keep on track.
Provide accommodations on traditional exams and assessments, such as having the test read aloud, allowing students to dictate their answers, and provide additional time.
Kate Griggs is the founder and CEO of global charity Made By Dyslexia and author of dyslexia guide This is Dyslexia (£11.99, Penguin) and children's book Xtraordinary People: Made By Dyslexia. Katie was also consulted on Matt Hancock's Dyslexia Bill back in 2021.
---
Apply for a Dyslexia Friendly Quality Mark for Education
The Dyslexia Friendly Quality Mark provides a framework of support and understanding to ensure that everyone within your school understands the needs of dyslexic people and that you have appropriate resources and strategies in place.
Read more about how two different schools have made dyslexia-friendly practice central to how they operate.
---
Raise funds with a bake sale
For Dyslexia Awareness Week 2022, the British Dyslexia Association teamed up with Lizzie Acker from the Great British Bake Off to encourage schools to host bake sales to raise funds for the BDA. Watch the video above, and download free bunting, cake toppers, posters, price tags and recipes.
---
Famous people with dyslexia
As Katie Griggs, founder and CEO of charity Made by Dyslexia, points out, dyslexic people have created some of the world's greatest inventions, brands and art.
From Roald Dahl to Richard Branson, inspiring dyslexic minds have shaped culture and commerce over the last century, with their brilliant qualities and unique strengths.
"Inspiring dyslexic minds have shaped culture and commerce over the last century"
Dyslexic kids often become experts in the subjects they love because they are inquisitive and curious and use lots of dyslexic thinking skills – such as exploring and questioning – to find out all there is to know about a subject. But at the same time, they might struggle to grasp simple skills their peers find easy.
Read about celebrities' experiences with dyslexia
Use Dyslexia Awareness Week to highlight and celebrate famous people with dyslexia. Below are some exclusive Teachwire interviews with a range of different celebrities with dyslexia.
---
Dyslexia Scotland resources
Dyslexia Scotland aims to empower people with dyslexia to reach their full potential. The site contains articles, videos, recommendations for books and games, and other people with dyslexia share their work, experiences and strategies for success.
Download the Addressing Dyslexia toolkit which guides teachers through a child-centred, collaborative process of identification, assessment, support and monitoring.
Find out more about online learning for educators and download a free printable resource to use with young dyslexic learners.
---
Free dyslexia test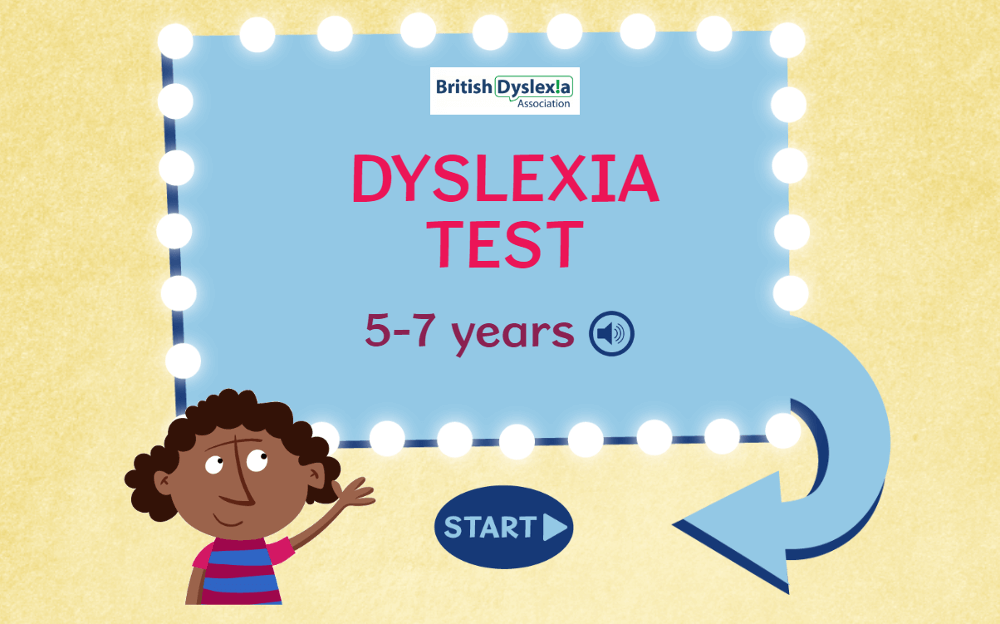 Early identification of dyslexia is essential because dealing with dyslexia in the first years of school is the most effective way to help. This free dyslexia test for 5-7 year olds is the ideal first step towards identification.
---
Free dyslexia ebook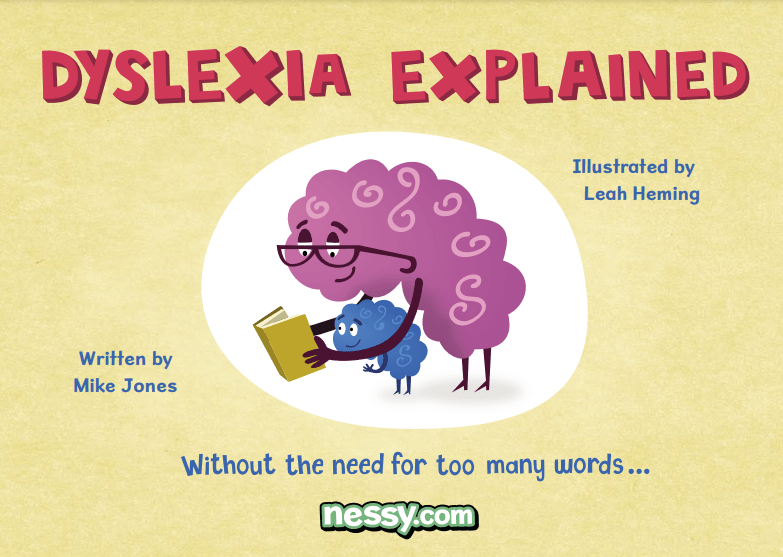 Download this free ebook called Dyslexia Explained, which helps parents understand the positives, the difficulties and what helps, so that they can use it to help explain dyslexia to their child.
And as people with dyslexia tend to think in pictures rather than words, illustrations are used to explain each point.
---
Even more resources