Introducing LEGO® Education SPIKE Essential for primary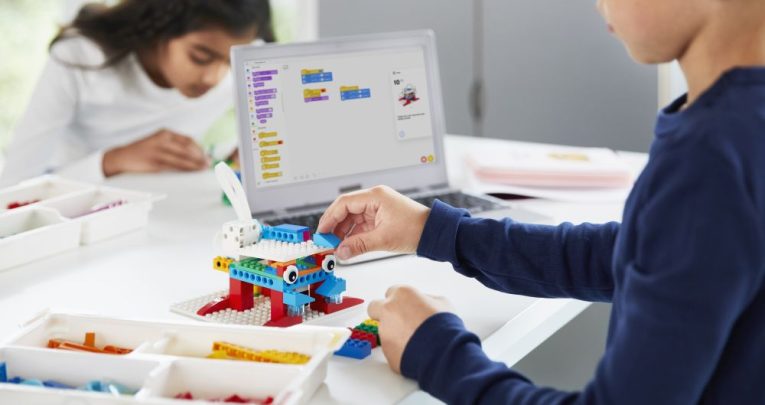 LEGO® Education SPIKE™ Essential is a new primary school STEAM solution…
LEGO® Education SPIKE™ Essential is a new primary school STEAM solution that ignites students' passion for STEAM learning through playful problem solving and storytelling, preparing them to be resilient, independent thinkers.
It excites pupils and delivers strong STEAM learning outcomes, developing their STEAM knowledge and practices, and 21st-century skills.
SPIKE Essential is the cross-curricular STEAM solution for primary education. It engages pupils in hands-on investigation of STEAM concepts while contributing to literacy, maths and social-emotional development.
Curriculum-aligned learning units use everyday themes, relatable mini-figures with different personalities and familiar LEGO building elements to solve problems through storytelling.
SPIKE Essential consists of a main classroom brick set with a wide variety of LEGO elements and intelligent hardware, along with the intuitive SPIKE App, all of which is accompanied by a selection of unit plans and comprehensive online and in-app support.
Flexible built-in scaffolding and competency-based professional development opportunities make it easy for teachers to get started and move from one unit to the next.
SPIKE Essential is also used in the FIRST LEGO League Explore, a worldwide robotics competition that encourages pupils to practice teamwork and learn new skills.
Intuitive, inclusive and adaptable learning solution
LEGO Education SPIKE Essential combines aligned curriculum units, colourful LEGO elements, a simple coding progression and intelligent hardware.
Building and hands-on learning is made easy and accessible for all ages with simple stackable LEGO Bricks. The Bridge Pin connects creative system-brick builds to hardware and LEGO Technic elements.
Pupils can create engaging, interactive models by connecting the Intelligent Hub, motors, a light matrix and a colour sensor to bring STEAM concepts to life.
The Hub is a simple-to-use brick-shaped programmable control unit featuring two input/output ports for connecting sensors and motors.
It also features six-axis gyro sensor, replaceable rechargeable battery, intuitive light and button interface and can be connected to devices using USB or Bluetooth low energy.
The colour sensor detects colours and measures reflected and ambient light from darkness to bright sunlight. While the 3×3 RGB light matrix can be programmed to turn on each segment separately and in different colours.
Each SPIKE Essential core set also contains two LEGO Technic small angular motors designed to function as both a motor and sensor.
Using the integrated advanced rotation sensor, these motors can report both speed and position. Motors can also sense direct user input if the output is rotated by hand.
Curriculum-aligned lesson plans
LEGO Education SPIKE Essential curriculum units are designed around playful narrative-based problem-solving with relatable themes that can develop young pupils into independent STEAM thinkers.
LEGO Education SPIKE Essential includes five units that focus on national standards for both lower and upper primary grades. Each unit is comprised of seven to eight 45-minute lessons, plus language, arts and maths extensions for each lesson. This is 50 hours of classroom content in total!
During each lesson, pupils brainstorm and develop creative solutions through trial and error while collaborating with their peers.
Intuitive coding experience
Using the LEGO Education SPIKE App pupils will experience intuitive coding. With LEGO Education SPIKE Essential, pupils can progress all the way from lower to upper primary following a progression of block-based coding from icon blocks to word blocks based on Scratch.
This provides age- and skill-appropriate tools for developing their coding proficiency.
Part of the LEGO Learning System
LEGO Education SPIKE Essential is part of the LEGO Learning System, and ensures a progression of learning year after year, starting in the lower year groups and progressing to the upper primary.
The consistent unit structure builds a strong foundation for easy progression into secondary education and more-advanced learning opportunities with SPIKE Prime.
The LEGO Learning System is an intuitive, inclusive and highly adaptable hands-on learning system. It future-proofs pupils' skills, and makes them confident lifelong learners by giving them unlimited possibilities for hands-on, playful STEAM learning.
Find out more about LEGO Education SPIKE Essential here.
---
Visit LEGO Education at Bett 2022
LEGO Education welcomes you to its Bett 2022 Teaching and Learning Theatre session – "It's time to rethink learning" – on Thursday 24th March 2022 at 1.20pm-1.50pm. Join Tom Hall, Head of LEGO® Education International, alongside Neill Lunnon and Brendan O'Keeffe of Fulham School, to learn more about the LEGO Learning System.
You can also visit LEGO Education during Bett 2022 in its Gallery Suite NG7. Please come and meet the team at the Gallery Suite to book a workshop or to check times for open forums each day.