Robotics in education – from EYFS right through to university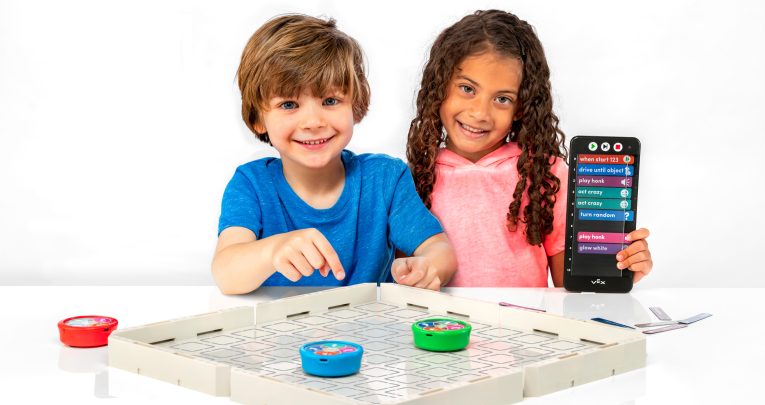 How to use robotics to develop computational thinking, creativity, teamwork, leadership and more…
VEX Robotics is proud to be the only educational robotics company to offer a range of products to span the full continuum from reception through to university.
Integrating educational robotics into your curriculum or running extracurricular clubs provides a wide variety of learning opportunities because robotics has all pillars of STEM as its prerequisites.
This means that at any level, students can see tangible and practical uses for the science and maths concepts that they learn, whether that be through measurements and estimating, ratios, geometry or complex mathematical algorithms.
But beyond science and engineering principles, robotics develops computational thinking, values the importance of learning from failure and encourages creativity, teamwork, leadership, and problem solving among groups.
STEM starts early – robotics in primary schools
It's never too early to embark on a journey of discovery through STEM education. VEX 123 is designed specifically for use in Early Years, Key Stage 1 and Key Stage 2 and has functionality that grows with your student's ability.
Coding doesn't need to take place on screens – younger children can learn the basics of sequences and algorithms by entering commands directly into the Robot using the icon style touch buttons on the top.
As their reading and comprehension skills increase, they can move on to the Coder and Coder Cards to create more complex algorithms, but still without the need for computers or tablets. Once they are ready, they can access all the features of the Robot using the Scratch blocks-based VEXcode 123 app.
In Key Stage 2, students are introduced to the design process with VEX GO. This construction kit has colour-coded parts that makes it easy for students to follow instructions to build robots, but also encourages them to improve upon these designs or even create something from scratch.
Continuing robotics in secondary schools
VEX IQ builds on the foundations of VEX GO and introduces more sensors, mechanical concepts and ways to code. Whilst all VEX products offer Scratch Blocks programming to ensure that there is a low barrier to entry, Python and C++ are also supported to expose students to text-based languages.
With VEX EXP, metal parts combine with a nuts and bolts construction system to give a real-world engineering feel in Key Stage 4.
Supporting learning with virtual robotics
VEXcode VR is a free, easy-to-use platform that allows you to code a virtual robot in the same VEXcode environment that is used for physical VEX robots. This helps you to make physical hardware go further, with students able to learn concepts on a combination of virtual and real robots.
It also means STEM learning can continue while remote learning or as a homework tool. Try VEXcode VR here.
Teacher support
Not everyone is a specialist STEM teacher, but that doesn't mean that you can't incorporate educational robotics into your curriculum. The free STEM Labs lesson plans are there to support you by providing everything a teacher needs to deliver whole-class lesson using robotics.
At primary level, you get front-of-class presentations, subject background information, handouts, leading questions and more.
For secondary students, STEM Labs resources take a more independent learning approach and are intended to be student facing. Lessons include instructional videos, activities and quizzes to check understanding as pupils progress through the modules.
For teachers, free online and in-person training is available and teacher certification helps subject leads ensure that their colleagues are able to use the resources fully.
Accelerate learning with competitive robotics
Students love to question, tinker, experiment and play. Robotics competitions foster these skills and capitalise on the motivational effects of these competitive environments.
VEX competitions can take a number of forms, including classroom-based competitions in which students learn while competing against their classmates, or inter-school competitions that take place on local, national and international levels.
By providing a set of rules and specifications to work within, students not only learn skills in design and coding, but also place a focus on being able to work scientifically, iterate designs and learn from both successes and failure.
VEX competitions are a great way to expose students to valuable soft skills like communication, collaboration and time-management in a fun and authentic way.
Get in touch on 01925 251038 or eusales@vexrobotics.com to arrange an online demonstration.