11 ways to banish children's fear of creative writing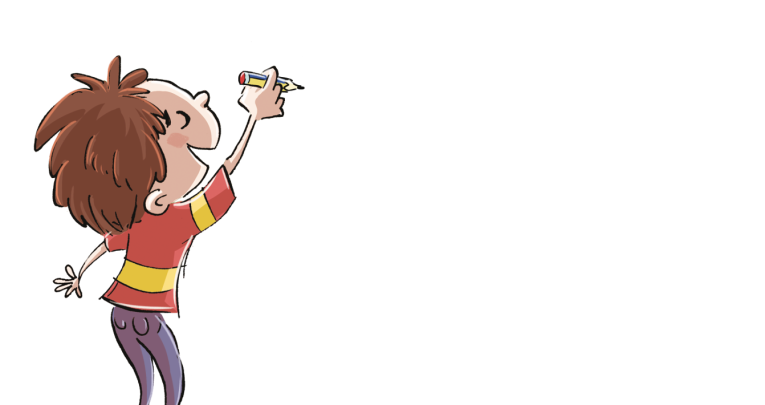 Kids need confidence to be creative, and Steve Bowkett has some great ideas for giving children faith in their abilities…
Helping children to feel confident about their creative writing is, in my opinion, just as important as teaching them strategies to write more clearly and accurately.
Many children are inhibited in their writing for a variety of reasons. These include the all-too-familiar 'fear of the blank page' ("I can't think of anything to write about!" is a common lament), trying to get all the technical aspects right as they compose their work (a sense of being 'overwhelmed'), and the fact that much of children's success in school is underpinned by an ethos of competitiveness and comparison, which can lead to a fear of failure and a lack of desire to try.
Any steps we can take to diminish these anxieties means that children will feel increasingly motivated to write, and so enjoy their writing more. This in turn will lead to the development of skills in all areas of writing, with the broader benefits this brings more generally in children's education.
So, without further ado, here are some easily applied and simple ideas for boosting self-confidence in writing.
1 | Keep it creative
Make creative writing a regular activity. High priority is given to spelling, punctuation and grammar, but these need a context to be properly understood.
Teaching the technicalities of language without giving children meaningful opportunities to apply them is like telling people the names of a car engine's parts without helping them learn to drive.
2 | Model the behaviour
In other words, when you want your class to write a story or poem, have a go yourself and be upfront about the difficulties you encounter in trying to translate your thoughts into words.
3 | Go easy on the grammar
Encourage children to write without them necessarily trying to remember and apply a raft of grammatical rules. An old saying has it that we should 'learn the rules well and then forget them'.
Learning how to use punctuation, for instance, is necessary and valuable, but when children try and apply the rules consciously and laboriously as they go along, the creative flow can be stifled.
Consideration of rules should, however, be an important element of the editing process.
4 | Keep assessment focused
Where you do require children to focus on rules during composition, pick just one or two they can bear in mind as they write. Explain that you will mark for these without necessarily correcting other areas of GaPS.
Not only will this save you time, but also children will be spared the demotivating sight of their writing covered in corrections (which many are unlikely to read).
5 | Value effort
If a child tries hard but produces work that is technically poor, celebrate his achievement in making an effort and apply the old 'three stars and a wish' technique to the work by finding three points you can praise followed by noting one area where improvements can be made.
6 | Leave room for improvement
Make clear that it's fine for children to change their minds, and that there is no expectation for them to 'get it all right' first time. Show the class before and after drafts from the work of well-known poets and extracts from stories.
Where these have been hand written, they are often untidy and peppered with crossings out and other annotations as the writers tried to clarify their thoughts. If you have the facilities, invite children to word process their stories using the 'track changes' facility. Encourage children to show their workings out, as you would do in maths.
7 | Don't strive for perfection
Slay the 'practice makes perfect' dragon. It's a glib phrase and also an inaccurate one. Telling children that practice makes better is sound advice. But how could we ever say that a story or poem is perfect? Even highly experienced authors strive to improve.
8 | Come back later
Leave some time – a couple of days will do – between children writing a piece and editing or redrafting it. This is often known as the 'cooling off' period. Many children will find that they come back to their work with fresh eyes that enable them to pick out more errors, and with new ideas for improving the piece structurally.
9 | Try diamond 9
Use the diamond ranking tool to help children assess their own work.
Give each child some scraps of paper or card and have them write on each an aspect of their writing, such as creating strong characters, controlling pace and tension, describing places and things, using 'punchy' verbs etc.
Supply these elements as necessary, but allow children some leeway to think of examples of their own.
Now ask each child to physically arrange these scraps according to how effectively they were used in the latest piece of work. So two writing elements that a child thinks are equally strong will be placed side by side, while an aspect of the work a child is pleased with will be placed above one that he / she is not so happy with.
10 | Keep it varied
Vary the writing tasks. By this I mean it's not necessary to ask children always to write a complete story. Get them to create just an opening scene for example, or a vivid character description, or an exciting story climax.
If more-reluctant writers think they haven't got to write much they might be more motivated to have a go. Varying the tasks also helps to keep the process of writing fresh, while the results can form resource banks (of characters, scenes, etc) for future use.
11 | Help each other
Highlight the idea that everyone in the class, including yourself, forms a community of writers. Here, difficulties can be aired, advice can be shared and successes can be celebrated as we all strive to 'dare to do it and do our best'.
Steve Bowkett taught secondary English for 20 years. Since 1994 he has been a full-time author and has visited hundreds of schools to run creative writing workshops.