VEX Robotics, the global leader in classroom and competition robotics, is kicking off the new year with three major updates – VEXcode Blocks and Text, STEM Labs and the VEX Robotics Training Academy.
It's becoming more important for students and educators to have programming software available that is responsive, easy to get started with and has endless possibilities in its application throughout and beyond education. That's why VEX Robotics has created VEXcode Blocks and VEXcode Text for its different hardware platforms.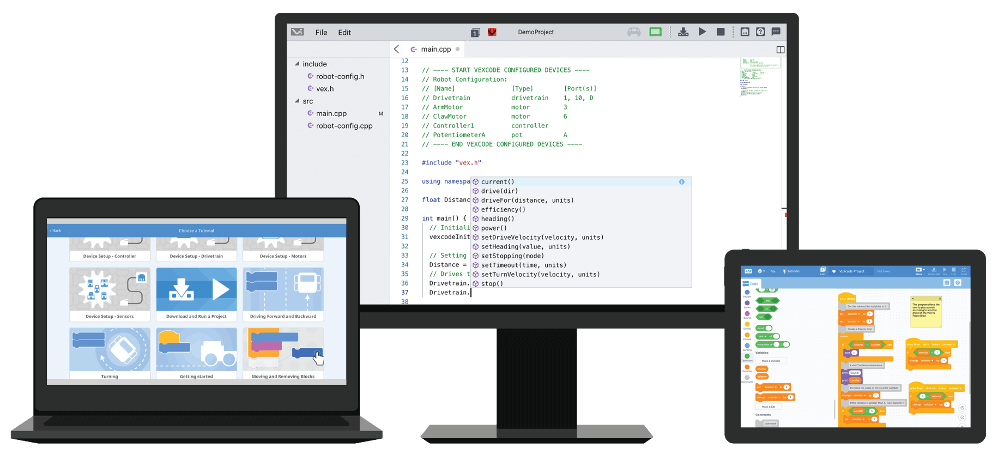 VEXcode Blocks for VEX IQ and VEX V5 is the perfect coding environment for new and experienced students to bring their VEX robots to life. With easy-to-follow tutorials, Scratch-Powered blocks sign-posted with basic commands and multiple languages to choose from, this software provides everything pupils need to gain a thorough understanding of programming, coupled with a practical hands-on robot builds; the ideal fit for educators looking to find a one-stop classroom solution in physical computing.
VEXcode Text for VEX V5 is the same coding environment used by professionals, with the same tools and resources available. From beginners to advanced computer science students, VEXcode Text enables students to expand their programming knowledge to C++ industry standard language, with limitless scope for development and a real insight into what it's like to code at industry level – compatible with their VEX robot.
VEXcode Blocks and VEXcode Text for VEX IQ and V5 are available on VEXcode is supported on Chromebook, Windows, and Mac. iOS and Android.
Robots provide a hands-on activity that directly involves students in the learning process and allows them to take ownership of their STEM learning. VEX robots bring code to life and allow students to see how what their learning has a direct impact in the real world, and how individual maths and engineering elements come together to form a solution to a real problem.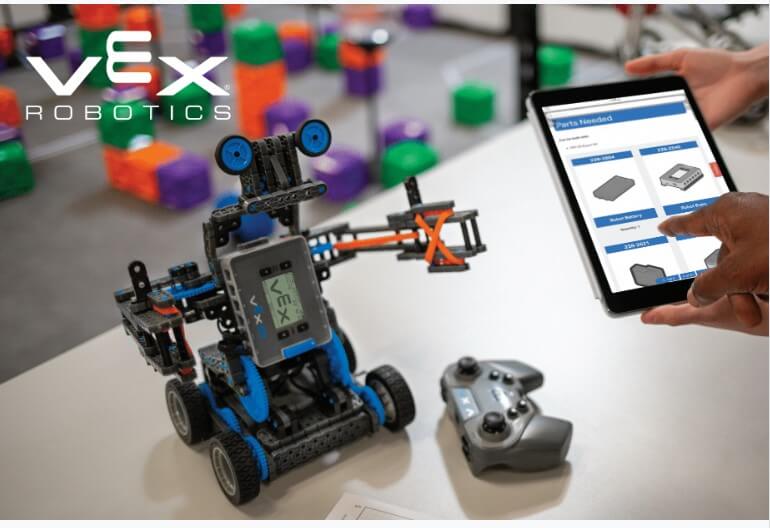 STEM Labs are free, multi-tiered, hands-on activities, which include diverse builds, games and competitions that align with education standards while also showing real-world applications of concepts. Designed by a team of classroom teachers and cognitive scientists who work closely with the world-renowned Carnegie Mellon Robotics Academy in the United States, STEM Labs will offer hundreds of hours of free curriculum content for teachers
across STEM subjects and beyond.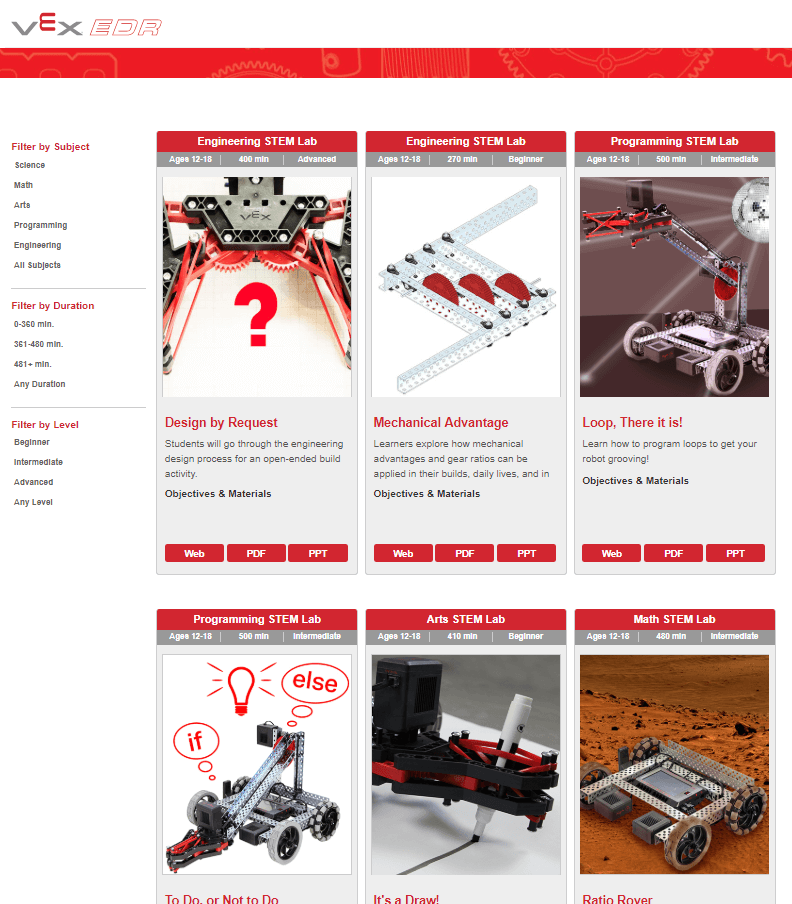 For many teachers, figuring out how to implement concepts into maths, design and technology, engineering and computer science subjects can be difficult. The VEX Robotics STEM Labs allow for easy implementation with minimal preparation time. Each STEM Lab can be used on multiple platforms and includes easy-to-follow build instructions. The activities give students the opportunity to communicate and collaborate with their classmates and every STEM Lab has multiple approaches to solving a problem, allowing students to experiment with creative design solutions.
With these amazing free resources, VEX Robotics continues to lead the way in classroom robotics. The world needs new innovators, thinkers and problem solvers and through the VEX IQ (Key Stage 2 and 3) and VEX EDR (Key Stages 3, 4 and 5) robotic platforms, along with the fastest growing robotics competitions in the UK, the VEX IQ Challenge and VEX Robotics Competition – the company continues to be a leader in championing young learners.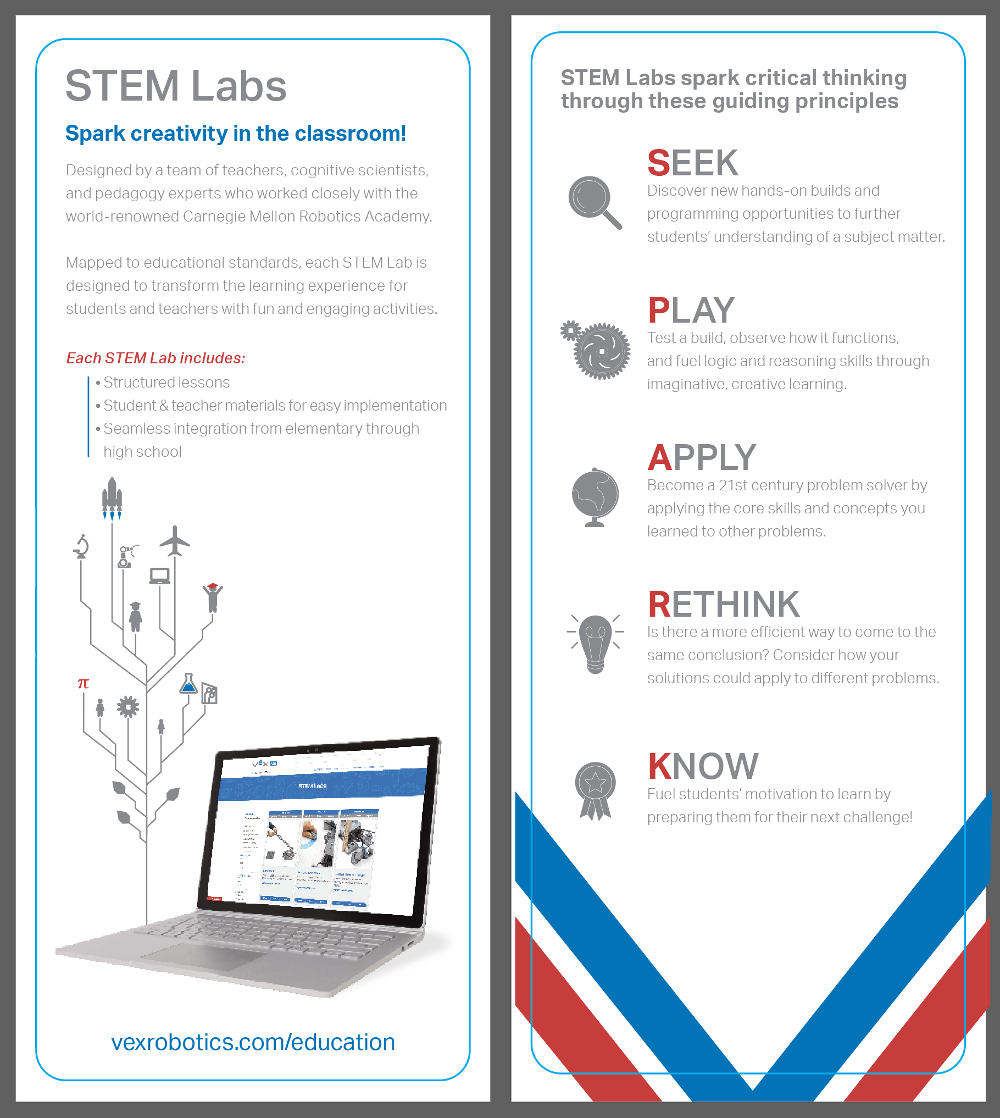 As an educator, when you have the resources, knowledge and skills to succeed with VEX in the classroom, you can then gain complete confidence by attending one of their courses at the VEX Robotics Training Academy. Co-located with their offices in Warrington, North West England, the VEX Training Academy enables and supports educators in delivering lessons, workshops and extracurricular activities with complete assurance to students. Through a range of Continuing Professional Development (CPD) courses and twilight sessions, educators looking to get started using VEX or those already with VEX experience are welcome to attend. The courses are designed for educators at every stage of their journey with VEX, covering both primary and secondary education and are developed across a range of different subject areas.
Find out more about the Introductory, Curriculum and Competition courses.
Visit the website to find out more on STEM Labs, VEXcode, VEX products and services at vexrobotics.com, enquire about attending a VEX training course at vextrainingacademy.co.uk or contact VEX directly at eusales@vex.com or 01925 251 038. You can also follow on Twitter at @VEXRoboticsUK.