Sew what? – Why textiles lessons need to be brought into the 21st Century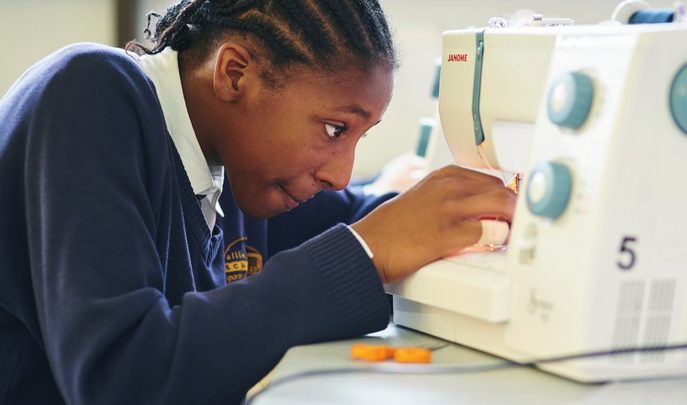 If you think there's no place for needlework in a 21st-century curriculum, you're seriously underestimating the importance of textiles, argues Heidi Ambrose-Brown…
"Once upon a time there was a room in a school where girls were taught how to sew and it was called needlework…"
Back then, those young people were taught how to take a 2D shape and transform it into a 3D product which could adapt to movement. It's quite a challenge. How many of you could do that now? How many pupils in your school are given the opportunity to achieve such a feat?
Just stop and think for a moment about a world without textiles – part of which would mean, of course, a world without clothes. No protection from the elements; no distinguishing between cultures or religions; no modesty.
Like food, affordable clothing is a basic necessity and yet it's taken for granted that we will always have access to it, and that fast fashion has become the norm.
Who is going to design and make these garments? Should we be promoting that 'Made in China' is acceptable? Actually, as it happens, China can't get enough of 'Made in England'…
A relevant skill
Let's examine the facts:
The UK textiles industry is worth close to £9 billion to the economy, and this is set to increase.
Employment in the sector is growing year on year, with 15,000 further jobs expected to be created by 2020.
According to The Alliance Report: Repatriation of UK Textiles Manufacture, 'There are serious concerns regarding the 'Poor image of the sector, and a potential workforce, especially young people and parents, that lack information about career opportunities and progression in the industry.'
Reports of schools cutting timetable allocations, and slashing budgets and funding for equipment upgrades and resources are therefore not what the textile industry wants to hear. CPD is desperately needed by the very dedicated and keen workforce that is made up by our textiles teachers – it can't all be done via social media.
Take the 2014 National Curriculum. Across KS1 to KS3, sewing is part of design and technology. All pupils should experience it through the wider remit of textiles (the understanding of where fibres originate and how fabrics are made is fundamental to successful sewing).
However, this is not always the case, as many schools pick and choose what they have time to deliver, especially at Key Stage 3.
But we know how much importance schools are being asked to place on STEM and the Ebacc, and sewing is definitely relevant for both. Consider the skills required to go from fibre, to a drafted pattern piece to a finished product – it's a process which is easily mapped across the curriculum:
Maths
Drafting the pattern – measurement, scale, tolerances
Dyeing fabric – ratios
English
Researching and applying information with regard to properties of fabrics
Understanding and writing patterns and instructions clearly
Science
Knowing the structure of plant and animal cells to determine the properties of fibres
Understanding the principles of polymerisation to manufacture synthetic and regenerated fibres
Knowing the chemical reactions that take place when dyeing fibres and fabrics, in order to get the desired outcomes
Sublimation (digital printing) – applying the physical change of transition from a solid to a gas and back again
Testing properties of fabrics – for example, tensile strength
History
Developments/inventions affecting fabrics and clothing as linked with social history
Geography
Environmental impact on the manufacturing of textiles products and the social responsibilities of companies
Technology
Use of CAD/CAM to create accurate designs and patterns, before employing these as prototypes or in batch production
Development and application of new smart/ technical fibres and fabrics
Inclusion of wearable electronics through the use of conductive thread and fabric
Engineering
Development of technical fibres engineered for a specific end use
Drafting technically accurate pattern pieces that relate to a 3D outcome
Understanding how the key components of a sewing machine operate in relation to each other
Sadly, however, too many textiles departments are stuck in a rut, still producing the same stereotyped projects that have been done for the last 50 years. If what was taught in schools reflected our textiles industry we would be the world's largest exporter of cushions and pencil cases!
There are many reasons for this – ageing staff, lack of CPD, financial constraints, rooming, insufficient access to computers, poor equipment that isn't replaced and too little investment in new technology. However, we must somehow find a way to prevent this important subject becoming eradicated from the curriculum or subsumed into art, where it becomes a very different discipline altogether.
Valuable learning
Good textiles practice includes:
Giving pupils the opportunity to physically examine a range of fabrics in order to make an informed choice of what is most suitable for their product
Broadening the range of fabrics available to include non-woven fabrics, which can be easily laser- or knife-cut and stitched to created 3D products other than garments
Exploring the use of conductive thread and/or fabric to introduce flexible circuits and wearable tech, which can have a real 'wow factor' for pupils
Allowing pupils to access CAD/CAM when designing and making
Moving away from stereotypical outcomes where pupils all make the same product led by the teacher. Working from contexts, pupils can come up with their own design brief and work towards solving it – what other subjects aside from D&T give them the opportunity to develop such strong analytical problem-solving skills?
Happily, there is support out there for teachers. The Design and Technology Association offers a range of resources that map progression from early years to late KS3 – an easy way to ensure a range of content is delivered and avoid the repetition that so often occurs.
There are also organisations such as The Textiles Skills Academy, which campaigns for and supports the delivery of textiles in education.
Ultimately, the wider school community needs to get a better understanding of what textiles in the 21st century really is, and understand the amount of valuable learning that it can impact.
Not just in the practical aspect of sewing, but also in the development of the transferable skills of analytical thinking, problem solving, accuracy, planning and evaluation that so many other industries are asking for in relation to further/higher education and apprenticeships.
---
Heidi Ambrose-Brown is an independent D&T consultant and co-founder of The Textiles Skills Academy. She works closely with teachers to develop modern, relevant textiles projects that engage both boys and girls, and is well known for her practical CPD courses for teachers.
For more information, visit textileteachersskillsacademy.org or follow @habtextiles