Case Study, Parkfield Community School – "We're All Different, And That's Great"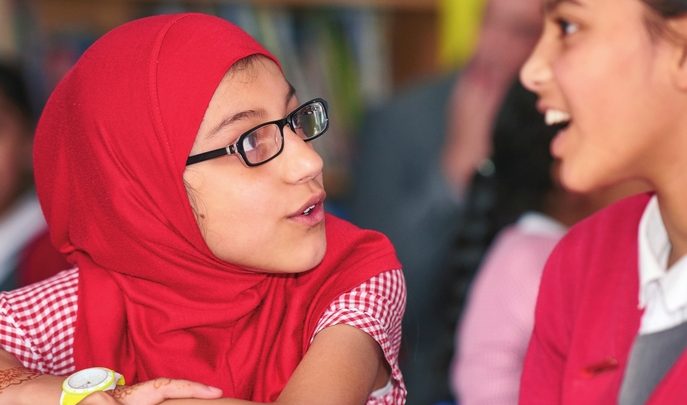 Simultaneously promoting diversity and tackling disadvantage, Parkfield Community School is a fantastic example of what great primaries can accomplish, as Jacob Stow explains…
by Jacob Stow
Prejudice, research suggests, is part of human nature – it's hard-wired into our brains, an evolutionary defence mechanism whose purpose has long since evaporated into the mists of time, but which stubbornly refuses to evolve-off.
Whether you accept that or not, there's no denying prejudice lies at the heart of some of the most pressing challenges of our age. It rears its head in Middle Eastern sectarianism and the terrorism it has helped to spawn; in the flaring racial tensions and stuttering demagoguery of the United States; in the worrying rise of European nationalism and the UK's decision to 'Brexit'. The above can, to varying degrees, feel somewhat abstract and 'out of our hands', but prejudice on the global stage is often tied to the 'smaller' prejudices that affect our daily lives – racism, sexism, homophobia and more, both overt and covert, colour our societies, can influence our politicians and through them affect the world. In this respect, all of us have a part to play in preventing prejudice from destroying the mutual peace and prosperity that right-thinking individuals everywhere value above all else. It's for this reason that finding an educational institution like the 'outstanding', Pupil Premium Award-winning Parkfield Community School in Birmingham is so heartening. Situated in an area of considerable disadvantage recently rocked by the Trojan Horse allegations, it is by headteacher Hazel Pulley's own admission mono-cultural – 99% of its intake is Muslim, but its embracing of diversity, and its understanding of the value of doing so, is surely second to none.
Driven by assistant headteacher Andrew Moffat with the full support of Hazel and the governing body, the school's 'No Outsiders' ethos is addressing the issue of LGBT equality in a manner that has kept parents onside (no mean feat, given the religious sensitivities involved) and is promoting a wider message of tolerance and inclusivity that's gaining an audience across the city. At the same time, Hazel and her team are making giant strides in addressing the challenges that have historically held back the school's children, improving attendance, speech and language and more – taken as a whole it's a compelling advertisement for the difference the best schools can make to society.
1. Equality matters
"I used to do work just on LGBT equality, and it went wrong," Andrew Moffat admits. "It was in another school in Birmingham, where there have been lots of difficulties. The parents kicked off about it – some felt threatened because of their faith. We had to find a way of making it work." It's a topic that is close to Andrew's heart. He came out as gay to Parkfield's children in December 2015, and the relative ease with which he was able to do so speaks volumes for the effort Parkfield has put into addressing prejudice. It hasn't been easy, but it is essential – schools, Andrew and Hazel stress, are the ideal place to develop community cohesion and prepare children for life in modern Britain.
As Andrew puts it, "Who else is going to teach children about LGBT equality? There are schools that challenge homophobia through their anti-bullying policies, but you have to be more upfront than that. You have to be talking in a preventive way all the time about how everyone is welcome. You can't wait until someone gets bullied." Parkfield's solution is 'No Outsiders' – an ethos built around the Equality Act, which offers protection against discrimination on the grounds of race, religion, age, disability, gender, gender identity and sexual orientation. "The Equality Act is great because it mentions LGBT equality within a much wider context," Andrew explains. "It works really well because it helps the children feel comfortable and proud about who they are, whatever that might be: black or white, Muslim or Christian, boy or girl. Within that, we're preparing them for later life, to meet people who might be gay or lesbian, or to be gay and lesbian themselves. "Our central message is that we're all different, and that's great. We're very clear that in the UK we benefit from being diverse."
2. Embedding tolerance
The Equality Act might have been the perfect vehicle for No Outsiders, but communicating certain ideas to children, and through them to parents, still required great care – and generated controversy. "We started very slowly," Andew tells us. "When I arrived in April 2014, I had lots of discussions with Hazel because we wanted to do it right. We didn't make any big decisions in the first term, we just laid the groundwork – we started to use simple picture books, not specifically about LGBT stuff, just about being different. We knew it would be LGBT equality that caused tensions, we worked to get our policies in place and gained the governors' approval." "They were very supportive," Hazel tells us. "They're very community orientated and they could see the benefits. At the same time they understood that it could create a tension for the followers of Islam and Christianity, but they felt confident we'd be able to work with our parents." And that's what Parkfield does – there was, and is, no obfuscation going on here, no attempt to give the No Outsiders ethos a low profile, to sneak it past those who might not approve. "I think you have to be absolutely open and secure about why and how you're doing it," Andrew says. "We sent a letter out, class by class, explaining that we'd be doing some work about equality and that we'd be using picture books about different families – 'please come and have a look'. We used the term 'sexual orientation' and no one came to the meetings bar one parent. We took that as meaning everyone was fine. "As the LGBT information began to drip through, though, word got around that we were teaching 'gay' lessons. Unfortunately at the time there were petitions against a resource called CHIPS (Challenging Homophobia in Primary Schools) that I'd written before, which was being used in a lot of schools; there was a lot of publicity and it all kicked off. "Some parents wanted a public meeting, but instead we arranged meetings by class. We sent another letter out acknowledging the concerns, to show that we were listening. Only two parents came to the first meeting: two dads, who were very angry – basically, 'You're going to make my son gay. Why are you teaching Year 1s about this!?' The resource we use is based on 35 picture books, and when you look at the Year 1 books, they're all about friendships and playing together; there's nothing about being gay, really. Certainly it's not about sex, so we put that to bed straight away.
'Once parents saw the books, more often than not they were reassured, but we did have discussions about Islam and LGBT equality, and how we could marry the two." "One of the successes of our school is that we have dialogue around anything with anybody; there's no hidden agenda," Hazel agrees. "We decided to talk to parents about the Equality Act, the law we have to follow in this country, and the respect we have for Islam. For the majority of Muslims, the Qu'ran is read as saying it will not accept homophobia, and this is what creates the tension.
'Parents want to know what to say to their child at home; they don't want to be disloyal to Islam. We said, children will hear one thing in school about the Equality Act, which is law, but when you get home, it's down to you what you say to your child. The important thing is for the children to hear both sides. That absolutely seemed to solve it."
3. Spreading the word
Amongst the children, No Outsiders has proved less controversial – the enthusiasm for it shines through. This is in no small part because Parkfield immerses pupils in the ethos; it's spelled out at the front of the school, and posters reinforce the message throughout. Ideas of tolerance and intolerance are introduced in assemblies, and staff don't shy away from hard-hitting, real-world examples of the problems prejudice creates – everything, from the Paris attacks to the Orlando nightclub shooting, is up for discussion from Year 4 on. Andrew has written multiple lesson plans, based on the aforementioned picture books, spanning Reception through to Year 6, embedding the subject in the curriculum. Every term, classes visit different places of worship to broaden their experience of the local community. Every Monday after school, an Ambassadors Clubs sees 12 children helping to spread the word across Birmingham – they visit schools of other faiths, play games and come away realising that our similarities far outweigh our differences. "I've got a 45-kid waiting list for the club now, Andrew says, "and the schools we visit often want to set up a more permanent relationship." No Outsiders undoubtedly benefits from being part of the wider philosophy of 'respecting others' at Parkfield, which has Rights Respecting School status. Its work in this sphere has afforded children further opportunities to explore the experiences of those within and beyond their immediate community. These have included a campaign about, and education revolving around, female genital mutilation, led by Hazel, who is a leading voice on the issue in Birmingham.
"I've written lessons for Years 5 and 6 boys and girls about female circumcision, and the way we approach it is through rights," she explains. "We talk about the rights of your body to be safe, and not be hurt. Once you've got rights embedded across the school – in the curriculum and in your policies – it helps you approach anything."
4. Defeating disadvantage
Hazel's goal at Parkfield, she tells us, has been to make it the best school for disadvantaged children, and its 2015 Pupil Premium Award is evidence of her team's success in this regard. No Outsiders has undoubtedly contributed to the "vast amount of work needed around personal and social education" that Hazel mentions, but changes to teaching and learning have been made across the curriculum. Hazel started in early years: "I threw out all the tables and chairs!" she says. "I sent staff to look at good practice in Milan, and they came back with a real understanding of what I was hoping to do. I wanted to make the experience far more child-centred, and to have more practical activity too.
'While that was becoming embedded, I had to sticking-plaster the rest, but eight years on, those early changes have now passed through the whole school. The children who left last year were those who were here at the beginning, and their results were amazing – 99% Level 4 maths, and 99% Level 4 reading." There is a particular focus on speaking and listening in Year 1 and 2, to support the high number of children with EAL who attend Parkfield, while Pupil Premium funding has been spent creatively: to reduce class sizes in Years 5 and 6, employ extra early years staff, pay for CPD linked to combating the symptoms of disadvantage, and improve attendance. It all adds up to a school where nothing seems to have been forgotten.
Outstanding opportunities
Parkfield boasts three 'academies', covering maths, English and engineering. The former work to upskill staff and educate children and parents. Of the two, maths is the most developed to date – headed up by SLE and national teacher of mastery Helen Hackett, it's not only benefiting Parkfield but is sharing outstanding practice with other schools. "We're at the cutting edge of maths," Helen notes, "and the Academy is growing opportunities for teachers to develop their experience." The Engineering Academy, on the other hand, is a cutting-edge resource aimed squarely at Parkfield's children, funded by £100,000 of Pupil Premium Award prize money. In part a response to the chronic shortage of engineers in the local area, it's split into three areas covering general engineering, Mac-based 3D design and programming, and live broadcasting – pupils get to present a bulletin of the weekly news every Friday in glorious HD, and hit the airwaves every lunchtime. "Engineering fits in with other things we're doing, such as the emphasis on speaking and listening, so it ticks lots of boxes," Andrew tells us.
Meet the staff
Hazel Pulley, Headteacher "We offer parent workshops, in English and maths, run by classroom teachers or experts within our academies. The attendance is remarkable: 80 to 90%. Initially we offered them the chance to win shopping vouchers if they came, but once they realised they were leaving with something practical, they started to come willingly. We're helping them to go home and make a difference to their children."
Lipi Begum, Year 4 Teacher "We marked World Refugee Day and talked about the people who've come into the country and how they must be feeling, and the way some people are treating them. We had a debate about how we should make them feel. Should they stay or go? The children were absolutely fantastic. They said we should let them stay, that there should be 'no outsiders'."
Helen Hackett, Maths Lead "The Maths Academy is like a drop-in centre for the teachers here, and our subject knowledge enhancement is about teaching teachers to do maths – pretty much all of our teachers have completed a course. When we went to school, we were taught to pass tests; we weren't taught to deeply understand the maths, so now we're having to teach things we're not trained to teach."
Michelle Harris, Year 1 Teacher "We don't want to tell children what to think, but to develop respect and mutual understanding. We watched a video about two princes who get married, so not everyone is going to agree with that. What we say is, even if you don't agree, are you going to be rude to those people? Are we going to be disrespectful? Well, no. Because they're welcome at our school."
Pupil voice
Usman "At Ambassadors Club we talk about how we're all equal. What I mean by that is that no one is better than anyone else, no matter what your race, religion or sexual orientation. We go to different schools to spread the word, not just those that are mainly Muslim."
Inam "We treat people in exactly the same way. Everyone is human, and that doesn't change. It's quite easy to do that – you treat people how you would treat your friends. Sometimes people do forget to behave like this, though."
Nusayma "Before I came to this school I thought that not everyone should be nice to everyone. Now I think that you should treat everyone equally. Before, I never realised that if you're rude to a bully, then you're just as bad as them."
Zak "Last week we went to Birmingham city centre because Mr Moffat suggested we should give out flowers as a random act of kindness. It made them feel happy, but it made me feel happy too, knowing that I'd made someone's day."
For more information, visit www.parkfield.bham.sch.uk or follow @ParkfieldSchool
Further details and lesson plans regarding No Outsiders can be found in see Andrew Moffat᾿s book, No Outsiders In Our School: Teaching the Equality Act in Primary Schools, published by Speechmark; for further assembly ideas, visit equalitiesprimary.com