Adverbs – 12 of the best worksheets, games and resources for KS1 and KS2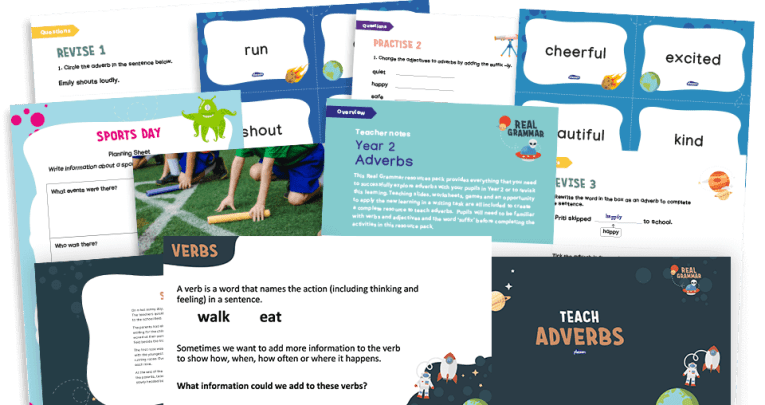 Teach efficiently, explain clearly and have children progress exponentially with these worksheets, lessons and other resources for teaching adverbs in primary school…

by Teachwire
What is an adverb?
An adverb describes a verb. That's the most basic definition. If a verb is an action, a doing word, an adverb describes how that thing is done.
But it's obviously a little more than that.
This definition states: "An adverb is a part of speech that provides greater description to a verb, adjective, another adverb, a phrase, a clause or a sentence."
Clear? No? Well let's find out more. On to the first resource we go…
---
How to use adverbs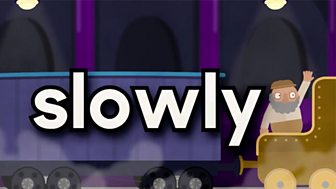 As ever, BBC Bitesize has a good entry on adverbs, with a definition, a short video and an interactive exercise getting children to highlight the adverbs in sentences.
---
Adverbs KS1 SPaG mat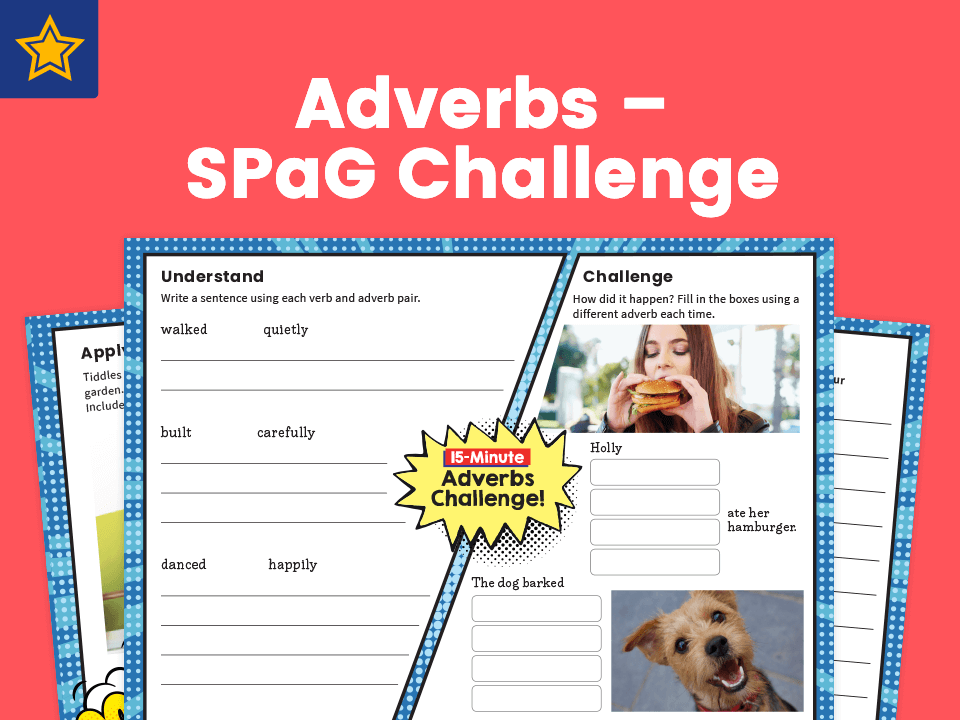 This review mat for grammar, punctuation and spelling is an excellent way to revise and practise using adverbs.
The worksheets are divided into five different types of activity, including writing challenges and GPS sample test questions.
---
Using the suffix -ly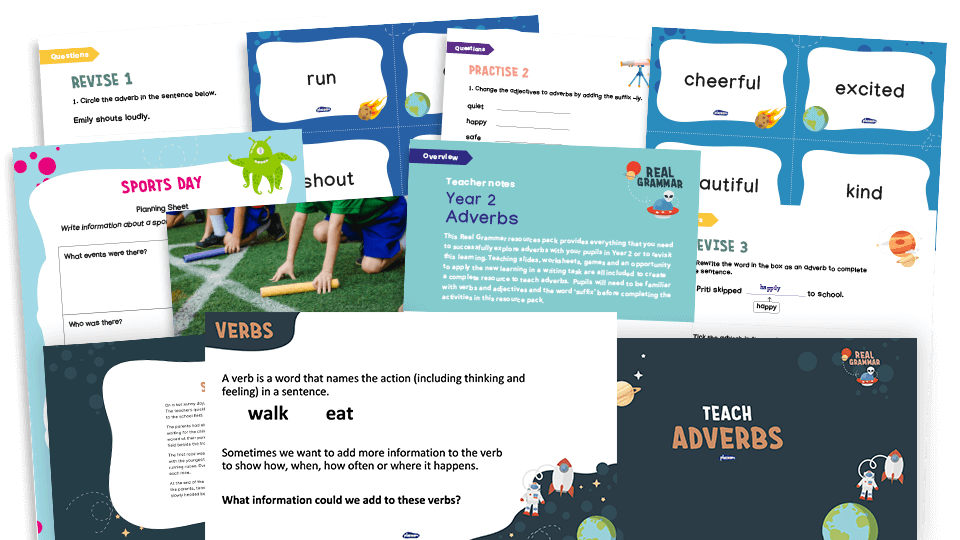 This Real Grammar resources pack from Plazoom provides everything you need to teach adverbs in Year 2, or revisit the topic with older pupils.
You get slides, worksheets, games and a suggested writing task.
---
Adverbs of time and cause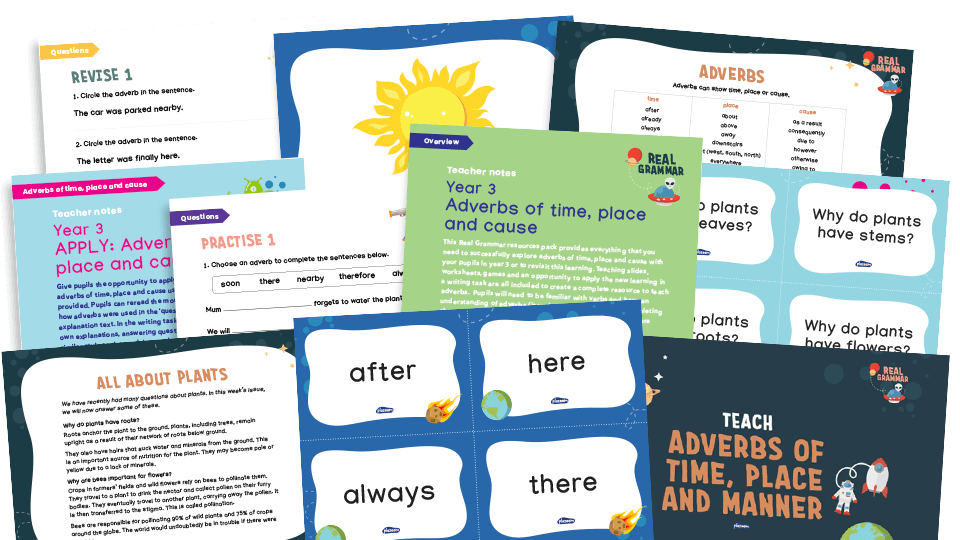 Meanwhile, this Real Grammar resources pack will help you explore adverbs of time, place and cause with Year 3 pupils.
It includes slides, worksheets, games and an opportunity to apply the new learning in a writing task themed around plants.
---
Adverbs of possibility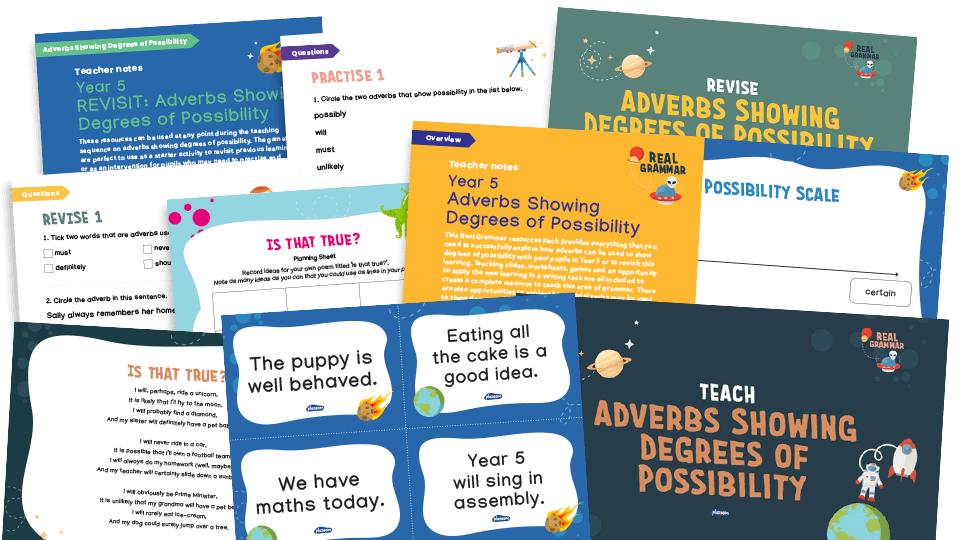 Use this Real Grammar KS2 resources pack to show Y5 pupils how adverbs can be used to show degrees of possibility.
As ever, you'll get teaching slides, worksheets, games and a suggested writing task.
---
Adverb posters and cards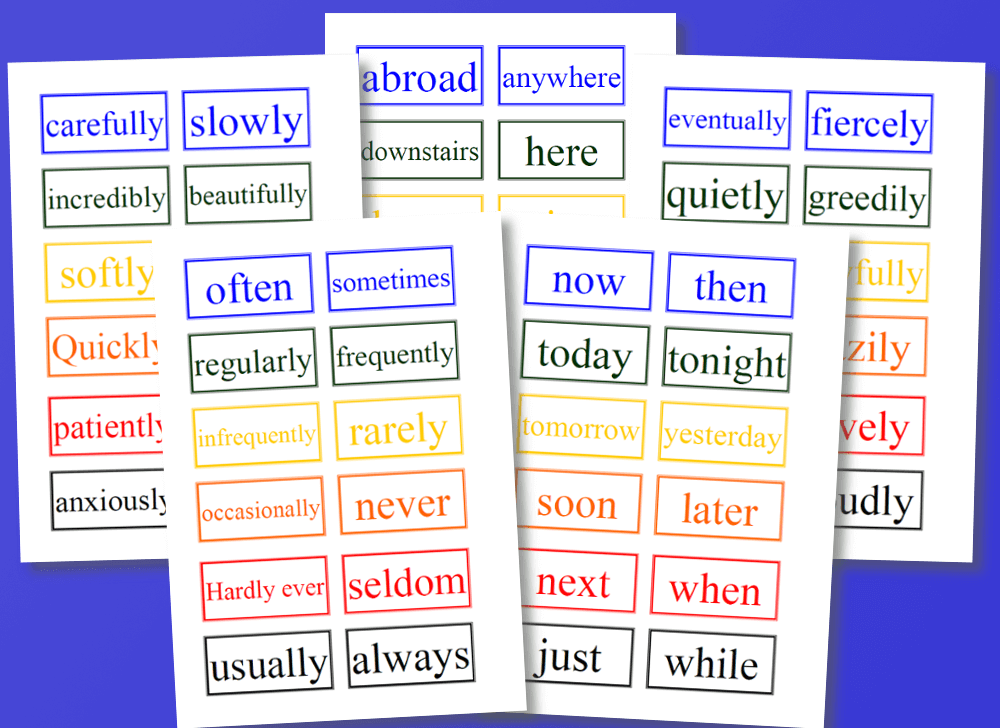 Another one for younger pupils, this dual-purpose PDF features five pages of brightly coloured adverbs. Print them off and display them as posters, or cut them out to have a whole collection of adverb cards.
---
Making adverbs by adding -ly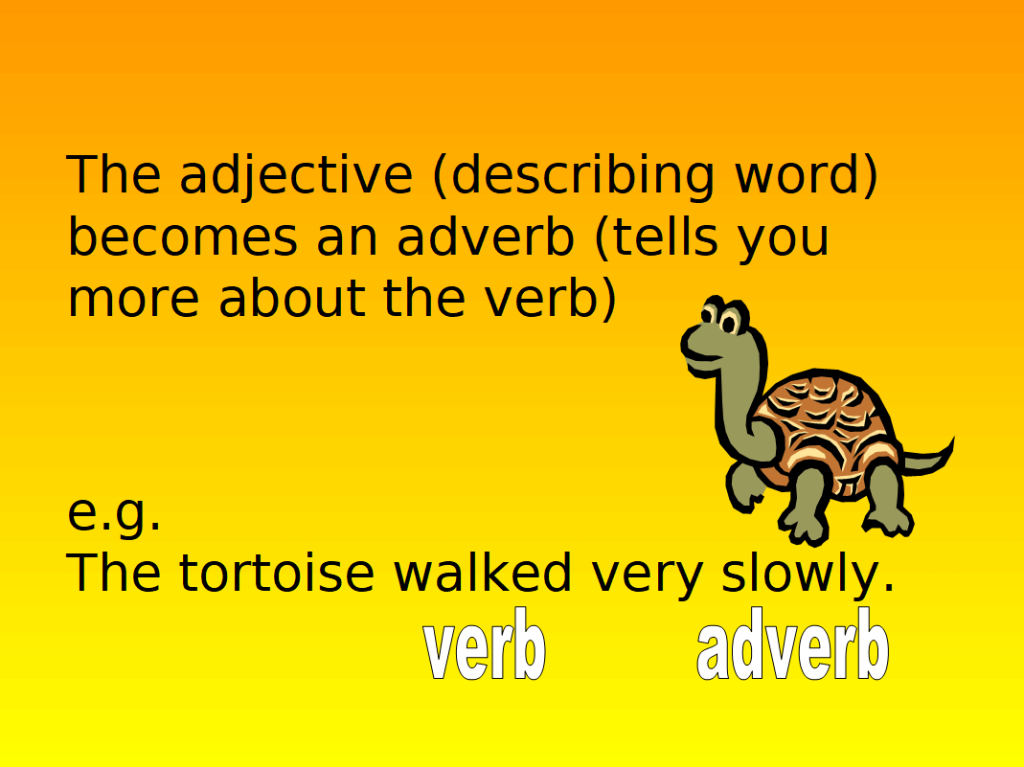 The short five-slide 'Making Adverbs (adding ly)' PowerPoint presentation on this page is a nice introduction to creating adverbs by adding the suffix -ly.
There is a list of words for children to quickly practise the rule, a description of how this turns an adjective into an adverb, an explanation of when a word already ends in 'y' (like sleepy) and some questions on adding adverbs to fill in the blanks in sentences.
---
Tricky grammar adverbs worksheets for Y6
This KS2 grammar teaching sequence for adverbs has been designed to help children revisit and remember a key grammatical concept from the National Curriculum programme of study.
The session provides a motivating and memorable image to stimulate discussion, before introducing the grammar element. Children have time to practise using this feature, before undertaking a short writing task to apply what they have learnt in the context of creative writing.
The resource includes teacher notes and a pupil worksheet.
---
KS1 adverbs quiz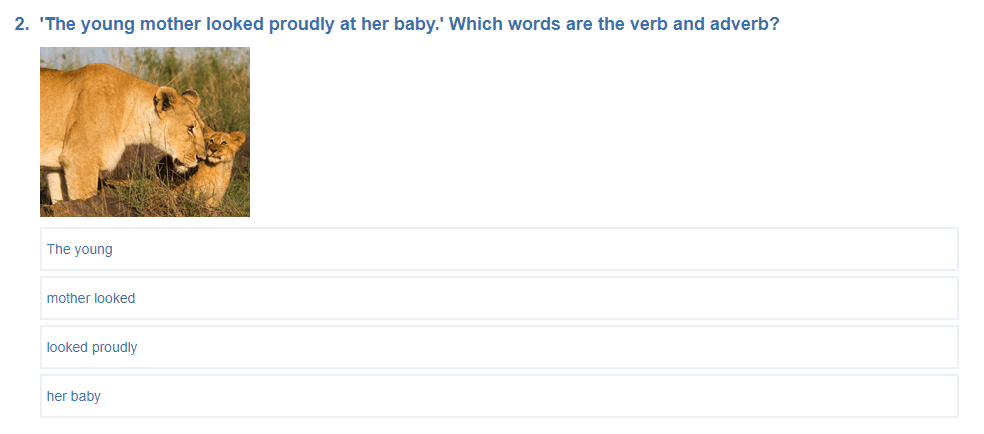 This short 10-question quiz can test children's knowledge of adverbs to see if they've grasped the concept.
And the question types vary slightly; some will ask them to pick out the adverb in a sentence, others will ask 'which of these words is not an adverb?', for example.
---
Add adverbs to Paddington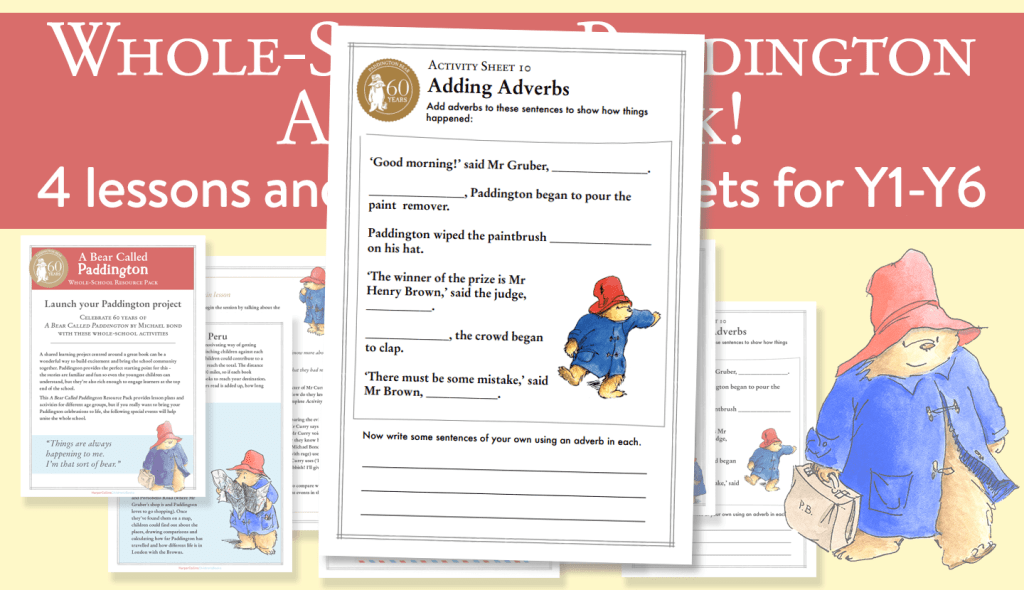 Buried deep within this mammoth Paddington Bear resource is this activity worksheet where children get to add some adverbs to a range of Paddington-themed sentences, as well as write their own sentences using adverbs.
The whole pack from HarperCollins was created to celebrate 60 years of A Bear Called Paddington, and is a whopping 39 pages. Better yet, it's all free.
---
Instructional writing with The BFG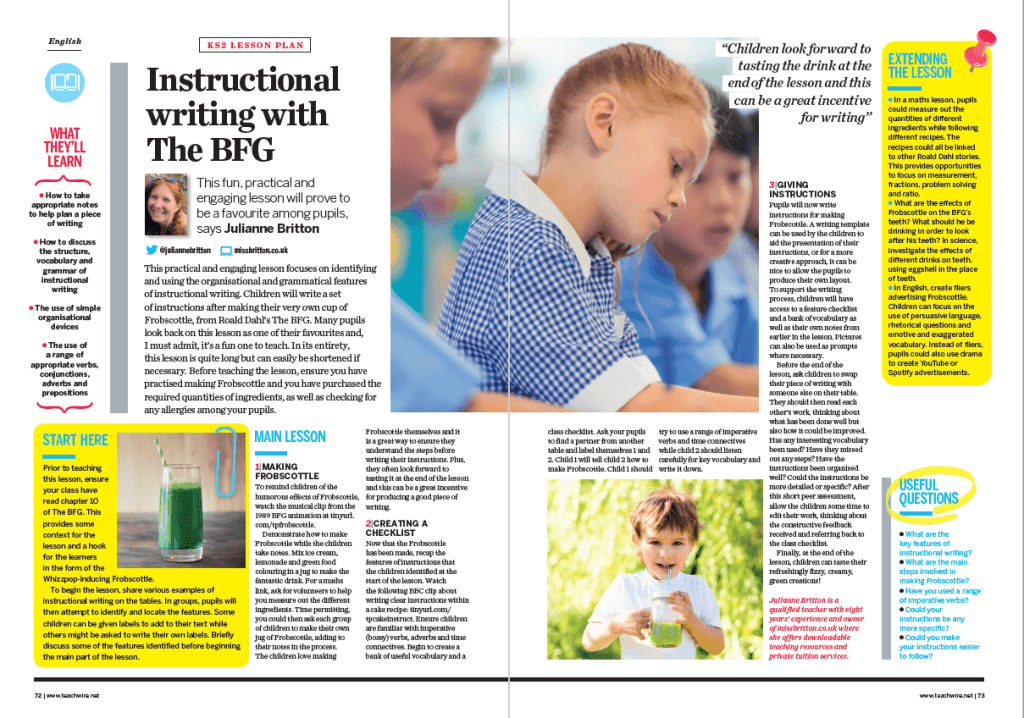 This fun, practical and engaging Roald Dahl lesson from Julianne Britton focuses on identifying and using the organisational and grammatical features of instructional writing.
KS2 children will write a set of instructions after making their very own cup of Frobscottle, and learn about the use of a range of appropriate verbs, conjunctions, adverbs and preposition.
Download this lesson plan here.
---
How to teach adverbs in KS2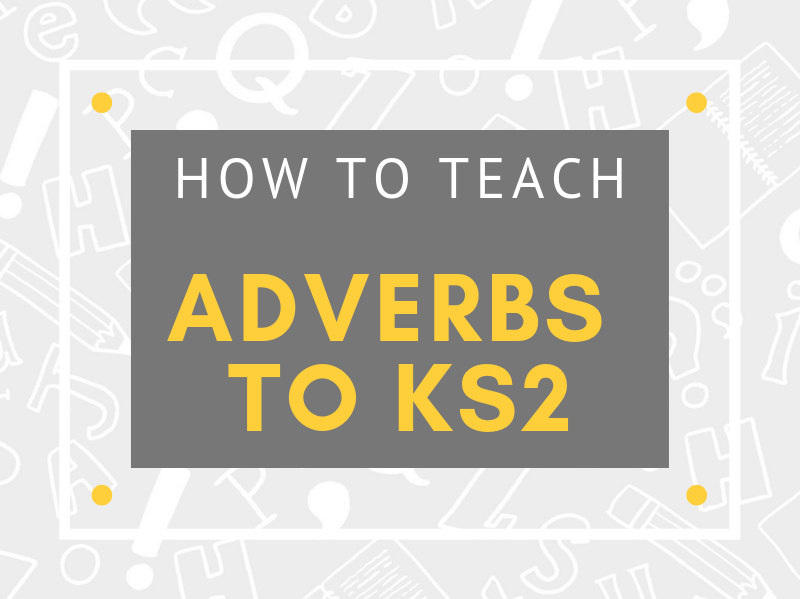 Adverbs may seem a complicated subject, so Headstart Primary enlisted the help of experienced English Grammar and Punctuation teacher, Clive Stack, to break it down.
Here is Clive's simple approach for teaching adverbs to Key Stage 2.
---
Adding adverbs to a story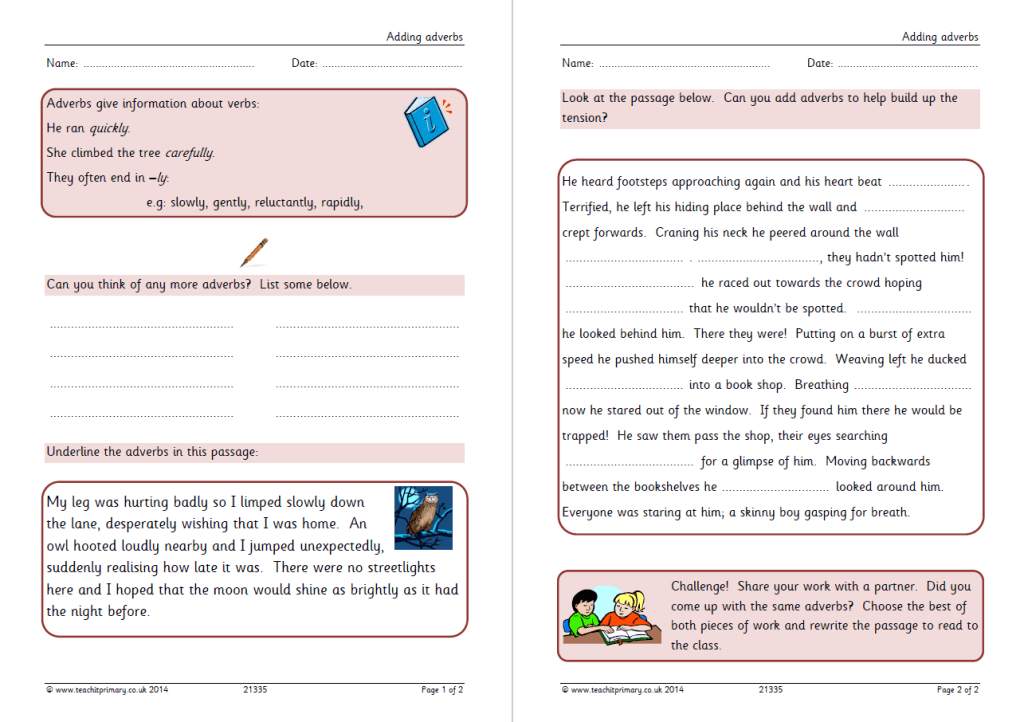 This worksheet is aimed at Year 5 and 6, and gets children to use adverbs to improve their writing.
First they need to identify adverbs in a short passage, then add adverbs to a longer passage to build tension.
---
Gothic fiction – Goth Girl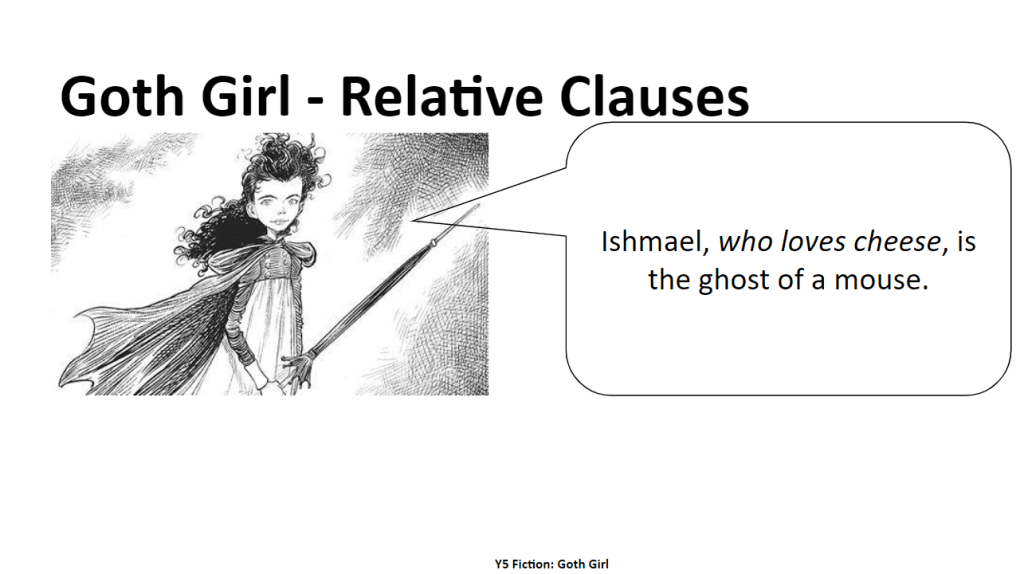 This Year 5 resource pack from Hamilton Trust introduces students to Gothic fiction through Chris Riddell's Goth Girl.
In it they will look at the features of Gothic fiction, use adverbs to add to the Gothic style, compose Gothic characters, improve and punctuate dialogue, write a new chapter in the Gothic style and much more.
---
George's Marvellous Medicine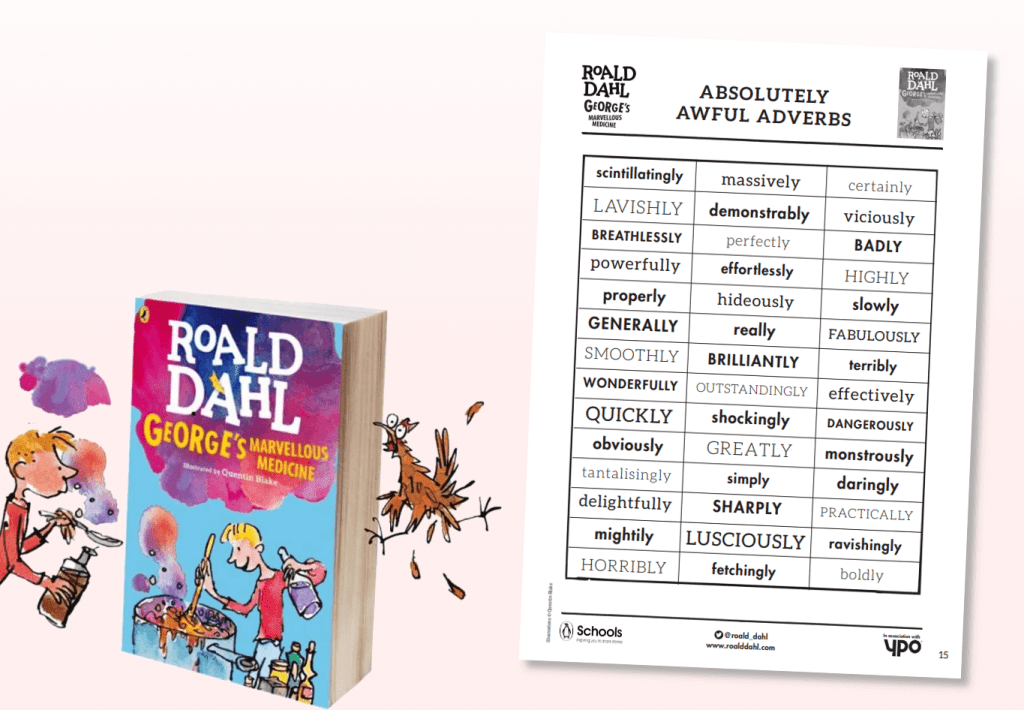 Teach children about adverbs with this lesson plan that includes an activity sheet of 'absolutely awful adverbs' examples from Roald Dahl's classic book.
Then see how your class can take what they've learnt about adverbs and apply this to a piece of persuasive writing – including coming up with their own advertising slogans.
---
Bonus | Fronted adverbials resources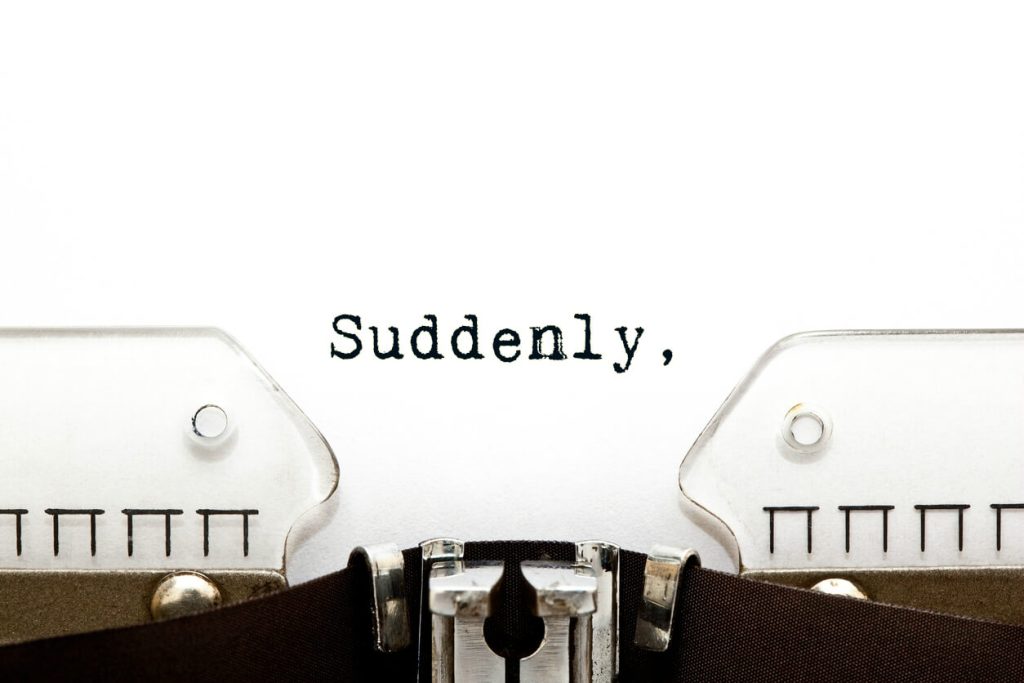 Want to move on to something a little more complex? We've got a 9 of the best worksheets examples and resources on fronted adverbials for KS1 and KS2 here.