9 of the Best Fronted Adverbials Worksheets, Examples and Resources for KS1 and KS2 English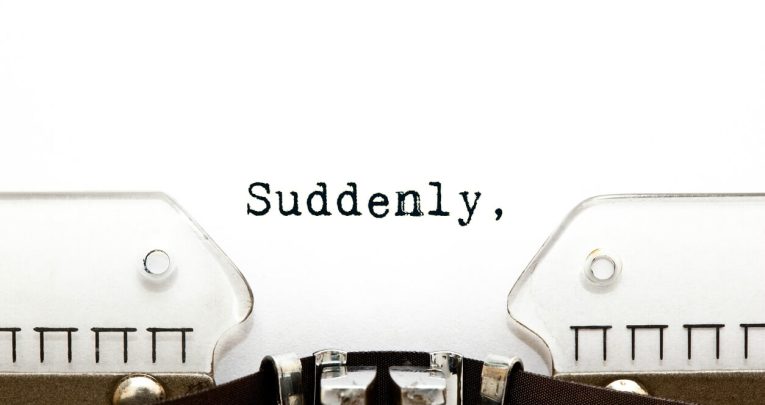 Once upon a time, pupils weren't expected to know what a fronted adverbial was. Today's students, however, very much are, and hopefully these resources can help…

by Teachwire
What are fronted adverbials? It's something you may have been asked a lot. It may even be something you asked yourself when you first learned you had to teach them.
The BBC describes it as 'when the adverbial word or phrase is moved to the front of the sentence, before the verb' and The School Run defines it as 'words or phrases at the beginning of a sentence, used to describe the action that follows'.
Cleverly, Mick Waters managed to start every sentence in this article with a fronted adverbial.
But if you want a famous example, there is, of course, this:
Famous though it may be, it's probably not going to count for much in terms of learning. So instead, we've rounded up some of the best resources available online to help teach your primary class about how, when and why they might use fronted adverbials.
1 | Fronted Adverbials – SPaG Challenge Mat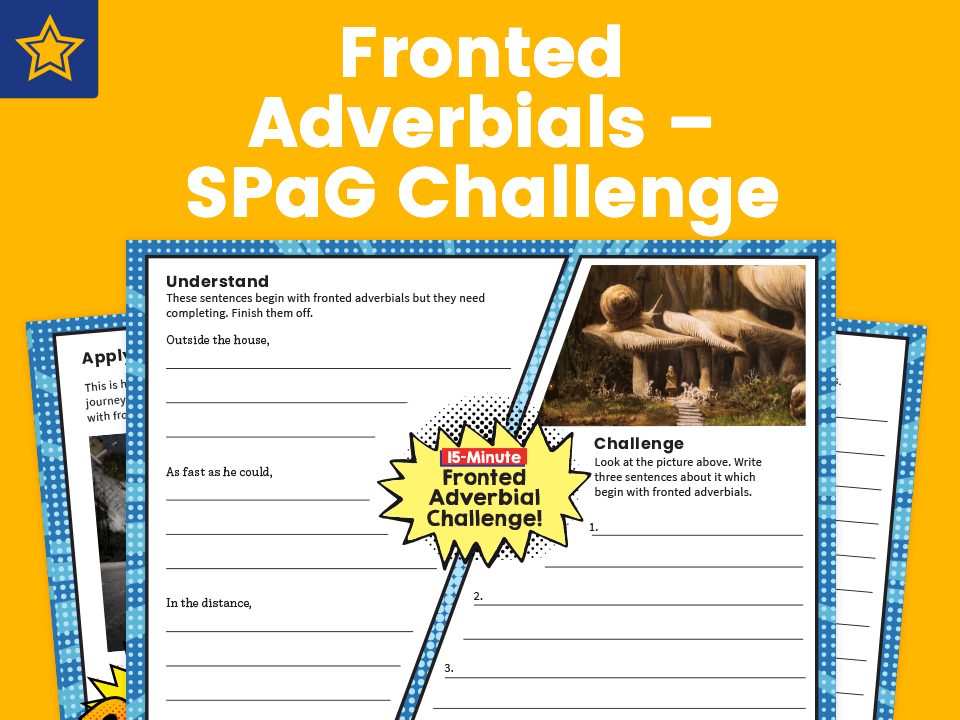 This review mat for Grammar, Punctuation and Spelling is an excellent way to revise and practise using fronted adverbials.
The worksheets are divided into five different types of activity, including writing challenges and GPS sample test questions.
---
2 | Adverbs word mat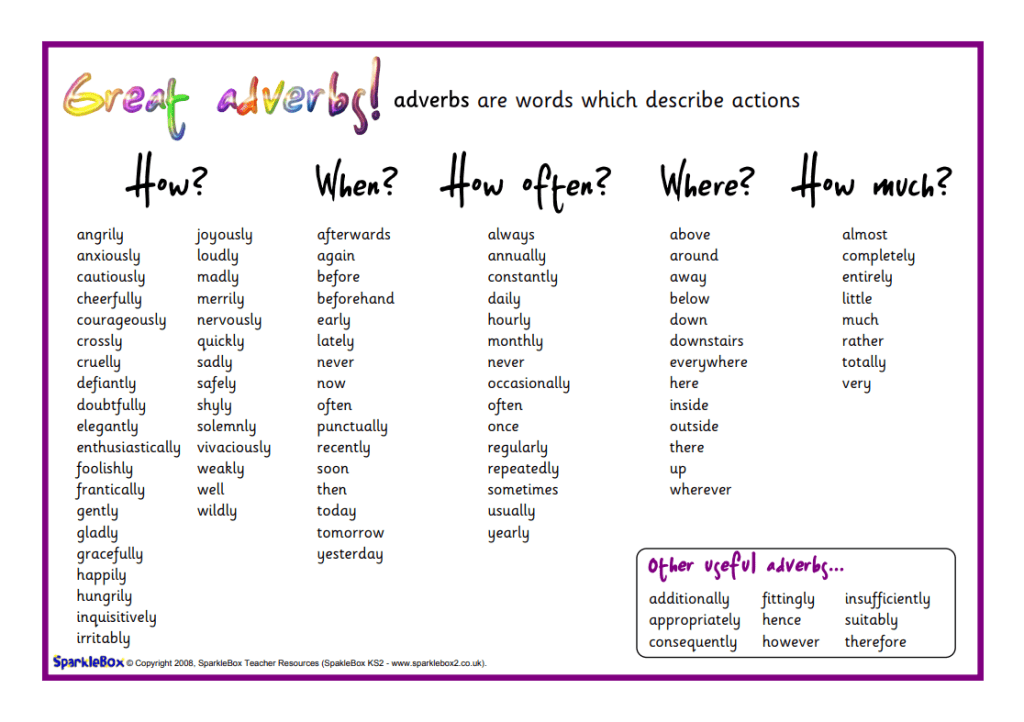 This handy adverb word mat groups each term into 'How?', 'When?', 'How Often?', 'Where?' and 'How much?'. It's a good place for kids to start when looking for inspiration to create their own sentences.
---
3 | Fronted adverbials guide and games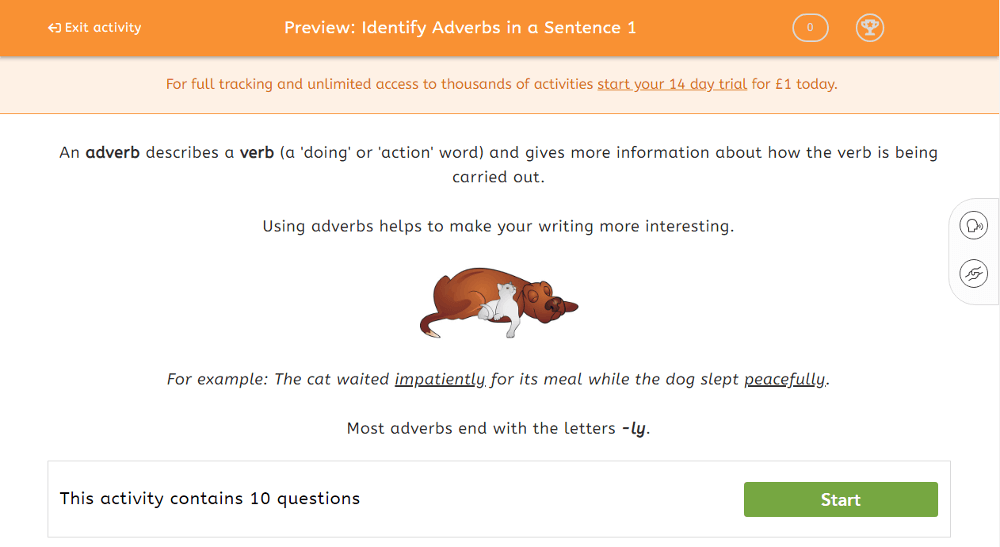 This handy article from EdPlace runs through what fronted adverbials are, gives some examples, offers some activities to try and includes some interactive online worksheets to use. It's pretty great.
---
4 | All about that verb
If you're after a catchy song to try to help kids retain information about what an adverb does, this little ditty is set to the tune of 'All About that Bass', so it's likely to be a hit with primary students.
Play it above, or watch on YouTube here.
---
5 | What are fronted adverbials
If you're after a video that just discusses fronted adverbials in a more straightforward manner then this Oxford Owl one should do the trick.
---
6 | Fronted adverbial random word wheel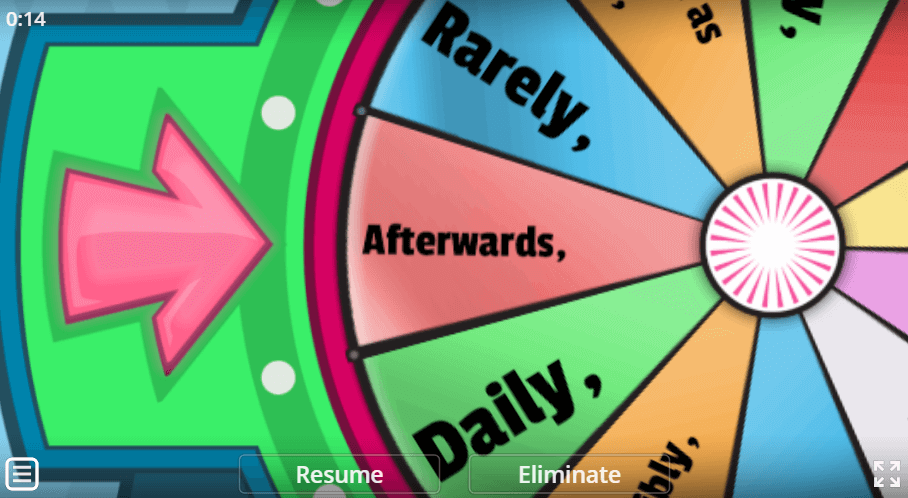 This simple interactive resource spins a virtual wheel full of adverbs. Students can then be challenged to write a sentence starting with their word.
---
7 | Fronted football adverbials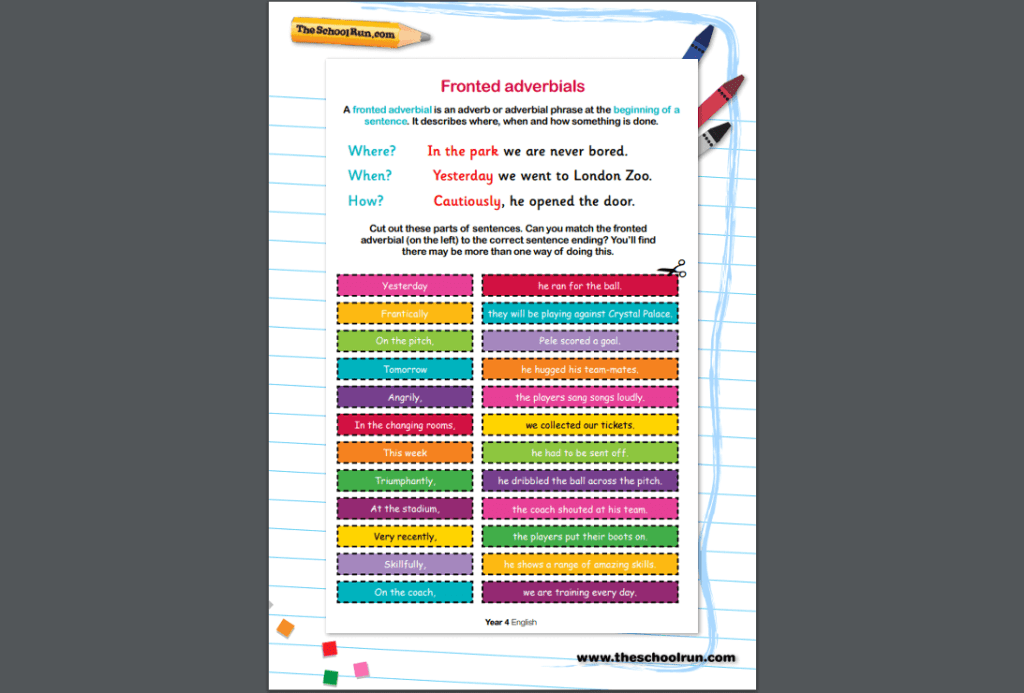 For something a little more hands on, this printable PDF has a range of cut-out sentence starters and endings to match up, all linked to a football theme.
---
8 | Cutting edge classroom ideas
More cutting and moving here with this activity from a teacher on Vimeo. Simply print out a selection of sentences that require the students to find the verb or verb phrase, then cut out the adverb or adverbial, and move it to the front of the sentence (adding a comma if necessary).
---
9 | Worksheet with answers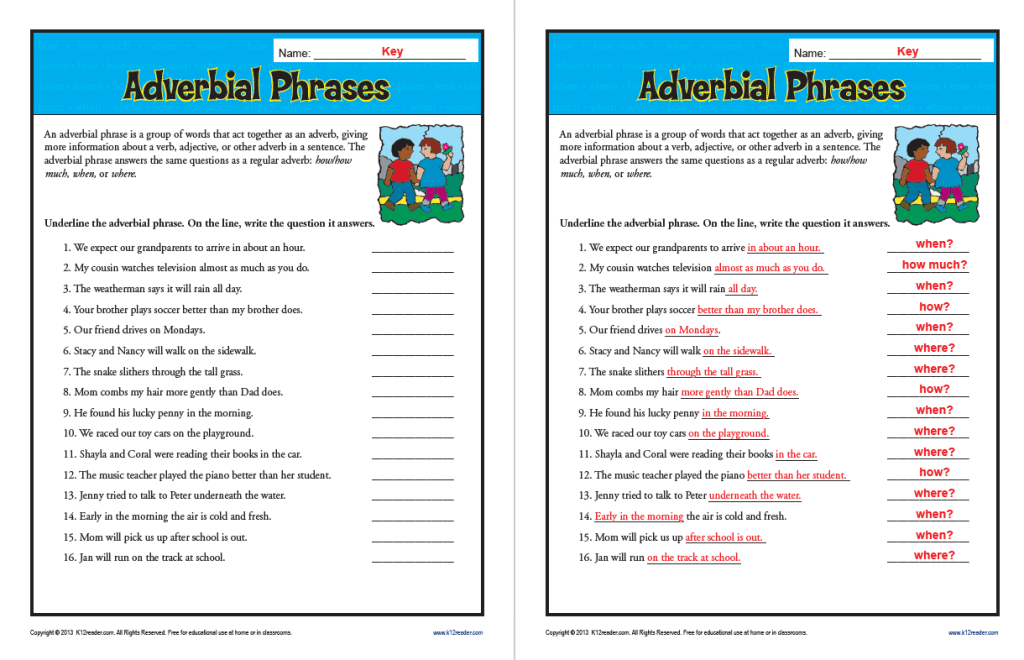 Rather than the usual reorganising of sentences, this worksheet asks students to identify the adverbial, and then write down whether each one falls under the category of 'how/how much', 'when', or 'where'.
Of course, you could always get them to rearrange the sentences so that they include fronted adverbials afterwards.