Romeo and Juliet KS3 – Great teaching tools for KS3/4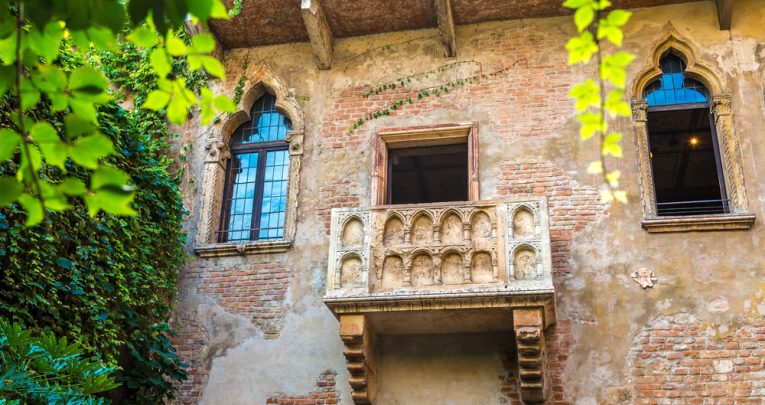 Studying Shakespeare's star-crossed lovers? Well there's no need for your lessons to have a tragic ending with these great resources, ideas and activities…

by Teachwire
About to start your Romeo and Juliet KS3 lessons and need some fresh teaching inspiration? Fear not, help is at hand…
How to make the play everyone knows exciting again
If you've long fallen out of love with your Romeo and Juliet KS3 unit, let Bhamika Bhudia explain why the play needn't be a plague on your curriculum…
It's surely impossible for anyone in their teens or older to know nothing about Shakespeare's Romeo and Juliet. It's been an established part of the English curriculum in KS3 and 4 in schools across the country for decades.
But as with anything taught in the same way for so long, it can become stale.
So let's look at how this classic tragedy can be taught in a way that refreshes and invigorates the curriculum, and see if we can resist the temptation to cast it aside purely for the sake of introducing something new…
Non-fiction: 'Star-crossed lovers' and 'ancient grudges'
Reinvigorating the curriculum needn't mean getting rid of it and thereby throwing the baby out with the bathwater. Instead, it should involve changing the way we view and use the curriculum. We need to bring new life and myriad creative options to bear on students' learning.
If you teach your KS4 content through the same lens as your Romeo and Juliet KS3 content – and through literary analysis alone – you risk turning students off Shakespeare altogether. More importantly, it can cause students to miss out on all the richness that this particular play has to offer. This includes an interesting structure, dynamic characters and timeless themes.
The reason that Romeo and Juliet has been taught to teenagers for what seems like forever is because its themes transcend time. The human condition doesn't change. The play's themes encapsulate precisely this – teenage love, overbearing parents, grudges, all wrapped up in tension, violence and drama.
And yet, you can still depend on hearing 'Why do we even have to study Shakespeare? It's got nothing to do with real life!' being uttered at least once a year whenever the topic is broached.
"Its themes transcend time"
A more refreshing way of responding to that sentiment could be to actually lean into it by teaching the play alongside non-fiction texts, thus demonstrating exactly how, on the contrary, much of it does reflect modern life.
A unit on the play that draws on satellite non-fiction texts reflecting similar themes – but applied to a modern real-world context – can challenge misconceptions that Romeo and Juliet is distinct to the experiences of today.
This can then feed into having students analyse a range of texts connected by related thematic threads. Or it can provide a springboard for students to produce non-fiction writing of their own.
Structure: 'Death-marked love'
Romeo and Juliet is a gripping story, told in a way that piles on the tension as it progresses. One refreshing approach is to undertake a structural study that breaks down pivotal moments and how they connect the play and their impacts on the audience's expectations. This is a major component that students often struggle with at KS4.
Consider the following questions:
What is the effect of knowing the end at the beginning?
How does this distort our view of the romance? Of the characters?
Why open with servants?
What if Tybalt wasn't in the opening scene?
How does Rosaline serve as a plot device?
Why the tragic ending? How would it be different if this wasn't the case?
This approach can offer a variety of creative options. Firstly, students can rewrite a particular section of the play as prose, utilising or subverting Shakespeare's own structural choices. This forces them to carefully consider writers' choices. It will also deepen their understanding in preparation for when they will need to analyse this at KS4.
Another option is to carry out a side-by-side comparison with one of the numerous modern texts that borrow much of Romeo and Juliet's plot. This includes West Side Story and Lion King 2 among many, many others.
How do they compare? How do their beginnings and endings differ? What are the outcomes in each, and do they alter the way each text is consumed and perceived?
"Students could rewrite a particular section of the play as prose"
Opinion: 'I hate the word'
Another aspect students can struggle with at KS4 is understanding that there isn't a singularly correct answer in English. Their opinions on the texts are not only relevant, but very important.
The top ends of the literature mark schemes require personal responses to texts. However, getting students to actively include these in their writing, or even form them can be challenging.
A unit using Romeo and Juliet as a springboard to produce writing to argue provides low stakes opportunities for students to comprehend Shakespearean language. This is without having to get stuck into word level analysis or writing out the the same old paragraphs again and again.
A unit such as this allows students to fully engage with the plot and characterisation. They'll understand that their opinions have merit, and will practise articulating said opinions in a clear and convincing way.
This develops many of the reading and writing skills required at KS3 and beyond. It can even grant students greater autonomy outside the classroom.
Drama: 'Tis but a scratch'
The English curriculum often doesn't do justice to the dramatic form. Drama is a beast of its own. It's easy to get so lost in the intricacies of Shakespeare's language that we can inadvertentely overlook the fact that it isn't something meant to be read, but rather watched – or indeed heard and gesticulated.
Teaching Romeo and Juliet through a dramatic lens will afford a deeper understanding of the nuance behind the language. It will force students to reflect on how the meanings of words change with tone and expression – not to mention the effects that physicality, such as body language and positioning, can have on how words are interpreted by audiences.
At its most basic, this approach can produce a vastly superior understanding of the purpose and effects of stage directions. However, the potential extends much further in that it can really bring the story to life.
It can develop students' understanding of how the play can be influenced by dramatic choices relating to staging, setting, costume and delivery. This can only enhance the quality of their analysis and comprehension.
Media and time: 'Two hours' traffic'
Different media representations of Romeo and Juliet can provide varied and hugely engaging insights into the text. A comparison between Zeffirelli's and Lurhman's portrayals of the characters, along with their choices concerning setting and costume based on when their respective film versions were made, can be a fascinating approach to contextual analysis. The story doesn't change but the viewers do.
It brings to mind certain key questions. How can a story written hundreds of years ago still captivate the interest of so many? How is a more modern take on masculinity reflected in the portrayal of Luhrman's characters? To what extent have we meaningfully evolved from the ideals and violence depicted in Shakespearean times?
What would a version produced today change, if anything? Would setting the tale in a completely different country or time period change it then? In what ways have stage productions advanced over the years?
"How can a story written hundreds of years ago still captivate the interest of so many?"
A unit needn't focus on trying all these approaches simultaneously; one or two of these lenses would suffice. What these approaches do prove, however, is that in an English curriculum – particularly at KS3 – there is still so much that can be done with such an endlessly rich text.
"Never was a story of more woe than this of Juliet and her Romeo." A story as big as this one deserves must more than just a surface level approach.
There remains a considerable amount about it that we can challenge and debate. And there's lots of fun to be had with it before we relegate it to the back of the English store cupboard – if indeed that day ever comes…
Bhamika Bhudia is Head of English at a mixed comprehensive school in London
---
Acts 1-3 complete scheme of work
This whopping PowerPoint file is a complete unit of work for the first three acts of Romeo and Juliet. It includes lessons, resources, key themes, characters and context for KS4/GCSE lessons.
---
Key quotations – Tybalt Capulet
Helen Mears picks out lines that could help students explain the significance of this minor, yet crucial, character…
Who is Tybalt Capulet?
Tybalt is Juliet's cousin, and he is the personification of hate in the first half of Romeo and Juliet. He is also the catalyst for the problems that blight our protagonists in the second half.
Peace? I hate the word…
Although not physically in the play for long, his influence is extensive. He is an omnipresent reminder of the feud between the two families.
"What, drawn, and talk of peace? I hate the word, As I hate hell, all Montagues, and thee." Act 1, Scene 1, lines 56-7
Tybalt arrives into the play with a bang. His words to Benvolio cement his status as the bringer of hate.
Tybalt quotes
In Baz Luhrmann's film of Romeo and Juliet he is hailed by a glimpse of a sign reading 'Add More Fuel to your Fire'. It is a neat summary of his role in the play, to add fuel to the feud, and an excellent quote for any GCSE student's armoury.
---
"Now by the stock and honour of my kin, To strike him dead I hold it not a sin." Act 1, Scene 5, lines 55-6
When Tybalt sees that Romeo has gate-crashed the Capulet Ball, his first instinct is to want him dead for the intrusion upon Capulet territory. Although he is stopped from striking, it is this intrusion that makes Tybalt challenge Romeo to a duel.
---
Tybalt: "It fits when such a villain is a guest. I'll not endure him."
Lord Capulet: "He shall be endured." Act 1, Scene 5, lines 72-3
Tybalt informs his uncle that Romeo is at the party and he wishes to take action against him and is shot down by a Lord Capulet who is, perhaps, mindful of the warning issued to the families earlier that day that further fighting would result in executions.
Capulet also twice refers to Tybalt as 'boy' during his responses, clearly demeaning nomenclature for the fiery Tybalt. Does this goad him further into seeking revenge? Has Romeo inadvertently pushed Tybalt's anger further?
---
"I will withdraw, but this intrusion shall Now seeming sweet convert to bitter gall." Act 1, Scene 5, lines 88-9
Out of hearing of his uncle, Tybalt here swears that he will take revenge on Romeo later. This is a decision that will lead to his own death and that of Mercutio, and the separation of the lovers that eventually leads to their double suicide.
The lines directly precede the famous shared sonnet of Romeo and Juliet's first meeting. It is a bitter reminder that the hate of their families is never far away from the two lovers.
---
"Mercutio, thou consort'st with Romeo" Act 3, Scene 1, line 38
There has been much debate about what Tybalt means by this line. But whatever it is, it makes Mercutio very angry.
Some commentators believe that it is a jibe about social status, and that Mercutio's reply "What, dost thou make us minstrels of us?" is anger that Tybalt is referring to them as low-paid musicians.
But there is another school of thought that suggests that there is an implication of homosexuality about the accusation and that minstrels is also a reference to homosexuals.
Whatever he means by it, the remark stirs up the mood of confrontation. It precipitates the fateful killing of Mercutio and its repercussions.
Helen Mears is an English teacher who sits on the education committee of the British Shakespeare Association.
---
Romeo and Juliet KS3 activities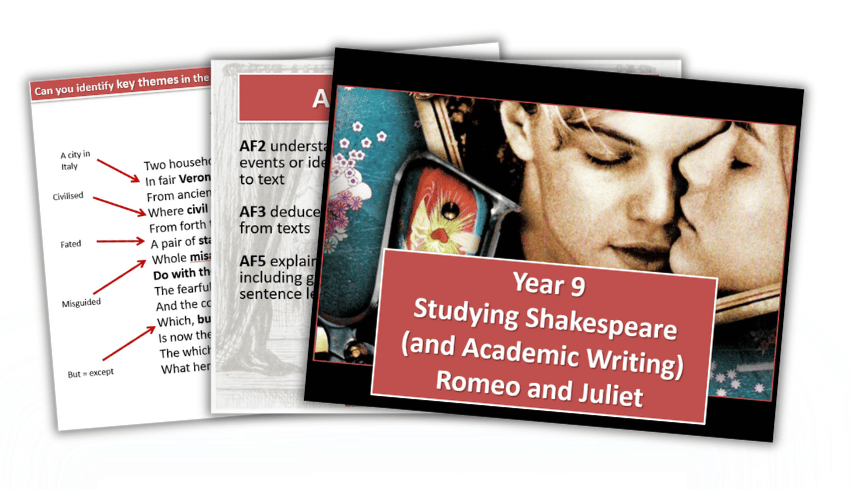 This Romeo and Juliet KS3 resource pack contains 16 lessons that you can use across four weeks of learning. It will have students thinking carefully about how they write analytically about Shakespeare. They'll also develop their essay-writing skills.
---
KS4 Romeo and Juliet lessons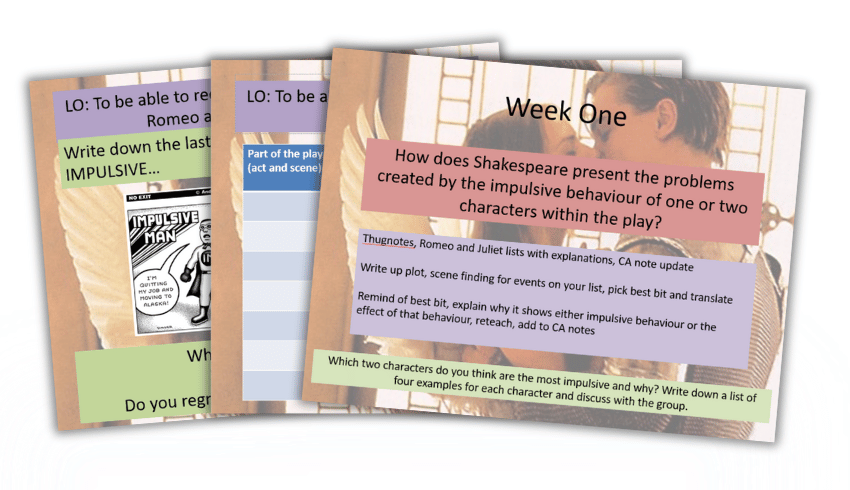 This Romeo and Juliet KS4 resource by teacher Kat Howard features a series of lessons that work towards a controlled assessment question to consider the impulsive behaviour of Romeo and Juliet, and the impact of this upon the audience.
---
Romeo and Juliet classroom posters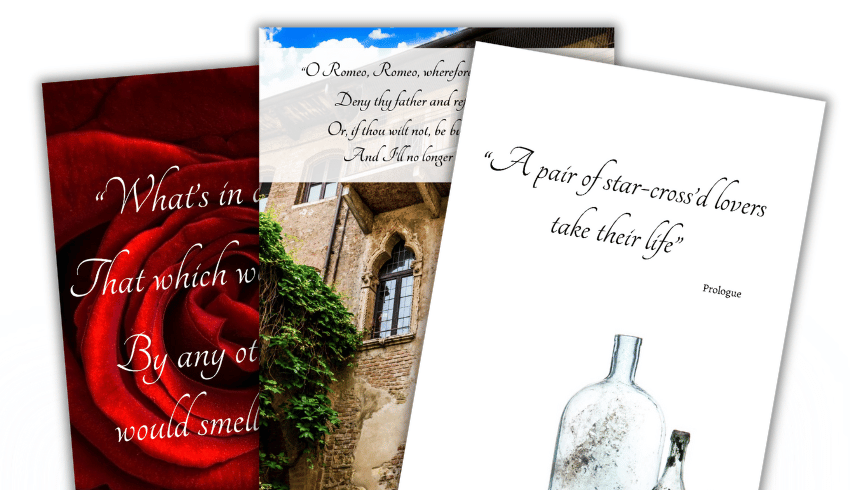 This download includes ten posters featuring key quotes from Romeo and Juliet, plus a Romeo and Juliet KS3 worksheet (in PDF and Word Doc formats) with these quotes on for students to make notes on as you read through the play.
---
Infographic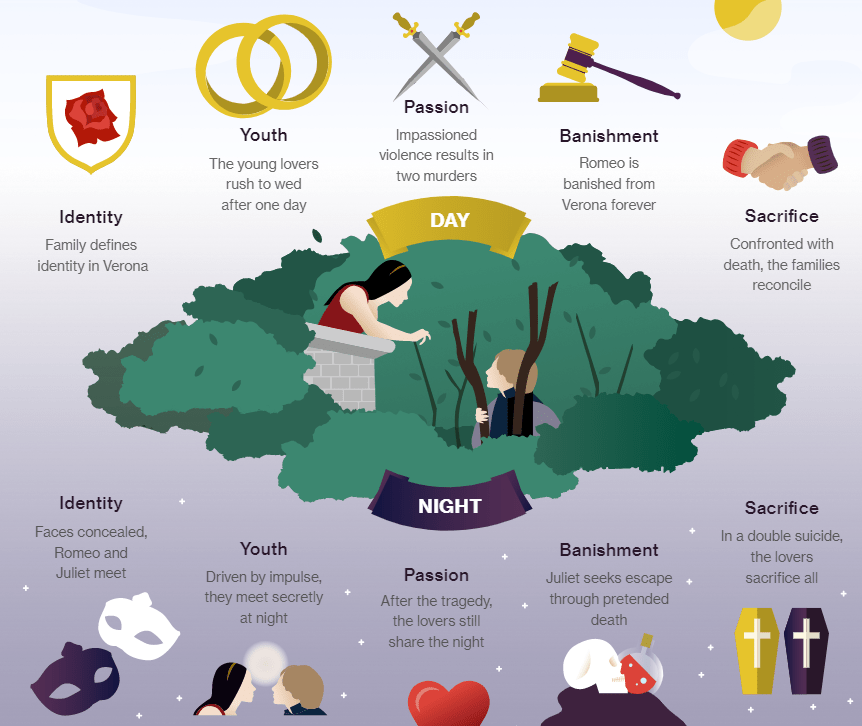 This free infographic plots out key themes and other facts and figures.
---
In popular culture
As with any Shakespeare play there are more than a few adaptations kicking around. No doubt you've seen at least one, and maybe even have your own personal favourite, but just in case, here's a quick rundown.
Franco Zeffirelli's Romeo and Juliet (1968) is perhaps the definitive film version, and it's a straight-up, no-gimmick adaptation, but today's youngsters might find the acting a little hokey.
In that case Baz Luhrmann's stylish modern take, Romeo + Juliet might be more up their street. And the needless plus sign in the title means it has cross-curricular mathematical appeal, right? No? OK.
West Side Story is an even looser modern take on the tale, of course being set in 1950s New York City, and might make for an interesting study (especially if you fancy a debate on casting and ethnicity issues in Hollywood).
Plus there's Gnomeo and Juliet, Warm Bodies, Lion King 2: Simba's Pride and Carlo Carlei's 2013 version.
---
Romeo and Juliet in art
If you prefer your art forms much more quiet and motionless then why not check out the many, many paintings that feature Shakespeare's young Veronesi. This Wikimedia Commons page has a pretty comprehensive collection of all the major works where you'll find our young pair.
---
How seeing Romeo and Juliet live empowered my students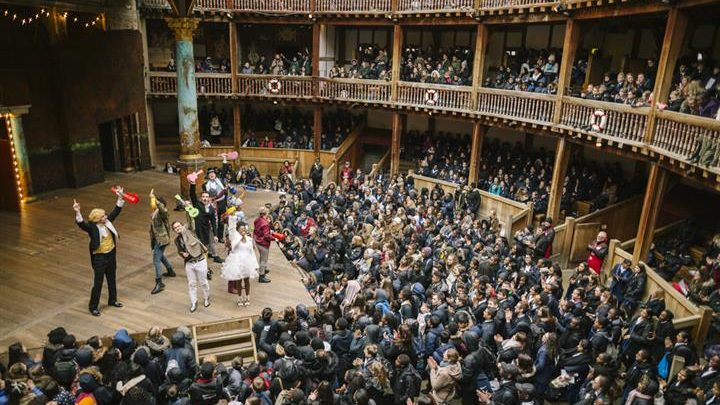 I've been a drama teacher at Notre Dame RC Secondary Girls' School in South London since 2011, and I'm extremely passionate about our students experiencing Shakespeare both on the page and on stage.
The themes in Shakespeare's work were relevant for his time, and so many of them still resonate in today's world. In 2012, just after I joined the school, I made a bid to take our students to The Globe for the first time.
Seeing the looks on their faces when they walked into The Globe and saw the stage was brilliant. Being immersed in a true, live theatre experience really brought Shakespeare alive for them.
This is why I advocate so strongly for students at our school to see live theatre. With cuts being made to arts subjects, it's more important than ever to find ways for them to see a theatre production in action.
Programmes like Playing Shakespeare with Deutsche Bank help teachers like me achieve this.
"Seeing the looks on their faces when they walked into The Globe and saw the stage was brilliant"
As well as enabling us to see shows at The Globe, Playing Shakespeare facilitates Globe Education practitioners to come into school and run workshops to develop the students' understanding and appreciation of Shakespeare. The programme really offers the whole package.
Live and immersive
The live performance of Romeo and Juliet, which we watched as a class at The Globe, helped bring home the excitement and the involvement students can have as part of an engaged audience.
In my opinion, Shakespeare didn't write his plays to be read. He wrote them for us to watch and enjoy as live and immersive theatre productions. Shakespeare created words and phrases written for a reaction, and that reaction is really just the start of it.
Live theatre develops children's understanding of Shakespeare's themes and how they can relate to everyday life.
The themes of Romeo and Juliet really resonate with the girls I teach. They see how some of them are threaded through their own lives and relationships, such as family conflict, social pressures, turf war and gender roles.
In particular, watching the performance of Romeo and Juliet made them think more about Juliet's behaviour. They felt that Juliet had everything to live for and should have possessed more agency to make the right decisions about her situation.
"The themes of Romeo and Juliet really resonate with the girls I teach"
The intergenerational themes really hit home for them too. At many points in the play, key characters such as the Nurse, the Friar and Juliet's parents, all let Romeo and Juliet down, which led us to debate the nuances of the intergenerational relationships and how they play out today.
Inclusivity
Visual interpretations of characters are also really important. The cast contained people of different genders, ages and ethnicities, which fostered a feeling of inclusivity.
Unusually, a woman of colour played the character of Tybalt in this production, which the girls absolutely loved.
Seeing someone who looked like them performing on one of the world's greatest stages really empowered them, and for some of them who want to be an actress, it really made them believe they can achieve their goals.
My school consists of a wide-ranging variety of ages, backgrounds and ethnicities, so seeing this played out on stage was really significant.
Ultimately, seeing Romeo and Juliet on stage is empowering. The girls see that Juliet could have made different decisions, and they see the adults make peace after they realise the mistakes they've made and what it's cost them.
"Seeing someone who looked like them performing on one of the world's greatest stages really empowered them"
At school, we want our students to be women of the future, and that means exposing them to different ways of learning and developing their education.
The Playing Shakespeare with Deutsche Bank project plays a huge role in helping to achieve this, and I've seen positive changes in my students after they've watched the show.
Positive outcomes
I've been teaching since 2003 and have taught children from all walks of life, all of whom can benefit from live theatre. As a drama teacher, I see first-hand the positive outcomes students gain from the theatre.
Through workshops and live performances, it enables them to develop important skills like resilience, confidence and teamwork, all of which can positively impact their experience in school and across the curriculum.
You gain empathy not from behind a desk, but in the studio, whether that's through dance or drama as a way of expression.
Importantly, theatre workshops and theatre clubs outside of school offer structure, purpose and spark passion, all of which are key to the students' future success and sense of self-worth.
The local council in Southwark announced they would ensure every primary child aged between five and eleven receives a free visit to the theatre every year. This needs to happen for secondary school students too, if we want to embed the importance of the arts in every child.
To support any industry, you need the best people who are equipped with a good education and a wide variety of educational experiences.
Playing Shakespeare with Deutsche Bank at the Globe makes a commitment to students across the UK by opening up opportunities for them to broaden their horizons both in the classroom and through live stage performances.
Samantha Tyson-Banks is a drama teacher and leading teacher for wellbeing at Notre Dame RC Secondary Girls' School, Southwark. Find out more about Playing Shakespeare with Deutsche Bank. Explore Romeo and Juliet resources from the 2019 production. Browse our Shakespeare Week resources.