In this KS2 music lesson your pupils will explore the world of electronic dance music (EDM).
They will listen to musical examples from different periods and develop an understanding of how EDM has developed over time.
They will also learn about some of the most important artists associated with this style.
Loops (repeating sections of music) are a key feature of EDM. Your pupils will then explore this by composing and layering their own drum and bass loops. You can use the free cloud-based software Chrome Music Lab Song Maker to do so.
KS2 music curriculum
The KS2 music curriculum states:
Pupils should be taught to sing and play musically with increasing confidence and control. They should also develop an understanding of musical composition, organising and manipulating ideas within musical structures and reproducing sounds from aural memory.
Pupils should be taught to:
Play and perform in solo and ensemble contexts; using their voices and playing musical instruments with increasing accuracy, fluency, control and expression.
Improvise and compose music for a range of purposes using the inter-related dimensions of music.
Listen with attention to detail and recall sounds with increasing aural memory.
Use and understand staff and other musical notations.
Appreciate and understand a wide range of high-quality live and recorded music drawn from different traditions and from great composers and musicians.
Develop an understanding of the history of music.
What they'll learn
The history of electronic dance music (EDM) (e.g. how did it start?)
Key musical features of EDM, such as tempo
What a 'loop' is in music
Finally, how to create a loop in Chrome Music Lab Songmaker
Dr Liz Stafford is director of music education consultancy Education Solutions®, editor of Primary Music Magazine, and author of The Primary Music Leader's Handbook (HarperCollins). Follow Liz on Twitter @DrLizStafford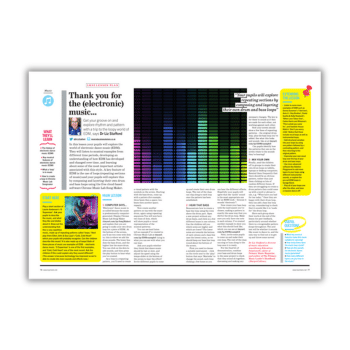 DOWNLOAD A FREE RESOURCE!
KS2 music – Explore rhythm and patterns with electronic dance music