Coronavirus and schools – Our singing project helped pupils to share their emotions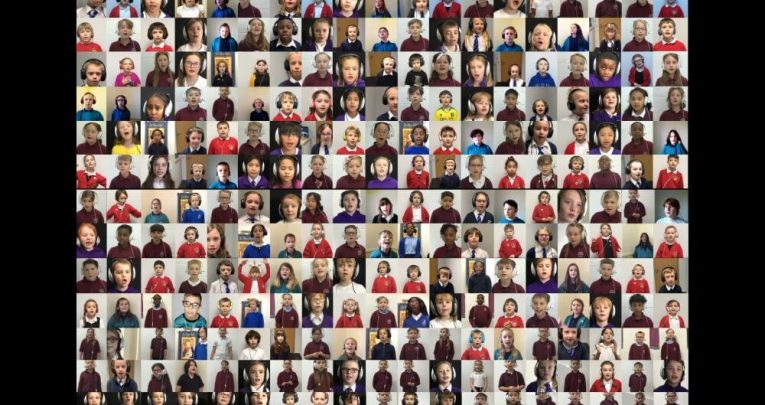 Our transformative six-month singing project helped pupils to dig deep emotionally and share their thoughts about the pandemic, says Genevieve Raghu…
We haven't heard much from children during the pandemic, have we?
It was this gap in narrative that drove me to launch a six-month project with Into Opera for primary schools in Norwich in 2020. The public response to the pandemic felt as though it was being dominated by adults; by politicians. Where were children's voices?
I felt that it was about time that we reminded children that their voices and stories really mattered.
My starting point was to take these concerns and questions to a number of teachers and headteachers to find out if they shared any of my worries. What followed were a series of exceptionally honest, eye-opening and emotional discussions.
In short, they strongly shared my concerns and raised even more. They openly shared their fears about the possible long-term mental health and wellbeing implications of this pandemic on their pupils.
These conversations were a powerful and important starting point. It highlighted that a creative, cultural intervention which would empower children to dig deep emotionally and share their thoughts, feelings and stories would be truly beneficial.
It was also evident that schools were aching for some form of 'project' to help their school communities reconnect – a positive achievement that could be celebrated by, and nourishing for, the wider school community.
Major project
What followed was the creation of a project which would become a major artistic response from six primary schools in Norwich to the Covid-19 pandemic. First, we developed resources to inspire children to express their feelings by writing poetry or letters, producing artwork or engaging in practical activities.
To supplement this, I ran 24 virtual workshops alongside performance poet Adisa the Verbalizer. Together, we brought children together online to play interactive games and engage in group discussions about the pandemic and what it felt like to be a child in 2020.
Some children participated in school, but large numbers of pupils joined in from home.
We ended up receiving approximately 10,000 pieces of work in response to our resources. Some contributions were emotionally challenging – it soon became clear just how much pupils had been bottling up. Many children were frightened and confused about the pandemic and its repercussions. Others had lots of questions.
We also received a lot of inspirational responses from children. They told us about their families and personal heroes in lockdown. They recounted the little things that had kept them smiling. We saw children's strength, bravery and resilience shine through as they talked about what they'd learnt over the year and how they wanted to approach 2021.
We provided personal feedback to each school, offering all the support and insight we could, based on what we'd learnt from the children. This helped teachers to meet the wellbeing and mental health needs of their pupils.
Families of participating children got involved too, sending photos and videos to help us build a deeper understanding of what families had been experiencing since March 2020.
Song cycle
Drawing on all of this material, Into Opera produced a song cycle with the widely renowned composer, Will Todd. This collection of six songs charted key phases of the pandemic chronologically from March 2020, from the perspective of children.
We went on to record professional learning tracks, enabling children to access the music in school or at home – it was important to cover all bases.
We also arranged virtual workshops with the composer for all of the schools and produced video resources to support teachers to explore the lyrics of the songs with their pupils, as a way of opening up conversations about the pandemic.
This project was not about covering over cracks, but looking at the pandemic and its repercussions head on. Children were actively encouraged to talk about their experiences; to share openly and honestly. This has only strengthened the relationship between teachers and pupils, helping schools significantly with their journey towards recovery.
The lyrics of this song cycle all came from the work submitted by the children in response to our resources, or from their remarks in our virtual workshops. The title came from a piece of work one child produced which had the inspirational line, "2020: you won't hold me back!".
This 'motto' helped to bond school communities – one school even had this uplifting lyric inscribed onto mugs as Christmas presents for parents and teachers. This struck me as such a thoughtful, creative gesture; a reminder when taking that moment for a cuppa in the staffroom of the strength of your school community.
Following guidelines
Schools kept singing and fully embraced the project from start to finish, while meticulously following government guidelines. Creativity underpinned this, with headteachers transforming their offices into mini recording studios and even wheeling pianos outside to enable larger groups to sing and rehearse together.
The children recorded the song cycle at school in November 2020 and a film was produced to accompany the music, which premiered on YouTube in December.
We also released an accompanying Q&A about the project, where artists and teachers offered more insight about how this project had been delivered and its impact.
The Durham Commission Report on Creativity and Education, published in October 2019, reminded us of the utmost importance of creativity. It highlighted how creativity was now one of the most important skills sought-after by employers.
The Covid-19 pandemic abruptly demonstrated to a global audience the power and necessity of this skill across all areas of our lives – particularly so in education.
It has demonstrated so clearly that teaching is not static and that teachers can thrive under the most extreme circumstances, especially when creative thinking and adaptability are in their toolbox.
This project set out to ask children to 'dig deep', but funnily enough, it ended up encouraging teachers to do the same. Teachers reflected on their practice, priorities, creativity and identity.
I've been in awe of the creative brilliance, resilience and positivity of the educators I've worked with during the pandemic – you're all so inspiring.
I urge you to keep music and the arts alive in schools. Covid-19 has had a deep-rooted impact on our lives. Our mental health, lifestyles, relationships and wellbeing have been challenged as never before.
We will all need tools to help us heal. Music can help. Access to arts and culture and opportunities to make, create, reflect and express ourselves will help. Please try and make space for this in your school – in my opinion, it can be transformative.
---
How to develop a successful arts project
Show staff and children what is possible. Start by watching our video and encourage staff to dream big.
Involve children fully in the creative process – they must feel ownership of their achievements. Review progress with pupils and teachers and listen to their ideas.
Find imaginative ways for everyone to contribute, then celebrate their achievements. Work towards an end product which allows everyone to showcase their talents.
Involve your wider school community in your project, either as participants or as an audience.
---
Genevieve Raghu is the artistic director and chief executive of Into Opera. Follow Into Opera on Twitter at @into_opera.