SEA LIFE – Sharkbait Reef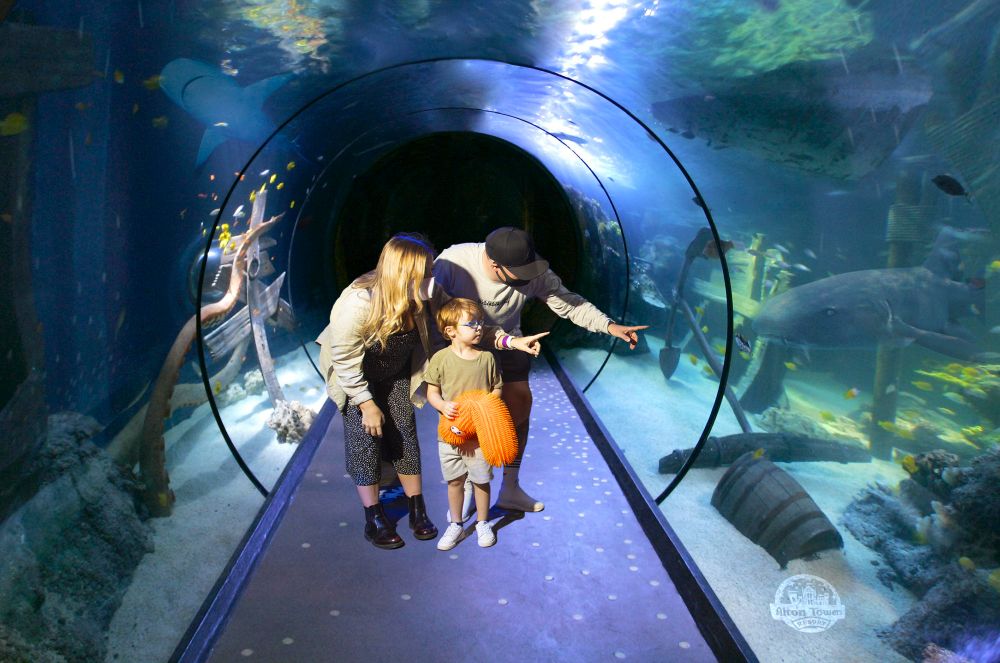 Full View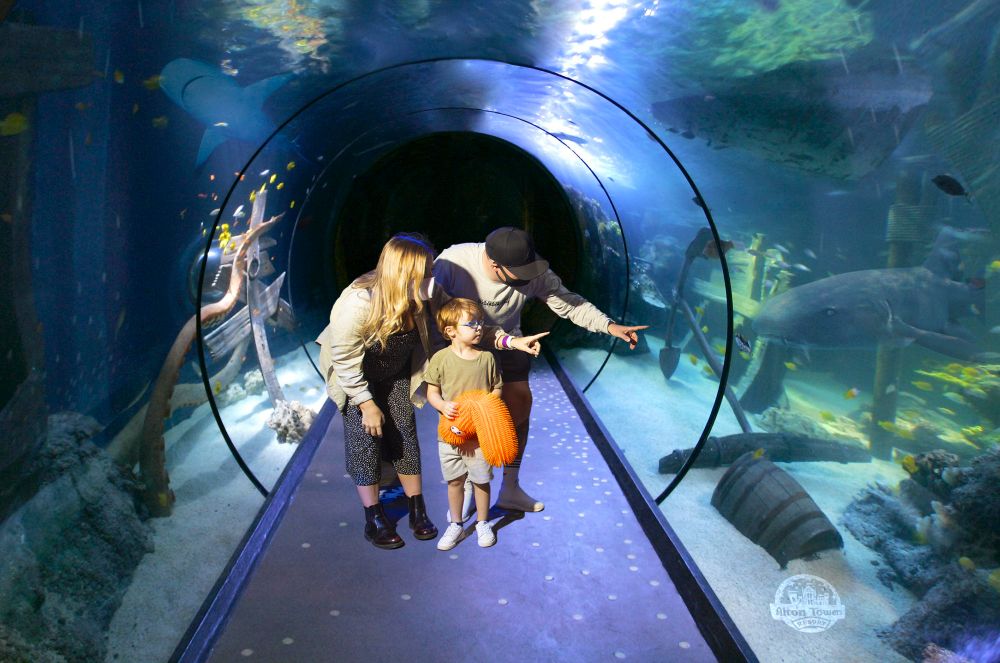 Photos of SEA LIFE – Sharkbait Reef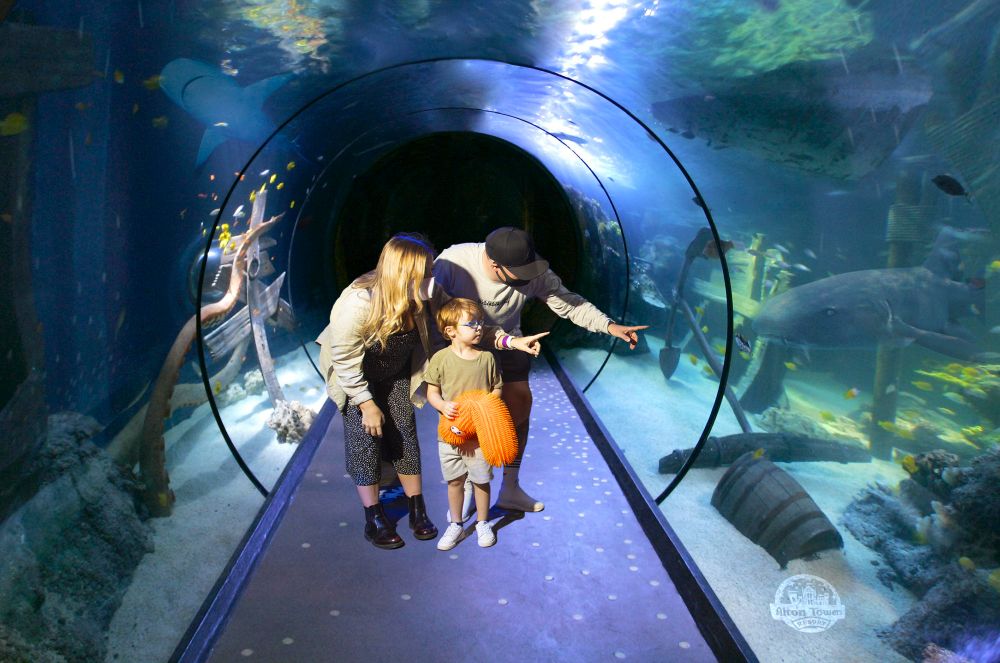 What will students see and do?
Sharkbait Reef, located at the Alton Towers Resort, consists of multiple immersive and hands-on learning experiences for visitors of all ages. Students can venture to Skeleton Bay and watch a combination of rays and miniature shark breeds interact in a tank of their own, or meet aquatic creatures face to face during their journey through Ocean Tank Tunnel.
During their walk through the tunnel, visitors will find themselves surrounded by hundreds of Blacktip sharks, Chocolate Chip starfish, crabs, rays and more as they swim overhead.
Your pupils will also have the opportunity to get hands-on with sea life at the facility's Tropical Interactive Pool. Under the watch of trained professionals, guests will dip their hands into the pool while shrimp nibble at their fingertips and swim around their arms.
After each guest has experienced the exhibit's inhabitants, students will take a trip to the Education Deck, where sea life experts will teach them everything they need to know about the underwater inhabitants.
Along with the exhibits, students will feel the uniqueness of their trip through the intricate design of Sharkbait Reef. Each exhibit is decorated with lights, sculptures and backgrounds that mimic the feel of oceans across the world.
---
How does the trip link to the curriculum?
Students visiting Sharkbait Reef will learn about the importance of ocean conservation and each underwater creature they interact with.
By the end of their trip, children should be well educated on the wildlife they experienced. The general knowledge your group will gain from the trip connects directly to any curriculum or lesson plan covering marine life and climate change.
Viewing the habitats created throughout Sharkbait Reef also teaches pupils about biodiversity, ecosystems and basic biology. In short, a science-based curriculum will only be enhanced by a trip to the venue.
You should also note that any learning experience provided through Alton Towers or Sharkbait Reef is designed to feature the STEM subjects. This means students will come face to face with the vital topics of science, technology, engineering and maths. Their exposure to STEM will link the trip to present and future classes focused on these vital areas of the curriculum.
Subjects covered
---
Teaching resources provided
The Alton Towers website provides teachers with a detailed overview of the park and a FAQ under the 'schools' tab. Teachers are also granted access to downloadable information they can use to prepare students for the upcoming trip.
If you require any specific teaching resources to support your visit, contact the education team to discuss your needs.
---
Minimum and maximum group size
Some activities or rides may require splitting your group into sections for participation. Contact the venue to discuss student numbers with a trip organiser.
---
Details of risk assessment
Employees at Sharkbait Reef are professionally trained to feed, interact with and supervise the ocean life on display. This ensures each student is safe to explore each exhibit while a professional is present.
The Sharkbait Reef building is also equipped with a medical centre, emergency exits, fire alarms and extinguishers in preparation for any unlikely emergencies.
Trip leaders are welcome to visit the facility before their trip to assess the safety of the area and create their own emergency plan.
If you would like a deeper dive into the risk assessment of Sharkbait Reef, visit the Alton Towers website and view the full downloadable document under the 'schools' tab.
PLANNING
Don't miss our downloadable A-Z guide on completing a risk assessment
---
Facilities on-site
Sharkbait Reef has a public toilet on-site for any bathroom breaks needed during the trip. This includes a wheelchair-accessible toilet and ramps for visitors who may need them. Additionally, Sharkbait Reef has ramps, wheelchair routes and lowered exhibits so all guests can enjoy their trip.
The Alton Towers Resort also features the Adventure Cafe on the premises, along with dining/picnicking areas for anyone bringing their own food. There are storage lockers scattered through the park for visitors who require them.
---
Opening times
Unlike most attractions at Alton Tower's Resort, Sharkbait Reef stays open through the winter months for certain guests, but the hours vary throughout the year.
The best way to plan your trip is by calling the resort team. You can also check the hours for Sharkbait Reef during the booking process.
---
Pricing
The price per pupil depends on the number of students you bring, the season you visit and the attraction you choose to explore. To get an estimate for your trip, call the resort before/during the booking process. Discussing options directly will ensure you get the best price possible.
If you are already signed up for the resort's newsletters, check your email before booking the school trip as any useful deals or coupons will be sent to you via email.
---
Travel arrangements
Visiting groups can either drive to Sharkbait Reef and park coaches outside the facility or travel via train. If your class plans on utilising the train, do so through one of the following stations: Uttoxeter, Stoke-on-Trent or Derby.
Address
Alton Towers Resort, Alton, Staffordshire
ST10 4DB
---
Enquire Now
Book your school trip to SEA LIFE – Sharkbait Reef
For information on booking your school trip to this venue, click below.