Making maths better – How we built a new approach to teaching and training
Jemma Sherwood talks us through the ambitious maths-related subject support and curriculum development efforts taking shape at Ormiston Academies Trust
Ormiston Academies Trust has grown over the last decade to a place where we now have 44 schools around England spanning primary, secondary (including sixth form), special and alternative provision.
About three years ago, the Trust's leadership decided to start building a central 'Teaching and Training' team consisting of subject experts, with the remit of supporting the schools' teachers and leaders in all matters subject-related.
The maths team started small, with two regional lead practitioners who were deployed to different schools over the week for short- and long-term placements. These lead practitioners worked with new and existing heads of department, coached and mentored staff, and helped develop classroom resources.
Following its initial successes, the team needed to grow. In Easter 2020 I was appointed as the Senior Lead Practitioner, and by September 2021 there were five of us, covering the north of England down to the Isle of Wight.
We now operate in three broad areas: training, in-school support and curriculum development. It's quite a unique role in that we don't manage or lead the maths departments, but sit alongside them as a support network.
Bespoke training
Our 44 schools serve a wide demographic of students. Some have mathematics departments full of specialist mathematics teachers; others include staff who have transferred from teaching other subjects. What they all have in common is a desire to teach maths well.
We deliver a hybrid model of CPD, with live network meetings and training, pre-recorded sessions for schools to access at any time, and face-to-face training sessions held within school. Some of the most-requested training is in the use of manipulatives and teaching for depth (rather than acceleration).
Since September, when schools have been operating closer to normal, we've been able to work with quite a few departments in-house and develop bespoke training for them. We're very fortunate in that our team has experience of working with Maths Hubs and the NCETM, so we're able to encourage schools to get involved in all the excellent, free programmes the Hubs have to offer. Between our own training and the help we provide in accessing what's already out there, we know that we're growing the opportunities available to our maths departments pretty well.
In-school support
The daily support we provide in schools is varied and carefully planned to meet the needs of staff in each setting. Sometimes a programme of instructional coaching will be needed, where a lead practitioner spends a term working with a teacher on specific foci – practising, observing, refining, discussing and working together on embedding good habits.
It may be that a new head of department needs someone to guide them through their new role, advising them on how to approach the key aspects of the job and tackle unfamiliar situations.
Sometimes an existing HoD will need someone to bounce ideas off, since it can be difficult trying to make decisions in an environment as complex as a school, where there's often no clear right or wrong. It's this daily in-school support that keeps the team of lead practitioners on their toes – not only teaching students, but also helping other teachers explore what can be done and how to grow as practitioners.
Curriculum development
The newest aspect of our role is in curriculum development. We've taken on a huge project to create and resource a coherently sequenced mathematics curriculum, with all the discussion and debate that comes with that.
The work started with indexing and expanding upon the National Curriculum for KS3 and KS4, before coming up with our own order of precedence. The graphic below illustrates a snapshot of this – the four columns represent our four curriculum strands while each code refers to a unit, with certain units explicitly using or building upon the content of others.

For instance, unit SP1 (Discrete Data) will use content from units NP1 to NP3 and GM1 to GM2 (which cover place value, the four operations with integers and decimals, a basic introduction to measures of average and spread, essential geometry basics and more).
While it's possible to teach an introduction to statistics without many of these as prerequisite, in our curriculum and the resources that form it, that wouldn't work. We have made choices to build connections in specific ways, interleave learning in specific ways and integrate ideas in specific places, so that students are exposed to solving problems which combine topic areas from the very start.
Schools will take this background information and can plan any sequence through the content, provided that doesn't break the precedence we describe. We're hoping that this gives schools the flexibility to make a curriculum work in their context, while ensuring that what results retains its quality and integrity.
Themes over time
Alongside sequencing content, we decided to map out how we would develop mathematical themes and metaphors over time. We call these maps 'curriculum threads', as they show how the curriculum is woven together from Y7 to Y11, providing a framework with which to start the creation of resources, as well as an anchor to stop us chasing after every 'good looking' task we find.
The below graphic presents an example of a topic or concept thread. It's our hope that these threads help teachers work together towards a common goal, rather than operate in silos in their own classrooms.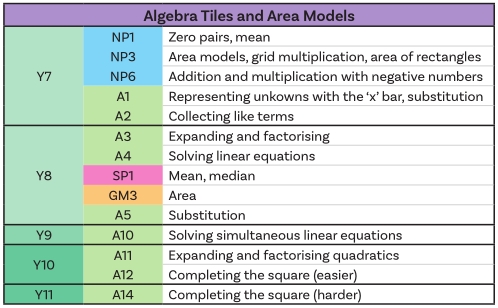 This between-class consistency is important to us, as it sees a student's journey through the school as dependent on every teacher they have. This prompts teachers to think about how what they do contributes to, rather than obstructs a student's mathematical journey.
With all of this in the background of the curriculum, we are now creating a unit-long presentation and student booklet for each unit. The presentations map a journey through the unit, complete with carefully selected worked examples, links to online interactives for further exploration, models that fit our chosen threads and clear explanations of key concepts and words.
Providing the practice
The booklets are meant to provide all the practice that most students will need, and are part-creation, part-curation. Where existing resources from experts such as Don Steward fit what we are trying to achieve, we've included them. Where we can't quite find what we want, we've made it ourselves. This is the part of the project that takes a huge amount of time, and is the part that most teachers simply don't have time for.
It's our hope that this curriculum will simplify teachers' lives considerably, freeing up their planning time for discussing the mathematics, planning for misconceptions, responding to what happens in class and developing their own practice – all the things that are most important, but which invariably fall by the wayside when you have to find an activity for Y9 on a rainy afternoon and there's no time for anything else.
We currently have eight schools trialling the curriculum as it's being developed, and hope to have more Ormiston Academies Trust schools come on board over the next couple of years. It's an exciting project to be working on, and we're hopeful that in future, it will enable more teachers to enjoy what they do and develop their practice with confidence and enthusiasm.
When we're happy with our progress, we're going to share what we've made more widely – so keep an eye out!
Jemma Sherwood is the Senior Lead Practitioner for Mathematics at Ormiston Academies Trust; for more information, visit ormistonacademiestrust.co.uk or follow @OrmistonAcads