Teaching with Harry Potter – Magical classroom resources and ideas
Browse our ideas for teaching with Harry Potter and bring the magic of Hogwarts to your school…

by Teachwire
From an idea born on a train journey, JK Rowling's Harry Potter and the Philosopher's Stone started a global phenomenon.
It has sold over 450 million copies worldwide in 79 languages and captivated readers of all ages for more than 25 years.
Its movie franchise launched the careers of Daniel Radcliffe (outstanding as a flatulent corpse in Swiss Army Man), Emma Watson (doing amazing work as UN Women Goodwill Ambassador) and Rupert Grint (who, er, seems like a lovely fella).
Browse our ideas for teaching with Harry Potter below, and bring the magic of Hogwarts to your school…
---
---
Magical Harry Potter teaching ideas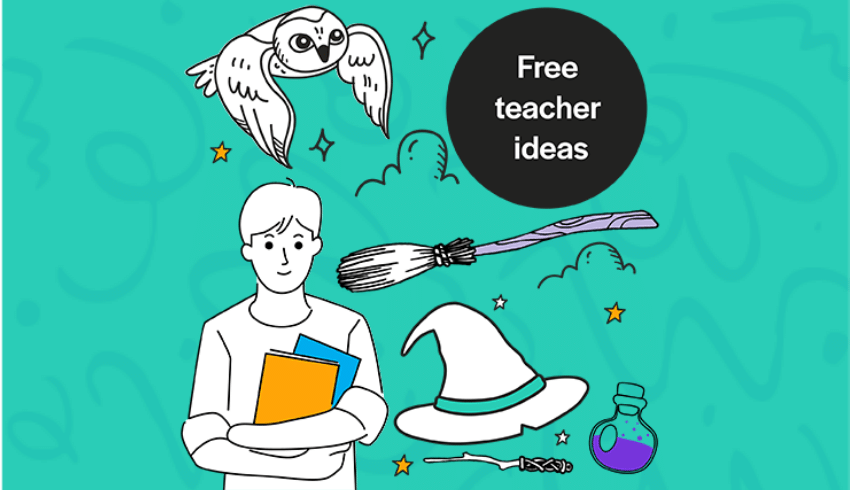 Get Potter-mad pupils' creative juices flowing with these inventive and exciting Harry Potter teaching ideas. Inside the free download you'll find cross-curricular activity ideas, lesson plans and discussion guides.
---
Harry Potter Book Night
What is Harry Potter Book Night
Harry Potter Book Night, recently rebranded as Harry Potter Book Day, is a chance for children to celebrate this iconic series with special events and parties.
When is Harry Potter Book Night?
In 2023, Harry Potter Book Night (or day!) takes place on 12th October. This year's theme is 'Magical Places'.
---
Harry Potter assembly for schools
Use this idea by head of school Sarah Watkins to conjure up a little Hogwarts magic into your assembly. Don't forget to download a full teacher's script along with all the other resources you need.
Start here
Firstly, captivate your audience by displaying Jim Kay's wonderful image of Hogwarts on the whiteboard from the hardback illustrated edition of Harry Potter and the Philosopher's Stone (included in download).
To create a magical atmosphere, dim the lights and play 'Hedwig's Theme' from the film as the pupils come in. Once they are seated, ask them which book they think today's assembly is based on. Invite a few children to talk about what they like most about the Harry Potter stories.
Introduce the theme
To introduce the theme of this assembly, read the following quote originally spoken by Albus Dumbledore, the headmaster of Hogwarts:
"We are only as strong as we are united, as weak as we are divided"
Ask what pupils think of this. What is the message that Dumbledore wants to get across? Now hold up a hula hoop and explain that this is a cauldron that must not spill. Ask for a volunteer wizard or witch to come and lower it to the ground using just one 'wand' (fingertip), without tilting it.
Once you have established that this is impossible, ask your volunteer to invite three friends up to the front to help them complete the task successfully. Congratulate the children for their teamwork and ask them to sit down.
Personal qualities
Summon four pupils to the front and present each child with a crest representing one of the four Hogwarts houses (included in the download). Recite the qualities of each house in your best Dumbledore voice:
Gryffindor: Courage, bravery, determination
Hufflepuff: Dedication, patience, loyalty
Slytherin: Pride, ambition, cunning
Ravenclaw: Wit, learning, wisdom
Do the children understand all of these words? This is a good opportunity to extend their vocabulary.
Next, enchant pupils with a short reading from Chapter Seven of the first book, Harry Potter and the Philosopher's Stone (included in the download). The extract describes the magical moment when Harry first enters Hogwarts.
Conjure up an image on the whiteboard of illustrator Jim Kay's sorting hat from the hardback illustrated edition of Harry Potter and the Philosopher's Stone (included in the download).
Explain that this magical hat knows what every single student at Hogwarts is like and uses its knowledge to match the children with their correct house.
Today, we will speak our own magical words to find new members for the Hogwarts houses. Draw the attention of the children to the qualities of each house once again. Can anyone suggest a friend who has been brave or courageous? Can they describe a situation when this happened?
Bring this pupil up to become a member of Gryffindor and then ask for suggestions for the other houses, based on qualities pupils have shown.
Hufflepuff – shown dedication to something or been a good friend
Slytherin – confident and unafraid to aim high
Ravenclaw – demonstrated wit or intelligence
Use this opportunity to further embed the vocabulary, so that the children gain confidence using these words.
Team work
Now that the pupils have a good idea of the qualities of each house, prompt them to consider silently which house they would personally prefer to belong to and why.
Explain that, just like teams in school, each Hogwarts house is made up of different characters with different skills. When we are in a team, we work together to win. Harry Potter is a very clever wizard, but even he knows that he can't beat his enemies without the support of his friends.
"When we are in a team, we work together to win"
It's not always easy being in a team because we are all different. Sometimes Harry and his friends fall out, but when they need to achieve a goal they support one other.
Show this compelling short film from publisher Bloomsbury which explores the powerful theme of working together:
Ask the children holding the four house crests (included in the download) to flip them over to reveal letters spelling out the word 'TEAM'. They can now move closer together.
End your assembly by playing 'Hedwig's Theme'. Ask the audience to sit quietly and reflect on what they can do to be a better team player. Alternatively, keep the energy high by ending with a rendition of the Hogwarts school song. Don't forget Dumbledore's instructions: students can pick their favourite tune and sing the words any way they like!
Lesson follow-up ideas
English: Focus on the qualities of each Harry Potter house by defining the words, finding antonyms and synonyms and putting them into sentences.
PSHE: Talk about what the house qualities mean to different children. Can pupils create a list of qualities for their own perfect team?
Art: Decorate your own house crests. Use our downloadable worksheet template.
Song ideas
'You've Got a Friend in Me' by Randy Newman (from Toy Story)
'We're All in This Together' by Matthew Gerrard & Robbie Nevil (from High School Musical)
'I Will Be Your Friend' by Andy Brooke (from Sing Up)
'Together' by Mark and Helen Johnson (from Out of the Ark)
Sarah Watkins is an English SLE and head of school. Follow her on Twitter at @mini_lebowski.
---
Official Bloomsbury resources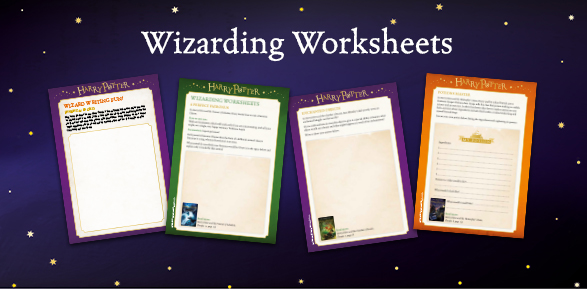 If you're teaching with Harry Potter, head to the Bloomsbury website (the publisher of Harry Potter). There you'll find a Harry Potter Name Generator, a Harry Potter Hogwarts House Quiz and a variety of other games, quizzes and fun facts for your pupils to explore.
You can also download:
---
Wizarding maths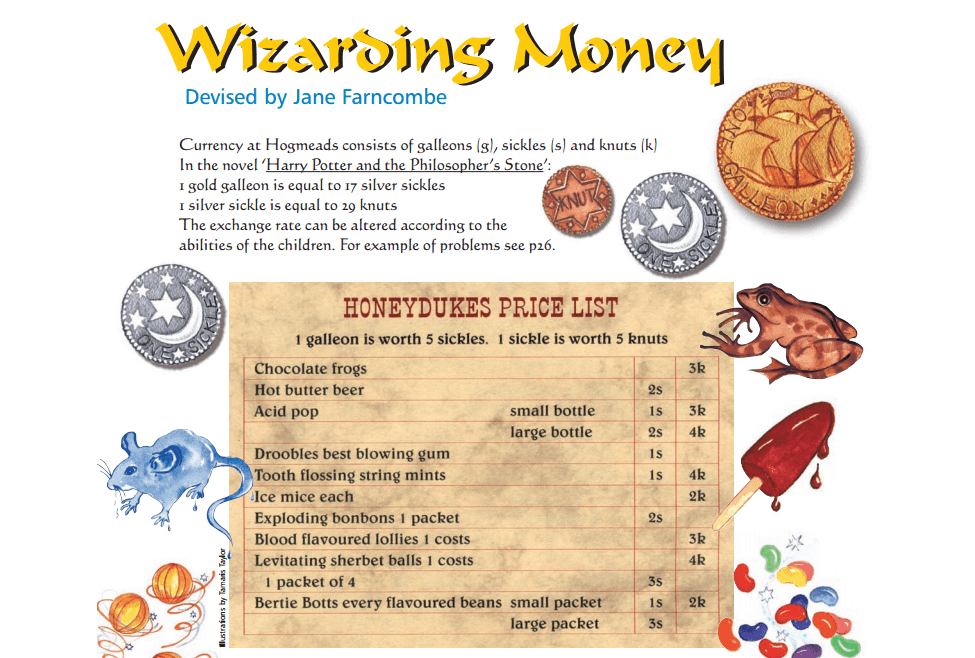 Tally charts, bar charts, dice games, money conversion – it's all here in this series of magical maths activities from the Association of Teachers of Mathematics.
Work out questions like 'Neville Longbottom wants to buy some Levitating Sherbet Balls. In his pocket he has 2 sickles and 9 knuts. How many can he buy?'.
---
Into Film activities for KS2 and KS3
Some of the Potter books are very long, so one easy way of teaching with Harry Potter is to focus on the movie adaptations.
This Into Film resource looks at the first Harry Potter film and explores themes of anti-bullying, friendships, storytelling and more through activities for English, literacy and PSHE. There are four short activities suitable for KS2 and 3.
---
More activity ideas
Try some creative writing
Read Chapter 15 of Harry Potter and the Chamber of Secrets out loud to set the scene for a creative-writing exercise. This is where Harry and Ron meet Aragog the Acromantula (the giant talking spider!) for the first time.
Now ask students to create their own magical beasts in an imaginary setting, using the extract as inspiration. Where is the scene set? What do their beasts look like? What happens next?
Ready, steady, design…
The 20th anniversary editions of Harry Potter featured brand new house-themed cover illustrations by Levi Pinfold.
Look at the covers with your group, then ask your students to design a crest of their own – this could be for your school or if you have school houses, like Hogwarts, they could design their own house crests.
What qualities should the crest reflect? What symbols could be included? And if the students could design a dream common room of their own, what would it look like?
Make 'enchanted' parchment
In Harry Potter and the Chamber of Secrets, Hermione uses the spell Aparecium to try to find the presence of invisible ink. Follow these steps to create your own invisible messages.
You will need:
Lemon juice
A few drops of water
Cotton buds
Sheets of white paper
A lamp
A homemade wand
Method
Mix the water and lemon juice together.
Dip your cotton bud into the mixture and write your message on a sheet of paper.
Allow to dry. The message will become invisible.
To reveal the hidden message, tap the sheet with your wand, then place the message in front of the lamp.
The science bit
Diluting the lemon juice in water makes it very hard to notice when you apply it to the paper and let it dry. But when you heat it, the lemon juice oxidises and turns brown, so the message can be read. Other substances, which work in the same way, include orange juice, honey, milk and vinegar.
Create a Hogwarts floorplan
This great maths activity teaches students about scale and mapping skills by letting them use the novels' descriptions of the school to draw out a birds-eye view layout on graph paper.
---
Why the magic of Harry Potter always comes back to the books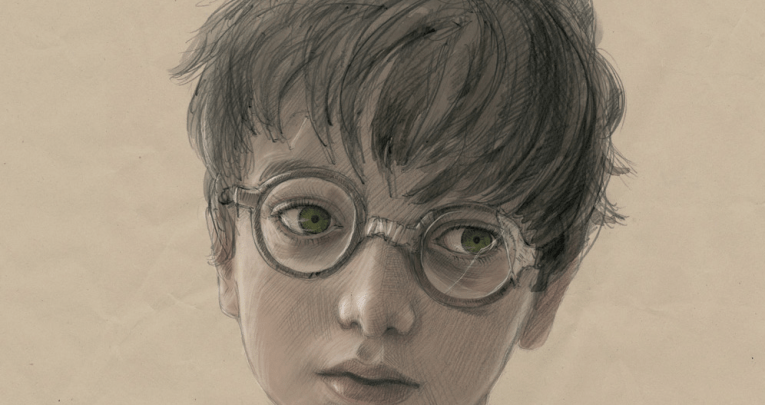 What is it about Harry Potter that makes it so special? The success of the franchise is well documented. Films, theme parks, exhibitions, the studio tour at Leavesden, computer games, Lego sets, clothing, replica wands – the list is a long one.
Yet most persuasive of all remains the books. For first and foremost, Potter is literature.
Of course, Potter should never have worked – it was published at a time when the computer games of market leaders Nintendo and Sony were increasingly sophisticated. There was also an explosion in the number of television channels, and a trip to the cinema was once again becoming an event.
On top of this, and integral to the expansion of the Potterverse, the internet was becoming increasingly accessible in homes. There was so much to do, so many things to keep children, and their parents, amused.
There were other problems too, not least that the setting was wrong – a boarding school in Scotland. Potter seemed to be set in a time warp. Boarding school stories were old hat – very old if one goes back to Tom Brown's Schooldays, published in 1857.
Magic happened
Potter was all wrong. It was niche and elitist – steam trains, teachers in gowns – to say nothing of the stodgy, boring food. They didn't even have pizza, let alone curry sauce.
So what happened? Magic happened.
One can try to analyse the Potter phenomenon – to deconstruct it and say that it can be explained away by clever marketing. Marketing certainly gave it a boost; and the internet gave millions of fans the opportunity to display their creative talents, through fan fiction, art and videos.
However, in the final analysis it comes down to the books. The books required commitment and investment – qualities which every teacher knows are at the heart of good teaching and good learning.
"The books required commitment and investment"
Children committed themselves to the magical world – though I always believed that the latter was more of a hook to pull the readers in.
In the end, the books are more about character than magic. Harry defeats Voldemort because he is a better person, not because of clever wand work.
Teaching with Harry Potter
In preparation for writing this I asked some of my former students who are now in the classroom – the 'Harry Potter generation' – to assess the impact of the boy wizard in schools.
Impact studies for things such as this are notoriously difficult to prosecute; so it was more of a straw poll than anything else. The results were mixed.
All their students had heard of Harry, but few had read more than the first book. As ever, the best school-based lessons involved using the series to inspire children to think, not only about school and themselves, but also about their friends and the potential dangers of relying too heavily on first impressions, and the importance of challenging injustice, prejudice and discrimination.
How prophetic of JK Rowling to have written in the opening chapter of the first Harry Potter book, 'He'll be famous – a legend – there will be books written about Harry – every child in our world will know his name!'.
In the end Harry Potter is about us – and our place in society and our cultural landscape. We are all members of the Harry Potter generation.
Dr Martin Richardson is an associate professor of education at the University of Durham and the architect of the degree module 'Harry Potter and the Age of Illusion.'