The Wonder Years – Curiosity-led STEM at Isambard Community School, Wiltshire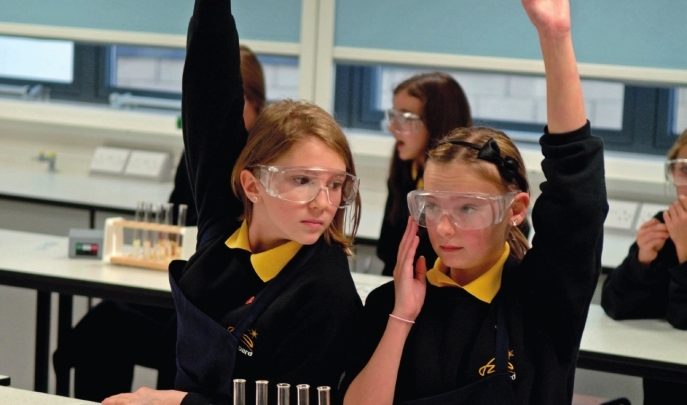 The true joy of science comes from being inquisitive, says Peter Scutt – and hands-on classroom activities keep curiosity alive
by Peter Scutt
Science is about curiosity and opening the minds of children to how things work and why things are the way they are. As Albert Einstein is quoted as saying, "The important thing is never to stop questioning".
I am always excited to see students being stimulated by a demonstration and creatively thinking of ways to explain it. For some students though, this may seem a daunting prospect as they just want to know the answer. For many, this can be something which is outside of their comfort zone and so they need to feel supported and safe.
But the true joy of science comes from being inquisitive and the process of investigating and problem solving. The teaching of science should, therefore, support students and provide them with the tools to make it challenging, imaginative and hands on. By doing so, it not only benefits their academic achievement but also builds their character and the key traits of resilience and determination in a happy, stimulating and safe environment.
Making it matter
During my career, I have experienced more and more students that lack interest in science as they progress through secondary school. This may be a result of the 'fun' experiments and hands-on experiences being replaced with the teaching of theory instead. The question is, how can the enthusiasm and excitement around science be maintained?
A typical response we hear from students studying science is, "Why do we need to know about this?" If the relevance of what we teach is not clear, then it becomes less attractive to students and motivation drops.
As teachers, we are governed by what we need to teach and it can be very difficult to form a connection with the lives of the children we teach. It is vital though, that children see the relevance to the real world and this is linked to more memorable hands-on experiences rather than a theory based approach.
Forming a connection between animal adaptations and developments in science can make science have a purpose, for example, between the woodpecker and the design of new crash helmets and between butterflies and nanoparticle technology. It opens up the study of science so students can see the relevance in the world.
Bring them in
Likewise, making the lesson more engaging helps too. Nuclear Fission, the process where atomic nuclei are split to release energy, is one concept which many students struggle with. Students find modelling the process with skittles and chocolate brownies, or a set of mouse traps and ping pong balls, makes the process more understandable and accessible.
A simple lesson starter of a flying tea bag, a circle of candles or looking at the circuit board from a computer can engage students with heat transfers. One battery, one bulb and one wire can get students thinking about electrical circuits. These experiments often do not take long to set up, but certainly help cement learning. In addition, demonstrating respect for all learners by understanding, responding to and supporting their differences in learning styles and attitudes to learning, can help to establish effective working relationships and rapports that can foster students' confidence and self-esteem which can have an impact beyond the science class.
Light the fire
Students should leave a science class feeling inspired and talking about what they have learnt. It is a great feeling when a parent comes up to you to tell you that their child came home and they were really excited about what they had learnt in science. Science has the ability to stimulate minds and to provide a hands-on approach to learning that promotes thinking and encourages students to strive for answers and spark their interests.
From my experience of working with teachers from different schools, it is clear that inspirational science teachers are at the heart of a successful department. Teachers who have enthusiasm and passion for their subject and who come up with innovative ways of teaching and using real-life examples to show how science links to the real world, give a vibrancy and energy in the classroom.
Teachers should also constantly review the learning that is happening in their classrooms and look for new ways to enhance the learning further. Outside of the classroom, engagement in science is enhanced by students being actively encouraged to take part in extra-curricular enrichment activities, such as Science Club, STEM clubs, Eco-School and other competitions that support as well as strengthen their understanding of the importance of science.
I have put some of these guidelines into my teaching practice and plan to share some of my ideas with teaching colleagues. Following a successful application in the Let Teachers' SHINE competition, I have been awarded a grant of £15,000 to further develop an 'Achieve in Science' project. This will offer a free-to-access website providing assessment tools, revision resources and videos to support teachers, schools and parents teaching science. Through this project, I am hoping teachers will be able to more easily support students of differing abilities and from different backgrounds, to inspire confident learners who will have the skills, qualities and qualifications to thrive in our changing world.
Truly inspirational ideas to help children shine
The Let Teachers SHINE competition is run by the education charity SHINE (Support and Help in Education) and supported by Capita SIMS. Now in its fifth year, it provides teachers across England with the chance of winning a grant of up to £15,000 for their innovative idea to raise the achievement of disadvantaged children in science, maths or English.
For more information about entering the competition and details of this year's winners, please visit www.capita-sims.co.uk/shine-8
About the author
Peter Scutt (@scuttscience) is the science lead practitioner at Isambard Community School, an 11-16 secondary school based in Swindon, Wiltshire. More information about his awardwinning project can be found at www.AchieveinScience.com