There has never been such a clear need for quality online safety provision in secondary schools. Young people are profoundly attached to their mobile devices, and use myriad apps to communicate and share.
We will all have opinions on age restrictions, online presence pressures and even whether all of this does anyone any good in the long-term. But we must accept that young people's social media usage is deeply embedded, and their reliance on it will only grow.
Questions remain, though. Questions like: "What happens when they don't use this technology properly? When they communicate with people who want to do them harm or when they openly post things that could damage their future opportunities?"
This is where online safety comes to play. Schools need to address these questions head-on to properly support their pupils – enabling them to become safer and more responsible technology users, and to equip them with essential digital skills.
What to look out for
Online safety is multifaceted and generally includes the following areas:
Having a digital presence – digital footprints, the need for a positive online image
Preventing cyberbullying – defined as the repeated sending of hurtful, threatening, teasing or taunting messages
Communication with strangers – potential grooming
Preventing sexting – now often referred to as 'youth produced sexual imagery'
Searching – the ease of access to inappropriate, illegal, harmful, unreliable or fake material
Commercialism – hidden costs, advertising
Maintaining privacy online
Directly taking these issues on is more effective than beating around the bush. Pupils appreciate honest, open and empathetic advice and guidance. It's imperative this is linked to the apps and websites that they use daily.
Start with the pupils and their needs by asking them what apps they use – and how they use them. Ask them what they'd like support with, what questions they have, what worries them about what they see and do and how they deal with inappropriate material.
Raise your subject knowledge
You may feel out of your depth after this. Young people adopt new technologies quickly and may be using services you're unfamiliar with. To combat this, use the NSPCC's Net Aware guides to quickly learn about how the apps and websites pupils are using work and about the risks associated with these.
Thinkuknow also publishes useful guides, particularly if you need to learn about risks pupils face while using various services. You could even ask a focus group of children to bring in their devices and talk you through the latest apps - they will enjoy doing this.
Don't scaremonger
Avoid scaring pupils. There are enough things for young people to worry about in modern life without them being scared of using the services they enjoy. Instead, focus your time and energy on helping them use technologies positively and in ways that benefit them. I always talk about the benefits of using technology before moving onto discussing risks.
Tell stories
Relate whatever you do to real life. Tell them stories about when you fell for a news article which wasn't true, received an email from someone looking to extort money or when you were tricked by an offer or promotion that wasn't as it seemed. Pupils appreciate and are interested in things that they can relate to, and they'll engage well with you when you share your experiences.
Map it out
Whenever I work with secondary pupils, I always start by asking them to map out their online lives. Creating spider diagrams allows them to reflect on which services they use and what information about themselves these services hold.
I ask them to consider where their photos are stored, who could have access to them and whether they're happy with this. I talk to them about the importance of maintaining some form of digital privacy and the need to be careful about what they say.
I ask them: "If I were to search for you online, would you be proud of what I'd find?" With older pupils I go on to talk about employment and how negative posts could affect their opportunities.
Positive communication
It's important pupils understand they are responsible for what they publish online, and what they say. I sometimes use a service like www.ios7text.com to create fictional screenshots of conversations and give them time to think about how they would reply if the messages were being sent to them.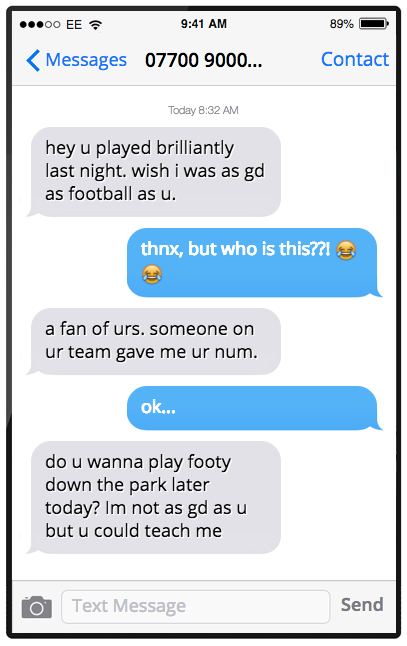 I use activities like this to start discussions about potential grooming and cyberbullying. Asking them about how they know who to trust and how to respond to threats opens up interesting conversations around dealing with situations pupils may face now or in the future.
Sexting
Dealing with sexting isn't easy, but it's an important issue that needs careful consideration.
The UK Council for Child Internet Safety recently issued excellent guidance on dealing with sexting issues when they occur, but it's important for prevention education to be in place to help minimise issues. Films like CEOP's (Child Exploitation and Online Protection) 'Exposed' provide good hooks for conversations and help young people understand how quickly things can go wrong.
Talking about positive relationships, safe sex, consent and pornography can also help prevent sexting as pupils will develop a better understanding of healthy relationships and of what is appropriate.
Searching
Pupils need to understand what is real and what is not – something that's becoming increasingly difficult in an age of 'fake news'. Teaching young people to use a variety of different sources to verify facts is useful, as is having discussions about how what they see may not be real.
Pupils need to understand that images can be changed and facts distorted for various reasons, and that what they see online does not always represent reality. Pupils enjoy looking through fake news articles and before/after images of models to help them understand how things are sometimes distorted.
Meeting the need
The South West Grid for Learning's 'Digital Literacy' plans cover all – and more – of the above areas and are free to use. And, again, The Thinkuknow site also contains free teachers' resources and lesson plans.
---
Are you Friendly Wifi approved?
Friendly WiFi is the government-initiated safe certification standard for public WiFi. It was initiated by the UK Government in 2014 to ensure public Wi-Fi meets minimum filtering standards, particularly in those areas where children are present.
Schools displaying the Friendly WiFi symbol have Wi-Fi filters which deny access to pornography and webpages known by the Internet Watch Foundation to host indecent images of children and advertisements or links to such content.
To find out more about Friendly Wifi, and to have your school approved, visit friendlywifi.com/education.
---
Matt Lovegrove teaches at Beechwood Primary School, Reading, is an ambassador for the National Crime Agency's CEOP Command and holds a European Pedagogical ICT licence in online safety.
Get FREE weekly updates, lesson plans and resources sent to your inbox!