Safer Internet Day 2023 – Best teaching resources and activities for KS1 and KS2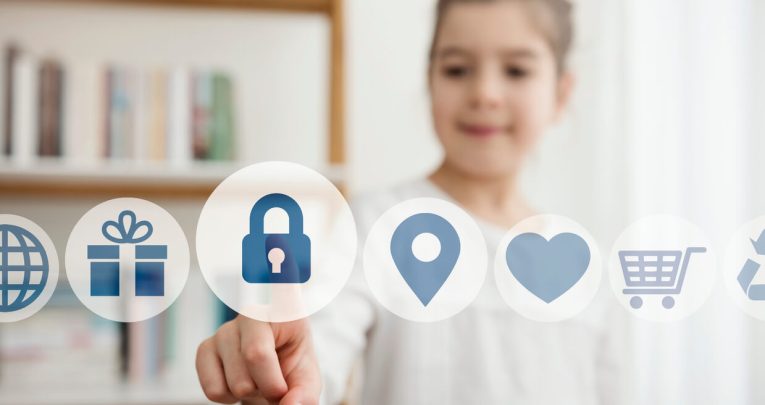 Use Safer Internet Day this February to educate children about being responsible online, with these fun, informative resources…

by Teachwire
What is Safer Internet Day?
Starting in 2004 and coordinated in the UK by the UK Safer Internet Centre, Safer Internet Day sees thousands of organisations get involved to promote the safe, responsible and positive use of digital technology for children and young people.
Safer Internet Day aims to raise awareness of emerging online issues and current concerns. It covers cyberbullying, social networking, digital identity and more.
When is Safer Internet Day?
Safer Internet Day takes place on Tuesday 7th February 2023.
What's the theme of Safer Internet Day 2023?
The theme for Safer Internet Day 2023 is 'Want to talk about it? Making space for conversations about life online.' This year the campaign is focusing on the following questions:
What issues really matter to children and young people?
What changes do they want to see?
How can we all work together to advocate for them moving forward?
Read on to discover some of the best resources for Safer Internet Day this year.
---
Clickbait lesson plan for Y5-6
Even though they may still seem young, the way primary-aged children are using the internet is changing. You may need to go beyond basic e-safety lessons nowadays.
This free UKS2 lesson plan teaches pupils about clickbait. They'll learn how to avoid it and will write their own examples.
---
Safer Internet Day official resources
This year, primary schools can get involved in Safer Internet Day in a number of ways. This includes uploading short films to the website about pupils' online experiences. Watch the submissions so far on the Video Wall.
Find additional resources for primary schools on the UK Safer Internet Day website, including resources for children age 3-7 and 7-11, as well as assemblies for KS1 and KS2.
---
Safer Internet Day resource packs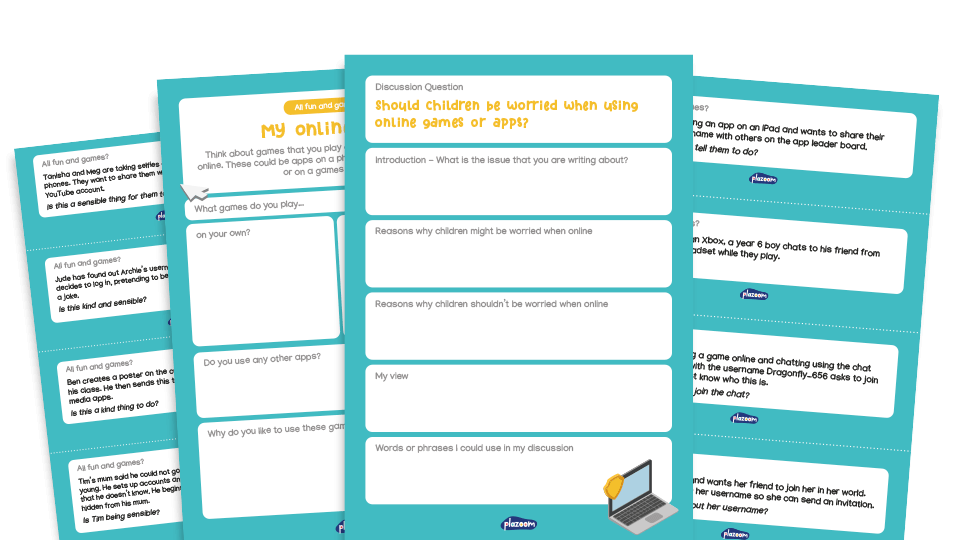 This resource pack for KS2 from Plazoom explores the positives that our online lives can bring us, while also exploring how to stay safe. It focuses on online games and apps.
The pack includes teaching slides, a worksheet, discussion cards, planning sheets and themed writing paper.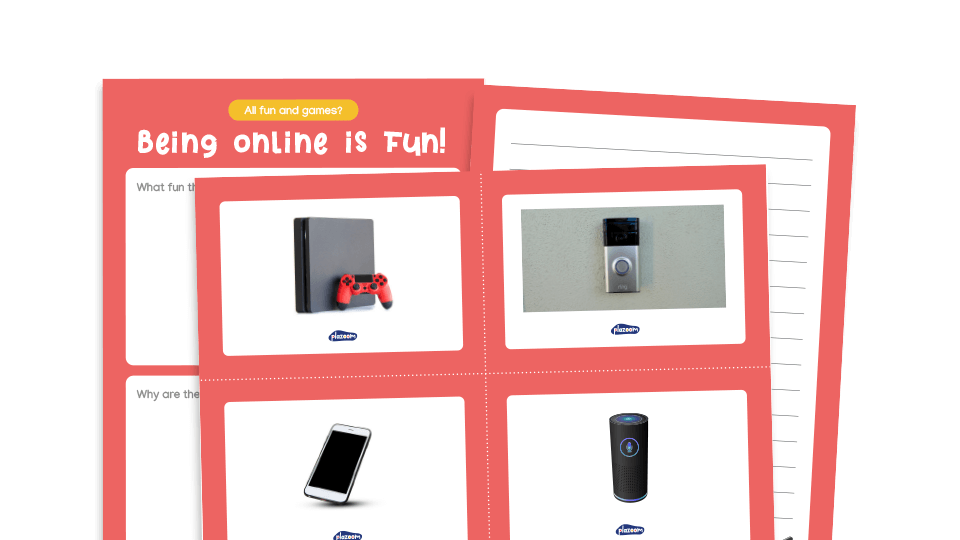 There's also a similar resource pack for KS1. Pupils will have the chance to create a poster, leaflet or letter explaining to others how they should keep safe online.
---
Digital Matters free teaching resource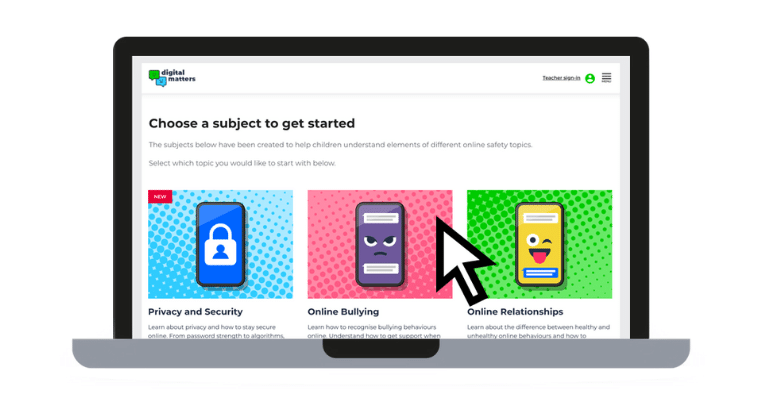 Digital Matters is a free online platform to teach online safety through interactive activities and dynamic storytelling.
Created by Internet Matters, Digital Matters covers a range of online safety topics including cyberbullying, misinformation and password security. New modules are added regularly.
The detailed teacher packs contain lesson plans, offline handouts, curriculum links and more.
---
Verifying online sources lesson plan
When we teach internet safety in schools, we often make the mistake of focusing on online predators and other scare
stories. Instead, we should try to model responsible behaviour and give children the skills they need to spot these perceived risks and threats.
This KS2 lesson plan aims to teach children digital literacy and hammer home the importance of questioning online sources.
---
UKS2 consent resource for Safer Internet Day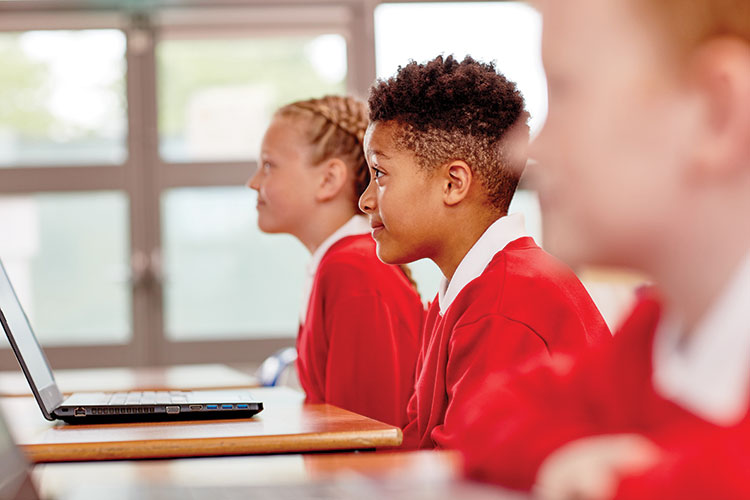 Barefoot Computing has created this resource for upper-KS2 called Stop, think…do I consent?.
In this activity, pupils learn about the terms and conditions of a variety of social media organisations. They'll reflect on the personal information which people consent to 'giving away' when they sign up to such websites.
Pupils will create a 'data gift' which they can place next to their computer. This will remind them of the importance of knowing what they are consenting to.
The lesson is continued at home as pupils become the teacher. They can ask older siblings, parents or carers to reflect on what personal data they too might be giving away in their data gift.
Pupil objectives are to:
Know what consent means when we agree to terms and conditions online
Know the rights we give to social media organisations to use our personal information
Understand the value our personal information has to social media organisations
---
Be Internet Legends resources from Google
Making sure children get the full benefits of our connected online world while protecting them from harm is a fine line to walk.
And the internet moves so fast it's hard to keep up. Whether it's identity theft, fake news, cyberbullying, phishing scams or just inappropriate content, there's always something to keep an eye on.
Thankfully, Google is taking this kind of thing seriously with Be Internet Legends. It's a site full of information and resources for schools and students to educate children in responsible internet use.
It's been created in association with Parentzone, The PSHE Association and Internet Matters too, to ensure that every element of the programme addresses things that families and teachers need to know.
Scheme of work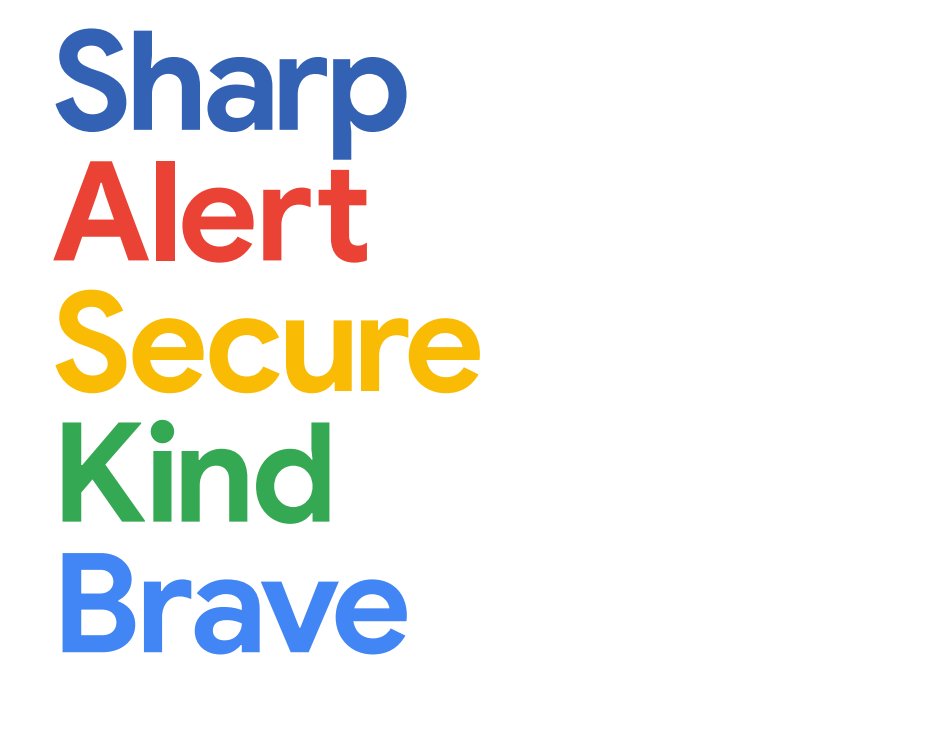 The Be Internet Legends Scheme of Work gives you the tools and methods you need to teach internet safety. The materials, developed by Google in partnership with Parent Zone, enable you to bring the most important information into the classroom.
Included in the scheme of work are lesson plans for the five pillars, with suggested activities and worksheets. All elements of the scheme of work:
Work alongside the national curriculum
Require no personal information or login details
Can be used across devices
Are free for everyone
---
Lesson posters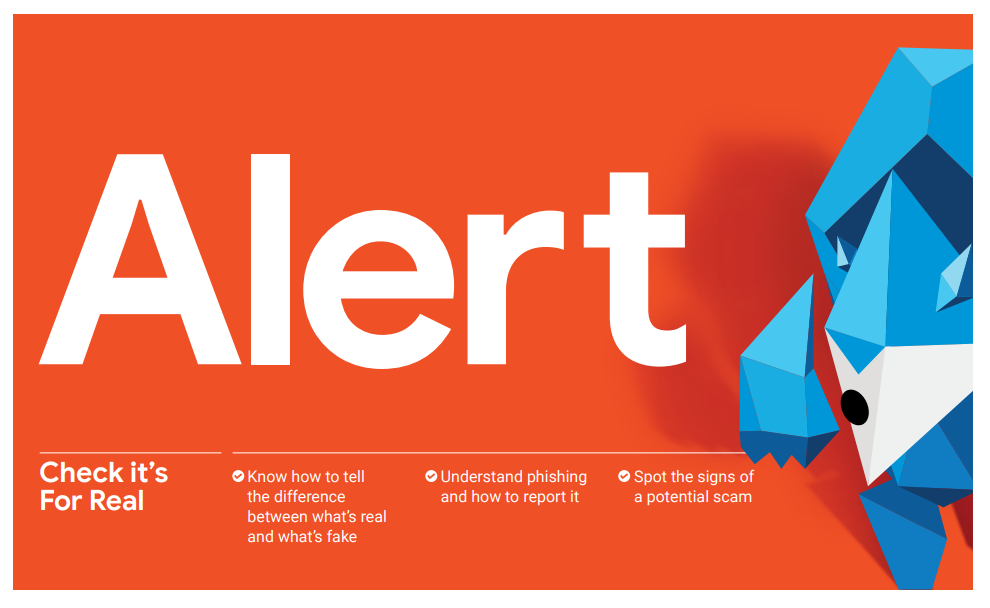 Download and print a colourful daily reminder of the five pillars of the Internet Legends Code.
---
Interland online game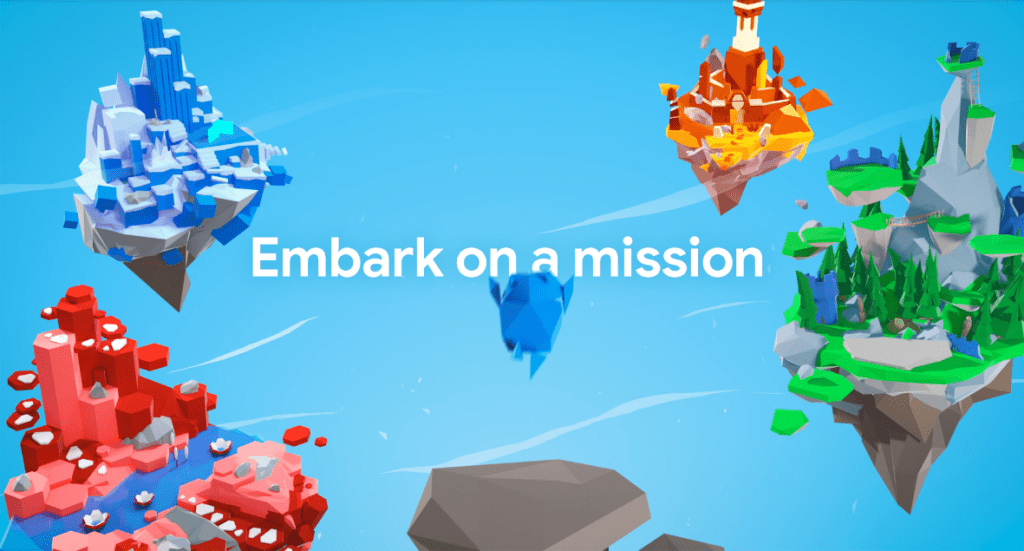 Interland is an adventure-packed online game that makes learning about internet safety interactive and fun – just like the internet itself.
Here, children will help their fellow Internauts combat badly-behaved hackers, phishers, oversharers and bullies by practising the skills that they need to be confident online explorers.
---
Google for Education teacher training course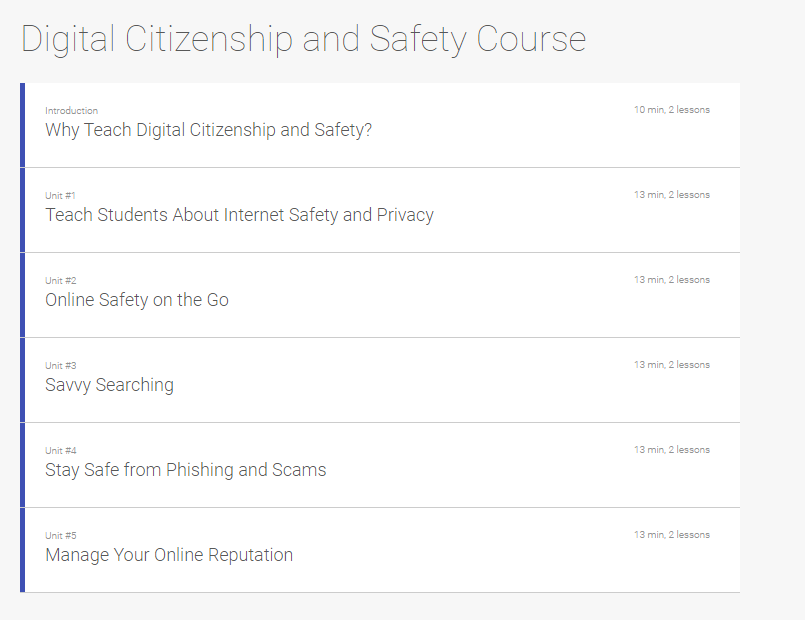 It's easy to teach digital literacy skills to pupils of all ages with the Google for Education Digital Citizenship and Safety module, available worldwide.
---
Be Internet Legends certificate and badges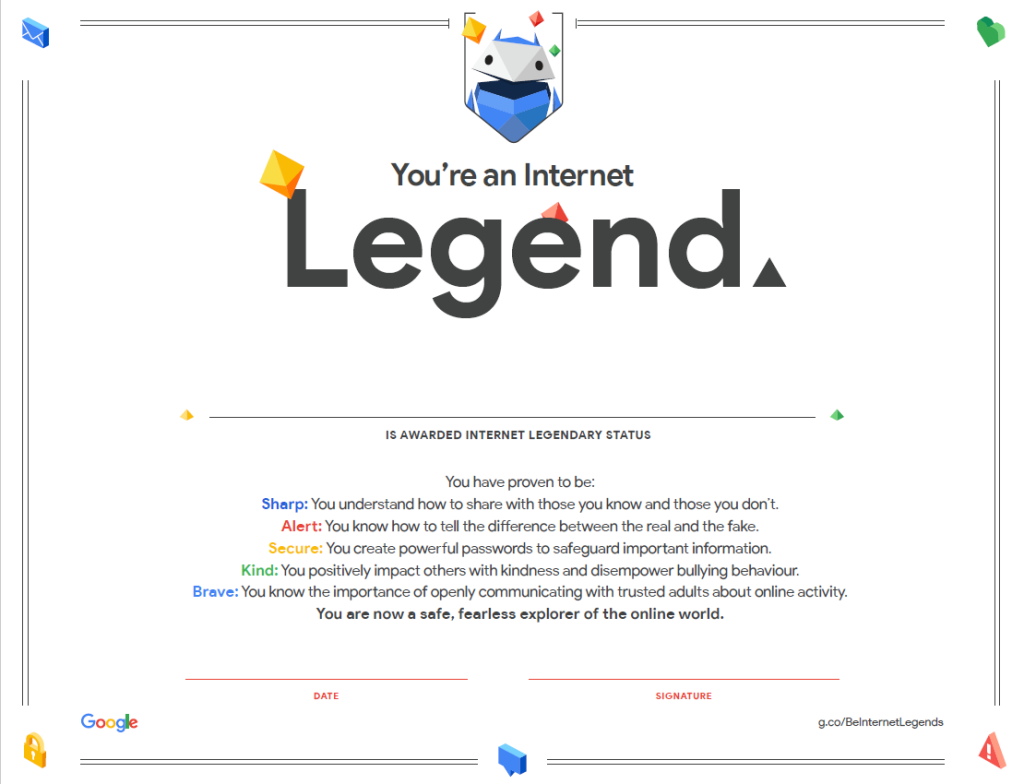 Proof of Internet Legend status comes in the form of an official certificate and GIF badge for each lesson.
---
Internaut papercraft activity template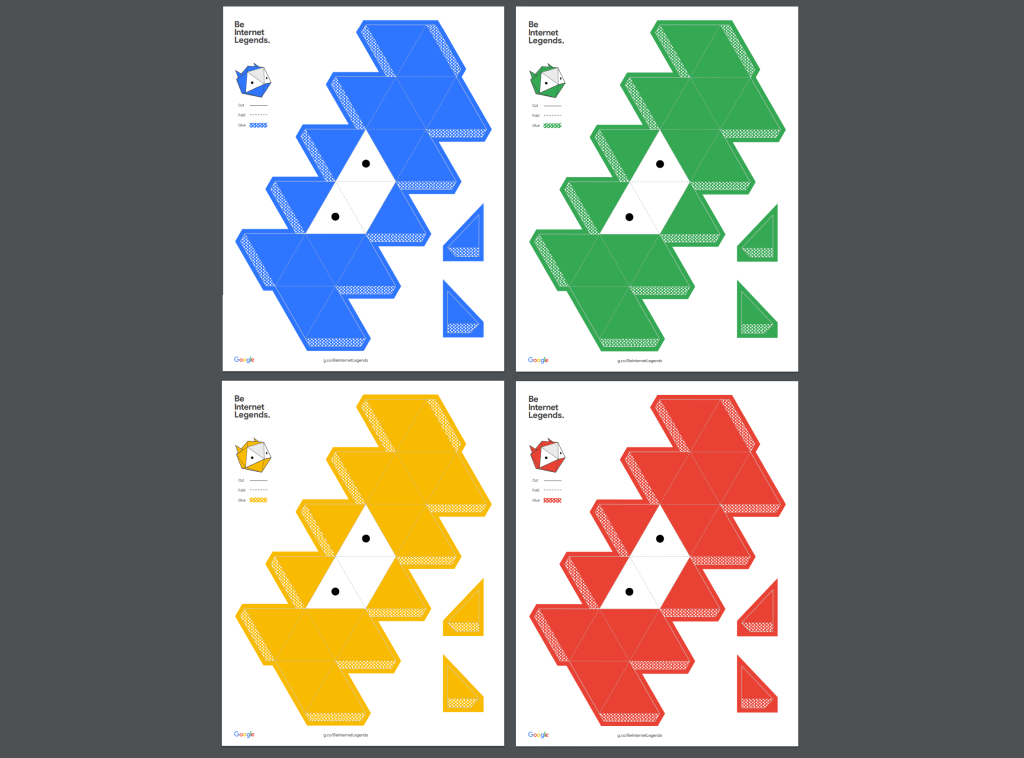 Once the kids have had fun playing Interland, this hands-on paper activity lets the Internauts come off the screen and into real life. This printable PDF comes in four colours so students can cut out and create by simply folding and gluing.
---
Get families involved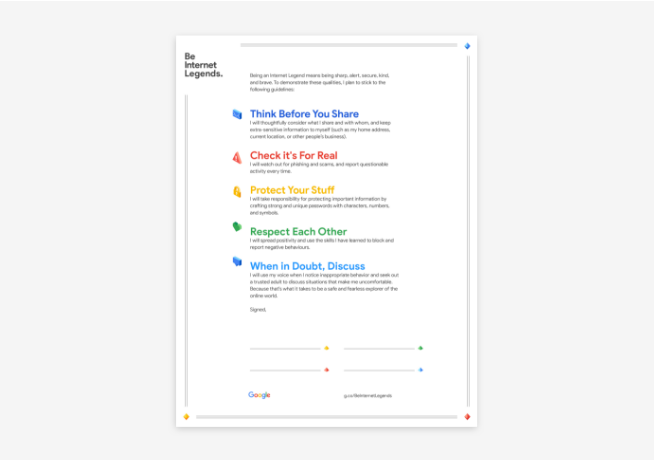 A family commitment to being safe and confident online starts at home. This is reinforced with this pledge to practise being an Internet Legend – sharp, alert, secure, kind and brave – when online.
This PDF family pledge certificate will get everyone on board with being safe online.
---
More advice from teachers
We've got plenty of advice about saying safe online right here on Teachwire. Get yourself a cuppa and have a read…
We've also got advice on teaching online safety with children and phones and how resilience, rather than resistance, to social media use could be key.