About AVID Products
Established in 1951, AVID Products is an employee-owned company in the heart of beautiful Middletown, Rhode Island, USA.
The AVID team shares a strong commitment to community with company core values consisting of Expertise, Collaboration, Empowerment, and Ingenuity.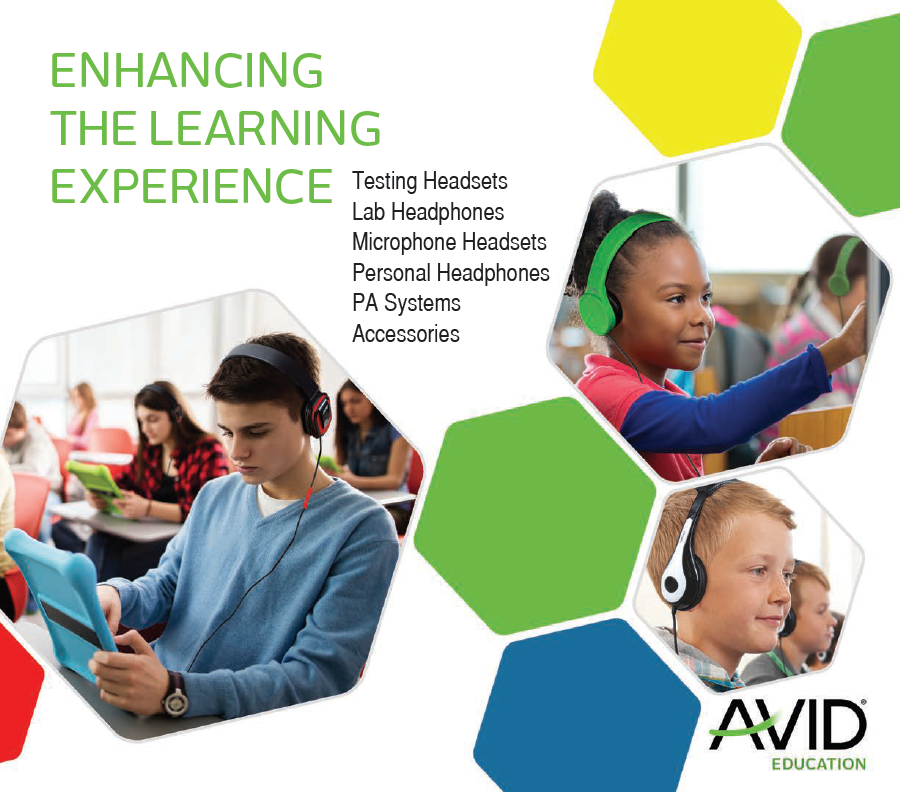 AVID is an acronym for Audio Visual Instructional Device and the company continues to develop quality audio products for the minds of the future. Keeping abreast of the evolving technologies in learning and classroom environments, AVID is constantly adapting to changes within education.
The company understands that reliable products are the important link connecting the student to technology and develops effective audio products that assist with the diverse needs of the classroom and student experience.
A focus during the AVID creative development process is to analyse needs, current and future technologies, testing requirements, and curriculum formats.
Collaborating with educators is an opportunity that is highly welcomed, encouraged and valued. All this information is used to optimise product and accessory selections, while providing cost-conscious solutions.
Providing quality, innovation and value that enhances the learning experience is at the heart of the AVID mission for educators and students.
Visit AVIDproducts.com for more information.
At AVID you are not just another customer. The team is with you every step of the way!
Product:
AE-55 Headset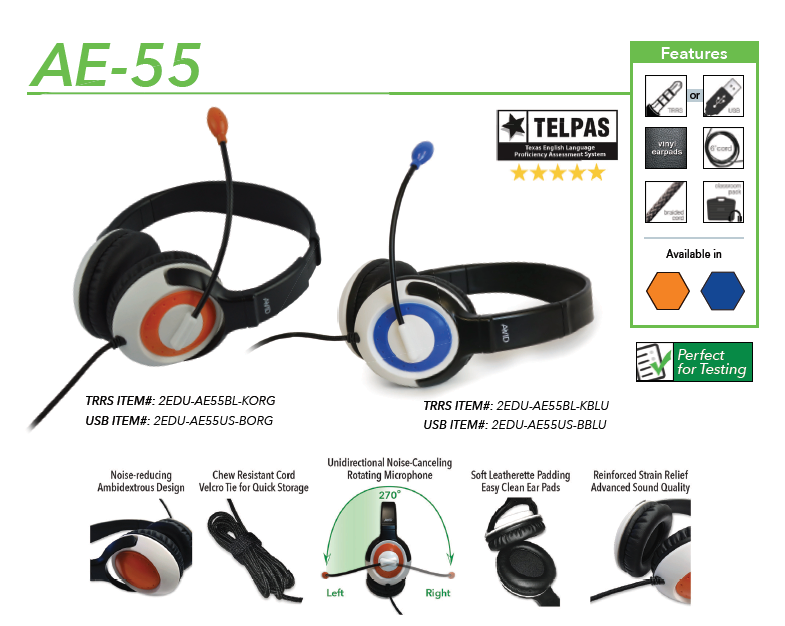 Meeting dynamic testing requirements just got a lot easier!
Available in 2 highlight colours (Orange and Blue) with a 3.5mm TRRS or USB 2.0 plug, the AE-55 offers such standard features as a 270º rotating noise-cancelling microphone, adjustable ambidextrous design, chew resistant cord, and much more! The AE-55 takes centre stage and raises the bar with testing versatility, comfort, quality and value.
Fishbone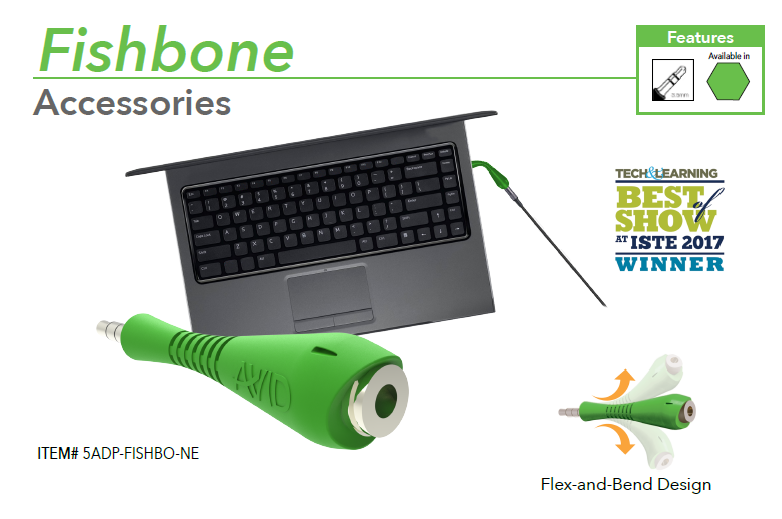 Flexibility of the Fishbone protects pin breakage inside the 3.5mm port on computers, laptops and tablets. This adaptor allows the pin to disengage smoothly when suddenly pulled from the jack at an angle.
Winner of the 2017 International Society for Technology in Education (ISTE) Best of Show, the Fishbone is a must-have in the classroom to protect your equipment.
AVID 30 Series
The stylish 30 Series is a proven design specifically developed with the rigours of the school environment and sound quality in mind. Already used by thousands of students, this lightweight headset is equipped with a noise-cancelling microphone, making it ideal for a variety of classroom settings and easy to use, store, and clean.
Equipped with the AVID signature nylon-braided cord that works as a chew deterrent, providing valuable protection for your equipment investment. The 6-foot cord length allows for a wide range of motion to help facilitate an interactive learning environment and wraps up easily into a Velcro tie. The adjustable padded headband and mid-size ear pads provide comfortable fit across diverse age groups and are extremely easy to maintain. The material can be quickly wiped clean with any gentle over-the-counter cleansing product.
Ideal for testing, language learning software, recording podcasts, presentation narration and other applications. AE-36 and AE-39 headset models come equipped with a noise-cancelling boom microphone.
AE-36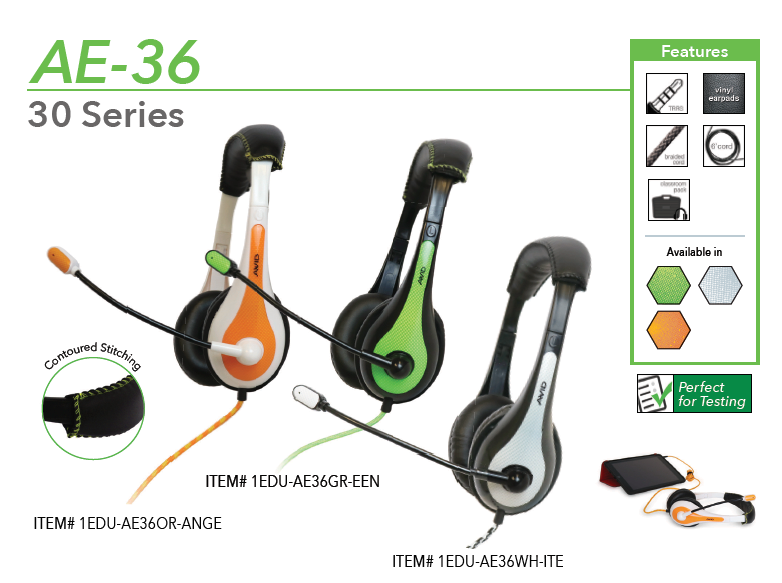 A great solution for testing by allowing students to record their answers in a clear and quiet manner. Available in three pattern colours, the AE-36 is a perfect choice for 3.5mm TRRS inputs.
AE-39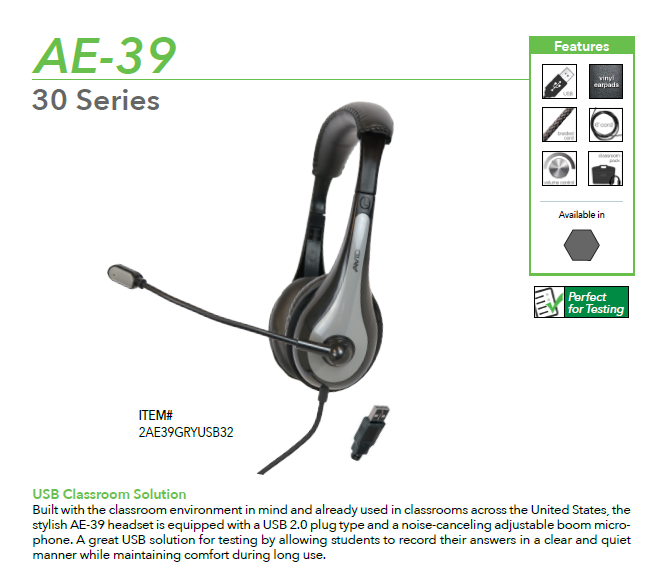 The AE-39 has the exact same features as the AE-36 model but is equipped with a USB 2.0 plug for plugging directly into a computer USB port.
AE-35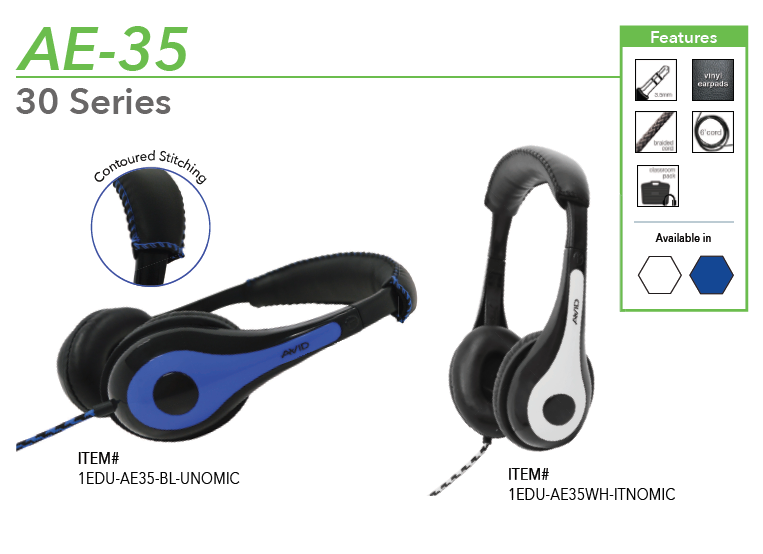 The AE-35 is an affordable 3.5mm TRRS headphone within the 30 series. Great for school, home, libraries and more.
Socia Media
Instragram, Facebook and Twitter: @avidproductsinc
#Edtech
#AVIDheadphones
#ESOP
#AVIDproducts
#AVIDeducation