Casio's new One Click Wireless Connection provides quick, easy and stress free connection in the modern ICT classroom. Once Click Wireless Connection technology, will launch first with the new 4000-lumen WUXGA Superior Series XJ-S400UN and XJ-S400U, Educational Solutions models.
The One Click Wireless Connection allows:
PCs to connect to the projector wirelessly in a single step
Moderator functionality, controlling up to 40 devices
Auto Projection OFF, which automatically turns off the projector display when no input signals are detected.
For more information and videos showing the great new experience visit: web.casio-intl.com/projector/educational_solutions.
Information technology is playing an ever-expanding role in education. This calls for easier and more efficient ways to bring IT into the classroom. For lessons that use projectors, it can be difficult to manage the complex array of cable connectors and adapters. Wireless connection is ideal, but the complicated setup involved until now has been a major hindrance to it becoming standard.
Casio, whose projectors are used in over 40,000 schools worldwide, has developed Educational Solutions features to solve this problem. With One Click Connection, the wireless connection is made easy for everyone in the classroom.
Teachers can start their lessons right away without the hassle of connecting cables or going through complicated wireless setup. Once students are connected, the Moderator Function allows teachers to control whose PC to project from their own smart phone or tablet.
Teachers can also remotely operate their PC and the projector from smart devices. This frees teachers from their PC desk and allows them to circulate among the students to facilitate learning.
Lessons can be conducted in a variety of classroom layouts thanks to the wireless connection. In addition, the Educational Solutions features reduce the work of school IT managers, who used to have to go from classroom to classroom checking for projectors that someone had forgotten to turn off.
Casio Educational Solutions features provide powerful support for teachers, enabling them to devote themselves to teaching without feeling any stress about operating equipment from the beginning to the end of the lesson.
Of course, since 2010 all Casio projectors have been equipped with a mercury-free Laser & LED Light Source. This eliminates the inconvenience of lamp replacement, and the light source has a long life of about 20,000 hours.
Educational Solutions (ES) Features
■ One Click Connection*
Wireless projection can be completed by simply clicking on the dedicated icon for each classroom. Less time is needed for chores like cable connection, input switching, and wireless setup. Creation of the icons and the wireless connection setup can be collectively managed on a browser by the IT manager.
* Requires installation of C-Connection for PCs.
■ Moderator Function
Teachers can collectively control projected content from up to 40 devices. Teachers are able to use their own smartphone or tablet to select and project the student's PC from anywhere in the classroom. Also, four PC screens can be projected at the same time, which is useful in comparing content and for discussions.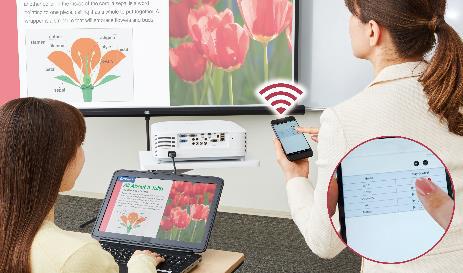 ■ PC Remote* and Projector Remote
The PC on the teacher's desk and the projector can be controlled remotely from the teacher's smartphone or tablet, so there is no need for the teacher to constantly return to their desk to operate the PC, nor to carry a projector controller. The teacher can circulate among the students to maximise learning.
* Requires installation of C-Connection for PCs and MirrorOp Receiver for smart devices. MirrorOp is a registered trademark of Barco Inc.
■ Auto Projection OFF
With Auto Projection OFF, the projector display automatically turns off when projection input signals are no longer detected. This happens, for example, when the projection app is closed or stopped, or the cable is pulled out in case of cable connection. Projection resumes immediately if the projector detects input signals again within twenty minutes. This eliminates the need to turn the projector power source on and off at the beginning and end of lessons. The projector power source will also turn off automatically twenty minutes after the projector display is turned off. This solves the problem for IT managers of someone forgetting to turn the power off.
■ Other Educational Solutions Features
Countdown Timer: Displays a timer prominently in the middle of the screen to show the time remaining in a test at a glance.
Templates: Nine templates frequently used in lessons such as grids and borders are built in. Original images can also be registered for models supporting wireless connection.
Mirror Mode: Rotates the projected image horizontally, which is convenient for guiding movement and form.
Auto Input Search: Turning on the power after connecting the cable initiates an automatic search for projection input signals.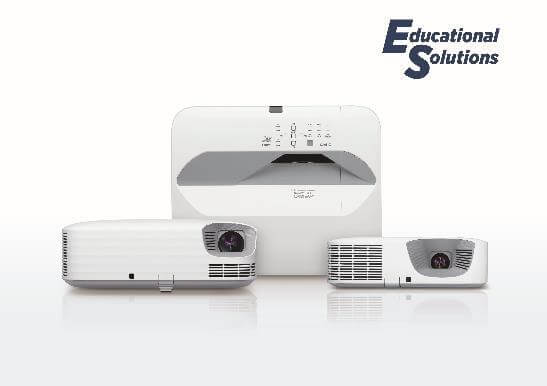 The New 4000-lumen Superior Series XJ-S400
4000-lumen brightness with new R-Hybrid Light Source
WUXGA resolution (XJ-S400UN and XJ-S400U) or WXGA resolution (XJ-S400WN and XJ-S400W)
1.7x optical zoom
Noise reduction, filter-free dust-resistant design, size reduction with Advanced Cooling Structure
No lamp and filter replacement, eliminating inconvenience and saving costs
Environmental impact reduced by going mercury-free