PDF worksheets and PowerPoint presentation
What is The Viewer?
The Viewer is a fantastic picture book by Gary Crew and Shaun Tan aimed at Upper Key Stage 2.
The story is short enough to read in 10 minutes, but has always, in my experience, gripped the children's attention and produced some brilliant pieces of writing.
Use the six-week unit plan and accompanying teaching pack to help your pupils emulate the story of The Viewer to write their own narrative, by imitating the grammatical techniques used and analysing how the story has been constructed, right down to sentence level.
This download contains:
Medium term plan
Free worksheets
PowerPoint
What children will learn
Sequence events in a narrative
Annotate grammatical features of a character description
Write a character description using multi-clause sentences
Pen a multi-clause sentence including metaphors/dashes
Write a setting description using multi-clause sentences
Draft the next section of the story using previously learned grammatical techniques
Start here
Introduce the book The Viewer by Gary Crew and Shaun Tan (make sure to choose the edition published in 2012 as it contains detail pertinent to these lessons).
Can the children predict what the story might be about from the title and the cover? Read the book and give pupils time to look carefully at the pictures – there's a lot to be discussed. Ask their predictions after each page.
Once finished, give the children a blank copy of the generic story structure (included in this download) and ask them to sequence the key events from The Viewer. Pupils can then use this grid throughout the unit to help them innovate and create their own stories.
Re-read and analyse the character description on page one. Ask children to annotate any hyphenated adjectives, adverbials of time or place and ambitious vocabulary (see slide 1 in the included PowerPoint). Children who finish early could annotate these words with their definition, using a dictionary for support.
Now draw attention to the use of dashes in this character description (slide 2). There are three examples where dashes are used in pairs as parentheses – what effect does it have when this extra information is added?
Try reading the sentences aloud without the added words in the middle. The class will use similar grammatical features in the next lesson when they write their own character description.
Sophie Bartlett is a Y5/6 teacher, and English and curriculum lead. Follow her on Twitter @_MissieBee and see more of her work at missiebee1.wordpress.com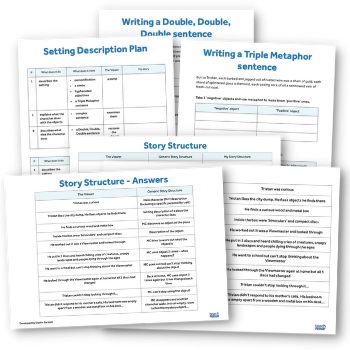 DOWNLOAD A FREE RESOURCE!
The Viewer – six weeks of free teaching resources