6 x PDF lesson worksheets; 1 x PowerPoint presentation; 1 x medium-term plan
Teaching about the climate crisis (otherwise known as climate change) is something most of us are keen to do, but often it isn't easy to find a way to make time for it in the already packed schedule.
Luckily, many subjects lend themselves to seamlessly incorporating modern-day climate discussions – including RE!
In this unit, we'll explore the concept of stewardship in Islam, how the holy Hajj pilgrimage is being affected by climate concerns, and how Muslim communities have worked to better the world we live in through ecological measures – including one very impressive eco-friendly mosque.
Use these free worksheets and PowerPoint presentation alongside the medium-term plan to help teach your pupils about the ties between the Islamic religion and climate crisis concerns.
Adam Smith is Year 5 Lead and RE lead at Charles Dickens Primary School in Southwark, London. He has worked in recent years on an RE scheme-of-work for Years 1-6 and is currently writing a book based on this experience.
Browse more resources for Earth Day and World Environment Day.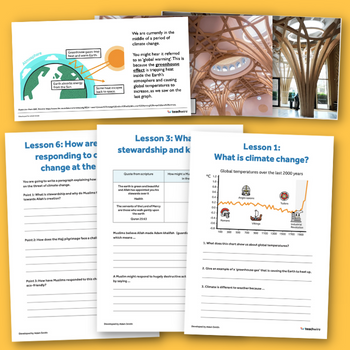 DOWNLOAD A FREE RESOURCE!
KS2 climate change – RE medium-term plan