14 PDFs featuring facts, challenges and classroom activities
Make history fun, enjoyable and more engaging with these Corpse Talk educational resources for KS2 that accompany each episode in the Corpse Talk series and the featured historical figures.


With questions and tasks to complete, individually and/or as a class, the curriculums covered include:
History
Literacy
Maths
Drama
Art
Science
DT
Music
PSHE
Geography
PE and dance
Each resource sheet contains a link to watch the specific episode on YouTube and the resources have been produced in association with education and history consultants.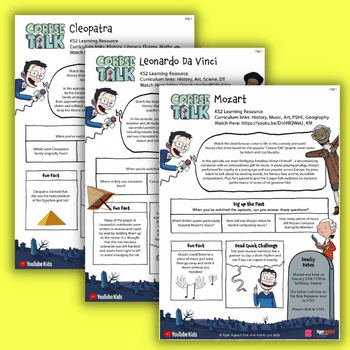 DOWNLOAD A FREE RESOURCE!
Corpse Talk KS2 history resources