Three-page PDF featuring cross-curricular activity ideas for KS2
Letters from the Lighthouse is a mystery; a spy story; an evacuee story; a refugee story. Above all, it's Olive's story. This download contains a three-page PDF packed with a range of cross-curricular activities…
What is Letters from the Lighthouse about?
The second world war turns schoolgirl Olive's life in London inside out. Her father is shot down over France, her glamorous older sister, Sukie, goes missing during an air raid, and Olive is evacuated with her younger brother, Cliff, to Devon.
Along the way she meets a variety of both friendly and unpleasant characters and not all of them are what they seem. Strong, loving and resourceful, Olive is driven to extraordinary acts of courage by her sense of responsibility to her family, like the way she fiercely protects her little brother.
The book revolves around Olive's persistent efforts to solve the mystery of why her sister has disappeared and piece together the clues to find her.
Why is it a good book to study in KS2?
The crisp prose and pacey plot make this novel a joy to read. The setting of Budmouth, a coastal Devon village dominated by a lighthouse, lends atmosphere and plenty of scope for exciting adventures.
Historical accuracy and fine details mean Letters from the Lighthouse slips effortlessly into second world war topics while at the same time providing space for children to think and talk together about deep themes such as:
hope
loss
separation
prejudice
truth
forgiveness
bereavement
love
kindness
Johanna Howard is LKS2 Y3/4 lead at Weeke Primary in Winchester. Jonathan Rooke is a senior lecturer in education at the University of Winchester. Browse more of the best WW2 books to use in the classroom.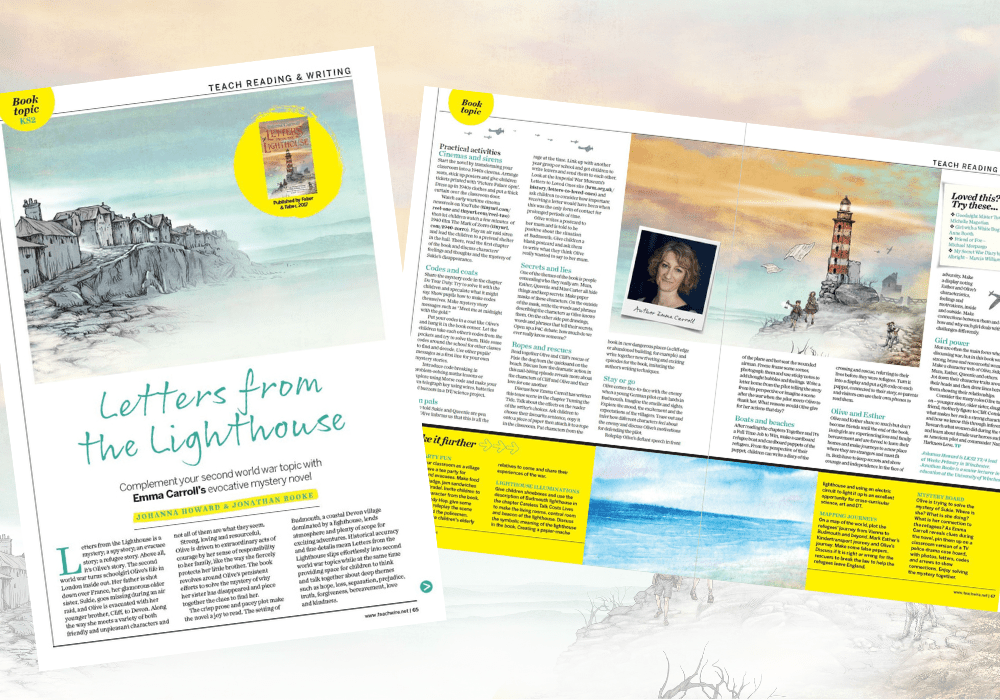 DOWNLOAD A FREE RESOURCE!
Letters from the Lighthouse – KS2 World War 2 planning