This week saw a host of professionals with an interest in special educational needs provision convene for a strategy summit organised by Whole School SEND.
A not-for-profit consortium attached to the London Leadership Strategy, WSS is otherwise very much a national organisation. As such, the event attracted attendees from around the country, including SENCos, senior leaders, LA representatives and many more – for a day of learning about best practice, swapping ideas, gaining new perspectives and making new acquaintances. Teachwire was in attendance too – and here the 9 key pointers we took away with us…
1. Disability remains an oddly taboo topic
The central portion of the opening address by WSS Chair Anita Kerwin-Nye concerned three key points that, we were assured, she 'Wasn't allowed to say.' The first was that Kerwin-Nye herself had experience of anxiety and depression, and had been advised not to mention this publicly since 'People in the sector would not employ me'. She followed that with the pointed observation, "It troubles me that we have a culture where disability can't be discussed. We must hold to value is that difference is fine."
2. Collaboration trumps competition
And the others? Point number two was that the sector was consciously excluding children from the system, amid a culture where A* GCSE results are (rightly) celebrated, but notable achievements in progress go comparatively unremarked. Kerwin-Nye's final 'unmentionable' was her point that schools currently exist in a market economy in which they're encouraged to compete against each other for funding, when what they're meant to do is work together.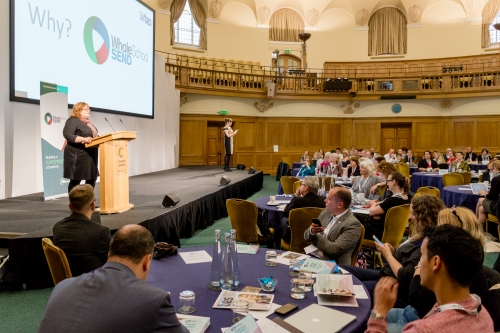 Anita Kerwin-Nye delivers her opening address
3. Leaders need to do more with respect to SEND
Up next was Sarah Driver, founder and chair of trustees at the Driver Youth Trust, whose message to the summit was that SEND system's current challenges (including low aspirations for SEND students, insufficient staff training and fragmented provision) had to be tackled via sustainable changes to structures, processes and attitudes, particularly in MATs.
Driver stressed the need for leaders "To see merit in addressing the needs of those with SEND." Forms that could take, she suggested, might include making MAT trustees responsible for SEND (who otherwise aren't mentioned in the SEND Code of Practice), making SENCos part of SLT and regular audits of MATs' SEN provision.
4. We need to talk about school exclusions
Then came the turn of freelance education journalist and writer Warwick Mansell. After acknowledging that good work was being done people in schools trying to do their best, he proceeded to run through a number of 'reasons not to be cheerful.'
Chief among these were what he described as an accountability system that effectively incentivises schools to act in institutional self-interest. Mansell highlighted how an emphasis on GCSE indicators, pressure from Progress 8 measures and a lack of regulation concerning school admissions appeared to be resulting in illegal exclusions at several hundred schools across England, citing a TES report he co-authored with headteacher Jarlath O'Brien. Moreover, he added, these pupils tended to be well represented among SEND groups and vulnerable families with fewer resources to fight such decisions, in turn making them less likely to be reported on.
5. 'Tough' behaviour policies aren't helping
Expanding on the lack of regulation across the education system, Mansell took aim at the school rules in place at Great Yarmouth Charter Academy, recently the subject of much controversy. Citing the school's punishment of students for 'not smiling' and failing to 'track teachers with their eyes at all times', Mansell made the point that such rules raises serious concerns regarding pupils with autism: "The worry is that schools think they can maintain a tough hardline, telling parents that 'SEN is not our specialism'. In a fragmented, competitive system, this is a recipe for disaster."
6. For leaders, going it alone isn't an option
The final speaker of the morning was the National Schools Commissioner, Sir David Carter, who asserted that, "Leadership in a collaborative context will be crucial in next five years. Schools will not be islands, and must build expectations among staff that they'll be working with other schools."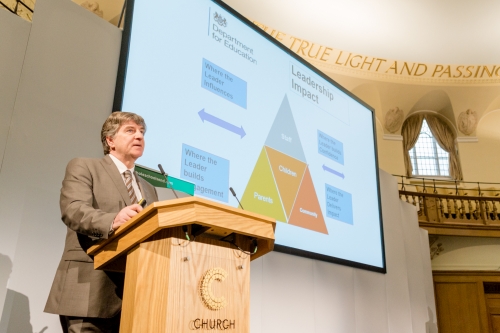 Sir David Carter
Moving on to the topic of school improvement, Sir Carter conceded that the process could often be messy, and tricky to gauge. He told the audience of his efforts to try and explain to the DfE that real, transformative change take three to five years, going on to note that the point where monitoring and delivery intersect is where measurable school improvement takes place.
7. Destinations matter
In an address that contained no mentions of the word 'SEND' – which didn't go unnoticed by some of those present – Sir Carter did briefly alight upon the needs of disabled children when highlighting the need for action in cases where MATs were failing to put children first. "We've talked about social mobility for decades," he said, "but we need to think about destinations – that's the important indicator of how much good schools are doing by disabled children."
8. We can take some useful lessons from French Romantic painters
After six 20-minute workshop sessions either side of lunch, WSS Director Simon Knight gave some closing remarks. Directing the audience's attention to the painting The Raft of the Medusa by Théodore Géricault, he explained that he drew from it a lesson of moral leadership – that when leadership goes wrong, it's the vulnerable that suffer most.
To prevent that from happening, we need to be collaborative, he concluded. Schools should work in partnership to form a community of schools serving a community of families. Only through collaboration, came the message, can we meet the needs of those children who pose the biggest challenge in the classroom.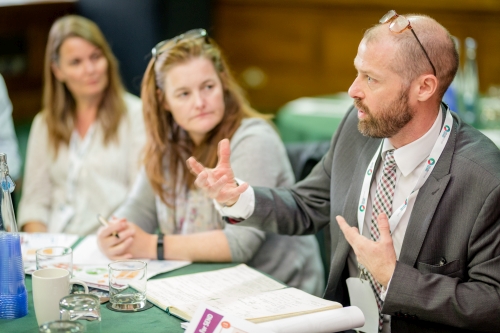 9. Leaders need to know about the four broad areas of SEN
The final speaker of the day was Malcolm Reeve, the National Director of Education for Special Needs and Disabilities, at the Academies Enterprise Trust. After a brief summation of the main themes to have emerged at the event, he finished with some observations regarding a particular pie chart which, as he described it, could serve as a valuable leadership tool for properly understanding SEN.
Said chart illustrated the four broad areas of SEN, as outlined within the SEND code of practice, and the proportion of pupils falling into each one. Those present would know what they were, Reeve noted – for the record, communication and interaction; cognition and learning; social, emotional and mental health difficulties; sensory and/or physical needs – but what percentage of the country's 21,000 headteachers would know? Inviting answers from the room, the suggestions ranged from 3% to 5%.
We might not know the exact proportion, Reeve concluded, but if that's the estimate from a group of experienced SEN specialists – it doesn't exactly inspire confidence.
For more information about Whole School SEND, visit wholeschoolsend.com or follow @wholeschoolsend
Get FREE weekly updates, lesson plans and resources sent to your inbox!