Want to help your pupils develop skills from empathy to verbal reasoning, but don't know where to start? Or perhaps you're a drama teacher looking for new drama games for kids to play?
Try these quick drama activity ideas from Sam Marsden to spark children's imaginations.
From movement to maths
Drama games are an excellent opportunity for kids to improve in many different areas. It's not just about working on their drama skills.
These games will improve the following skills:
speaking
listening
confidence
reading
creativity
diction
empathy
focus
teamwork
literacy
verbal reasoning
creative thinking
storytelling
Games are a versatile tool that can be used in many different contexts. They are a staple in drama classes, of course, but can also be helpful in English and even PE, since they involve physical movement.
Some teachers have even adapted them to work for other subjects, including maths, history, geography, and science.
Drama games can also be used as an ice breaker, to inject energy into a lesson, at parties, or as part of a drama workshop.
Creating a safe space for drama games
Before facilitating a drama game, it's important to set up a safe space where students feel comfortable to share without fear of judgment, or of being forced into doing anything they don't want to.
Here are five simple ways to create a safe space in your drama lesson so that students are more likely to engage in the drama games in a meaningful way:
Lay down the ground rules – kindness and good listening are particularly important for drama.
Never force a drama student to perform in front of the class, or put them on the spot. Always give them the option to say pass and explain this before you start. I find when given this option, after a short amount of time everyone will volunteer to perform.
Have a clear signal for silence as an imaginative drama activity can get noisy!
Explain there is no wrong when it comes to improvisation, except for harming someone – physically or emotionally.
Try and give praise to a pupil if they get up in front of the class and improvise, or at least give them a verbal cue that they did well. This in turn will mean they might push further next time, and it will encourage others to get up and perform.
Classic drama games
There are a wide range of brilliant ideas to choose from in this resource pack, from traditional games to ones you've never played before. They include:
The Name Game
Tableaus
Counting to 100
The objective/obstacle exercise
The letter
Pass the object
Making an advert
Broken-down lift
Each simple game idea comes with full instructions.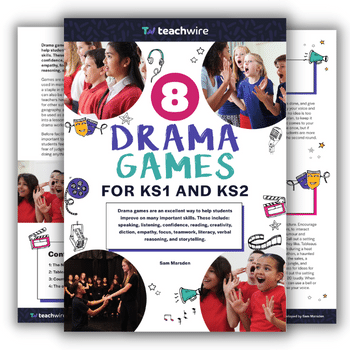 DOWNLOAD A FREE RESOURCE!
Drama games for kids – 8 fun ideas for KS1 and KS2