Read A Story Every Day In School To Make A Difference To You And Your Children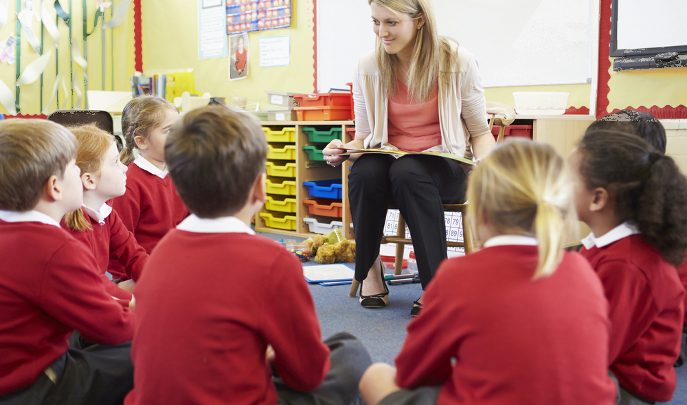 When it comes to creating lifelong lovers of literature, lead by example and read
Diana Gerald, CEO of Book Trust, says: "Quite simply, children who read for pleasure are happier, healthier and do better in life than those who don't…". But if you're not a keen reader you can easily pass your primary years without reading a book for pleasure at all. Are we doing all we can to give children this magical gift?
If a child struggles to read, and doesn't read at home at all, how do they hear a story? How would that child feel when tasked with writing, failing to come come up with any ideas because he's never had a story read to him? How sad would that be?
It is our job to create lifelong readers. But as we know, a story at bedtime is sadly on the demise. It seems that children who are not exposed to story regularly is on the increase. It could be, tragically,that children could go from R to Year 6 without hearing fantastic stories and without schools fulfilling the statutory requirement of the new national curriculum which states that "Through reading in particular, pupils have a chance to develop culturally, emotionally, intellectually, socially and spiritually."
When I speak to parents and other teachers about reading we often discuss why we ourselves read. Inevitably, someone will say to escape, to relax, to explore different worlds, times and experiences in comfort. Personally, I don't go anywhere without a book. Reading is a big, big part of my life, and I wish that for all the children I've taught, teach now and will go on to teach.
What better gift? It's free – you can get 12 books from the library, read them, then go back and get 12 more as quickly as you like. What a wonderful thing. So why aren't we doing this for our children? Why would we deny them all the things we feel about reading?
The answer is, we don't have to.
Choose a book, read it every day. No need for a lesson plan, just read to your children.
It's one of the best things about teaching, and you might be the only person in that child's life lighting that imaginative spark.
You are also providing some down-time to children in this busy world too, even though they are also thinking hard about that story.
Children are quite used to very quick fixes these days. Even our Dr Who episodes are one-offs now, whereas when I was little I had to wait until the next week to see what was going to happen. I had to hold on to that information, remember what came before. I had to work a bit. We need our children to do that too.
We're supposed to be offering a chance to use their brains to hold on to story. And reading a novel, where they have to wait for the next part, is all part of extending their thinking. The 'hush' when you get to a good bit, the shared laughter when you get to a funny bit, the groans when you stop because it's home time, and the joy when you're actually asked to read on at 3.15pm — this all tells you reading is worth it. Please give it a go.
Only last week we got to the bit in Danny the Champion of the World when Danny and his Dad hatch a plan to put crushed up sleeping tablets in raisins – all listened avidly and you could almost feel the shared intrigue as they realised what this meant for the pheasants – and the story – and they really wanted to read on. So they were left with that wonderful suspense and yearning for the next bit, but alas it was home time, so they had to wait.
Sarah Gallagher runs Storyshack, helping to ignite children's passion for books and book making.