Michael Foreman – 'No subject is as important as showing the stupidity of war'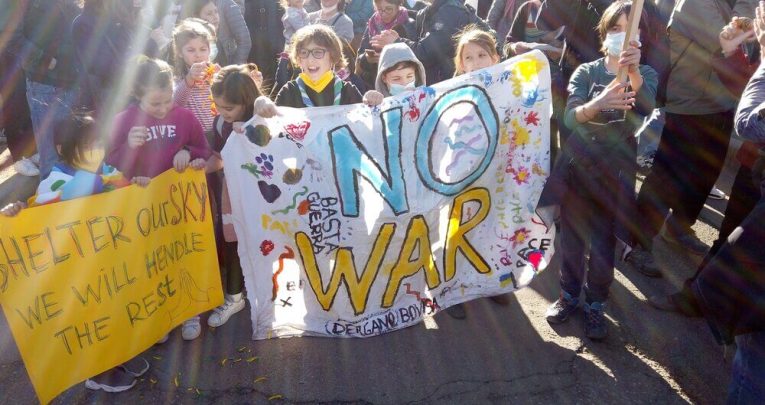 Prolific illustrator Michael Foreman on friendship in the face of destruction, and how WWII stories can help us talk about the crisis in Ukraine
TR&W: You've written (and drawn) about your experience of WWII in childhood before, as well as stories set in WWI. What made you want to revisit the subject in Please Write Soon?
MF: My very first book (written by my first wife, Janet Charters,) The General, was published in 1961, when we were both still students.
It is an anti-war book, and the world then, as now, was on the brink of war. For me, no other subject was as important and relevant as showing the stupidity and evil of war.
My experience of growing up and being bombed in World War II has coloured my life, too. My mother's village shop in Suffolk was a haven for soldiers and sailors stationed in the area.
They would come daily for cups of tea and cigarettes and for card games on Sundays. Later in the war, they were joined by German prisoners who worked on local farms. They all told stories of home and loved ones. My book War Boy portrays these times.
When I received Michael Rosen's story, Please Write Soon, I was reminded of those days and the stories told of faraway loved ones. I knew immediately that this was a book I wanted to illustrate.
How can we talk about war with primary-aged pupils?
I don't pretend to be a psychologist, and I know that children today are deeply anxious about what is happening in Ukraine, given that the unfolding events are on our screens continually, and they must be aware of their parents' concerns for the people there.
Parents and teachers are in a far better position than I, with their experience of the individual children, to handle such crucial issues. However, I think that perhaps the subject should be treated in a way that leaves each child with a feeling of hope, reassurance and the strong idea that, together, we can all do something about it; together we can make the world a better place.
How can art help us (and especially young people) navigate such complicated subjects as war?
I have written and illustrated books on a wide range of subjects including pollution, climate change, poverty, and war, and I find that the artwork I use can make all these big, complex, subjects more accessible to children.
For example, I often use animals and mythological creatures as symbols for the powers and nations involved and always try to make the ending positive.
Please Write Soon is based on Michael Rosen's real-life family history. How does engaging in these personal stories help us understand the past?
Every family has a story. Every family has a history. Children should be encouraged to explore their own history, and talk to their parents and grandparents about their memories.
Pupils could imagine what it would be like if what happened to Michael Rosen's family was happening to their own family. In this way, Please Write Soon becomes even more real and moving.
What do you hope children and teachers will gain from this book?
Please Write Soon may appear to be about events of the past, but today the world is facing similar dangers. I hope, after experiencing this book, children will value even more the importance of human connections; family, school friends, and children all around the world. All friends together.
Please Write Soon, by Michael Rosen, illustrated by Michael Foreman, is published by Scholastic. Download free literacy resources for Y3 based on Michael Foreman's stories, here.