Valentine's Day EYFS ideas – Easy activities to try in Early Years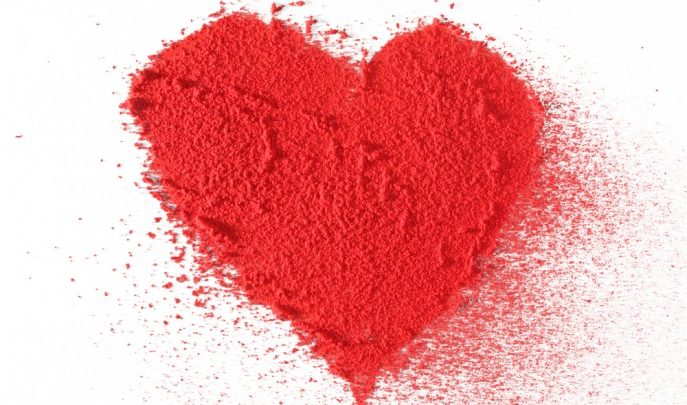 Whether you want something quick and easy, educational or downright messy, check out these Valentine's ideas for kids…

by Teachwire
If you're looking for some quick and fun Valentine's Day EYFS ideas, we've got a whole bunch here for you to browse. There's lots of messy play ideas that should go down particularly well…
Valentine's Day EYFS ideas
Water beads sensory board
This Valentine's Day activity for kids uses a cardboard cut-out and water beads. The preparation is quick and the results are effective.
---
Valentine's bubble foam
This fun Valentine's Day bubble foam sensory activity is also simple to set up and a great way for children to explore colours and smells.
---
Valentine's sensory bottles
Another fun option is these Valentine's sensory bottles. Add pom-poms, glitter, coloured rice, heart sweets, food colouring, sequins and more to glass bottles – adding water if you like – to create beautiful shakers and swirly creations.
---
Messy play in the Early Years isn't something to shy away from. It's a chance for children to explore through mixing, squeezing, pouring and squishing sensory materials.
This open-ended play allows children to discover and investigate at their own pace while developing creative and cognitive skills.
So, with Valentine's Day just around the corner, mum and childminder Clare Maher has put together her 10 favourite messy play Valentine's Day EYFS ideas for kids from around the web…
Messy heart painting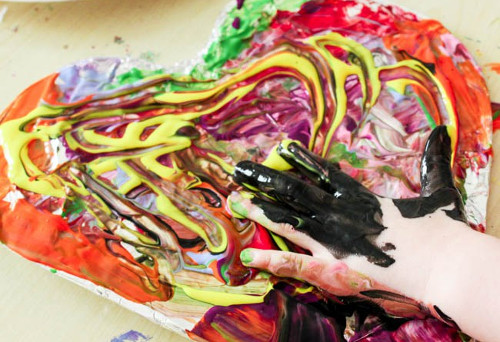 This messy heart painting activity from Arty Crafty Kids is definitely one you are going to want to get the painting aprons out for. Painting on foil gives a fun alternative to paper and you get a beautiful Valentine's craft at the end of it.
---
Candy heart water play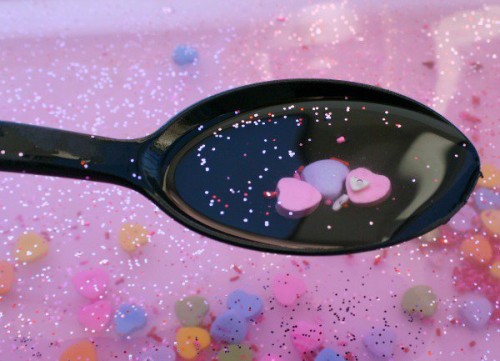 Add a science element to your messy play with this candy heart water play idea from Fantastic Fun and Learning. Do the hearts sink or float? How long until they take to fizz away?
---
Valentine soap foam letter search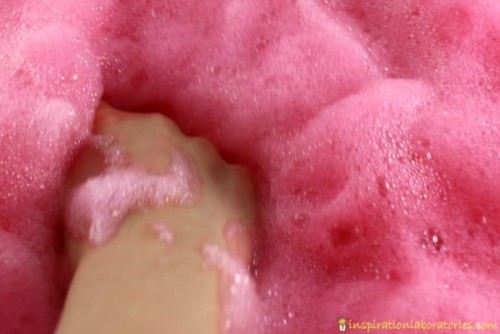 This soap foam letter search from Inspiration Laboratories involves hiding letters under lots of soapy foam before letting little hands search for them. It helps reinforce letter recognition or sounds as well as simple sight words.
---
Valentine's messy ice hearts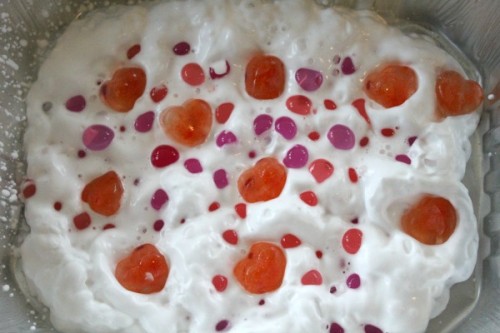 Mixing cold hard ice with super soft shaving cream is a fantastic sensory experience – and guaranteed to get messy. Check out this Valentine's messy ice hearts activity from Crafty Kids at Home to see how they got on.
---
Valentine's Day sensory tub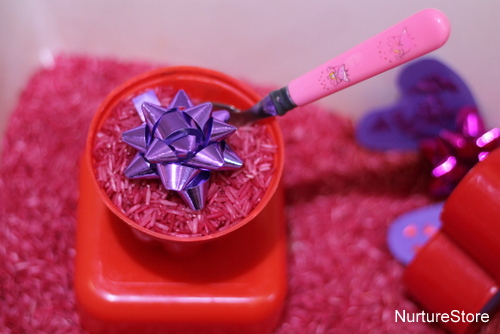 If you've ever put rice in a tray and given it to a child you'll know within seconds the majority of the contents will be outside of the tub – but it's still a wonderful messy and sensory play activity.
This beautiful Valentine sensory tub from Nurture Store is full of different textures to explore.
---
Valentine's Day soup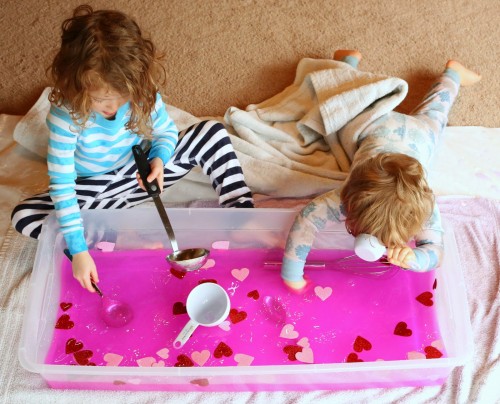 Great for creative play as well as messy play, this Valentine's Day soup from Fun at Home with Kids is bound to be a hit. Little ones also get a great fine motor work out trying to pick up those little hearts.
---
Shaving cream messy play
Whip up some Valentine's Day shaving cream for children to explore.
You will need: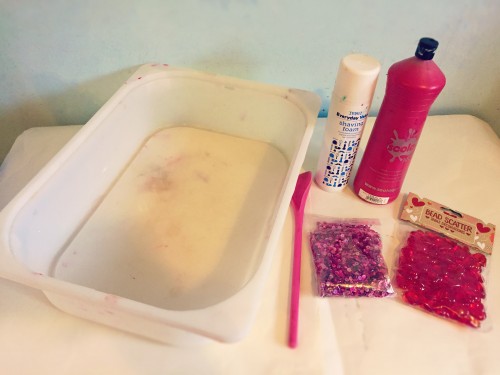 Shaving foam
Red liquid food colouring
Heart shaped gems and/or sprinkles (optional)
Shallow tray (or tuff spot)
Spoon
I used a sensitive shaving foam and made sure none of children had any known allergies to it beforehand.
This messy play was so quick to set up and I was able to involve the children in it by letting them take it on turns to shake the can of foam and spray it into the tray.
They were fascinated watching it fill up the tray and expand as it came out of the can.
Once satisfied we had enough foam I added a few drops of red food colouring, let them drop in the heart gems and sprinkles and gave them spoons to mix it up.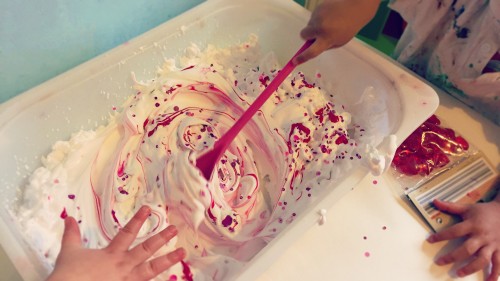 The foam very quickly turned a lovely pink colour and it didn't take long before they abandoned the spoons and got stuck in with their hands.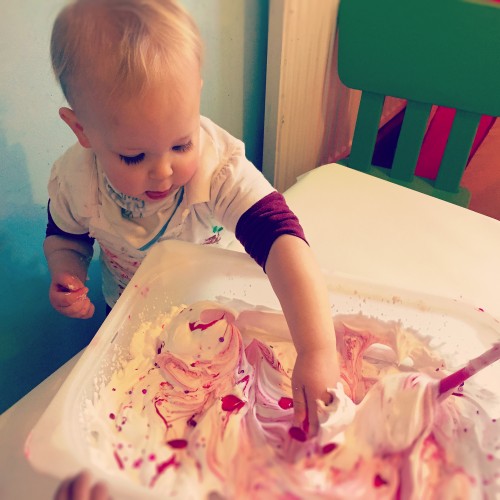 It took a while before they were even interested in seeking out the hidden heart shapes that buried under the foam.
They were quite content with just using their hands to explore the tray and found it hysterical when then tried to shake the foam off their hands only for it to end up on the wall/floor/hair.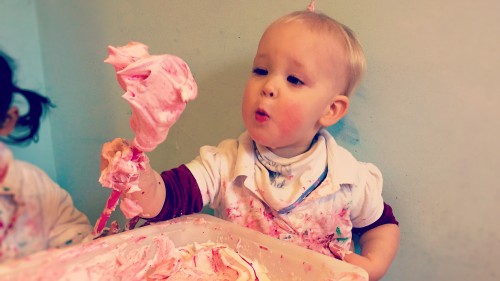 We played a game of hiding and finding the gems as well as counting them out onto the table.
All three were engaged in this messy play for 25 minutes with one staying at the table for another 10 minutes afterwards.
---
Valentine's Day gloop (oobleck)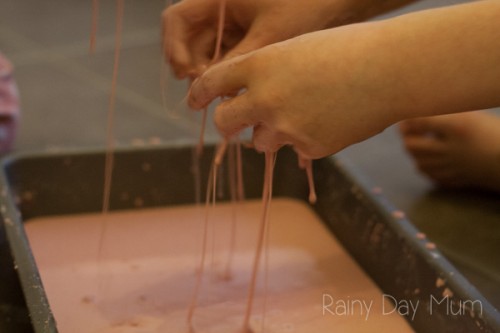 If you haven't played with Gloop (or oobleck) then go and make some now! Cornstarch and water is guaranteed to completely fascinate children (and adults).
Rainy Day Mum used her Valentine's Oobleck recipe as a fun spelling practice as well as a chance to get messy.
---
Edible Valentine's Day slime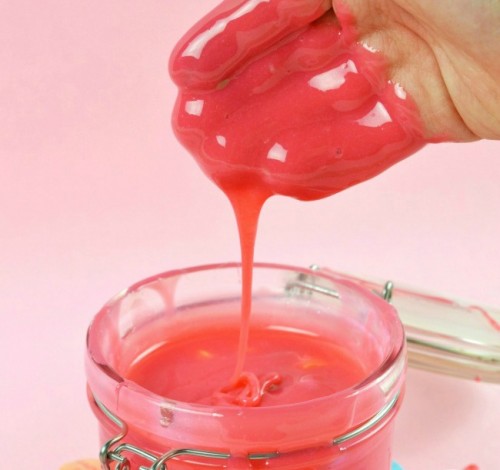 If you work with children who like to still explore through taste then this edible Valentine's slime from Kids Activities Blog is a perfect way to ensure even younger children can join in with some super messy play.
---
Valentine's Day play dough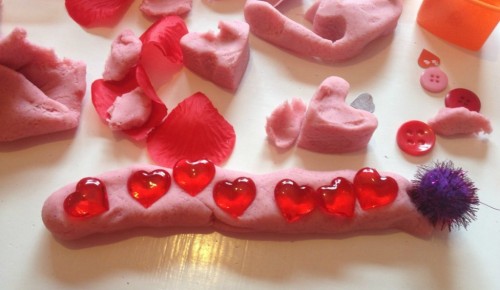 Playing with play dough provides so many benefits and it's so easy to make your own. Our final Valentine's Day EYFS idea is this pink sparkly strawberry scented play dough. It provides lots of imaginative, as well as messy, play opportunities.