European Day Of Languages – Best 2023 school resources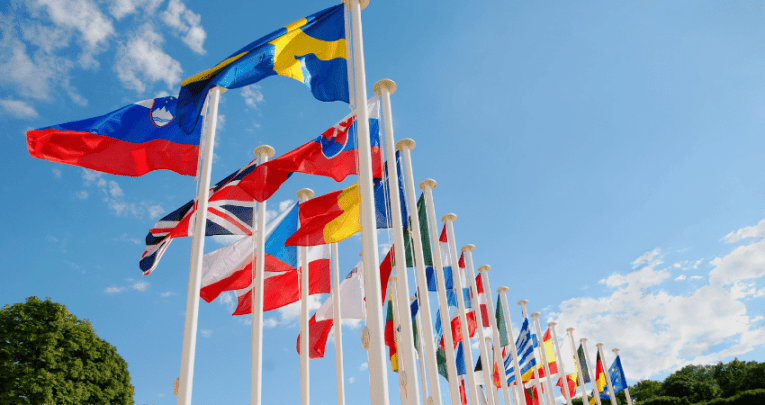 Celebrate linguistic diversity and promote language learning with these European Day of Languages ideas…

by Teachwire
BBC analysis in 2019 showed that foreign language learning was at its lowest level in UK secondary schools since 2000.
And as Amanda Barton notes, the fallout from Brexit has been harsh on MFL, with a 2020 British Council Language Trends survey saying that Brexit has 'cast a pall over languages'.
All of this means it's more important than ever for us to use European Day of Languages celebrations to reinvigorate our students' attitudes to MFL and remind them exactly why learning another language is so amazing…
What is European Day of Languages?
European Day of Languages grew out of the success of The European Year of Languages in 2001. That event was jointly organised by the Council of Europe and the European Union. It involved millions of people across 45 participating countries.
It celebrated linguistic diversity in Europe and promoted language learning. Since then, EDL has been celebrated every year.
It aims to showcase the importance of language learning and diversify the range of languages learnt. This is in order to increase plurilingualism and intercultural understanding. It also aims to encourage lifelong language learning in and out of school.
When is the European Day of Languages?
It takes place on 26th September each year. Why not kick things off with this fun multi-language version of the ever popular Let It Go?
---
How to celebrate European Day of Languages
European Day of Languages classroom activities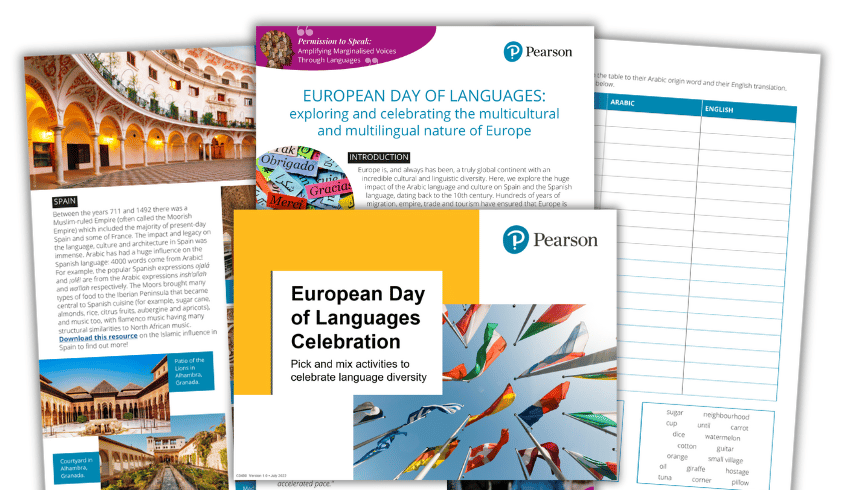 As part of its work to diversify the MFL curriculum, Pearson has partnered with leading language educators and leaders. This free teaching resource explores and celebrates the multicultural and multilingual nature of Europe. There's worksheets and a pick and mix activities PowerPoint.
---
Poster competition
The official EDL website is inviting students to create a poster showcasing all the languages present in your school. Send in a photo or PDF of your poster design by 15th October 2023 to be in with a chance of winning.
---
Make a short video
Every language contains intriguing expressions that reflect its unique charm and elegance. Can students provide the backstory or an anecdote about an expression that they love? Simply film a short, heartfelt video, like the one above. Then share it with the EDL website by 15th October 2023 for your chance to win a prize.
---
Let's talk about languages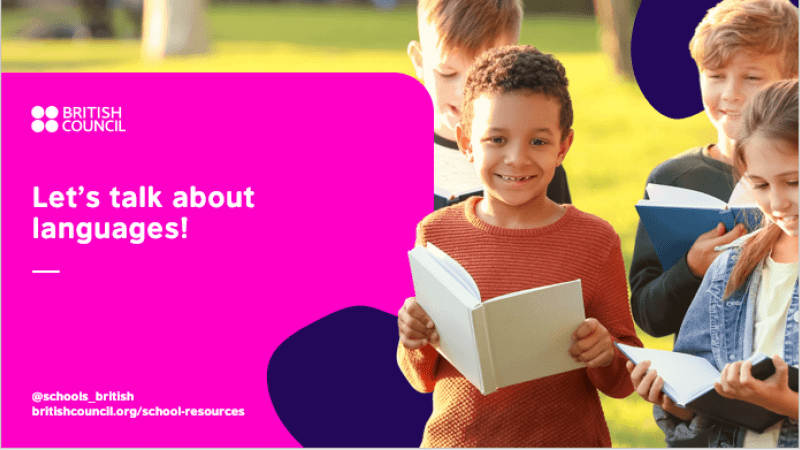 This Let's talk about languages resource has been designed for primary students by the British Council as a fun way to introduce words in different languages. There's activities to try and songs for practising.
---
The Great Languages Challenge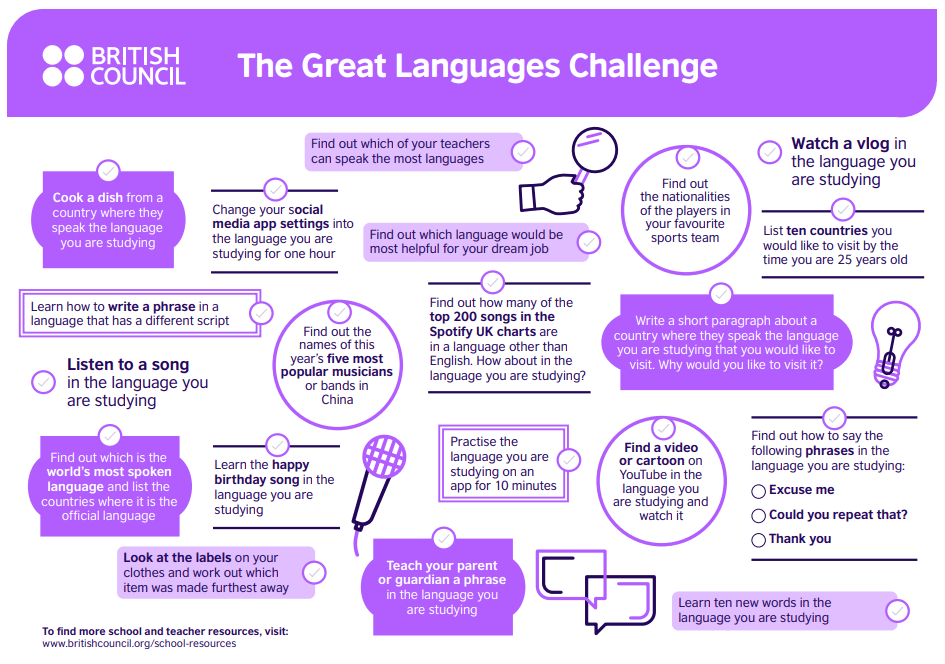 This free PDF from the British Council contains activities that you can do in the classroom or set as homwork activities. Once you've completed two or more classroom-based activities you can apply for a Foundation Level International School Award.
---
Where will languages take me?
Inspire your secondary pupils to continue studying languages, or to choose languages as an option, with these eight short videos and accompanying pupil booklet from the British Council.
Each video features a person talking about their own language learning journey and where it took them.
---
Language detective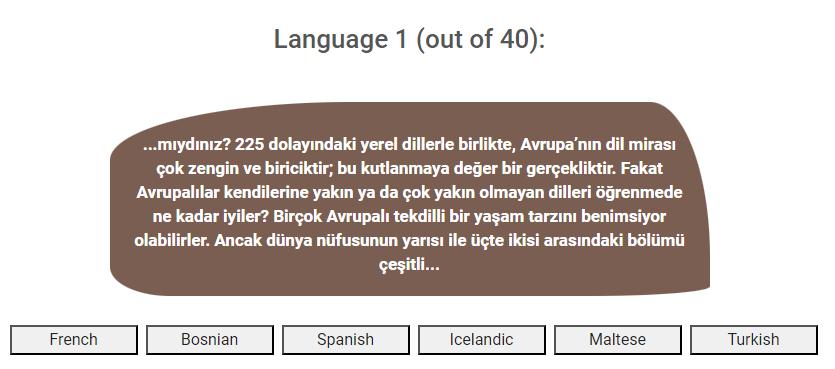 Can your students recognise all the languages being displayed in this game? There are 40 different snippets to identify…
---
Idioms of the World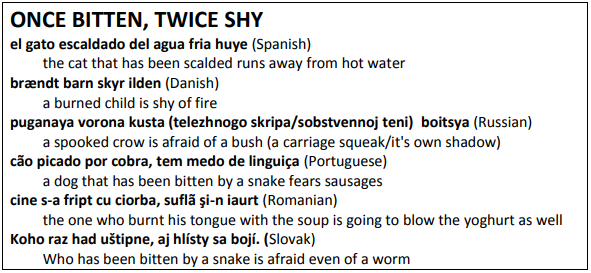 This is a fun little exercise to help pupils understand that languages are not simply a case of word-for-word translations. If you thought phrases like 'don't count your chickens before they've hatched' were daft enough, try the Italian 'non dire gatto se non ce l'hai nel sacco' or 'Never say cat if you have not got it in your sack'. Check out the full list.