Quel temps fait-il? Learn meteorological vocabulary and use French prepositions and conjunctions in this KS2 French lesson.
Talking about the weather may seem like a very simple part of everyday life in the UK, but in MFL lessons this familiar subject matter provides children with a great opportunity to work on their spontaneous speaking skills.
As the lesson progresses, children will move from simple phrases to full-sentence constructions, extending them with conjunctions and describing location using prepositions. Above all, this lesson gives children a real purpose for speaking: the creation of a spoken TV weather report.
It could easily be adapted to suit languages other than French.
What they'll learn
Use a variety of weather phrases in French and respond to the question quel temps fait-il?
Use prepositions to talk about the weather in different parts of France
Extend sentences with conjunctions
Speak more confidently in French through the creation of a weather report role play
This download contains
Full PDF lesson plan
Weather flashcards
'Trapdoor' game worksheet
---
Ellie Chettle Cully is a qualified primary teacher and primary languages specialist. Follow her on Twitter at @eccmfl. Visit her website at myprimarylanguagesclassroom.com.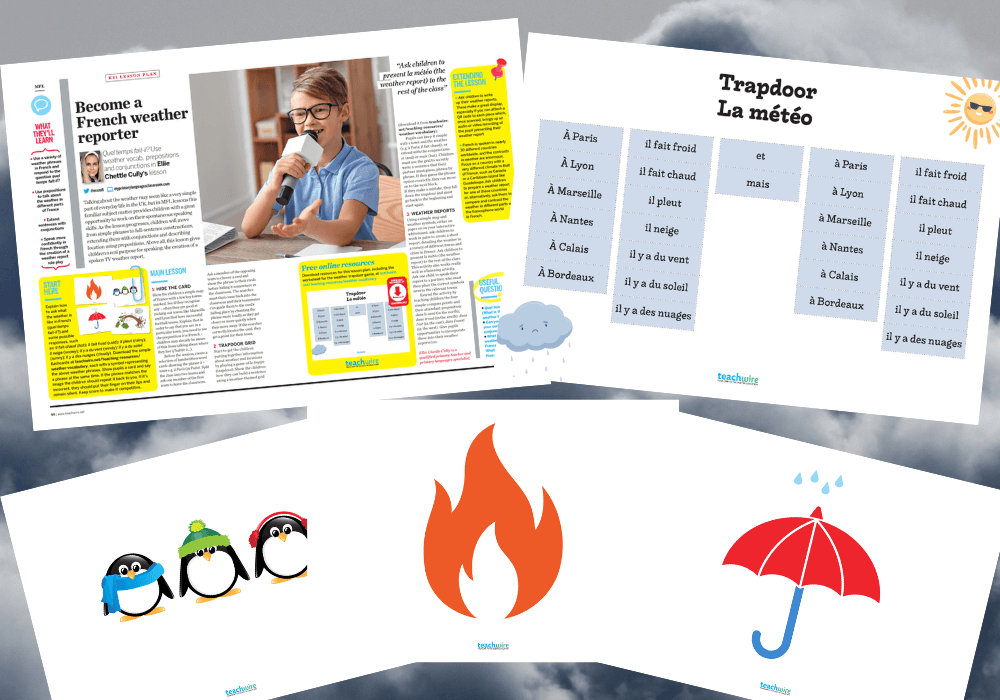 DOWNLOAD A FREE RESOURCE!
French weather KS2 lesson plan – Learn weather vocabulary