Teaching children how to say they're ill, and what's wrong with them, is a good way of introducing or reinforcing the vocabulary for body parts in French.
The topic offers some great opportunities to use lively activities in your classroom, so you can indulge your own acting skills and encourage the class to ham up their illnesses. Feeling poorly – in another language– was never so much fun!
The examples below are given in French, but of course, the activities can be used with any language.
What they'll learn
New and difficult vocabulary for parts of the body
How to describe their own and other people's symptoms
How to listen to each other for understanding
Body parts in French starter activity
As a warm-up, tell the children in French that you're not feeling well, and then ask them to translate. Point out various body parts and use exaggerated gestures to help them understand. You could wrap a bandage around your arm or put a sticking plaster on your hand and say something like: "Je suis malade. J'ai mal au nez, j'ai mal à la tête, j'ai mal aux pieds." Alternatively, use a soft toy or puppet to demonstrate the vocabulary. Ask the children to tell you in English what today's lesson objective is: how to say they're sick.
---
Dr. Amanda Barton is a freelance writer and educational consultant who has taught MFL in primary and secondary schools. She is co-author of Teaching Primary French and Teaching Primary Spanish (Bloomsbury).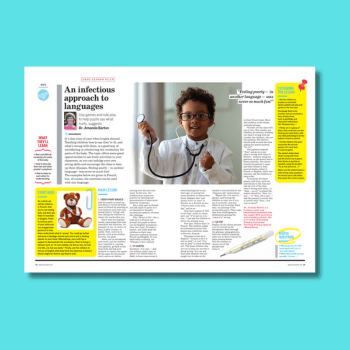 DOWNLOAD A FREE RESOURCE!
Body parts in French – Feeling ill KS2 MFL lesson plan