Bob Weighton, the world's oldest man, had his 112th birthday recently, but had his celebrations scuppered thanks to the coronavirus lockdown. However, he did get to eat some Genoa cake, and staff at the care home where he lives arranged for Happy Birthday to be sung to him on his balcony.
Weighton does say that he's used to things not going to plan. He grew up during the First World War, and years later was stopped from travelling back to the UK from the US because the Second World War had begun.
He has lived through 22 UK Prime Ministers and five ruling monarchs. He met his wife in Taiwan, where he was teaching English classes, before working as a codebreaker during the Second World War. Once the conflict was over, he returned to teaching in England before retiring in 1973.
Weighton lives in Hampshire, and has three children, 10 grandchildren and 25 great grandchildren. He was born on 29 March 1908, which is coincidentally the exact same day as the UK's oldest living woman, Joan Hocquard, who lives in Dorset.
This PDF resource includes this article, as well as accompanying activity ideas:
Research the last 10 prime ministers Bob has lived under, and the first five. When were they in office, and what political party did they lead?
School has probably changed a lot since Bob was there. Write a pretend letter to him describing how you think it's different, and what you think might still be the same.
Write a set of instructions on having your plans altered due to unforeseen events. How do you stay cheerful and work around the problem?
During Mr Weighton's school days, the world suffered wars, disasters and a major outbreak of a dangerous virus, which is exactly what we're dealing with today. Debate whether we haven't learnt anything over the last century, or if we have made progress and improvement despite great setbacks?
---
To find out more about The Week Junior and to download its free resources, please go to schools.theweekjunior.co.uk.
Find the whole range of free Topical Tuesday resources here.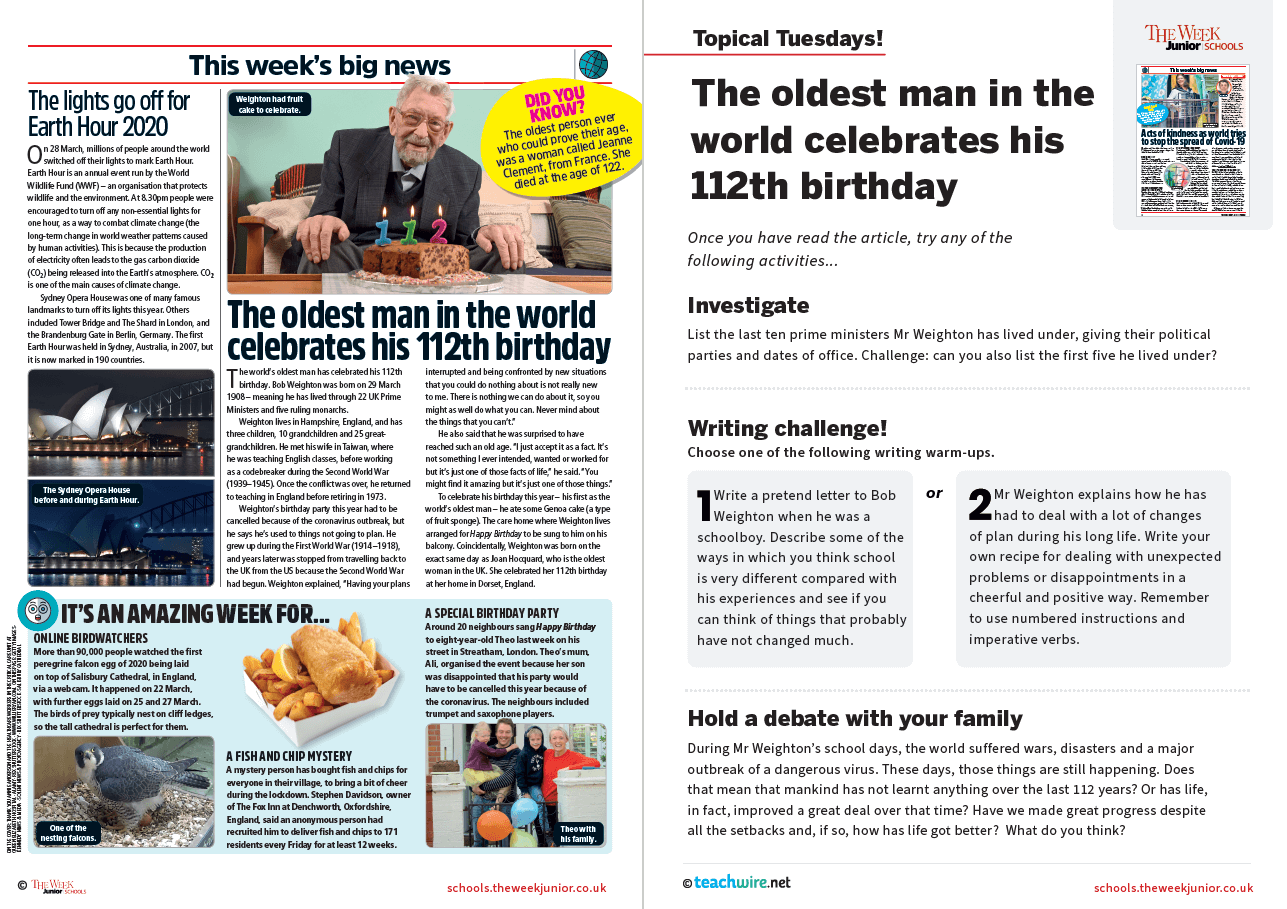 DOWNLOAD A FREE RESOURCE!
Topical Tuesdays from The Week Junior – World's oldest man turns 112