Letter writing – Best KS1 and KS2 examples, worksheets and resources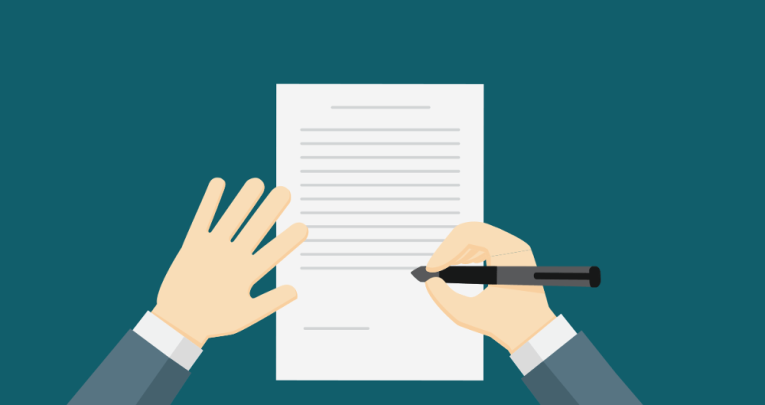 To whom it may concern, help your students master the art of letter writing with these lesson plans, activities and ideas…

by Teachwire
From thank you notes and holiday postcards to foreign pen pal correspondence, letter writing is an important and fun activity for children to try their hand at. These letter writing resources will give you a helping hand when planning lessons on this topic.
---
JUMP TO A SECTION
---
Letter writing KS1
Letter writing practice pack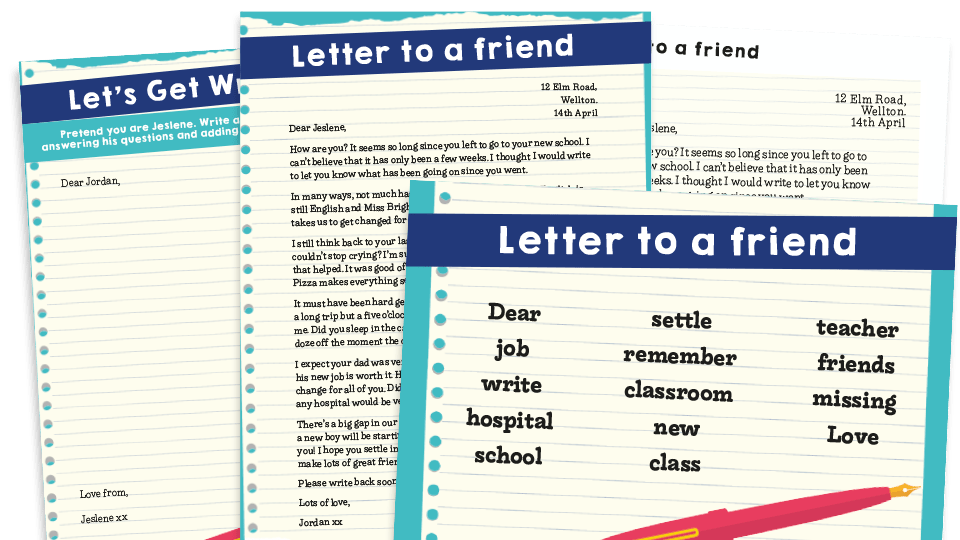 This KS1 letter writing practice pack from Plazoom resource pack includes an example of a letter between two friends, plus a series of comprehension questions for children to answer.
There's also a letter writing worksheet and a template to support children's writing, plus a handy vocabulary word mat.
---
Paddington letter writing lesson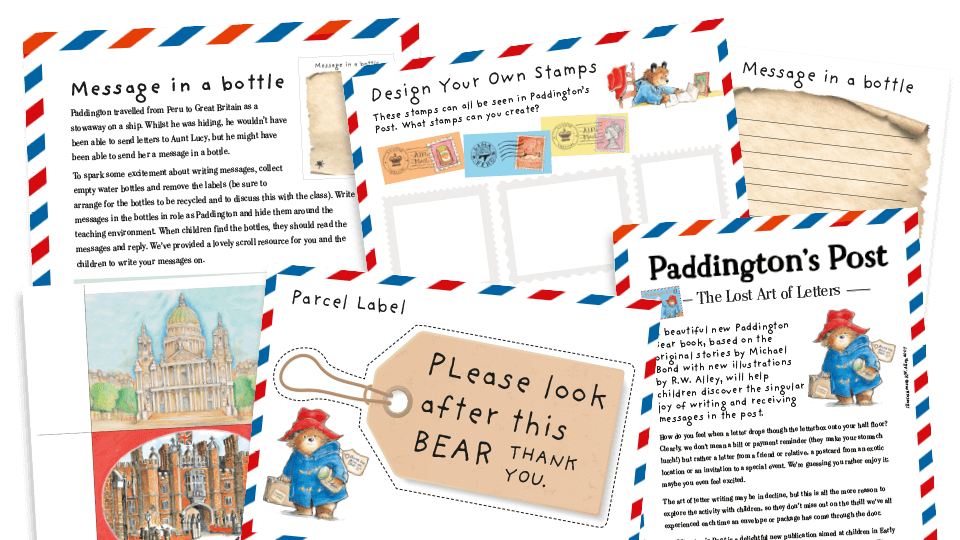 This free Early Years/KS1 Paddington letter writing resource contains a full lesson plan featuring six activities and all accompanying resources.
Children will write a postcard to the famous bear, using the letter template, alongside other fun activities.
---
Features of a letter KS1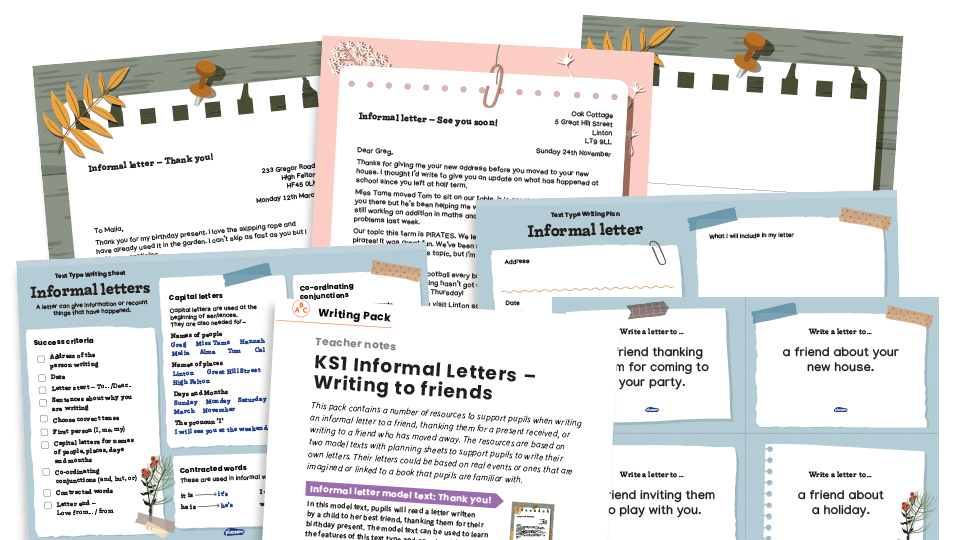 Teach children how to write an informal letter with this KS1 text types resource pack from Plazoom. Pupils will learn how to write an informal thank you letter to a friend, or a note to someone who has moved away.
Included are two model texts and planning sheets to help students with their writing.
---
Letter template KS1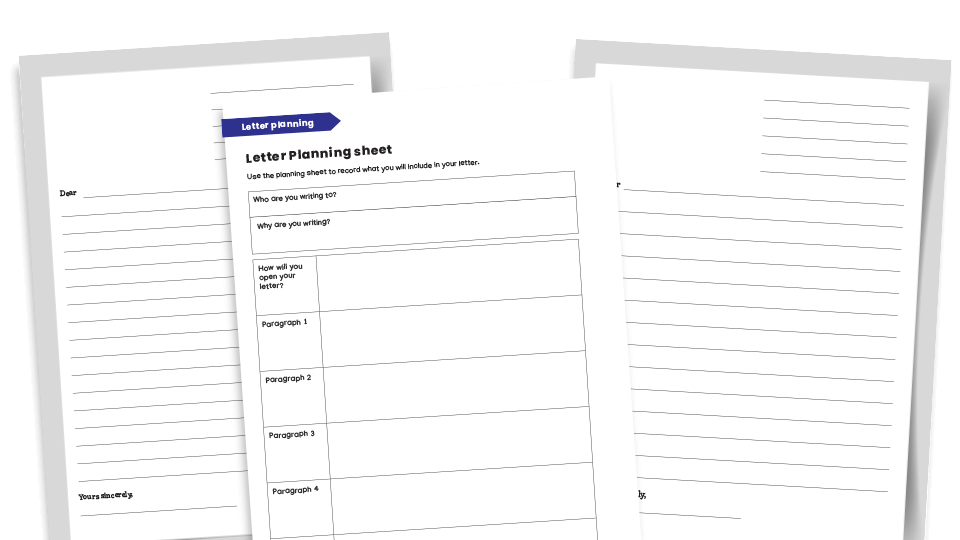 This formal letter writing template pack from Plazoom contains a letter planning sheet and letter writing templates for KS1 and KS2.
Use these flexible templates to write letters to a range of audiences and for a range of purposes.
---
Letter writing KS2
KS2 letter writing lesson plan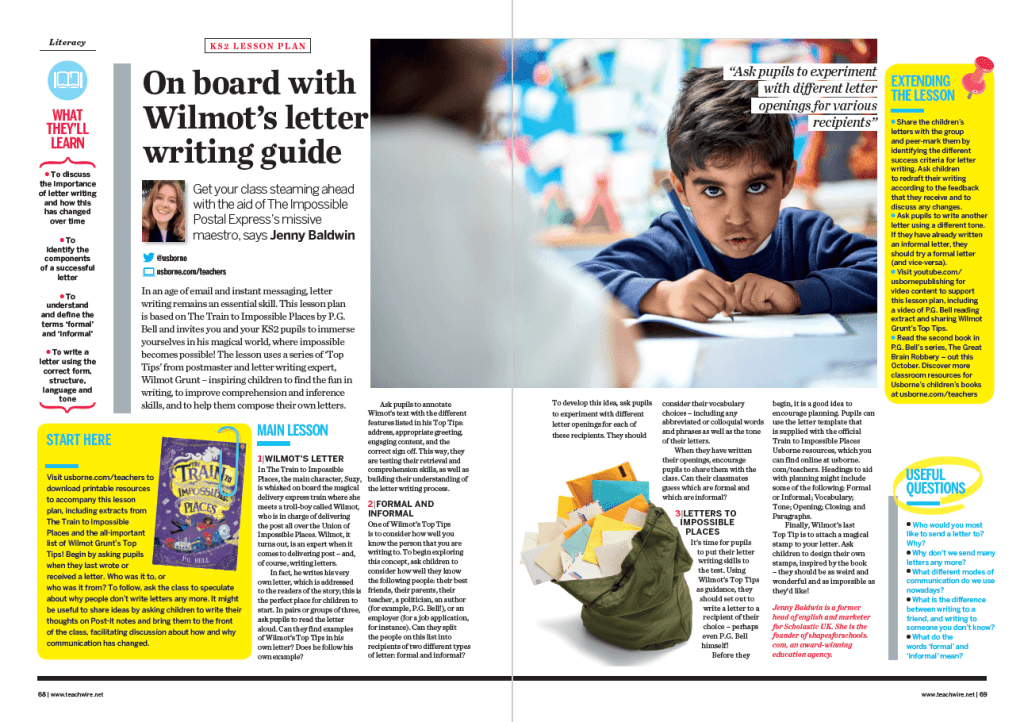 In an age of email and instant messaging, letter writing remains an essential skill. This free KS2 lesson plan is based on the novel The Train to Impossible Places by PG Bell.
The lesson uses a series of 'top tips' from postmaster and letter writing expert, Wilmot Grunt – inspiring children to find the fun in writing, to improve comprehension and inference skills, and to help them compose their own letters.
---
Letter template KS2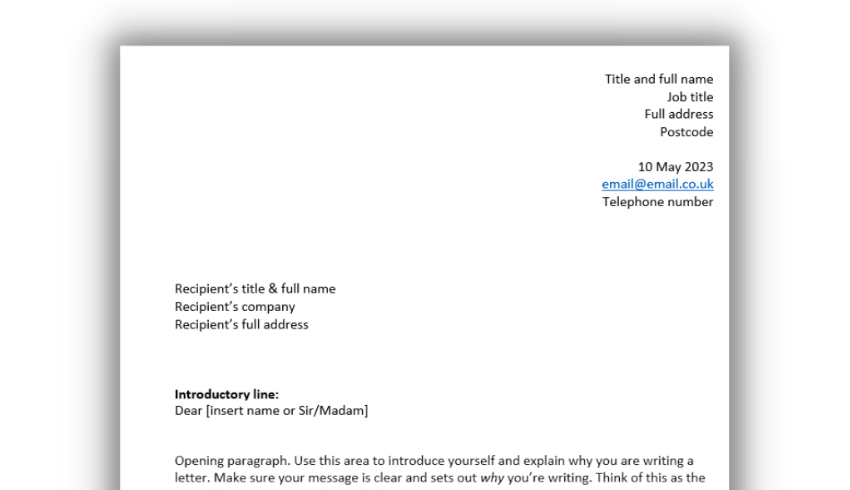 This free letter template KS2 download is a Word document that provides a structured framework for students to write formal letters. Use it in the classroom to help pupils develop their language and writing skills.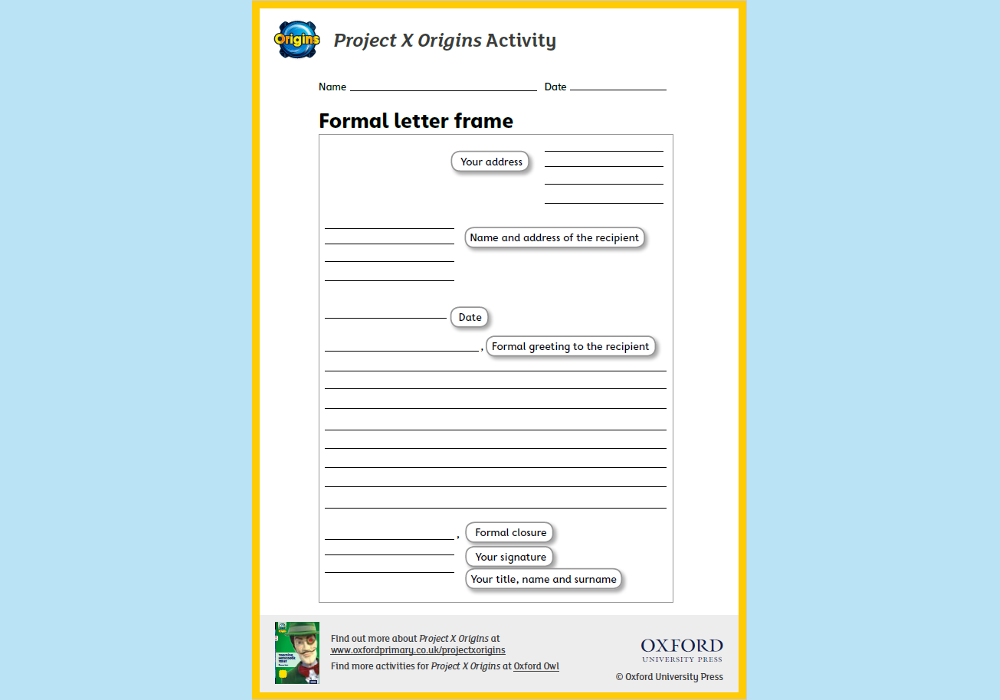 Alternatively, this PDF template may not be editable, but it has blank lines for children to write on, which can be more convenient than everyone working on PCs, depending on your school's setup.
If you're after various letter-writing ideas for students to try, this downloadable PDF has a nice selection.
---
Examples of letters KS2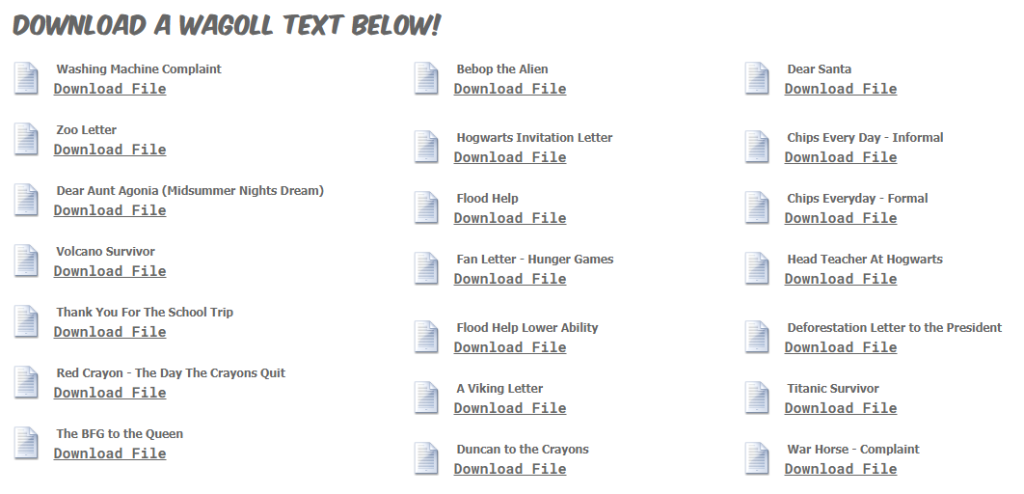 If you're after examples of formal or informal letters, you can download loads at Literacy Wagoll. Plus, as they're all Word docs you can edit them specifically for your class if you need to.
---
Informal letter KS2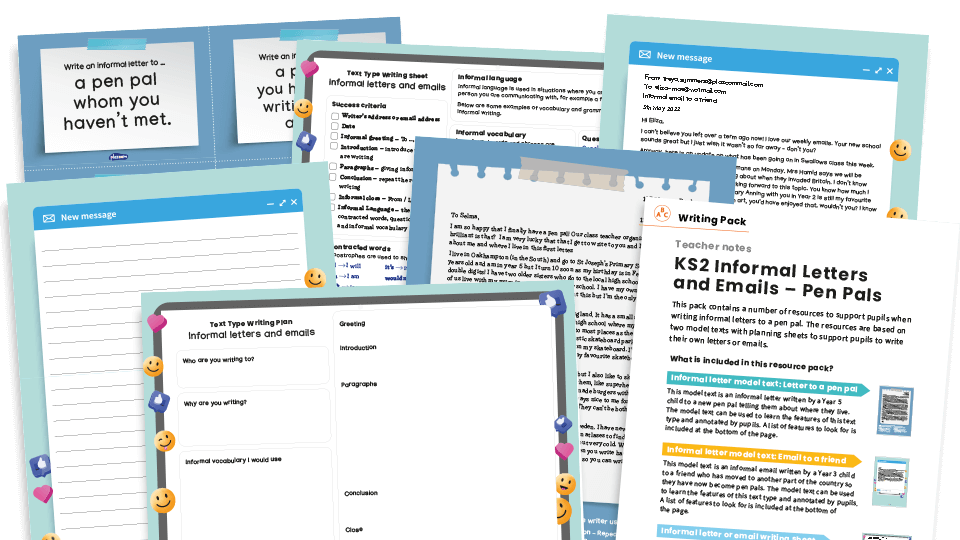 This informal letters pack from Plazoom will help pupils to write an informal letter to a pen pal (real or imagined). There are two model texts and planning sheets to help children write their own version.
---
Formal letter KS2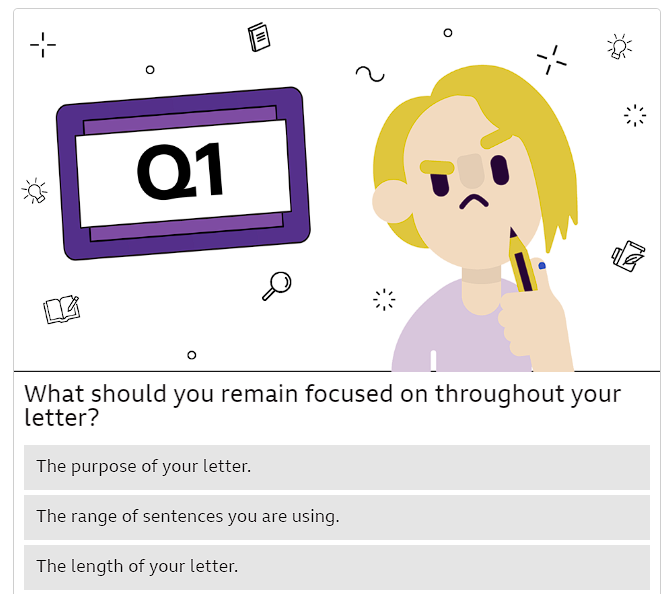 A formal letter is one written in a formal style, and usually in a specific format. We generally write them for official purposes and not to friends or family.
A great place to start with writing formal letters is this BBC Bitesize entry. It explains that a formal letter has a number of conventions about layout, language and tone that you should follow.
Pupils will learn that there are set places to put addresses and the date and that how you begin and end the letter is also very important.
There's a short video to watch, and it takes you through the key points about the address, the tone and purpose of the letter and how to start and finish it, before offering a five-question quiz to see what students have learnt.
---
Text types resource pack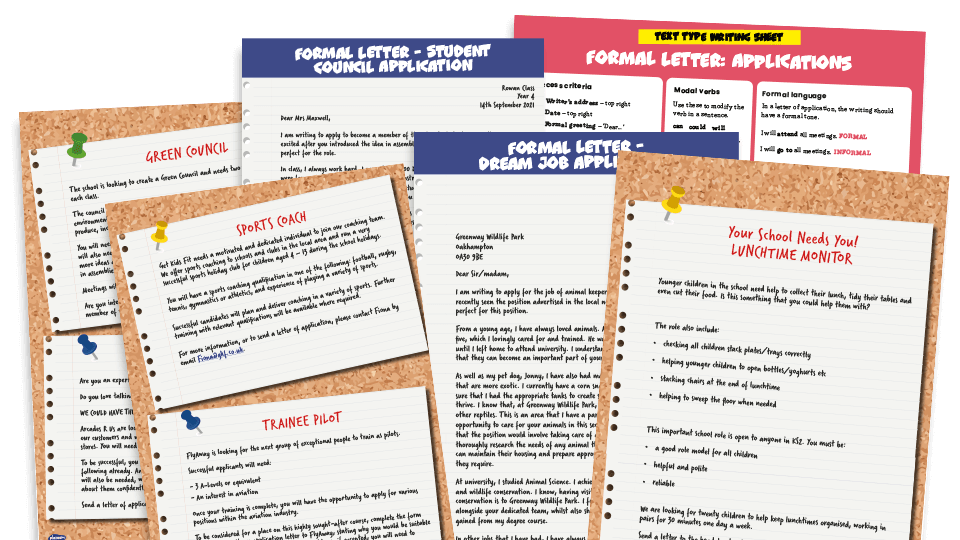 This formal letter KS2 text types resource pack from Plazoom gives pupils the chance to write a job application letter. After studying the features of a formal letter, children will pen their own.
Included are two examples of formal letters, plus there's a letter writing template to help pupils along.
---
Letter of complaint activity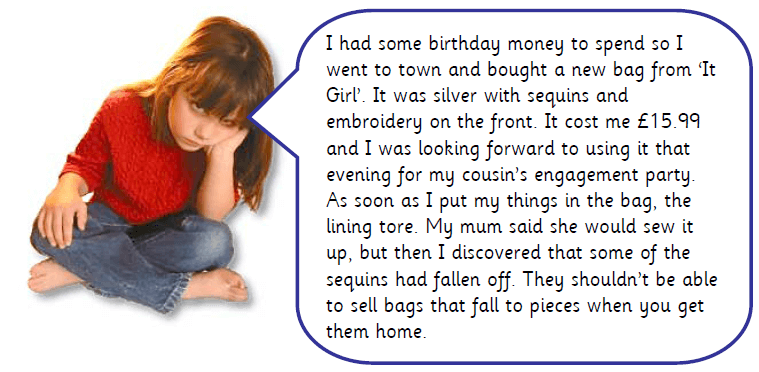 Two bad experiences; one a dodgy dining experience and the other a failed shopping trip. Use the information given on this worksheet to write a formal letter of complaint.
---
Ten letter-writing activities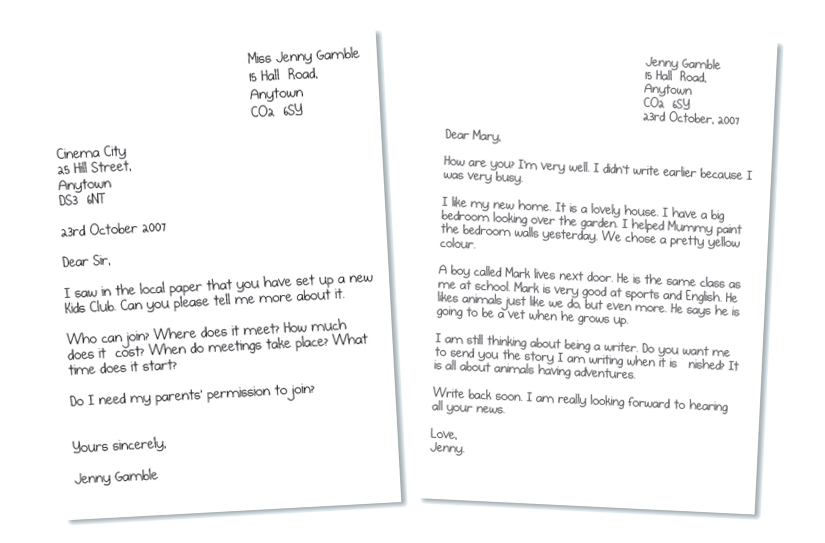 Letter writing can be fun, help children learn to compose written text, and provide handwriting practice — and letters are valuable keepsakes.
This article contains activities to help children ages 5-9 practise their skills of formal and informal letter writing.
---
How to explore stories and character through letter writing
The novel as we know it has its roots in correspondence, so why not return to this original form to help pupils develop structure, asks author Bethany Walker…
All teachers know that half the battle, when it comes to learning pretty much anything, is for a child to understand why it is important for them to accrue particular skills.
Children know reading and writing is important but cannot necessarily pin-point why. What I love about letters is that they are written for a purpose. It could be to communicate ideas, share information, forge relationships or ask and answer questions.
"What I love about letters is that they are written for a purpose"
Letter-writing does, of course, appear in the curriculum as an exercise for learning structure or how to write persuasively. But these can often be one-off activities.
By only seeing one side of a written communication (either as the writer or as the reader of a letter as part of a comprehension exercise), children are not able to appreciate what can develop from an ongoing exchange.
Even though they may be made up, the letters in epistolary stories show children this process, often in a child-friendly format. They reveal the relationships, understandings and misunderstandings that can evolve from them.
Structure
Letter-writing can seem 'outdated' as a form of communication, but there is still much it can teach us. If nothing else, that there is joy in sending and receiving letters!
Many of the strict traditions of letter-writing are no longer relevant in most of society. But it is still good to know how to structure them properly.
Structuring a letter properly is not rocket science, and I have seen many schools teach it very successfully with the use of 'structure strips' down the margins of exercise books, often focusing on persuasive writing with a real-world issue.
But it can be just as useful – and more fun – to use fictional examples to combine learning letter structures with developing empathy and analysing action in texts.
Voice
One of the most enjoyable aspects of writing books with letters is developing the voices of the different characters. Each letter has to be written 'in character'. I often find myself adopting a certain facial expression depending on who I am writing in that moment.
In traditionally-told stories, children are taught that reported speech for each character should be distinctive enough for the reader to be able to tell who is saying what without the dialogue tags.
This is challenging and speech often remains rather bland, not reflecting each respective character's personality. However, when children are encouraged to act and respond as a character, they embrace this very well.
"When children are encouraged to act and respond as a character, they embrace this very well"
Drama games such as hot-seating are brilliant for understanding a character. Letter-writing is more an extension of that, allowing children to establish personality through a character's voice.
Inference and relationships
In an exchange of letters, especially when characters know each other well, shorthand is often used. Things are left unsaid.
This gives pupils insight into the relationships between characters. But it also calls upon them to read between the lines, meaning letters can be brilliant for understanding inference.
Through reading letter-based stories, children can start to understand why something is being written. They can then begin to question whether the writer is being honest.
This ability to judge the value, meaning and truth of what is on the page is an increasingly important skill in the age of fake news!
Telling a story
Writing a whole book through letters is challenging. This is partly because there has to be a good reason why the characters are apart and need to communicate in writing. But, when it works, it is really fun.
Both of my books focus on some kind of mystery and action, with a drive towards how it is all going to be resolved. The clues for working it out are sprinkled through the letters and, hopefully, all come together in the end.
Of course, stories don't have to be made up entirely of letters. There are loads of examples of books that make use of occasional letters or other written communications within a normal first- or third-person narrative.
In this kind of story, letters are excellent additions to provide clues to help move the story on. Or they give exposition in a succinct way (such as using newspaper articles).
If used nowhere else, letters can be a great starting point for a story. This is because they can appear from out of nowhere and upset the status quo. They are the ultimate 'inciting incident'!
How to Steal the Mona Lisa by Bethany Walker, illustrated by Jack Noel (£6.99, Scholastic) is out now.