Contents: 1x 4-page guidance notes for teachers 7x source sheets
Objective: Pupils research the tactics employed by the Labour Party during the 1945 general election, discuss their effectiveness and consider how these could be applied in a mock class or school election.
The People's History Museum's resource packs aim to introduce schools to the resources in the museum's Labour History Archive and Study Centre. Each pack contains facsimiles of original archival documents and some suggested class activities, which can be used to follow up a school visit or downloaded and used on their own.
Further information: Located in Manchester, the People's History Museum is the national museum of democracy. It aims to engage, inspire and inform diverse audiences by showing that there have always been ideas worth fighting for.
You can contact the museum's learning team on 0161 838 9190 or by emailing learning@phm.org.uk; for further details, see www.phm.org.uk or follow @phmmcr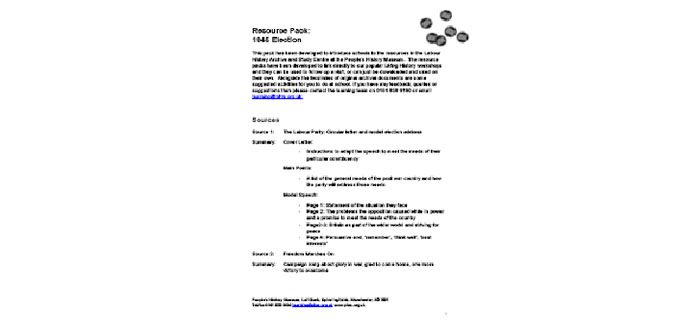 DOWNLOAD A FREE RESOURCE!
The 1945 Election – History Activities for KS2 and KS3