PDF of cross-curricular activity ideas
If you're looking for a magical range of Harry Potter KS2 activities, we've got just the ticket….
The popularity of Harry Potter and the Philosopher's Stone makes it a joy to work with. This book gives you opportunities you wouldn't have with other texts.
Children who know the book will be keen to revisit it. And the well-paced and absorbing narrative will soon draw in those that don't. "I have yet to find a child who can put it down," said one reviewer, following publication in 1997.
The magic is still at work more than two decades later. Children will want to talk about Harry's wizarding world and their own experiences there as readers. Expect strong feelings about the characters – Harry and his friends seem real and children like to treat them as such.
Children love to act out scenes from Harry Potter. This makes the book a natural and rewarding starting point for cross-curricular activities.
Many artists have visualised Harry's world. This includes Thomas Taylor, Jonny Duddle and wood engraver Andrew Davidson (not to mention those who worked on the films). But it's Greenaway medal winning Jim Kay's hardback version we suggest you use for these activities…
Harry Potter KS2 activities
Invent fantastic beasts, explore the history of magic and write letters from Charlie Weasley in this creative set of lesson activities from Carey Fluker Hunt.
There's plenty of ideas for discussion too, such as considering what it means to 'belong', and art ties in with literacy when children create a collage of themselves wearing a sorting hat and invent their own Hogwarts House.
Children will even be inspired to write their own poems after a 'flying' session in the classroom.
Carey Fluker Hunt is creative projects manager at Seven Stories, the Centre for Children's Books in Newcastle upon Tyne. Browse more ideas for teaching with Harry Potter.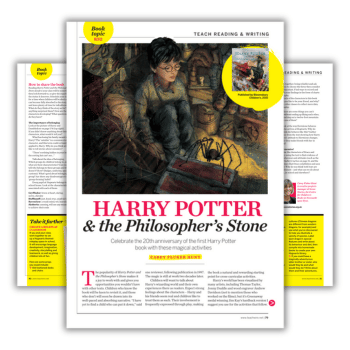 DOWNLOAD A FREE RESOURCE!
Harry Potter KS2 activities – Philosopher's Stone cross-curricular ideas