This George's Marvellous Medicine lesson plan pack contains lesson plans, fun activity sheets and extracts for teaching literacy and PSHE.
There are six lessons in total, suitable for KS2 (and upper KS1), that cover subjects such as inference, using the best verbs, adjectives and adverbs, and using punctuation to generate excitement.
What children will learn
Identifying alliteration, onomatopoeia and rhyming patterns in Roald Dahl's poetry and exploring their effect on the reader
Writing an original poem, using Roald Dahl's work as a model
Using alliteration and adverbs effectively
Using persuasive language
Identifying how Roald Dahl uses language, punctuation and text styles to generate excitement
Writing similes using Roald Dahl's work as a stimulus
Understanding how dramatic techniques bring stories to life
Drawing inferences and justifying them with evidence from the text
Demonstrating a deep understanding of the character of Grandma and creating an original character profile based upon George's Grandma
Identifying and using exciting verbs, adverbs and adjectives. Planning a piece of writing based upon the vocabulary and structure of George's Marvellous Medicine
Drawing inferences about characters' feelings, justifying their inferences with evidence from the story
Participating constructively in discussions by making appropriate comments, taking turns and listening to others
Understanding that commonly available substances and drugs can damage health
Understanding that revenge has a negative impact on both the perpetrator and the victim
Providing, receiving and responding to constructive feedback, recognising and learning from others' experience
Understanding what is meant by having conflicting (or 'mixed') emotions
Identifying when to heed emotions and when to try to overcome them
This download contains:
Six lesson plans
Activity sheets
Extracts from George's Marvellous Medicine
Browse more free Roald Dahl Day resources.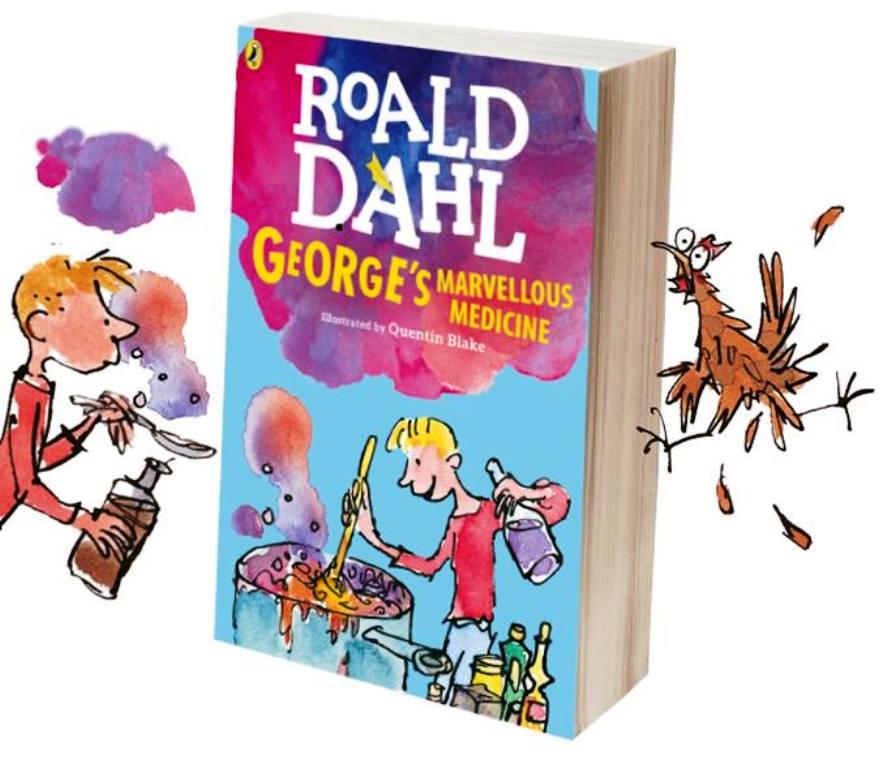 DOWNLOAD A FREE RESOURCE!
George's Marvellous Medicine lessons – Fun activities and resources