Editable PowerPoint and teacher notes
Introduce the topic of sexism in schools with this free assembly PowerPoint and teacher notes, aimed at UKS2...
You'll begin by explaining that gender stereotyping is judging/labelling/discriminating against people based on their gender and can be done without us even realising.
You'll go on to discuss explain that stereotyping people is unfair and for many can be upsetting. People should be free to express themselves without fear of prejudice.
The assembly covers:
Masculinity
Gender stereotyping
Is it appropriate for boys to cry?
Sexism
How to call out and tackle sexist or toxic behaviours
What is toxic masculinity?
A set of attitudes and ways of behaviour stereotypically associated with or expected of men, regarded as having a negative impact on men and on society as a whole.
Why do we see toxic masculinity in schools?
Insecurity: the pressures on men and boys to be masculine.
Anger: some men are angry with women for wanting equality.
Because everyone else is: research shows that men and boys overestimate the extent to which other people are doing it and boys want to fit in with their peer group.
Influenced by others: what comments do the older generations of our family make?
Lack of understanding/fear: many boys don't understand what feminism is – they believe it's 'anti-men'.
Sexism in schools – common phrases
Have students ever heard or seen any of the following?
That isn't very ladylike
Boys shouldn't cry
Boys will be boys
Man up
Football is a boys' sport
Boys are better at sport than girls
Girls are not as strong as boys
Pink is for girls and blue is for boys
Francesca Oakes is a Year 6 teacher, assistant head and a pastoral and maths enthusiast.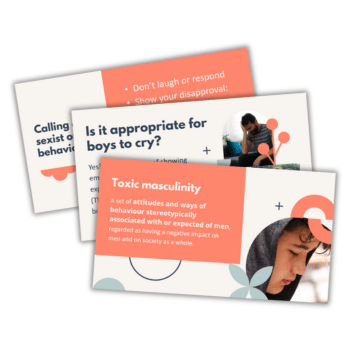 DOWNLOAD A FREE RESOURCE!
Sexism in schools – Toxic masculinity KS2 assembly