Three-page PDF featuring cross-curricular KS2 activity ideas
Migrants by Issa Watanabe is a hauntingly beautiful picturebook about a challenging journey through a dark landscape.
Across its pages walk more than 30 species of animals and birds, each dressed in distinctive items of clothing and standing upright. Children are cared for by adults who cannot be their parents, and a sense of mutual attention and support is obvious. Every traveller is portrayed with dignity and respect.
Following them is a childlike skeleton swathed in a floral cloak, and a large blue ibis. Looking oddly vulnerable, Death does little more than observe the scene until the migrants board a boat.
When it capsizes, a rabbit is washed up on the beach, and Death and the ibis cradle her in a powerful image that speaks of care and peace, as well as loss. The travellers have arrived, but where? And at what cost?
In Migrants, Peruvian artist Issa Watanabe addresses troubling contemporary issues by placing them somewhere timeless, far beyond our world. There's a sense of dreamlike dislocation about these spreads.
Much is left unshown, and the wordless format allows readers to process ideas at their own pace and according to their own experiences.
Our instinct to protect can be strong, but many children welcome opportunities to talk about things that matter, and may do so with unexpected insight and maturity.
This download includes…
Full PDF book topic with a range of activities.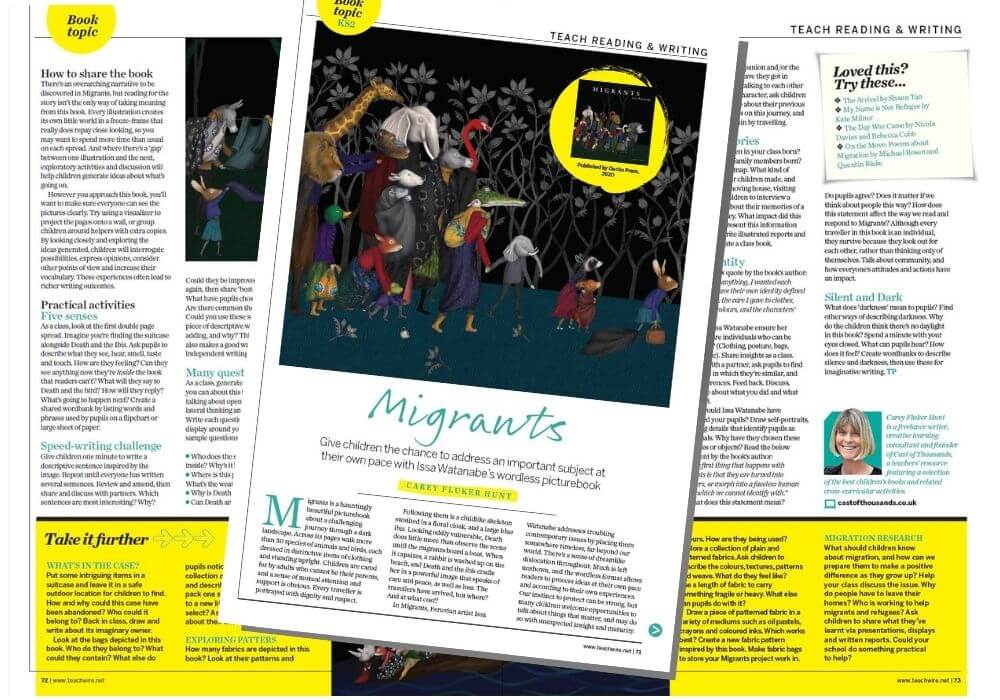 DOWNLOAD A FREE RESOURCE!
Books for topics KS2 – Learn about migrants with this wordless picturebook