Teacher guide containing the source text and activity ideas, plus PowerPoint
Are you kept awake at night by the sound of dragons crunching bones? Don't despair. Help is at hand! Use this writing instructions KS2 resource from Pie Corbett to teach your class how to write instructions for getting rid of these terrible pests…
Dragons are always a popular subject matter. You could start this lesson by mocking up a front page from the local newspaper, stating that dragons have been sighted in the local area. Alternatively, use this mocked-up newsclip about dragon sightings in Louisville to introduce the topic.
Writing instructions KS2 resource
To begin your topic, ask the children to think of different ways to trap a dragon. In order to write their instructions, it helps to first look at the simple 'How to trap a dragon' text included in this download.
Once the children know the basic model, work out the underlying pattern and language features. Children can then use these to work on a class version using a different method for dragon trapping.
Use shared writing to model the writing, pitching it at the right level given your children's abilities. They can then follow this by writing up instructions for their own different methods for dragon trapping.
Once children have written and illustrated their instructions, swap them with a writing partner. Have they managed to write a clear set of instructions that would be easy to follow?
This download contains:
1x guide for teachers, containing the source text and activity ideas
1x PowerPoint file presenting the text on your interactive whiteboard
---
More resources
Each resource in our Pie Corbett KS2 Non-Fiction Collection contains an original text in Powerpoint form plus a PDF full of ideas for helping children to create their own. Text types covered include persuasive writing, instructions and non-chronological reports.
---
Pie Corbett is an English educational trainer, writer, author and poet who has written over 200 books. Follow him on Twitter at @PieCorbett.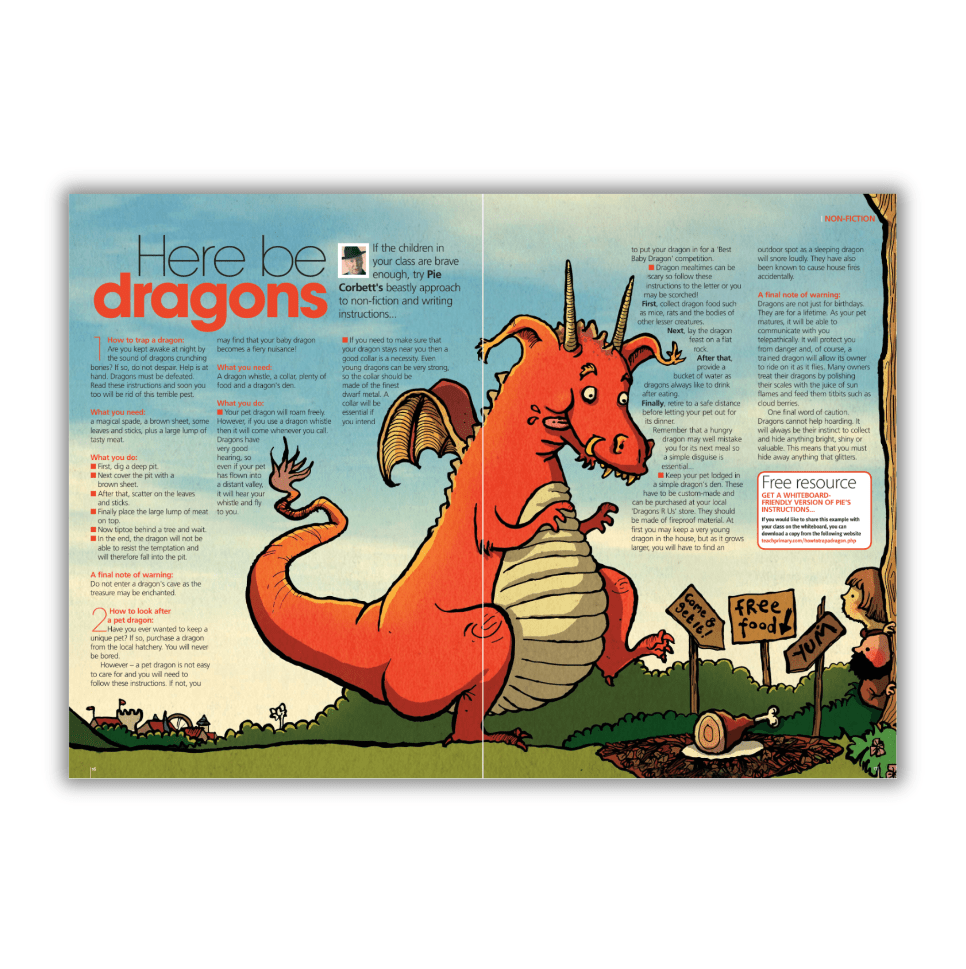 DOWNLOAD A FREE RESOURCE!
Writing instructions KS2 – How to trap a dragon with Pie Corbett